Ranking the Boston Celtics' 10 Best Highlights of the 2012-13 Season to Date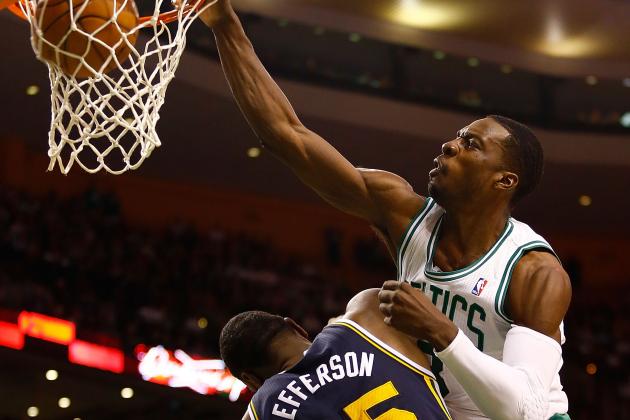 Jared Wickerham/Getty Images

It has been a rather middling 10-8 start for the Boston Celtics, but there have still been plenty of moments throughout the first 18 games where we have seen this team's vast potential. What are the 10 best highlights of the season thus far for the Celtics?
Those of you who have been watching the ballclub can probably pick a few out on your own. While there have certainly been some lowlights as well, there have been some games where you just say to yourself, "Wow; see what this team can do when it is playing its best?"
So, without further ado, let's review some of those highlights right now.
Any guesses as to what is number one?
Begin Slideshow

»
The Boston Celtics were already 0-2, and the Washington Wizards were threatening to drop them to 0-3. Boston had blown a double-digit lead that it just had with about five-and-a-half-minutes to play in the fourth quarter, so if the C's weren't able to hang on, it would have been an ugly, ugly loss.
Then, as per the usual, Paul Pierce came through, nailing a late three-pointer to all but seal the deal for the Celtics. Pierce's clutch trey gave Boston its first victory of the season, and it was just one of the many gigantic shots The Truth has hit throughout his illustrious career.
Yes, it was against the lowly Wizards, but it was still a big shot, nonetheless.
In a hard-fought battle against the Milwaukee Bucks on Nov. 10 that went right down to the wire until Kevin Garnett and Paul Pierce took over in the fourth quarter.
The two battle-tested veterans each scored eight points in the final period, helping the Boston Celtics outscore the Bucks 32-24 overall in the final 12 minutes for a four-point victory. Aging or not, K.G. and Pierce continue to prove that they can still be relied upon to close out games.
This game also represented Jeff Green's first solid outing of the year, as he put in 12 points off the bench.
After serving a two-game suspension for his involvement in a mini-brawl with the Brooklyn Nets, Rajon Rondo returned to the floor on Dec. 5 against the Minnesota Timberwolves.
Rondo would post a double-double (surprise, surprise) and the Celtics would go on to win the game convincingly. Also, Kevin Garnett (who always seems to take his matchup against Kevin Love personally) would go on to outplay his counterpart, shooting 8-of-13 from the floor, recording a double-double, and playing stellar defense.
It was a solid all-around effort by Boston, as five players scored in double-figures and the team simply looked very confident and under control in what was a rather dominant second half effort.
Yes, it was the Orlando Magic, a team that the Boston Celtics probably shouldn't need overtime to beat, but Boston found itself down by seven in the fourth quarter.
Behind some great play from the veterans, the C's rallied back and forced overtime to eke out a six-point win. This was one of those gritty, "character-building" wins that demonstrated that the Celtics can still close out games.
Three Boston players had double-doubles in this one: Kevin Garnett, Rajon Rondo, and Brandon Bass. Also, six Celtics scored in double-figures. Talk about a balanced attack.
The Boston Celtics got off to a 5-4 start, and during those nine games, they only occasionally displayed flashes of how brilliant they can be when they're clicking. They never really put together a long stretch of great, near-flawless basketball.
Well, enter the Toronto Raptors into the TD Garden on Nov. 17.
Yes, the Raptors are one of the league's worst ballclubs, but that doesn't mean we should not admire what Boston was able to do as a collective unit in the second half of that game.
The C's ended up winning by 18, and Jared Sullinger had the best afternoon of his young career, recording his first double-double. That came after a slew of below average performances from Sullinger that led some to question whether or not he was really ready for the NBA.
A game after the Rondo-Humphries incident, Boston--sans Rondo--welcomed the Portland Trail Blazers into TD Garden for a good ole-fashioned beatdown.
This game was never close from the opening tip, as Green led the C's in scoring with 19 off the bench in a 96-78 victory. What was most impressive about the win was how fluid the Celtics' offense looked without their floor general. Jason Terry did an admirable job in handling point guard duties, and just about every Boston player contributed to the overall cause.
This is easily one of the C's' most complete wins to date.
I understand that the words "best" and "scrum" do not necessarily mix, but hear me out here.
The Boston Celtics were getting blasted on their home floor by the Brooklyn Nets, and Kris Humphries gave an airborne Kevin Garnett a little forearm after a foul was already called. It wasn't really a hard foul, but it was a bit unnecessary. Rajon Rondo took exception, bullrushing Humphries into the crowd and eventually putting him on his rear end.
At that point, Rondo had a streak of 37 consecutive games with 10 or more assists going. He was seven away from tying Magic Johnson's record mark. Rondo didn't care. He thought that defending his teammate was more important than some measly statistic, so he stood up for Garnett and ended up getting ejected and then suspended for two games. Streak over.
What this demonstrated is that regardless of how underwhelming Boston's start had been this season, it is still together as a team, and when it's all said and done, that could make all the difference in whether the C's sink or swim come playoff time.
Don't underestimate the importance of this moment.
There were a couple of great plays by the Boston Celtics in this game (you will see another later in the slideshow), this one being an incredible dish to Leandro Barbosa by Kevin Garnett.
How in the world did Garnett even know Barbosa was there? This was just outstanding. It should not come as a surprise to anyone, however, as K.G. is one of the best passing big men to ever play the game of basketball.
36 years old or not, the wily veteran will still do some things out there that just make you shake your head in amazement.
This was just Jason Terry doing what he does best, and this was one of the main reasons why the Boston Celtics brought him aboard this past summer.
In what was Boston's best win of the season thus far, Terry hit one of his trademark dagger threes to put the Oklahoma City Thunder away. And seriously; did anyone who was watching the game seriously doubt that that shot was going in when the ball left The Jet's hand?
This game demonstrated how good the C's can be when they are hitting on all cylinders.
At the time of this game, many were ripping Jeff Green for his lack of production and his lack of intensity on the floor. People were calling into question Danny Ainge's decision to sign him to that four-year, $36 million deal. Everyone was just waiting for something from Green.
Well, during this game against the Jazz, the 26-year-old delivered what was his best performance of the year at the time, scoring 16 points and throwing down this vicious tomahawk dunk over the top of Al Jefferson. Not only did Green throw it down over Utah's big man, but he also stared him down, earning himself what many would consider a "good" technical foul.
You can clearly see that Kevin Garnett was loving it regardless of the T, and although Green has still been up and down since this game, he proved that he absolutely has the ability to succeed with the Celtics.