Showcasing Biggest Strengths and Draft Needs of the New York Jets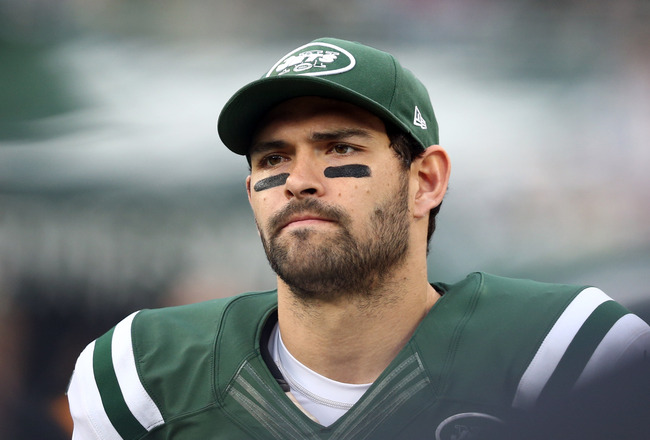 Debby Wong-USA TODAY Sports
As a team wrought with turmoil throughout the 2012 NFL season, the New York Jets will walk into this offseason with a cavalcade of unanswered questions.
First and foremost, the fate of both head coach Rex Ryan and general manager Mike Tannenbaum is very much up in the air. Ryan gets most of the scorn in the media for the Jets' disappointing season, but was handed an ill-equipped roster by his general manager. One (or both) will be scapegoated this offseason, but which one remains to be seen.
Once that's settled, there may be even more purging of the organization when it comes to players. Quarterback Mark Sanchez has been embroiled in a media-led battle with Tim Tebow all season and it seems likely that one of those guys will be headed out of the Big Apple as well.
With organizational turnover in mind, let's take a look at a complete breakdown of the Jets' roster. We do so by showcasing the team's biggest strengths and pinpointing where management should focus its improvement efforts.
Quarterbacks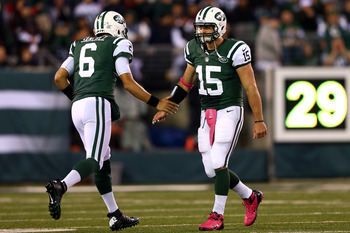 Elsa/Getty Images
Obviously, this is the position that creates so much ballyhoo in the media—just not necessarily for the pertinent reasons.
Let's start with the question on just about everyone's mind: Tim Tebow will not be back with the Jets next year. The experiment, by hook or by crook, has been an abject failure from the beginning and there is little to no chance Ryan (or whoever coaches the team next year) will want a second season of Tebowmania.
Mark Sanchez, on the other hand, will be back and is almost guaranteed to walk into camp as the favorite to start at quarterback. The Jets owe Sanchez $8.5 million guaranteed for 2013, meaning they can't just cleanly walk away from the former USC star.
Now, will whoever is running the team draft a quarterback and tab that person the quarterback of the future? Probably.
One just has to wonder whether the Jets will have a high enough draft pick to make that assumed pick a first rounder. At 5-7 and with four winnable games left on the schedule, it's still possible that Ryan's bunch ends at .500 or even as a nine-win playoff team.
With a middle-of-the-road pick coming, the Jets aren't getting Geno Smith or Matt Barkley barring a trade. As the top two fall by the wayside, they will instead focus on the Mike Glennons and Tyler Wilsons of the world, neither of whom are NFL starting quarterbacks at this juncture.
So, Jets fans, look forward to at least one more season with your Sanchize quarterback.
Running Backs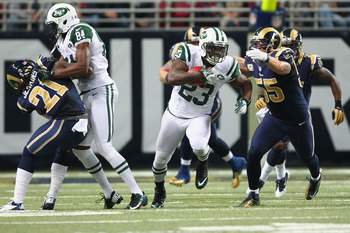 Dilip Vishwanat/Getty Images
Running back is a weakness, but it would barely crack a top-five positional list for the Jets.
Neither Shonn Greene nor Bilal Powell is especially explosive or every-down hosses who can grind a defense down with 25 carries every Sunday. Still, according to Football Outsiders' DVOA (Defense-adjusted Value Over Average) rating, Greene and Powell are both above replacement-level backs.
That might seem like faint praise—because it is. But the Jets have so many offensive needs that taking a running back high in April would be a complete misuse of the team's assets. Alfred Morrises are born almost every minute at this point, and even if the Jets can't find a late-round running back, a Powell and Green combo is serviceable enough in today's NFL.
Wide Receiver and Tight Ends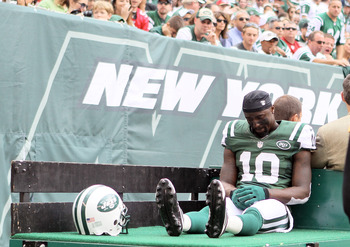 Elsa/Getty Images
Santonio Holmes will return from injury in 2013 and Jeremy Kerley's emergence this season was a great sign, but neither guy is anywhere near worthy of WR1 status.
Holmes has always been better suited as a complement to a more explosive deep threat and Kerley is a prototypical third receiver who is having a fine season more out of circumstance than anything.
If I'm running the Jets, finding a strong, big-play receiver is atop my wish list for the offseason. Unfortunately, the 2013 draft isn't exactly filled to the brim with Calvin Johnsons—or even Justin Blackmons, for that matter.
Based on my evaluations, the best wide receiver for the Jets' needs is Tennessee's Justin Hunter (assuming he leaves school early). At 6'4" and 205 pounds, he's almost the prototypical build for a receiver in the league.
One problem: He's a bit of a one-year wonder and already has a torn ACL under his belt. Hunter is likely a mid-to-late first rounder, but there's certainly some cause for wariness.
Offensive Line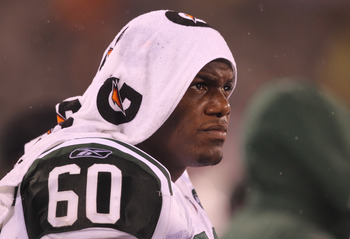 Al Bello/Getty Images
There may be a weak spot or two—particularly the weird Matt Slauson-Vlad Ducasse rotation at left guard—but the Jets offensive line is one of the team's biggest strengths.
According to Football Outsiders' adjusted line yards statistic, the Jets are the fifth-best run blocking team in the NFL. Their adjusted sack rate shuffles back to No. 20, but it's hard to adequately evaluate that stat with Sanchez behind center.
What's more, the Jets are set at (arguably) the two most important positions on the line: left tackle and center. D'Brickashaw Ferguson and Nick Mangold are All-Pro level players who are among the best (if not the best) at their respective positions.
Though starting to show some signs of age, right guard Brandon Moore isn't anything to sneeze at, either. If the Jets can find an answer at right tackle and fix their weird left guard situation, they may wind up with one of the better offensive lines in the NFL next season.
Defensive Line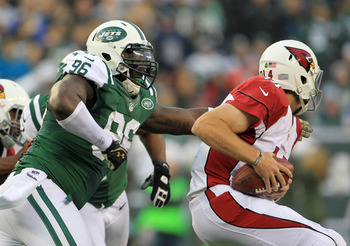 The Star-Ledger-USA TODAY Sports
Because of the 3-4 scheme under Ryan, the defensive line's responsibilities are different than that of a 4-3 scheme. Blitzing linebackers take sack-related priority over the defensive ends for the most part and Sione Pouha's job is to take on two blockers and clog the middle.
That said, the Jets' defensive line is a relative strength. Muhammad Wilkerson has been a revelation in his second season and should develop into a Pro Bowler down the line.
If they can find an improvement over Mike DeVito, they should probably make a move in free agency. But draft-wise, the Jets should probably stand put with their defensive line.
Linebackers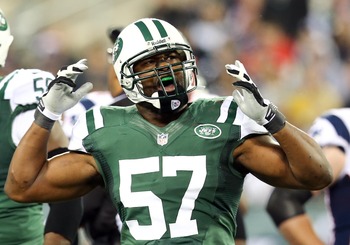 Debby Wong-USA TODAY Sports
Long a position of strength for the Jets, age is starting to be a creeping factor on the team's linebacking corps.
In particular, the left side of the unit is starting to show age.
Bart Scott has been hobbled both by injuries and his own ineffectiveness this season. An emotional leader in the locker room, Scott's play has taken a precipitous dip over the past two seasons. With just 25 solo tackles on the year, it might be better to make him a more rotational player in 2013.
The same can be said for Bryan Thomas, who will be 34 by the time next season rolls around. After coming back from a torn Achilles, Thomas has shown a lack of burst off the edge and only has 22 total tackles and 2.5 sacks on the season.
Linebacker is by no means a weakness, but it could become one if the team isn't proactive with a youth movement.
Secondary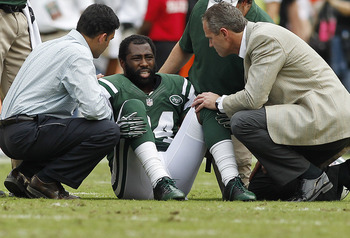 Robert Mayer-USA TODAY Sports
Even with Darrelle Revis out for the season, the pass defense has been nothing short of extraordinary in 2012. Kyle Wilson has stepped into Revis' spot admirably and Antonio Cromartie is the same big-play threat he's always been.
Coming into Week 14, the Jets rank fourth in the NFL in pass defense, giving up just 198.3 yards per game. When Revis comes back, there's no reason to think the Jets won't be at or near the top of that list again in 2013.
Special Teams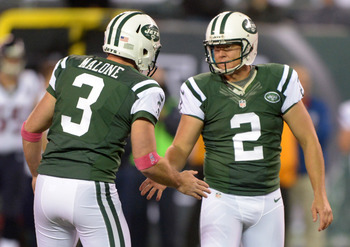 Kirby Lee-USA TODAY Sports
As a rule of thumb, if you waste a draft pick on a kicker or punter, your general manager deserves to be smacked in the hand with a ruler. Outside of a select few outliers, both positions are filled with replacement-level guys looking for work and we've seen countless franchise kickers/punters take a steep nosedive in performance without rhyme or reason.
At kicker, the Jets could probably use some level of improvement. Nick Folk hasn't hit any higher than 76.9 percent of his field goals in three years with the team and his 75 percent rate this season is tied for 27th in the NFL.
At punter and the return game, the Jets are basically set. Robert Malone is a solid young punter and Joe McKnight and Jeremy Kerley both do their job well as return men.
Keep Reading

New York Jets: Like this team?