Stock Report for Top 20 NBA Prospects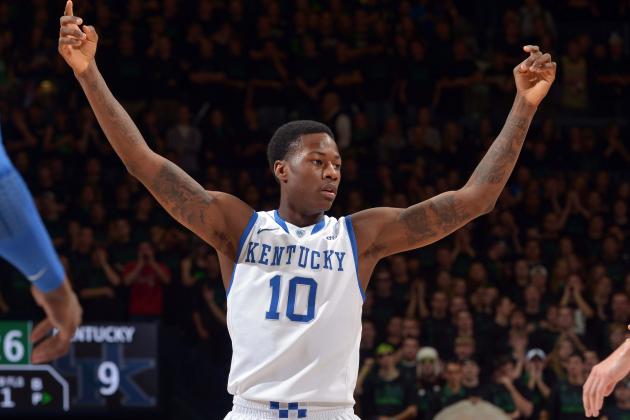 Matt Cashore-USA TODAY Sports

We've gone deep enough into the college basketball season where a prospect's play might have impacted their draft stock.
Freshmen have shown promise, upperclassmen have shown progression and a few mid-tier prospects have been somewhat disappointing.
Of course, with conference play still a month away, no changes to draft stock will be written in stone.
Note: All stats accurate as of Dec. 7, 2012.
Begin Slideshow

»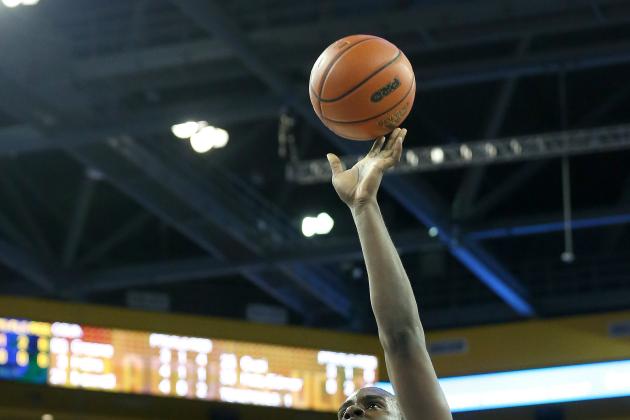 Stephen Dunn/Getty Images

UCLA's losses should not impact Shabazz Muhammad's draft stock. When he's going head-to-head with UNC's James McAdoo in pre-draft workouts, no scout is even going to remember UCLA losing to Cal Poly.
Muhammad hasn't practiced much, nor does it look like he needs to.
He's averaging 16 points in 27.6 minutes and is making 44.4 percent of his three-point attempts.
In just a few games, he's shown off his entire repertoire, whether it's attacking the rim, pulling up off the dribble, spotting up for three or scoring in the post.
It's tough to give Muhammad a comparison because we haven't seen anyone like him. That's not to say he's the next LeBron James; he just offers a unique set of versatile skills that should be compatible with NBA play.
He appears to have the highest ceiling and basement of any prospect in the class.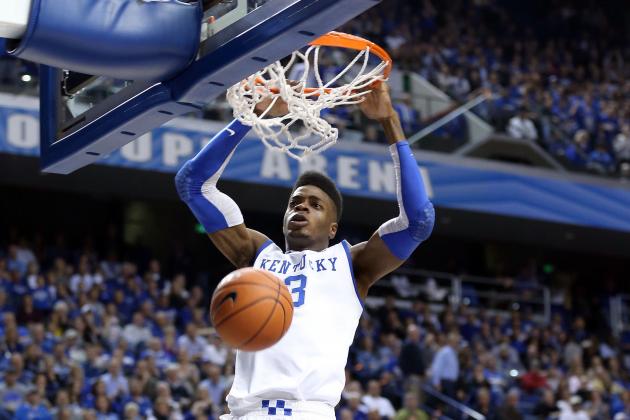 Andy Lyons/Getty Images

Nerlens Noel hasn't lost any ground despite some shaky offensive performances in losses to Notre Dame and Baylor.
He's averaging nine rebounds and three blocks on the year, which are the only numbers we really care about at this stage of his freshman year.
The 11.6 points per game he's averaging are actually a positive, which, when paired with a 52 percent mark from the field, shows his 3-for-14 game against the Irish will probably be an outlier when reviewing his entire body of work.
He's getting himself easy baskets at the rim and has actually shown some promise as a shot-creator within eight feet of the cup.
Noel's stock is up after an unsettling debut against Maryland center Alex Len on opening night.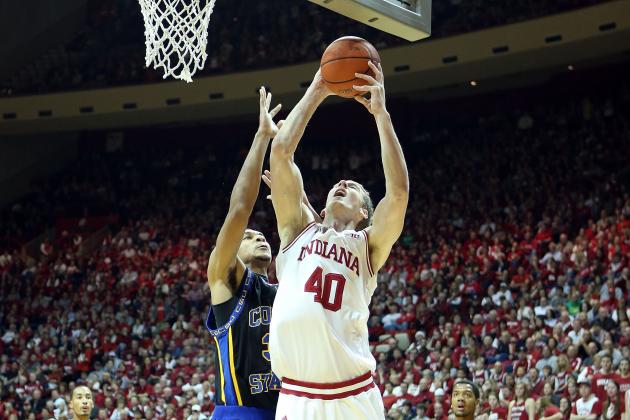 Andy Lyons/Getty Images

Cody Zeller entered the year as our top prospect on the board, but has slid down a few spots after not showing any visible improvements or additions in his game.
He's still averaging 15 points on 63 percent shooting and remains the most polished offensive post-player in the country.
But we still haven't seen any signs of a face-up game at the high post, though, or a jumper that could keep defenses honest.
The 7.6 rebounds per game he's averaging is also an underwhelming number, and he's blocking less than half the amount of shots as positional rival Nerlens Noel.
It's tough to justify a first overall selection on a center who doesn't control the paint. He's still a top-five guy, but there are safer prospects with higher upsides.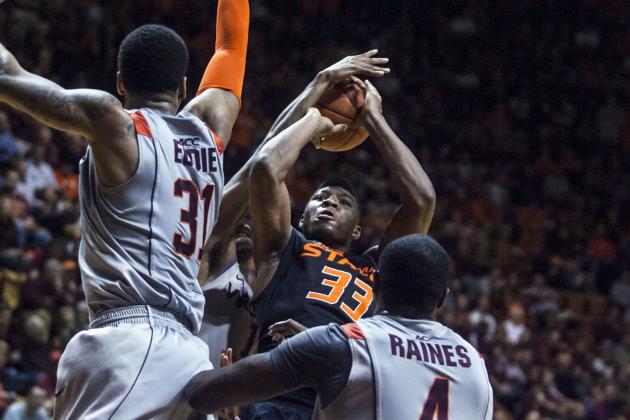 Peter Casey-USA TODAY Sports

Marcus Smart wasn't supposed to be considered a legitimate NBA prospect until his sophomore year, but things change when you're averaging 14.3 points, 7.4 rebounds and 5.7 assists a game.
Realistically, the numbers are irrelevant. Smart finds a way to stand out without ever making the "wow" play. He's a born leader, which can't be quantified by numbers or statistics.
And it just so happens that he's contributing across the board. Still, his draft stock didn't reach this level because of box scores.
The more Oklahoma State wins, the higher Smart's stock will soar.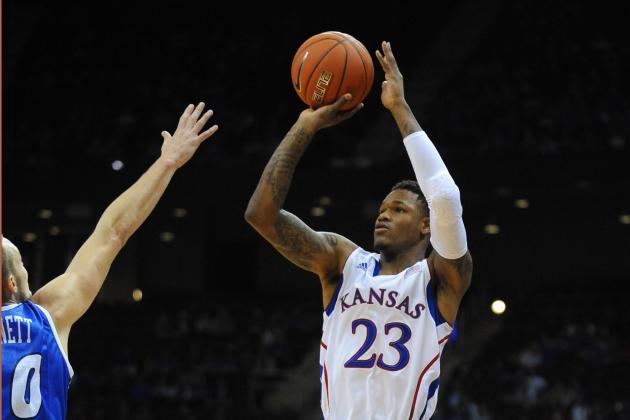 Denny Medley-USA TODAY Sports

Ben McLemore is coming off a 21-point game against Oregon State and has made a real case as the top pure off-guard in the country.
His numbers are excellent across the board. McLemore is scoring 14.9 points in 11 shots a game while shooting 47.4 percent from the floor. Ironically he's only shooting 31 percent from downtown despite his three-ball being one of his best qualities.
With NBA-level athleticism, a picturesque jumper and excellent off-the-ball scoring instincts, McLemore is an efficient yet productive scorer who can play off any type of player.
His draft stock is rising fast.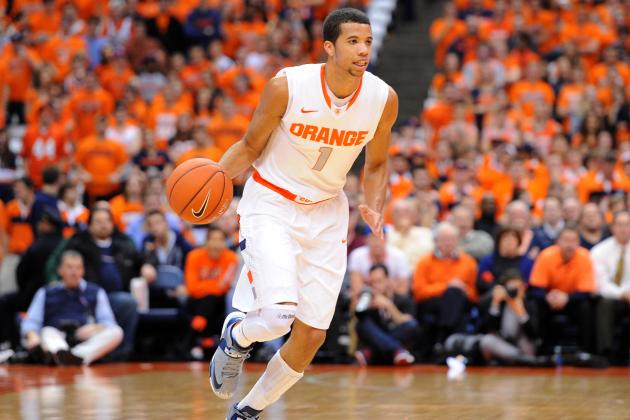 Rich Barnes-USA TODAY Sports

No player in the country has made a quicker projected leap into the lottery than Michael Carter-Williams, who inexplicably leads the country in assists at 9.6 per game.
He's proven that he's capable of being a primary ball-handler, and despite initial questions over his position, he looks like the most natural point guard in the class.
Another facet of his game that might go overlooked is defense. His incredible size and length for a point guard has him averaging 3.6 steals a game, good for third in the country.
Because of his arms, quickness and athleticism, Carter-Williams is able to get to any spot on the floor and consistently create scoring opportunities.
If he sustains this type of production throughout Big East play, it would be hard to imagine many point guards being considered over him.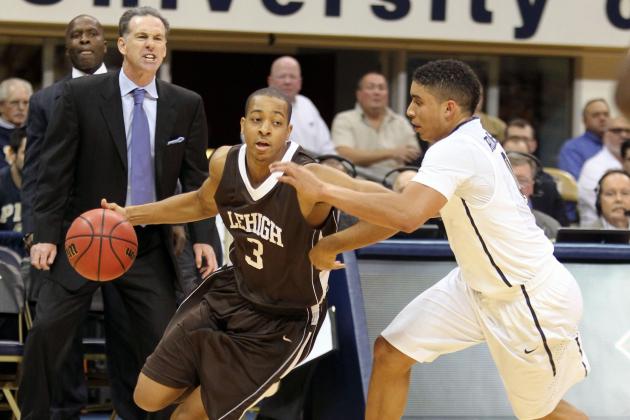 Charles LeClaire-USA TODAY Sports

It's tough to find reasons not to like a guy who's averaging 24.4 points on 50.6 percent from the floor and 53.2 percent from downtown.
C.J. McCollum is torturing everyone he faces. Clearly, he's the only player opposing defenses extensively game plan for, yet they still can't find a way of slowing him down. That's usually a pretty good sign you've found someone with an elite skill—in his case, scoring the basketball.
Assuming he continues to score at will, McCollum will remain a top-10 option throughout the year.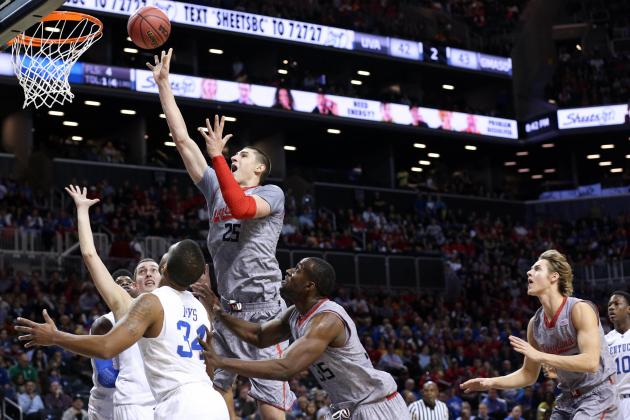 Anthony Gruppuso-USA TODAY Sports

Alex Len has been the fastest rising big man in the country and hasn't shown any signs of slowing down.
He could end up giving Cody Zeller a run for his money by the end of the year because of his ability to dominate the glass and protect the rim. Len is averaging 14.7 points on 56.4 percent shooting to go with nine rebounds and 2.5 blocks.
The only criticism of Len right now is that he's not being sufficiently aggressive on offense, taking less than 10 shots a game when it should be more like 12 to 13.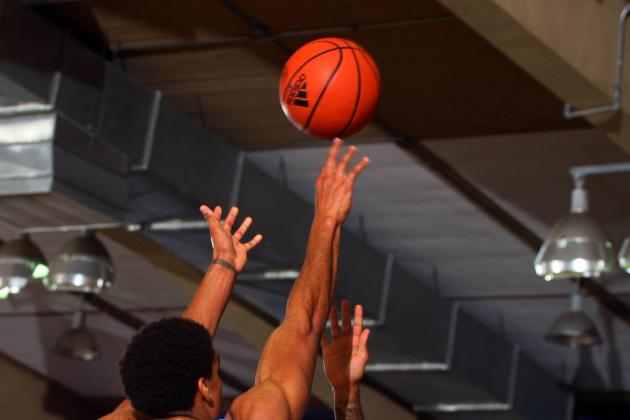 Brian Spurlock-USA TODAY Sports

James McAdoo's stock has taken the biggest hit of any prospect, which is slightly ironic considering the numbers he's putting up.
Despite averaging 15.8 points and 9.3 rebounds on 49.5 percent shooting, McAdoo has turned off scouts with his decision-making and lack of offensive polish.
He's taking wild shots and making poor decisions, turning the ball over nearly four times a game, an absurd number for a player who rarely uses his dribble.
He will need to establish some kind of offensive identity or risk falling out of the lottery in the 2013 NBA draft.
Kevin Jairaj-USA TODAY Sports

Mason Plumlee made it clear that he worked on his game over the offseason.
He's increased his scoring average from 11.1 to 19.6, his rebounding average from 9.2 to 11.0, his field goal percentage from 57.2 percent to 65.4 percent and his free-throw percentage from 52.8 percent to 76.1 percent.
This is usually the type of jump you see from freshman year to sophomore year, not junior to senior.
If Plumlee continues to dominate at this pace, it would be hard to imagine more than 10 teams passing on him in June.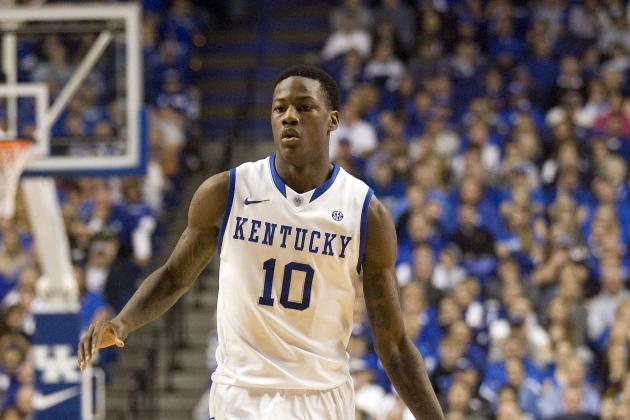 Mark Zerof-USA TODAY Sports

While Archie Goodwin isn't a point guard, his quickness and explosiveness off the bounce have created scoring opportunities for others.
He's averaging 4.5 assists, an impressive number considering his shoot-first instincts and inexperience running the point. Goodwin is also scoring 16.6 points a game on 48.8 percent shooting and is getting to the rim and finishing in traffic.
Still only a month into his college career, Goodwin has made mental errors and poor decisions, but that comes with the territory. He possesses Tyreke Evans-like potential and should only get better with more reps.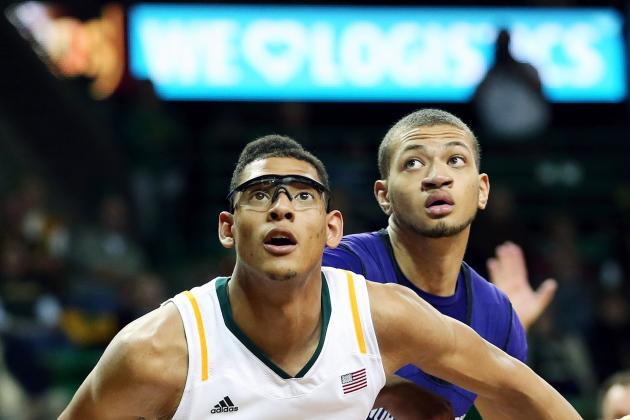 USA TODAY Sports

Isaiah Austin has slowed down over the past few games, most recently finishing with eight points and four rebounds in a loss to Northwestern.
He's only made two of his last 10 three-point attempts over the past four games and doesn't always use his incredible size and wingspan to his advantage. With only four blocks all year, Austin is more of a one-way seven-footer, which limits his overall ceiling.
In terms of an NBA comparison, think Andrea Bargnani-lite.
Austin should look to create more from the post if he wants to maximize his offensive potential and overall draft stock.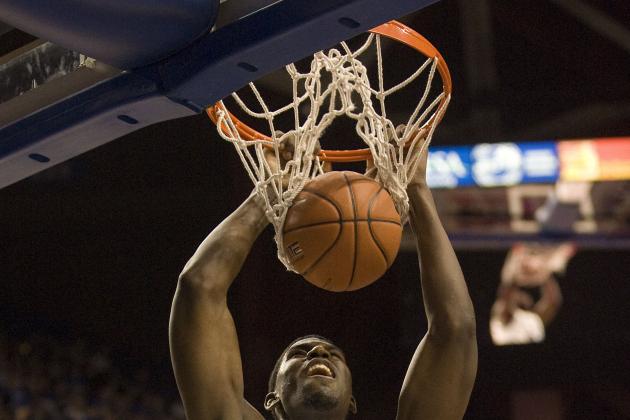 Mark Zerof-USA TODAY Sports

Alex Poythress' effectiveness is related to his point guard-esque ability to break down a defense to create open looks, lanes and scoring opportunities.
Creating his own shot, particularly on the perimeter, is not part of his forte. This likens him to Michael Kidd-Gilchrist, only Poythress has less of a motor and is less powerful and durable.
He had his worst game of the season against Notre Dame, finishing with three points on one field goal attempt.
Poythress is a strong candidate to gradually improve and has the upside of a top-ten pick given his physical tools and ability to finish plays. That said, the inability to create his own offense limits his overall ceiling.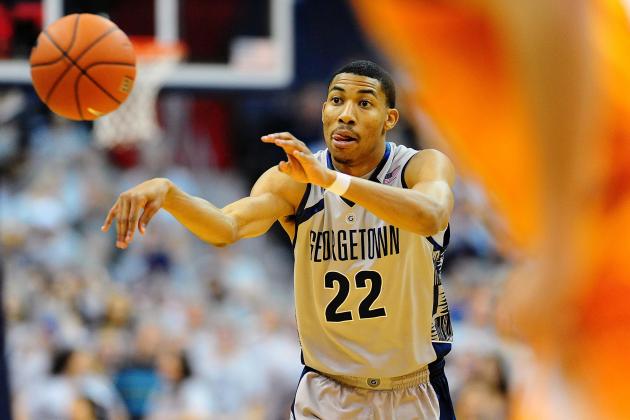 Evan Habeeb-USA TODAY Sports

There's not much to love about Otto Porter, but there's plenty to really like about him.
He possesses a similar skill set as Andrei Kirilenko: someone who can score off cuts, in the mid-range and above the rim, all while racking up steals and blocks thanks to fluid mobility and long arms.
Since suffering concussion-like symptoms opening night, Porter is averaging 14 points, 8.8 rebounds, 2.4 steals and 2.4 blocks over his last five games.
He has the potential to be an upper-echelon role player at the next level. For that reason, Porter's stock is unlikely to fluctuate much throughout the year.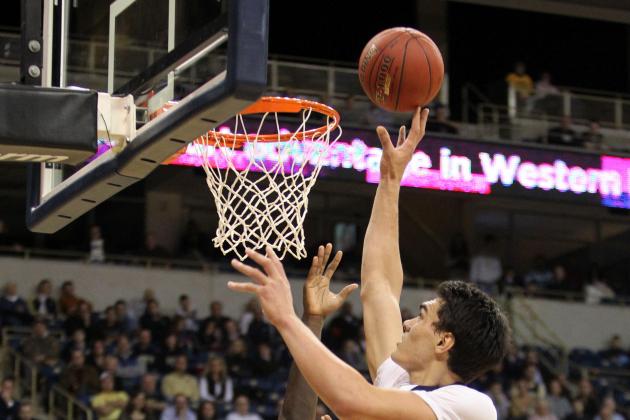 Charles LeClaire-USA TODAY Sports

At this stage in his development, Steven Adams is essentially an athletically gifted seven-footer who gets up and down the floor. But once he gets there, his unfamiliarity with the game kicks in.
Adams is averaging 6.2 points and 5.4 rebounds, looking more and more like a two-year college prospect.
He covers a ton of ground but just hasn't figured out what to do with it yet.
Andrew Fielding-USA TODAY Sports

Maybe the hype got to him.
Tony Mitchell's numbers are down across the board, including scoring, rebounding, field-goal percentage and three-point percentage.
And his team is losing in the Sun Belt Conference.
There really isn't an explanation for the slow start. His nomination as a top mid-major prospect wasn't a mistake or random selection. The tools are all there; he just has to pick them up and use them.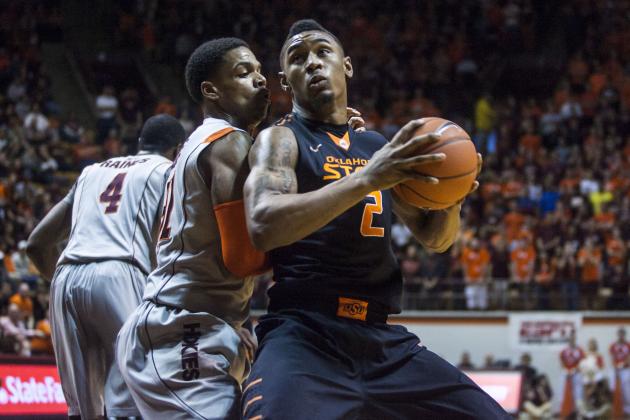 Peter Casey-USA TODAY Sports

Le'Bryan Nash looks like a changed man, having improved his shot selection and upped his shooting percentage.
He's scoring 17.1 points per game and getting to the line nearly eight times a night, compared to last year when he scored 13.3 point a game and took only 4.9 free throws a night. Clearly, Nash is making the proper adjustments in order to improve his effectiveness on the floor.
Nash was a highly-touted recruit out of high school, but turned some people off with his on-court decision-making as a freshman. Now that it seems to be straightened out, he's back in the top 20 and his stock is on the rise.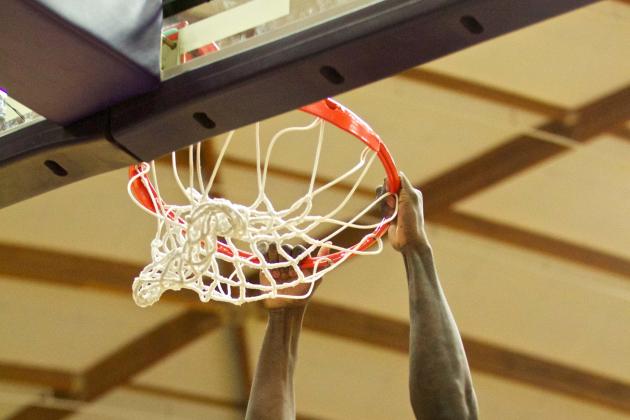 USA TODAY Sports

Anthony Bennett has scored at least 16 points in every game but one, illustrating consistency that can only be explained by his natural feel around the rim.
He's also making nearly a three-pointer per game, giving us reason to believe he's capable of stretching the floor and playing some spot minutes at the 3.
Bennett is a power-athlete with NBA strength and explosiveness that should help make up the extra inch or two he lacks in height.
He's caught on quickly, averaging 18.7 points and 7.6 rebounds, and is giving off the sense that this could be his only year at UNLV.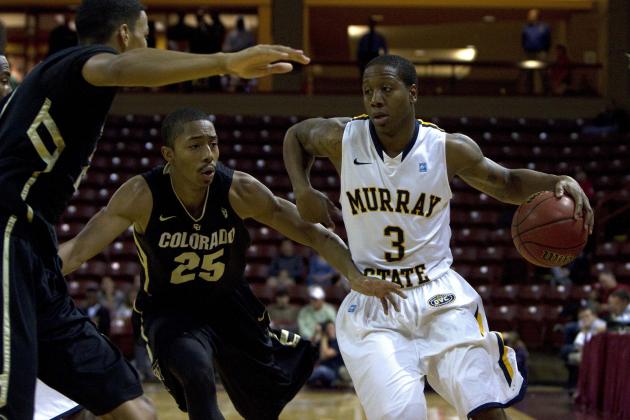 Joshua S. Kelly-USA TODAY Sports

Isaiah Canaan is scoring 21.4 points a game, playing the role of scoring point guard because that's what's necessary for his team to win.
Those that question whether he's a true point guard are just looking for something to pick at. He's turning the ball over less than twice a game in 32.4 minutes and is shooting it at 49.5 percent from the floor and 40.3 percent from downtown.
He's managed to remain efficient despite being asked to dominate the ball, and is starting to shake off some of the skeptics who have a hard time believing in mid-major guards.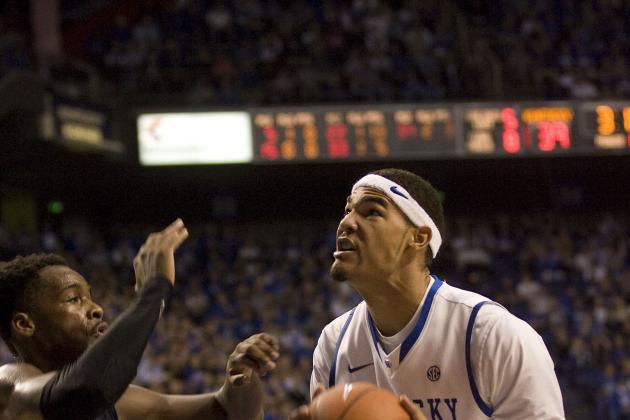 Mark Zerof-USA TODAY Sports

In terms of production per minute, Willey Cauley-Stein's activity level is tremendous.
In Kentucky's most recent win over Samford, Cauley-Stein went for 12 points, 12 rebounds, four blocks and three steals in 22 minutes.
He's producing despite lacking an actual basketball skill set, which just goes to show how much of an impact physical tools can make.
Cauley-Stein isn't getting regular minutes, but the potential he's briefly flashed over the past few weeks is sure to have gotten the attention of scouting departments around the NBA.