Penn vs. MacDonald: Questions We Have About BJ Penn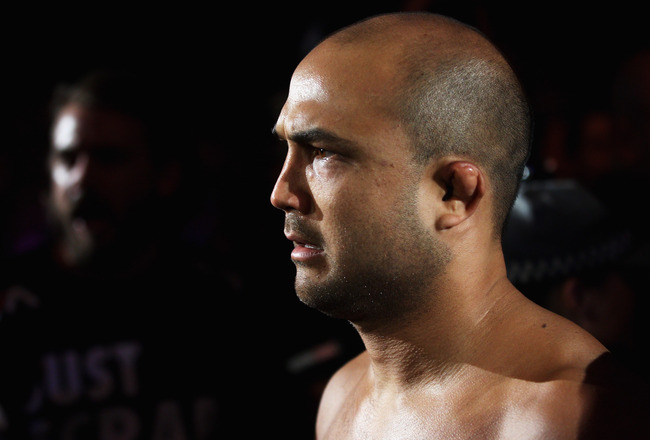 Mark Kolbe/Getty Images
B.J. Penn returns to the UFC for the first time since October 2011, when he dropped a decision to Nick Diaz.
After that fight, his future was up in the air, and it looked like it may be the end for one of the legends in the sport.
However, Penn is not quite done.
He returns for a marquee matchup against Rory MacDonald.
If Penn can return and knock off the much-hyped MacDonald, he can put his name back at the top of cards. It will not be an easy task, but UFC on FOX is the perfect platform to relaunch his career.
Here are five questions we have about the former lightweight and welterweight champion.
Has He Been Passed By?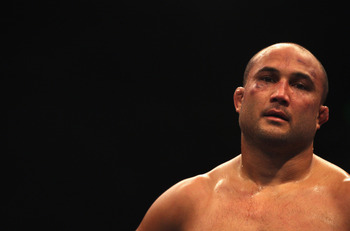 Mark Kolbe/Getty Images
Penn has been in this sport for a long time and has had many great fights throughout his career. However, MacDonald represents the new breed of fighter—the same breed that Georges St-Pierre ushered in when he debuted in the UFC.
We have seen how Penn matches up to GSP, and MacDonald is considered to be the second coming at welterweight.
Penn is fighting for his legacy. Fighters like MacDonald are fighting to put themselves in a position to become the best in the world. Penn is seen as a great opportunity for them to make their name. He has many great physical attributes, but it is possible the new athletes entering the sport have passed the Hawaiian by.
The fighters are getting younger, faster, stronger and are more hungry than ever. Is that too much for the former champion?
Can He Defeat a Top Welterweight?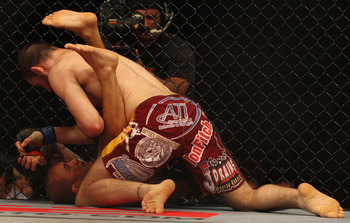 Mark Kolbe/Getty Images
When posing this question, many will say, "Of course, he was the champion of the division."
However, that is to omit that Penn has only met four welterweights in the UFC, and has only defeated one of those fighters.
Matt Hughes.
Penn is 0-2 against GSP, drew with Jon Fitch and was picked apart by Nick Diaz.
The title victory over Hughes—and a 23-second knockout, six years later—does not make a great welterweight. He has never been able to sustain a streak at this weight.
If he is able to derail MacDonald on Saturday night, we will have our answer. It is clear MacDonald is one of the very best in the division at this point, and could be the future champion of the division.
Can He Reclaim His Former Glory?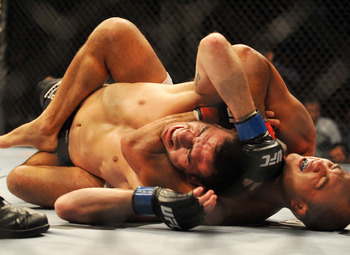 Jon Kopaloff/Getty Images
This is closely aligned with the previous slide.
Penn needs to showcase his finishing ability to regain his position among the greats of the UFC. Squeaking by MacDonald will not get it done.
When he burst onto the scene, it was his killer instinct that fans loved. When Penn reigned at lightweight, he brought that finishing prowess back with him.
Now he must regain it once more.
MacDonald is not an easy out. If Penn can upend him in exciting fashion, he will move himself back into a position to headline a card and be called one of the very best fighters in MMA history.
The luster he has lost will be restored with a vintage performance.
What Shape Will He Be in When He Enters the Octagon?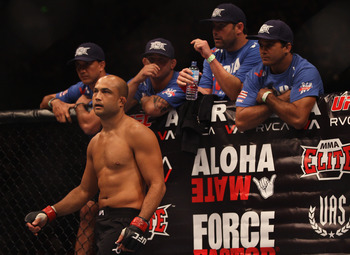 Mark Kolbe/Getty Images
Cardio has been a constant question throughout his career.
It was this video that sparked excitement surrounding Penn's physique, but we've been here before. Nothing is certain until we see him inside the cage.
Is Penn prepared for the battle with MacDonald? It is more than just entering and looking like you're in shape. A grueling fight will quickly expose his true fitness.
If Penn is in the best shape we've ever seen him, we should all be in for a treat. A motivated Penn has given us some fantastic fights. It will also give us a look at where he stands, not only in the division, but as a fighter in general.
Is His Heart Still in It?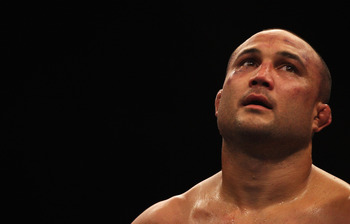 Mark Kolbe/Getty Images
In Penn's recent fights, we have been subject to pre-fight hype only to hear him talk about potential retirement in post-fight interviews.
Is he committed to making another run? This may be the most important question of all.
If he is not committed to returning to his old form and reclaiming his spot among the legends of the sport, why is he returning?
Win or lose, will we watch Penn retire in the Octagon? Does he still want to give it 100 percent?
I hope so. Most fans hope so. MMA is a better place with a motivated B.J. Penn. He is one of the most fun fighters to watch perform. It is almost always a treat. No one wants to see him just go through the motions in the cage. It does not benefit anyone.
Saturday, Rory MacDonald will quickly find out if Penn's heart is still in this game.
Keep Reading