Fact, Fiction and Farce Heading into NFL Week 14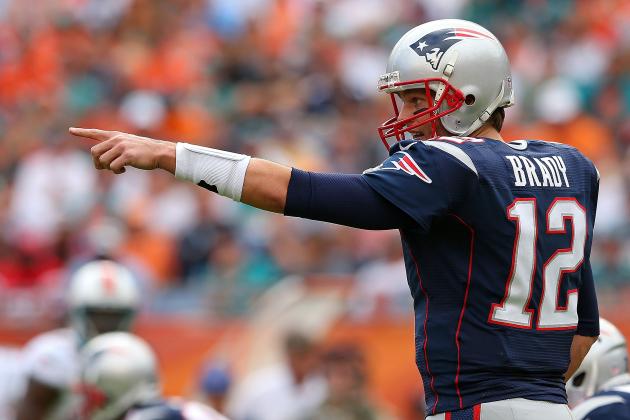 Mike Ehrmann/Getty Images

Fact: 33 percent of the NFL's divisions have been decided with still four weeks left.
Fiction: Percy Harvin will return this season.
Farce: The New York Jets quarterbacks.
This season is flying by faster than Ryan Lindley could lose a starting quarterback job. There are just four weeks left in the regular season, and I'm already starting to get the fear that comes with the realization that I will be forced to live out the finish of winter without football.
So let's enjoy it while we can—and discuss 10 topics around the NFL to decide if they are fact, fiction or farce.
Begin Slideshow

»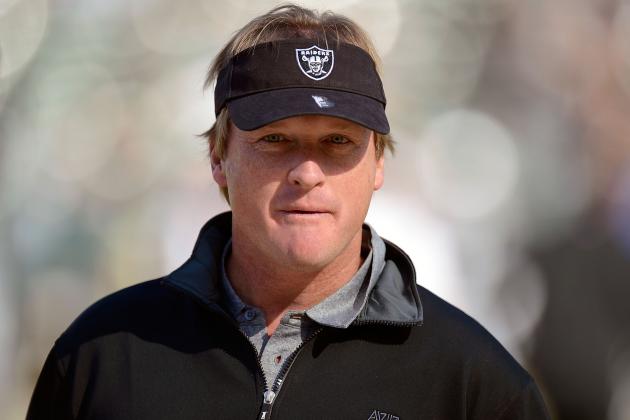 Thearon W. Henderson/Getty Images

Verdict: Fiction
You can't go home again, but Jon Gruden might be contemplating it. CBS' Dan Bernstein tweeted out the news.
. @hub_arkush of @profootballwkly just told @boers_bernstein that Jon Gruden and the #Raiders are in talks to bring him back to Oakland.

— Dan Bernstein (@dan_bernstein) December 4, 2012
While it is in Tampa where Gruden won his Super Bowl, it is in Oakland that "Chucky" became an icon. While many Raiders fans, of which I am one, were bitter when he first left, the guy is almost universally loved in Raider Nation.
His hire would be met with great enthusiasm.
Now, I have no better idea if there is validity to this rumor than you do, but it's not going to matter.
As Go Vols' Evan Woodbery reported Gruden's agent recently said that Gruden "has made it clear he's committed to ESPN," but that isn't the reason this won't happen either.
Anyone can switch professions at any time, and what was said previously often has little bearing on what will actually transpire. The real reason I don't see this happening is the same reason Gruden was traded in the first place. He won't have the roster control he's looking for.
Reggie McKenzie is in his first year as general manager for the Raiders. He is not going to want to have a coach come in and rule the roost, and while I can see Mark Davis being okay with first-year coach Dennis Allen getting the boot, I don't see him forcing his GM out of town after just one season.
But hey, maybe we'll be talking about all of this again next season.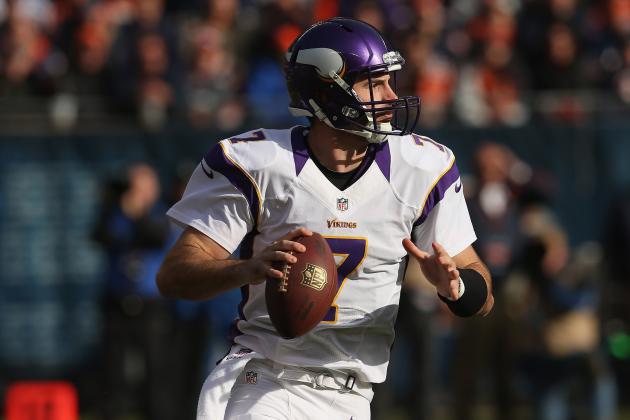 Jonathan Daniel/Getty Images

Verdict: Fact
So Adrian Peterson goes off for 210 yards on 21 carries and a touchdown and the Vikings still lost to the Packers 23-14 this past Sunday.
They can thank Christian Ponder for that.
He was, and has been, terrible. He finished the game 12-of-25 with 119 yards, one touchdown and two interceptions, and he was at his worst when the Vikings had a chance to take control of the game.
The Vikings started the second half with a 14-10 lead. They entered the fourth down 20-14. Ponder ensured that when he threw a pick on the final play of the third quarter. He missed his seven passes prior to that pick.
You can't win in the NFL with quarterback play that bad.
Ponder started off this season looking vastly improved from his rookie year, but his hot start has turned into a series of bad decisions and inaccurate throws.
He is now 27th in QBR at 41.6, and appears to be regressing. Since Week 5, Ponder has finished just one game with a QBR of over 37.3, and he's had just one game, in that stretch, where he's had more touchdown passes than interceptions.
The worst part is, he is turning in these bad performances while playing with a dominant running back. The amazing Peterson is on a tear, and he commands extra attention from defenses, yet Ponder can do nothing to exploit defenses with both eyes glued to the backfield.
Ponder needs to make huge strides over the final four games or the Vikings can forget about the playoffs, and they will need to start looking for a new quarterback of the future.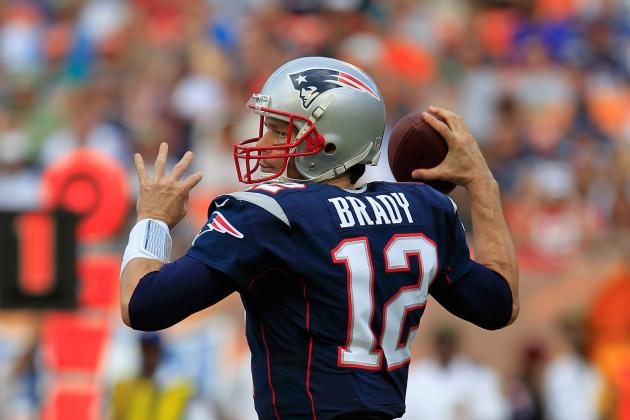 Chris Trotman/Getty Images

Verdict: Fact
The topic of greatest quarterback ever will always be highly debatable. However, Brady is putting together a resume that will be difficult to argue against.
This past week the Patriots clinched the AFC East. That gave Brady, 35, his 10th division title. He is the first QB to ever hit 10 division titles.
In last week's game, he also threw a touchdown pass in his 44th consecutive game, and with Brees coming in with zero touchdown passes last week, Brady could easily wind up holding that record.
The biggest thing holding Brady back right now is Super Bowls. He has three of them, which puts him in elite territory, but he still trails Joe Montana and Terry Bradshaw by one, and Brady has lost his last two.
He will need to reverse that trend and add another title to really bolster the resume, but with Brady showing no signs of slowing down, and the Patriots being perennially excellent, he could certainly win one more Super Bowl, if not more.
If that happens, combined with his prolific stats, it will be hard to argue against Brady.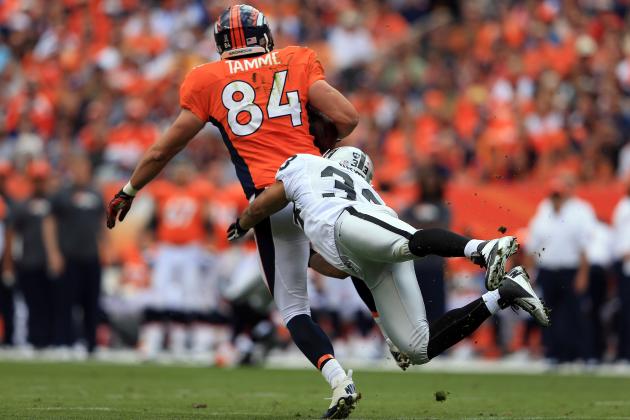 Doug Pensinger/Getty Images

Verdict: Fact
Jacob Tamme has not been a consistent producer this season, and he has just two touchdowns on the season, but he can be counted on in this crucial week of fantasy football.
And you might be able to claim him off the waiver wire. He is owned in 52.9 percent of standard leagues on NFL.com.
Tamme is coming off his most active game of the season as he had nine catches for 89 yards against the Buccaneers last week, and that followed a strong performance the week before against the Chiefs when he turned in four catches for 48 yards and a touchdown.
Tamme has emerged as a more featured part of the Broncos' passing attack the last two weeks as he's combined to receive 20 targets, and he will produce this week against a sinking Raiders' defense.
The Raiders' defense has been failing all over the field as of late, and it has been weak against tight ends all year—it has allowed sixth most points to tight ends in standard leagues.
So Tamme not only has that going for him, but he also shouldn't be needed to stay in and block on pass plays. Tamme is an outstanding blocker, but the Raiders have an anemic pass rush.
This will free him up to do damage in the pass game.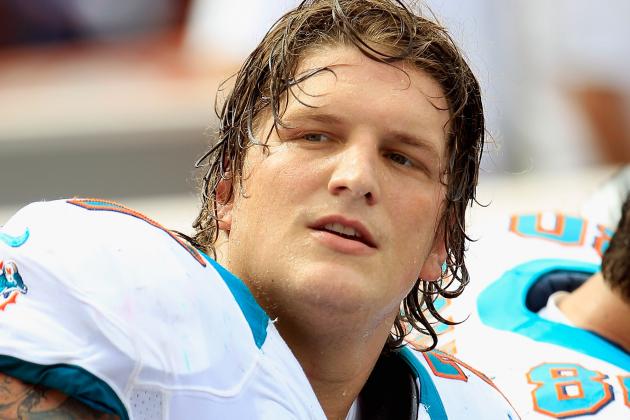 Chris Trotman/Getty Images

Verdict: Fact
Two years ago, the Dolphins must have thought they weren't going to have to worry about the left tackle position for the next ten years or so.
Jake Long, now 27, was widely regarded as the best offensive lineman in the game. That is far from the case now.
Long's performance has slipped the past two seasons, and he can't stay healthy. He ended last season on the IR, and he has suffered the same fate this year.
CBS' Jason La Canfora tweeted out the news, while also highlighting why it is time for the Dolphins to look elsewhere.
Dolphins put LT Jake Long on IR, ending his poor season. wonder if they end up franchising him, because longterm deal looks tricky

— Jason La Canfora (@JasonLaCanfora) December 5, 2012
A long-term deal does indeed look tricky, but so does the franchise tag, which would likely be in excess of $15 million for one season.
The Dolphins have too many holes to fill to spend that kind of coin on a left tackle who can't stay on the field.
It is time for the Dolphins to let Long walk in free agency, and look for a better bargain at left tackle.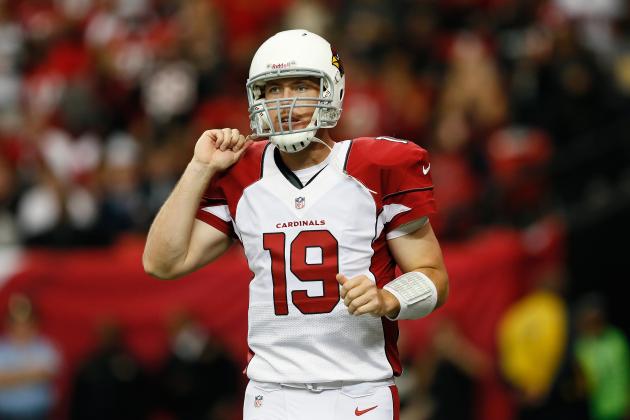 Kevin C. Cox/Getty Images

Verdict: Farce
How in the world a passing attack with Larry Fitzgerald can be this bad is beyond me.
The Cardinals' air game is a joke, and it turns out that Ryan Lindley was not the answer.
In the Cardinals' 7-6 loss to the Jets last week, Lindley managed just 72 yards on 31 pass attempts. That is impressively inept.
It helped plunge the Cardinals deeper into last place in the key yards-per-pass stat.
Lindley received the last three starts for the Cardinals, and in two of those three he mustered 72 or fewer passing yards.
So, this news tweeted by Fox Sports, should come as no surprise.
Ken Whisenhunt announced today that John Skelton will be the starting quarterback against the Seahawks this Sunday. #AZvsSEA

— FOX Sports Arizona (@FOXSPORTSAZ) December 5, 2012
Back to Skelton! Shockingly, Skelton taking over the reigns should be an upgrade, but not by much. For the season, Skelton is completing just 54.7 percent of his passes at just 5.9 per attempt.
The Cardinals have no good answer at quarterback right now, and these terrible signal-callers have received no help from an offensive line that fails at pass blocking,
Not even Fitzgerald can help save this aerial disaster.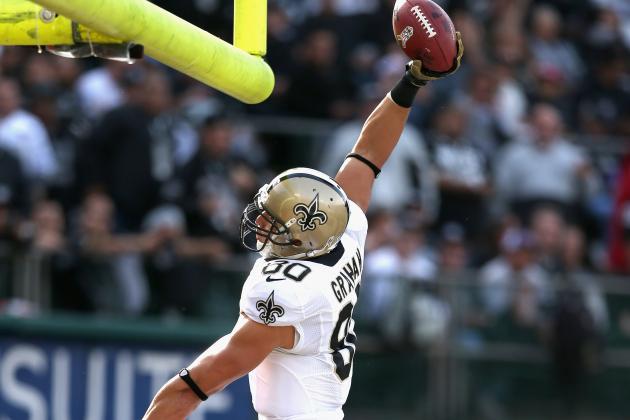 Ezra Shaw/Getty Images

Verdict: Fiction
Jimmy Graham is a nice fantasy option at tight end, but he is not head and shoulders above his competition like he, along with Rob Gronkowski, was last year.
Graham has 654 yards and eight touchdowns on the season. These are solid numbers, but he is coming off of three lackluster (by his lofty standards) weeks.
In those three games he has combined to catch 14 passes for 121 yards and one touchdown. What is even more disturbing, not counting the game where Graham had to leave early with an injury against the Chargers, his lowest three targeted games have come in the last three contests.
He has had six targets in each of the past three. ESPN's Pat Yasinskas shared a stat that could be the cause of this. Graham leads the NFL with nine drops on the season.
This is not to say owners should bench Graham, he is still producing at a decent level for a tight end, just know that this guy is not the lock for production that he once was.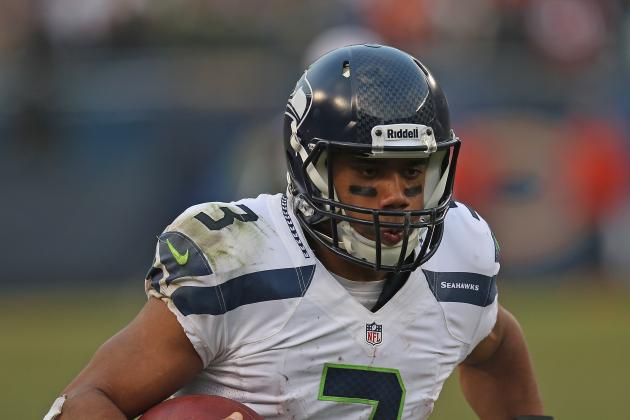 Jonathan Daniel/Getty Images

Verdict: Fiction
Andrew Luck and Robert Griffin III entered the league with huge expectations and giant spotlights, and both have lived up to, and actually surpassed, those expectations.
They would appear to be running away with the Rookie of the Year race.
Not so fast. The Seahawks Russell Wilson has scampered his way into the discussion.
Wilson was amazing while leading the Seahawks to an overtime victory over the Bears in Chicago this past week, and it is just the latest step in his development.
Wilson has been brought along slower than his two counterparts, and he has certainly benefited from a strong run game and an excellent defense. However, he has rapidly morphed into the centerpiece of the offense.
There is no better argument for Wilson's inclusion in this race than the one offered up by ESPN's Mike Sando.
Sando points out that Wilson and Luck have played seven common opponents: Chicago, Minnesota, Green Bay, Miami, New England, Detroit and the New York Jets.
Wilson's stats against these teams are far sexier than Luck's, as Sando points out:
Wilson has 16 touchdown passes with only one pick against these teams. He has a 115.6 NFL passer rating and 81.6 Total QBR score against them. Luck has 13 touchdowns, 12 interceptions and a 74.9 passer rating against them. His QBR score (68.2) is stronger than his traditional stats might indicate, a theme for Luck all season, not just in these games.
What a measuring stick this is! Now there are many factors at play here, like the previously mentioned strong run game and defense for Wilson, but you can't ignore those numbers.
Nor can you ignore the fact, as Sando also points out, Wilson leads the NFL in QBR since Week 6.
Wilson is getting better each week, and his team is right in the thick of the playoff race. If he keeps improving like this and coming up with games like the one he turned in against Chicago, it is conceivable he could steal this award.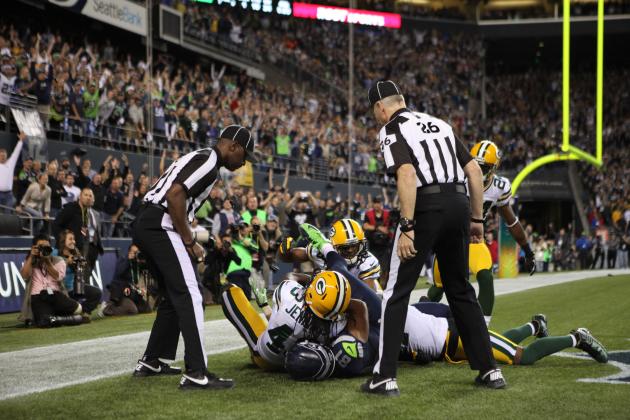 Otto Greule Jr/Getty Images

Verdict: Fact
This is the terrible call that just keeps on giving.
When the replacement refs missed a blatant push off by Golden Tate and then arrived at a baffling simultaneous catch decision that handed the Seahawks a victory over the Packers in Week 3, the greatest fear was that the call would end up having serious ramifications on the playoff race.
Well, with four weeks to go, it looks like it is going to do just that.
As it is now, this call is costing the Packers a first-round bye, and it has the Seahawks in the playoffs.
If Seattle had lost, they would be tied with the Washington Redskins for the final wild-card spot, but the Redskins would win the tie breaker.
Hopefully, as the season winds to a conclusion, the impact of this decision will lessen, but I'm not banking on that.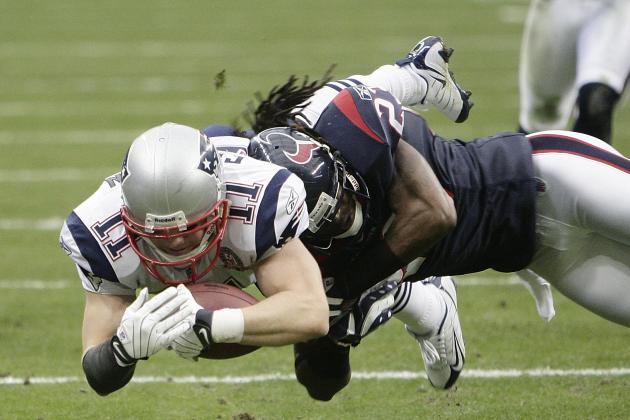 Bob Levey/Getty Images

Verdict: Fact
Week 14 is saving its best for last as the 9-3 Patriots will host the 11-1 Texans on Monday Night Football.
The Pats have already won their division, but this game will be key for the Patriots if they want to try and steal home field advantage for the playoffs from the Texans.
So get ready for a tightened race for home field because the Patriots are headed toward victory.
For starters, they have the advantage of playing in front of their home fans, but the other thing is, the Patriots bring an elite passing attack.
The Texans have not faced many potent passing attacks this season, which masks the fact that this pass defense is vulnerable. That was evident in the Texans' lone loss when Aaron Rodgers torched them for six touchdown passes.
For the season, the Texans are sixth in the NFL in yards allowed per pass at 6.1. However, over its last three, Houston is allowing 7.5 yards per pass, and that stretch includes games against the meager passing attacks of the Jaguars and Titans.
Tom Brady and the Patriots passing offense will be able to exploit this defense.
On the other side of the ball, the Patriots are eighth on the season in yards allowed per rush, they will be able to slow down the Texans' run game, and Houston does not have the horses to compete with New England in a pass-heavy affair.
The Patriots will win 27-20.