Redskins Rookie Robert Griffin III Scores a Perfect 10 in NFL Combine QB Tests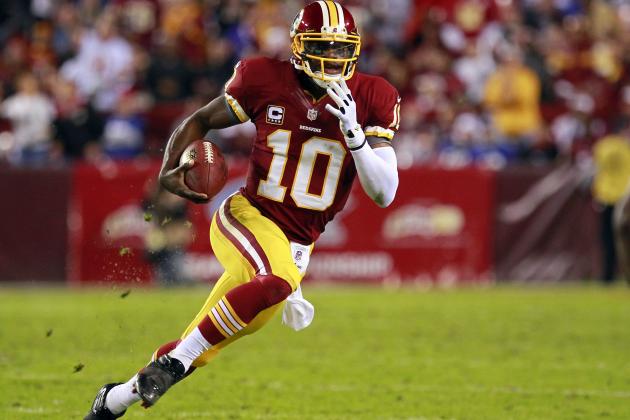 Geoff Burke-USA TODAY Sports
Robert Griffin III dazzles even his critics as he continues to exceed expectations and re-write the NFL rookie record book.
Every February in Indianapolis, NFL owners, coaches and scouts gather and eagerly await the "Invite Only" college athletes who dream of a future as an NFL starter.
Those invited have an opportunity to showcase their talent, speed, ability as well as agility in front of prospective league elite.
RG3 was an exception in the 2012 NFL Combine. He went. He ran. He chose not to throw. Many speculated that he did not want to have his NFL future and prospects to literally lie in the hands of unknown, pre-selected receivers.
Fast forward to his awe-inspiring, weekly display of raw talent that has vaulted him to the top of the list for the "2012 NFL Rookie of the Year" award and recognition. Did he make the right decision by declining to participate? The Redskins certainly don't think so.
There are seven categories that NFL scouts have consistently used as a grading scale for QBs eligible for the draft. They consist of:
Accuracy
Arm Strength
Athleticism/Mobility
Decision-making
Field Vision
Mechanics
Pocket Presence
The following slideshow is an analysis of RG3 and his performance so far this 2012 season. In MY estimation he has scored a perfect 10 in all categories.
Begin Slideshow

»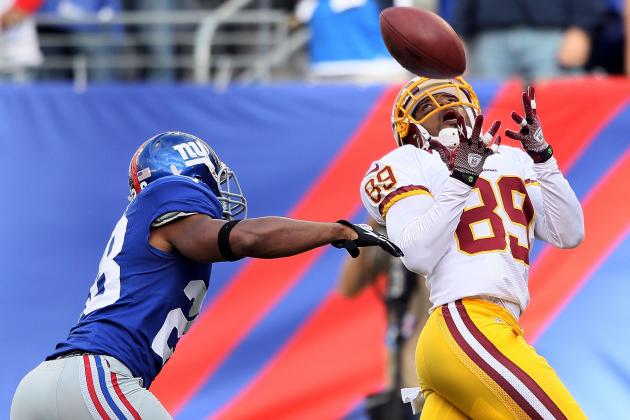 Alex Trautwig/Getty Images
Redskins WR Santana Moss on the receiving end of another RG3 touchdown pass.
When it comes to accuracy, it does not rely solely upon completion percentage. While RG3 boasts a rate of pass completions of 67.1%—his interception rate is 1.2%. Accuracy is more importantly a value in which RG3 can place the football in a place where his receiving corps can make the catch. This matters whether in limited space or hitting the receiver in stride.
Accuracy also includes the location of the ball in relation to the receivers field position and the proximity of the defender. His ability to put the ball where the pass can be caught by the receiver and not the defender is exemplary as he has thrown only four interceptions this season.
SCORE: 10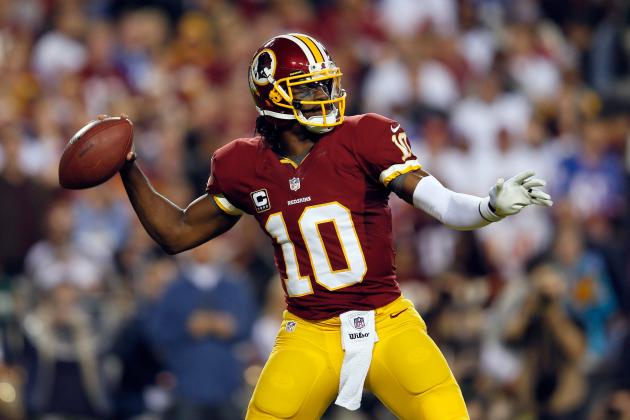 Rob Carr/Getty Images
RG3 has thrown three 300-plus yard games this season.
This category does not mean how far a QB can throw the ball. It is a combination of distance, loft and zip of the ball. Scouts are also known to take this category to a more difficult grading level by measuring the position of the arm upon release.
Primarily, it breaks down to how deep the pass is downfield and how fast it gets there. It also may include the quarterback's "throw power". The most common reference is whether a QB has a "big arm".
Does the term "frozen rope" mean anything to you? It is commonly used in baseball but it applies in this measurement of QB skill as well. RG3 leads the NFL in passes for touchdowns over 40 yards with four.
SCORE: 10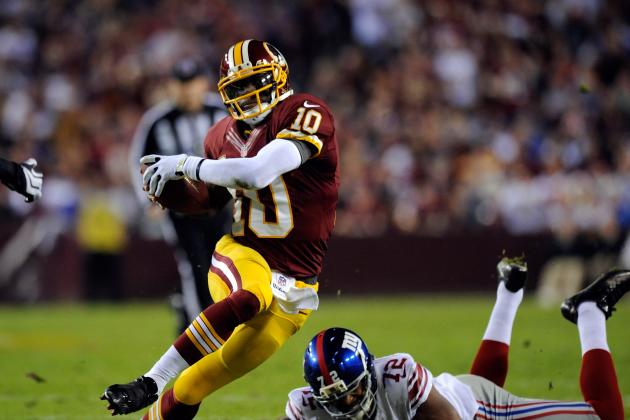 Patrick McDermott/Getty Images
RG3 puts a little shake, rattle and roll after evading NY Giants DE Osi Umenyiora.
We hear it referred to often as the QB's ability to scramble but it is much more than that. RG3 has displayed an absurd amount of athleticism and mobility while emerging from the backfield.
Mobility may also include evading tackles, dodging diving opponents and remaining in the play. Athleticism along with mobility are skills that can't be taught. You either have it or you don't.
RG3 displays both athleticism and mobility running. He is the NFL's top rushing rookie QB of all-time, with four games remaining in the season. He has 714 yards rushing.
SCORE: 10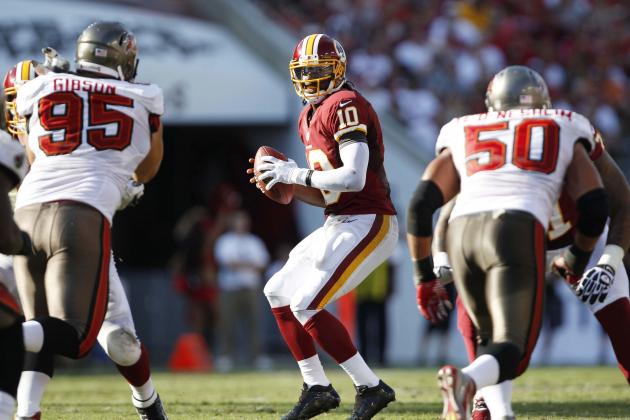 Matt Stamey-USA TODAY Sports
In Week Two against the Tampa Bay Buccaneers, RG3 exemplified his decision making skills.
I find it difficult for this category to be a true reflection of a quarterback and his ability at the combine. You need to have a real game-time situation with all of the fixings thrown in. What's at stake? Time remaining in the half or game? It can go on and on.
What it does measure is the ability to know when to throw the ball away instead of risk an interception. When and where to slide while rushing for the first down. Whether to call timeout or spike the ball.
Again, it is a very difficult measurement and it mostly depends on the game-time situation.
In his second game as a Redskin, RG3's headset malfunctioned with two minutes left in the game in what turned out to be the game winning drive. Based on that situation alone . . .
SCORE: 10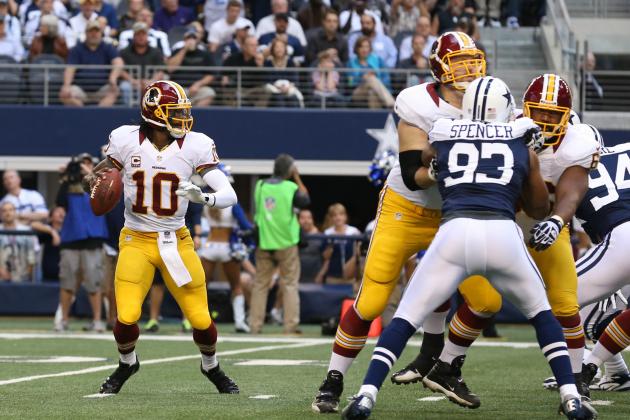 Matthew Emmons-USA TODAY Sports
Pivotal to the recent success for the Redskins and the pistol-style offense.
RG3 has it. He can see the field and the opportunities presented to him on any given Sunday. And if it doesn't work the way it was drawn up on the chalkboard (do they still use chalkboards?)—what does he do as the "field general"?
His awareness of what is happening around him as well as downfield is stellar. He has the keen sense as to what might be lurking in the secondary and how to avoid a potential interception. RG3 always seems to know where the receiver is going to be and deliver the ball safely to that spot on the field. RG3 has an exceptional awareness in passing situations and plays in which he is the primary rusher.
In addition, in passing situations he has the ability and agility to turn a broken play into a huge gain. His quick instinct and decision making talent has enabled him to immediately dismiss the primary receiver and turn and check the second or third option on the play.
Equally important, he doesn't have to force it and that is due in part to his talent as a rusher at any moment.
SCORE: 10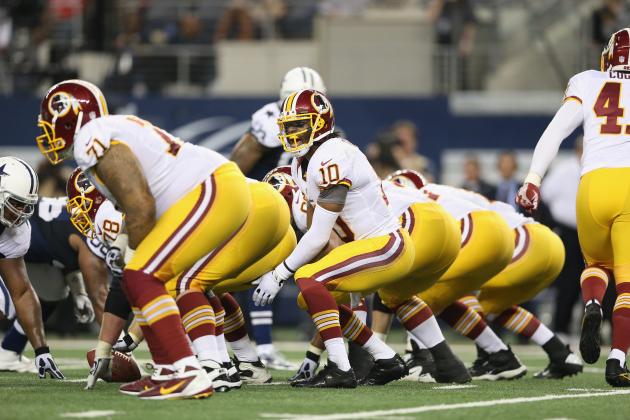 Ronald Martinez/Getty Images
RG3's talent was put to the test in the win against the Cowboys.
RG3 has a gift when operating out of the backfield. This starts with his exchange with the center and includes even the shotgun formation and execution of a play. The category of mechanics involves balance, shoulder movement and ball rotation (spiral).
Typically, if a quarterback does not have a balanced technique in the game he doesn't stay at that position as a starter very long. It is the whole package and perhaps a much overlooked skill a QB must possess.
RG3 has shown throughout the 2012 season an above-average skill in the quarterback position. It actually is kind of a combination of all of the techniques included in the combine evaluation—athleticism combined with mobility with a dash of decision making, passing and rushing.
SCORE: 10
Tim Heitman-USA TODAY Sports
RG3 displays skill in eluding and evading tackles while keeping his eyes downfield.
There is long and too long for a QB to remain in the pocket. Couple this with an ability to sense what is happening all around on the field and it comprises a majority of what is needed to avoid sacks.
It is more instinctual than a talent or an ability. RG3 has the ability to sense what is around him and the deft footwork to avoid sticky situations. "Spidey sense."
Conclusion:
You can't teach it. You either have it or you don't. RG3 has it and it shows in his passing and rushing numbers combined this season. He has thrown 325 passes and only four have been intercepted. He needs to average just over 80 yards in each of the four remaining to reach 1,000 yards rushing.
These records are going to fall for RG3 and his rookie season performance. At each game he has a chance of setting a new record in the NFL or for the Redskins.
RG3 has brought all of his college skill and added to his repertoire an ability to make big plays due to his ultra-mobility as a athletic QB. He hasn't disappointed despite the Redskins 6-6 record.
There is a reason RG3 wears the number 10 jersey for the Redskins. He is making a statement and also serving as a reminder as to why he won the Heisman trophy nearly one year ago.
**Statistical information was obtained from NFL.com, ESPN.com and Redskins.com.***
Follow me on Twitter at @JohnBibb