Heisman Trophy 2012: If Manti Te'o Doesn't Win, No Defensive Player Ever Will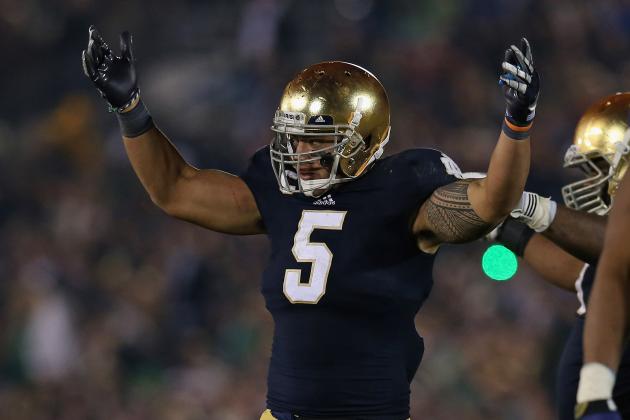 Jonathan Daniel/Getty Images

The Heisman Trophy finalists are headed to New York, and unsurprisingly, Manti Te'o will be part of the group. But can he become just the second primarily defensive player to take home the hardware?
If he can't, no one ever will.
A defensive player as a finalist isn't all that rare, but are the voters simply including a "token" defensive specialist every so often to mollify critics? Do they actually ever intend on awarding the Heisman to a player who lines up on the other side of the ball?
Again, if Manti Te'o doesn't with this year, the answer is clearly, no.
Begin Slideshow

»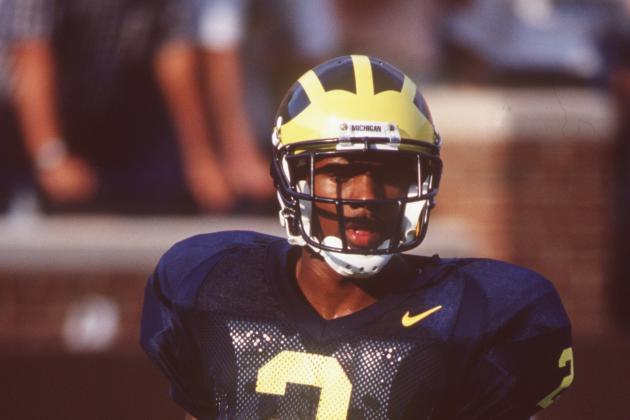 Jonathan Daniel/Getty Images

Manti Te'o has drawn comparisons to Michigan's Charles Woodson, the only primarily defensive player to win the Heisman Trophy.
But that's the key: only primarily defensive player. Woodson contributed to Michigan's 1997 national championship by more than just being a standout on defense.
He had 11 receptions for 231 yards, three carries for 15 yards and three total offensive touchdowns to go along with his stellar ability to return kicks.
In fact, Woodson's "Heisman moment" came in the regular-season finale against Ohio State when Woodson returned a punt 78 yards for a touchdown to propel Michigan to the win.
When it came time to tally the votes for Heisman, Woodson was up against some of the biggest names in college football at the time: Peyton Manning and Randy Moss.
Even with such competition, and a regional favorite like Manning (who dominated ballots from Southern voters), Woodson was awarded 433 first-place votes to Manning's 281—and Woodson was a strong second among SEC voters, earning 218 points to Manning's 340.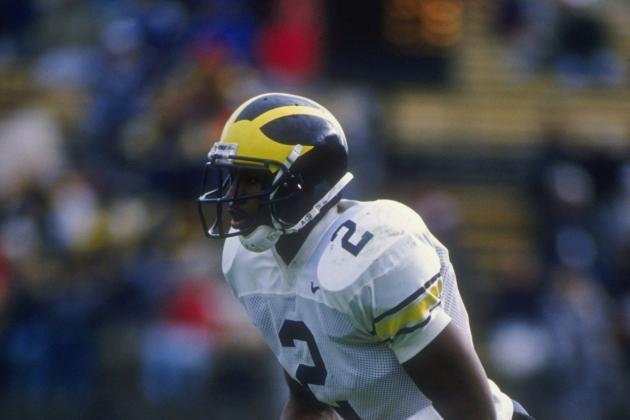 Jonathan Daniel/Getty Images

It's so difficult to compare Charles Woodson to other Heisman winners specifically because his stats are mainly defensive.
But we can compare Woodson's stats to Te'o's, and we can also look at the level of Heisman competition in both 1997 and 2012.
Starting with the latter, it seems almost clear that Te'o is up against softer competition this season than Woodson faced in 1997. After all, there is no Peyton Manning-like SEC Champion quarterback ready to gobble up all the Southern first-place votes.
The SEC's contribution to the Heisman race this season is, instead, a freshman (yes, we'll get to that later).
Advantage: Te'o.
So let's compare those stats.
Woodson had 42 tackles. Te'o has 103 (52 solo).
Woodson had four tackles for loss. Te'o has 5.5.
Woodson has seven interceptions. Te'o has seven.
Woodson had one sack. Te'o has 1.5.
From a purely defensive standpoint, Manti Te'o seems to have an edge on Woodson's 1997 season.
Advantage: Te'o.
In fact, the only area in which we can find an advantage for Woodson is the fact that he accumulated stats on offense and special teams. And can you really take anything away from Te'o's 2012 performance because of the fact he's a linebacker in a linebacker's body? He's not built for returning punts, so he doesn't. What he does do is play exceptional defense—just like Woodson.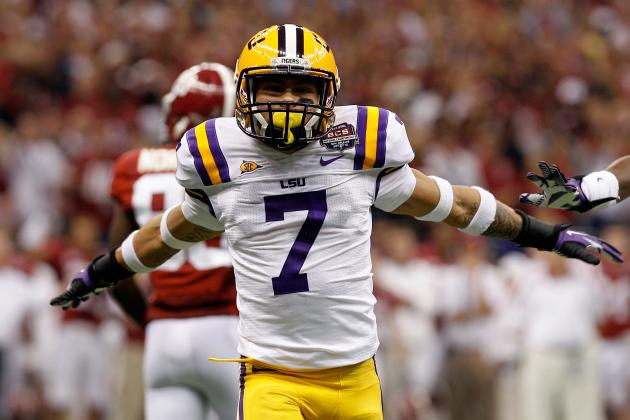 Chris Graythen/Getty Images

Most recently, we've seen a very Woodson-esque performance from Tyrann Mathieu in 2011.
In fact it was good enough to earn Mathieu a trip to New York City for the Heisman Trophy presentation. Although the trophy was taken home by Robert Griffin, III, last season provides us yet another opportunity for comparison.
Mathieu had just two interceptions in 2011, 76 tackles (59 solo), 7.5 tackles for loss and 1.5 sacks, and six forced fumbles.
Like Woodson, Mathieu's highlight contributions came on special teams. Mathieu averaged 15.6 yards per punt return for LSU in 2011, scoring two touchdowns.
So again, we see a primarily defensive Heisman candidate with defensive numbers that don't quite measure up to Te'o's. And again we have a player that compensates with great special teams play.
Only this time, Mathieu didn't win.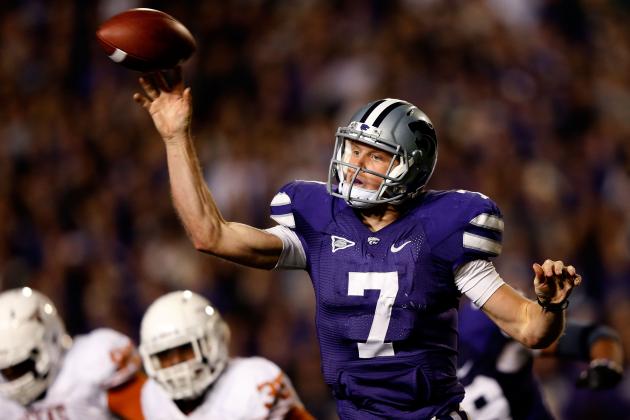 Jamie Squire/Getty Images

It's so difficult to compare the performance of Manti Te'o to any offensive player. The stat lines simply don't match up.
What we can do, however, is look at the impact made.
Manti Te'o is, without question, the nation's top defensive player. His tangible and intangible effect on the game has been evident each week, and there's no one in the country better at making a difference on the field each and every drive.
Te'o also ranks at or near the top of several defensive statistical categories. Does his Heisman competition?
Kansas State's Collin Klein emerged as a Heisman favorite relatively early this season. Despite an embarrassing loss to Baylor a few weeks back that ended K-State's national championship run, Klein rebounded against Texas to finish on a strong note.
Still, Klein ranks just 77th in the FBS in passing yards per game (207.9). Not what you expect to see from a quarterback Heisman finalist.
Klein fans will point to his ability to make things happen with his feet, too. He's more than just a passing quarterback, after all.
But even when looking at his total offensive impact, he ranks just 30th in the FBS in total yards per game (282.5). And all 29 players in front of him on that list are quarterbacks.
Advantage: Te'o.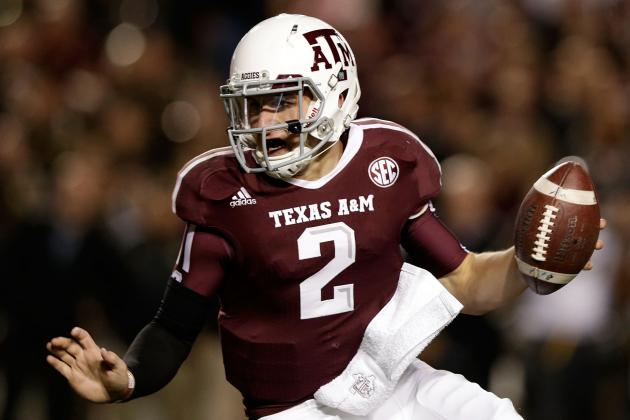 Scott Halleran/Getty Images

Manti Te'o's biggest competition for the Heisman is likely going to be Johnny Manziel from Texas A&M.
Manziel is an interesting candidate for the hardware this season. On one hand, he was one of the most dynamic players in college football this year. On the other, he's a freshman and will have to avoid a perceived bias against underclassmen.
Unlike Collin Klein, Manziel has some pretty gaudy numbers on his résumé. Manziel finished the regular season third in the FBS in total offense (4,600 yards).
He also had a signature "Heisman moment" leading his team to a win over Alabama in Tuscaloosa on November 10.
But will a freshman win the Heisman Trophy?
There's been this undercurrent of talk about a "percentage" of voters who won't put a freshman on their ballot. If that's true, it's too bad; a player's class should have no bearing on whether that player was the best in college football this season. Assuming for a moment the rumors are true, we think that only helps Te'o.
But will it be enough?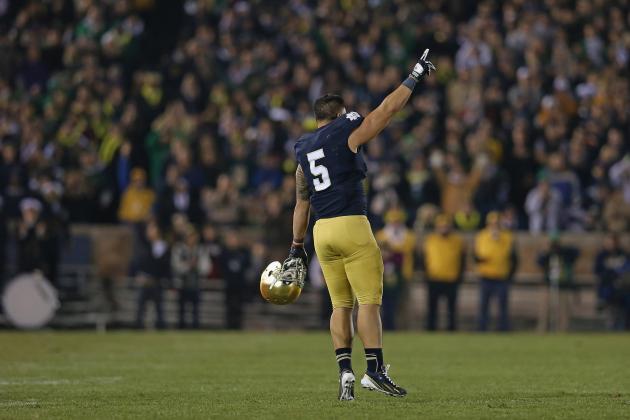 Jonathan Daniel/Getty Images

A defensive player being invited to New York for the presentation of the Heisman Trophy is rare enough. Purely defensive players are even more scarce.
Manti Te'o, already named the 2012 Bronko Nagurski Trophy winner as the top defensive player in the nation, has cemented his place in the annals of college football. He'll certainly be remembered as one of the all-time greats at Notre Dame.
He's led the Fighting Irish back to the college football mountain top and the BCS National Championship Game. What is left to accomplish?
When the dust settles from this season's Heisman Trophy race, it can be honestly argued that the winner—whoever that turns out to be—probably deserved to win in his own right. Collin Klein and Johnny Manziel are great football players who both performed exceedingly well this year.
But Te'o's performance was special for another reason; because it's so rare to see a single defensive player have as much impact on one team's success. He may be the best defensive player of a generation, and he just happened to reach his peak while playing for a national championship in a season where there is no clear-cut offensive superman to lay claim to the award.
So if Manti Te'o can't with the Heisman Trophy in 2012 with everything he has going his way, we can safely say that no defensive player ever will.