5 Next Steps for Orlando Magic to Continue Critical Rebuild, Post-Dwight Howard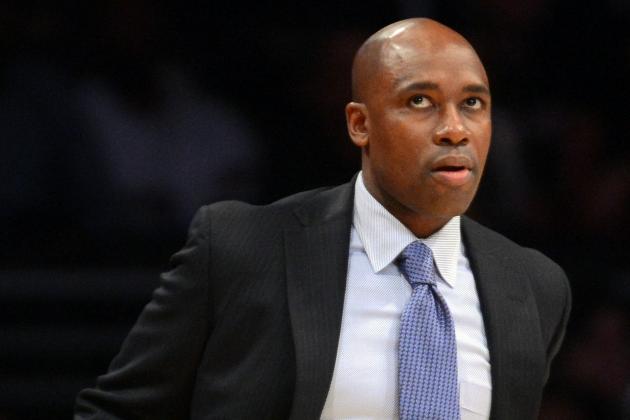 Harry How/Getty Images

The Orlando Magic entered the 2012-13 NBA regular season short on expectations and even shorter on talent.
After six consecutive playoff trips (including a Finals appearance in 2008-09), the team anticipated some bumps in the road after cutting ties with perennial All-Star Dwight Howard in a four-team blockbuster trade over the summer.
Orlando appeared to receive pennies on the dollar for the big man, a bounty that included a collection of draft picks, unproven talent and fringe starters.
Needless to say, the prospect of a complete overhaul seemed, at the least, a daunting project for first-year coach Jacque Vaughn. His main task was to identify players who should be part of Orlando's future and then work on developing the selected few.
Then something unexpected happened. Vaughn's scrappy roster scratched and clawed its way to victories over the Denver Nuggets, L.A. Lakers and Golden State Warriors. Perhaps the cupboard wasn't as barren as it first appeared.
The Magic have more than just a few valuable pieces already on their roster. Not to mention the fact that many of these players aren't ready to contribute—they're actually leading this club to some impressive wins.
But there's still a lot of work left to do. These unexpected successes have been a bonus for a reeling fanbase, but they're nothing more than pieces for this team to build around.
Begin Slideshow

»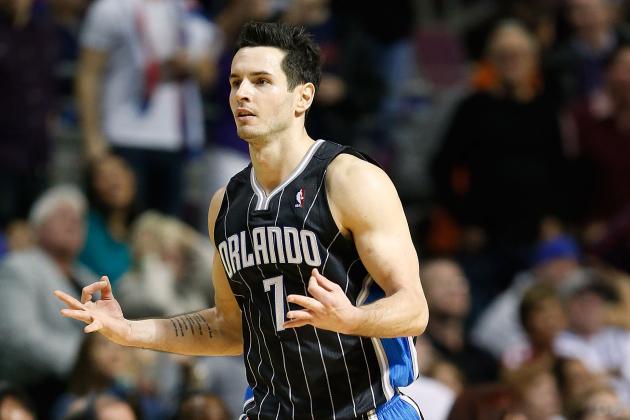 Gregory Shamus/Getty Images

When the Magic decide which direction to take the franchise, they will quickly need to identify the players capable of leading them there.
With over $40 million committed to five players in 2013-14 (Hedo Turkoglu, Arron Afflalo, Jameer Nelson, Al Harrington and Glen Davis), this team will look to cut payroll without sacrificing talent in the coming months. It's easier said than done and may require the organization to cut ties with some familiar faces.
Afflalo and Davis (the top two scorers on the team with 16.1 and 15.8 points per game, respectively) should be locks to move forward with the organization. Afflalo gives the team efficient, two-way production on the wing, while Davis has been the team's best interior scorer.
But what about (expensive) Orlando mainstays Nelson and Turkoglu?
Nelson has never been a great passer (five assists per game for his career), which this team may need given the wealth of shooters. The 33-year-old Turkoglu and 32-year-old Harrington have both been plagued by injuries that have restricted Orlando's opportunity to assess their future potential.
J.J. Redick has increased his scoring for the fifth consecutive season (13.9 points per game), but the sharpshooter is playing on an expiring contract. Teams will likely seek his inclusion in any cost-cutting moves the Magic try to make.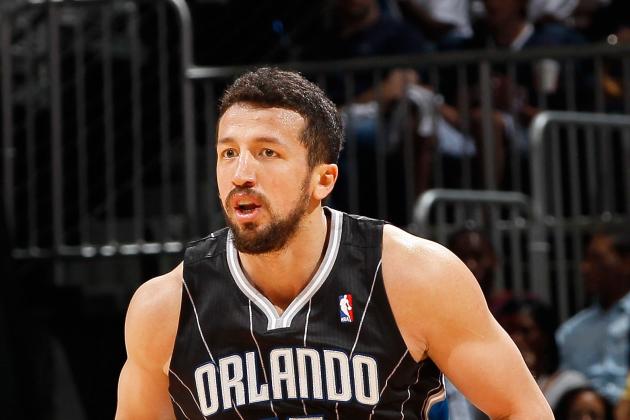 Kevin C. Cox/Getty Images

Orlando spent the better part of the past decade building a team around Howard with enough talent to compete for a championship. It nearly worked but effectively put this team in financial ruins when Superman left the building.
Now the Magic hold an expensive group of players minus the superstar talent that could have put this franchise over the top. They can't move all of these costly players, but that won't stop the rumors from flying.
Depending on how much credence is given to these rumors, nearly every player on the roster may be available. The collection of proven talent combined with the season projections makes these rumors both logical and persistent.
But if Orlando learned anything over the course of the Howard saga, it was the effects of never-ending trade rumors. The players feel like they have to prove their worth on a nightly basis or question the motivation of their teammates.
The Magic need to find their way back from their financial troubles, but they need to operate discreetly. They can afford a fringe rotation player seeing his name breeze along the rumor winds, but they can't have every player worrying about being dealt.
Nick Laham/Getty Images

Clearly, the Magic did not receive the amount of talent that the Denver Nuggets did when they cut ties with Carmelo Anthony.
But they did acquire some intriguing young pieces for Vaughn to work with. Not to mention the fact that Orlando bolstered its own talent base by drafting Andrew Nicholson and acquiring Gustavo Ayon (from New Orleans) and E'Twaun Moore (free agent).
There may not be a lot of superstar potential here, but there could be some valuable rotation pieces and even a starter or two among the group.
Nikola Vucevic and Moore have proven ready to contribute to this team now and in the coming seasons. Maurice Harkless (acquired from Philadelphia in the Howard deal), Nicholson and Ayon have all shown flashes of their worth for this organization's future.
If Orlando has penciled all five of these players into its plans, then Vaughn needs to focus on developing them enough for the front office to assess their potential. Should the Magic identify starting potential in any of them, then they can turn their focus away from that position on the trade or free-agent market.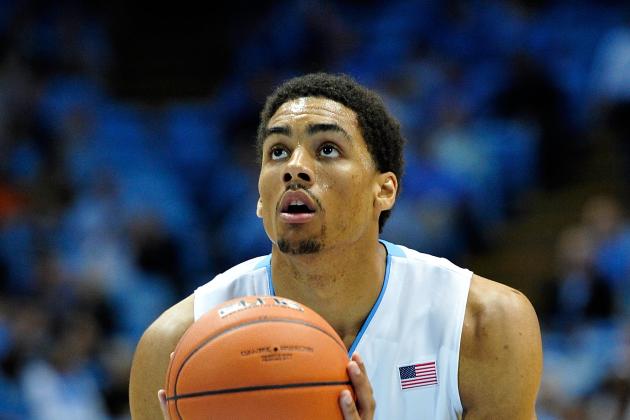 Grant Halverson/Getty Images

While Orlando added five picks in the Howard deal, only one of them (a second-round pick from Denver) will come in the 2013 draft. But the Magic's own draft choice should fall somewhere in the lottery and could blossom into a high choice if this season sours.
For teams in rebuilding mode, there is no margin for error when it comes to the draft. Considering Orlando's financial situation, this could be the lone opportunity to add significant talent to the roster.
Unfortunately for the Magic, this draft class doesn't have the scouting praise of the previous one. But that doesn't mean that it's bereft of talent.
If Orlando lands a top lottery choice, it may target the defensive-minded Nerlens Noel (Kentucky), the polished Cody Zeller (Indiana) or the athletic specimen Shabazz Muhammad (UCLA). Even if the Magic fall to the back end of the lottery, they will have decent options, but they'll need to make those roster decisions to identify positions of need.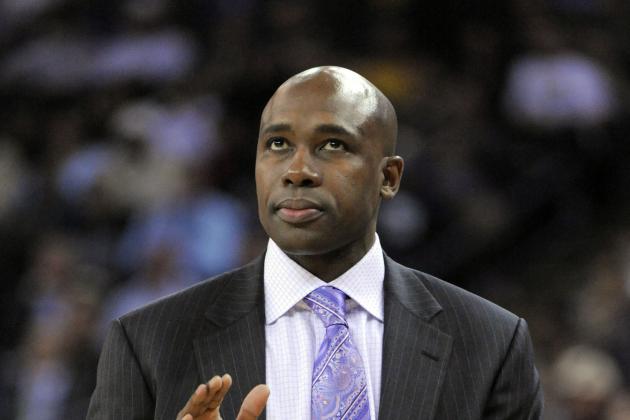 USA TODAY Sports

If there's anything that a head coach needs to conduct a successful rebuild, it's job security. It may be a foreign term to sports coaches, but Vaughn will be crippled without it.
If he's worried about his employment, Vaughn will simply trot out the lineup that gives his team the best chance to win. But that may involve giving minutes to players who won't be with the club after this season or even after the trade deadline.
It's far too early in the season to think about tanking for draft position, but finding minutes for younger players doesn't prevent this team from competing. If the coach finds a delicate balance between his older and young players, he can keep his team competitive while putting the franchise in a favorable position for the future.
The 37-year-old Vaughn may have skyrocketed into his position (he served as an assistant in San Antonio for the previous two seasons), but the NBA has been known to value potential over credentials in coaching searches.
The Magic may have found the next great young coach in the league, but they'll need to value development over wins and losses to find out.