Which Boston Red Sox Prospects Could Make the 2013 Roster?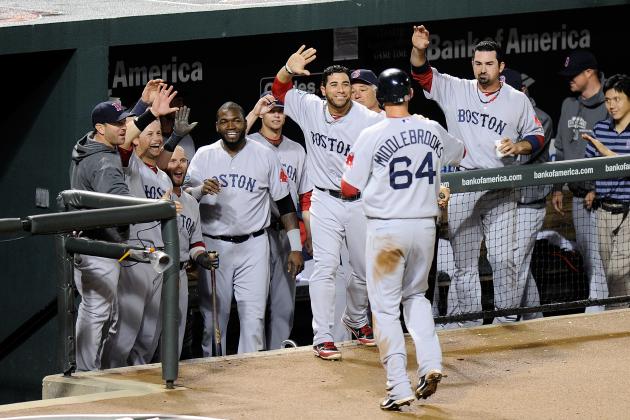 Greg Fiume/Getty Images

Whether or not Red Sox general manager Ben Cherington brought in aging outfielder Shane Victorino with the intent of the Flyin' Hawaiian actually contributing to this team long-term or in hopes of dealing him at the deadline for young, unpolished talent, the fact remains that we're bound to see a bevy of outfield prospects man the greens of Fenway Park at some point this season.
But don't stop there.
With Boston in somewhat of a transitional period after last season's anomaly that resulted in a last-place finish, count on seeing plenty of jerseys donned with numbers over 70, much like we're used to getting in spring training.
Here are a few names, some of whom have already shown their face in Boston but are still considered prospects, that might be hanging around the Red Sox clubhouse this upcoming season.
(Videos included for some of the lesser-known guys)
Begin Slideshow

»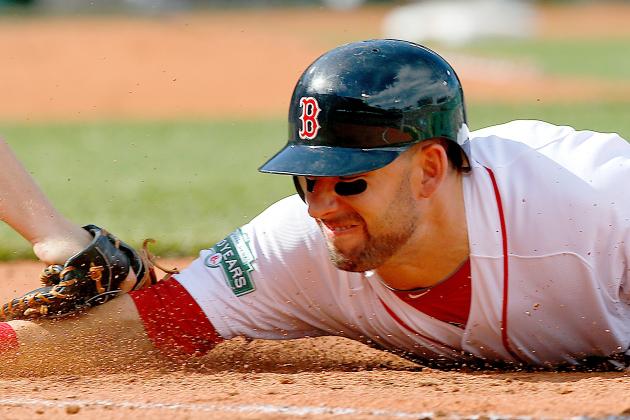 Jim Rogash/Getty Images

Yes, he'll be turning 25 in March and has 89 games under his belt since 2010, but there's a solid chance Ryan Kalish still starts 2013 in the minors.
Thanks to nagging shoulder injuries, we still have yet to see the real deal outfielder that we've been promised over and over. Many are ready to give up, but there's still high potential here. At one time, Kalish was regarded as the top offensive prospect; a weapon at the plate and on the basepaths.
Kalish plays the game hard, something that Sox fans always appreciate. If he can put together a consistent string of games at Triple-A Pawtucket, we'll see him by May.
Here's the guy that everybody is dying to see.
If you're among the mass that wants Jacoby Ellsbury shipped out of town and feels Jackie Bradley, Jr. is ready to take over center field duties, well, you're wrong.
But that doesn't mean we won't see the defensive standout in a Boston Red Sox uniform this season. His skill set at the plate still could use at least another full year of minor-league tuning; however, it's likely he'll make his way to Boston at some point this season.
Jose Iglesias only has 35 games of major league experience under his belt, yet many have been ready to give up on the shortstop from that limited sample.
People forget that he'll be just 23 years old for the 2013 season. Half of Iglesias' game is already upper-major-league caliber, so with an offseason of focus on his bat and a spring training and early season minor league time with solid coaching, there's no reason why he can't contribute something at the plate.
The Red Sox's situation at shortstop is still unresolved, so there's even a chance Iglesias could start the season in Boston's infield.
Bryce Brentz, Boston's second-highest rated outfield prospect, has all the tools necessary to compete for a starting outfield job by 2014. It's likely that the able-bodied, soon-to-be-24-year-old—who once hit .465 over a 60-game span in college—will make an appearance at the major-league level this season.
Brentz has just five games of Triple-A experience under his belt, but posted solid numbers at Double-A Portland before receiving his promotion.
If he tears it up at Pawtucket the first half of the season, Boston could choose to bring him up if the team is out of it. At the very least, expect him by September.
This 22-year-old right-hander, who'll be turning 23 right in time for when pitchers and catchers report, is one of the highlights in the return from the trade that rid the Red Sox of Josh Beckett.
What's ironic is that his makeup is a lot like Beckett's.
Allen Webster is projected to be a capable middle- to back-end of the rotation starter but has a bit of a higher ceiling, considering his sinking fastball tops out at 97 and he's got a major-league-ready changeup.
Webster still has yet to pitch in Triple-A, but he was added to the 40-man roster last month.
Alex Wilson is almost a surefire bet to be called up to Fenway at some point when the Red Sox undoubtedly are looking for bullpen help.
The 26-year-old righty was named the organization's minor league pitcher of the year as a starter in 2011 at Portland, then pitched mostly out of the bullpen last season in Pawtucket.
Wilson is another guy who was added to the 40-man roster last month and could potentially be on Boston's opening day roster given his age and minor league experience.
Having personally seen Xander Bogaerts at a handful of New Hampshire Fisher Cats games this past summer, I'd argue that he is 95 percent major-league ready.
Luckily, he just turned 20 in October, and even though there's a gaping hole at shortstop on the major league club, there's no pressing rush for Bogaerts specifically. His all-around game is just smooth and refined. It's a pleasure to watch him.
It's no wonder he's the organization's top prospect and has high All-Star potential.
That being said, things have to go entirely right for him at Pawtucket or things have to go entirely bad in Boston for us to see him this season.
Both seem like likely scenarios.
Rubby De La Rosa was added to the Red Sox 40-man as soon as he came over in the trade with the Dodgers in August and he'll have a great shot to break the roster right out of camp.
The right-hander with 14 games of major league experience will turn 24 in March and is about a year-and-a-half removed from Tommy John surgery.
This season could be a make-or-break year for De La Rosa, but he's posted some capable numbers with the Dodgers and could contribute to the Red Sox as early as opening day.