Heisman Watch 2012: Previewing the Finalist's Bowl Matchups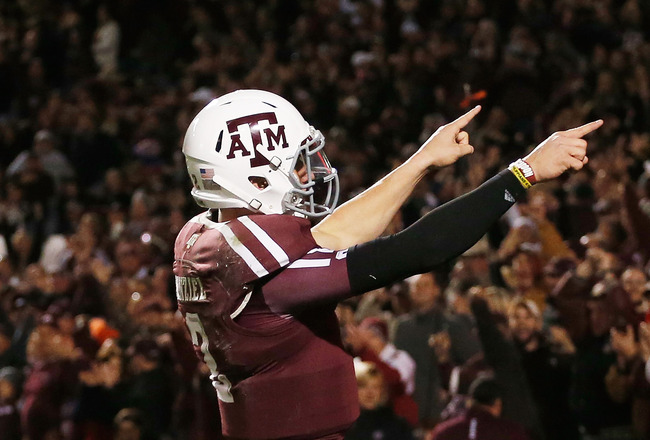 Scott Halleran/Getty Images
After a season filled with speculation, predictions and and all kinds of big plays, the race for the Heisman Trophy has been narrowed down to three finalists.
Kansas State quarterback Collin Klein, Notre Dame linebacker Manti Te'o and Texas A&M quarterback Johnny Manziel.
The last time the Heisman did not feature a running back as a finalist was in 2008, when Tim Tebow, Sam Bradford and Colt McCoy all made the trip to New York.
With bowl matchups being announced over the weekend, it's time to start breaking down what these guys will face in their postseason games this year.
For Te'o and Klein, this will be their last games, their last chances to leave lasting impressions on the college football universe.
For Manziel, it will be his first postseason rodeo, with an opportunity to add an exclamation point to one of the greatest seasons a freshman quarterback has ever had.
Before the games, though, all three of them will make the trip to New York for the presentation of the Heisman.
Read on for a preview of each of the finalists bowl games.
Collin Klein: Fiesta Bowl vs. Oregon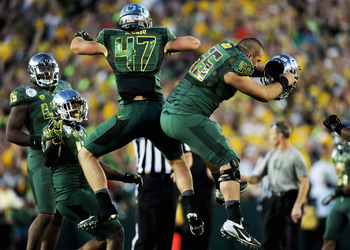 Harry How/Getty Images
As late as November 16, Collin Klein was the Heisman favorite, his team was No. 1 in the BCS rankings and he was sporting a Transformers nickname.
Then Kansas State met Baylor and that all came crashing down, with the national media moving on to the flavor of the week as the Heisman favorite.
Even though we haven't heard much about him for the past several weeks, Klein has been steadily doing his thing, finishing the season with 29 total touchdowns and leading Kansas State to a Big 12 title.
Now looms the pending trip to the Fiesta Bowl to face the Oregon Ducks. This should be interesting.
The Ducks also only lost one game this season, but that one loss eliminated them from the Pac-12 championship race.
They are fast, intense and just keep scoring. But this defense has yet to face an opponent such as Klein.
There is no quarterback in the Pac-12 that demonstrated the same acumen for rushing, unless it is Oregon's own Marcus Mariota.
Klein is big, fast and strong, and will put up some big numbers on the ground against the Ducks. He always does.
But the Ducks' offensive firepower is going to be too much for he and the rest of the Wildcats as they fall in the Fiesta Bowl.
Manti Te'o: BCS Title Game vs. Alabama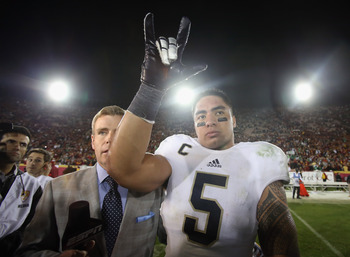 Jeff Gross/Getty Images
Manti Te'o has been hovering around Heisman conversation all season. As a linebacker for one of the most popular teams in sports, Te'o received plenty of hype. And boy did he back it up.
Te'o finished the season with seven interceptions, 103 tackles, one fumble recovery, four passes defended and 5.5 tackles for loss.
But the numbers don't tell the whole story.
Te'o clinched the upset of Oklahoma in Norman with an athletic interception, he was a part of two goal-line stands (one each against USC and Stanford) and continually made big plays.
Some still think other defensive players deserved the Heisman bid and aren't afraid to voice that opinion:
I still can't fathom how either Jadeveon Clowney or Jarvis Jones AREN'T in the Heisman voting. Both more impressive than Te'o #NDBias

— Alex Haddon (@SECblog) December 4, 2012
Even so, he's a finalist and has a very real shot at taking home the Heisman trophy as a defensive player for the first time since 1997.
Te'o and his teammates face Alabama. Expect him to have plenty of opportunities to make big plays in this one.
The Alabama offense features a stout rushing attack that is the key to everything the Tide do on that side of the ball.
Te'o will need to step up in a big way to help try and slow a rushing game that features T.J. Yeldon and Eddie Lacy, two backs who have pounded their way to 29 combined rushing touchdowns on the season.
Johnny Manziel: Cotton Bowl vs. Oklahoma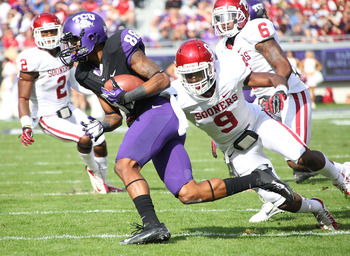 R. Yeatts/Getty Images
Johnny Manziel's numbers are ridiculous.
Think about this: He put up 3,419 passing yards, 1,181 rushing yards and scored 43 touchdowns this season. As a freshman. In the SEC.
Just give him the trophy now.
But seriously, it's ironic that Manziel and A&M will face an opponent from their old conference in the Cotton Bowl.
Oklahoma stands in the way of Manziel's first bowl win.
Yes, the Sooners' defense has improved this season and will be prepared for this game after getting slighted by the BCS.
But don't expect Manziel to be intimidated by the Sooners.
He's already faced and beaten the top defense in the nation, Alabama, and has continued to improve with every game played this season.
In one of the better bowl matchups outside of the BCS, Manziel has an opportunity to add to his legend, especially if he wins the Heisman as a freshman.
Against the Sooners, he will have a field day.
Keep Reading

Notre Dame Football: Like this team?