Could Bobby Petrino Return to Louisville If Charlie Strong Bolts for Vols?
Use your ← → (arrow) keys to browse more stories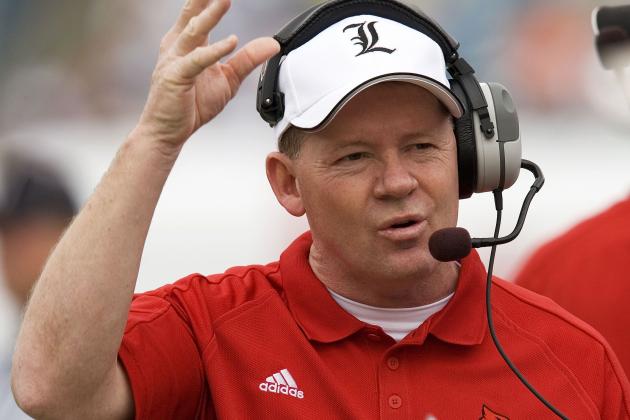 Matt Stroshane/Getty Images
Bobby Petrino led Louisville to a 41-9 record as the school's head football coach.
Bobby Petrino can likely be called the most successful head football coach in the history of the University of Louisville. He compiled an impressive 41-9 record and made four bowl appearances with the Cardinals from 2003 to 2006. The high point of his tenure being his final campaign in which his team went 12-1 and notched an Orange Bowl win over Wake Forest.
But a lot has happened in Petrino's life since his stint at Louisville. Just six months after having received a lucrative contract extension from the school that had given him his first head coaching job, Petrino left for the Atlanta Falcons.
However, the coach did not even complete one full season in the NFL before he accepted the head coaching position at the University of Arkansas. It appeared as though Petrino and the Razorbacks were a perfect match when after four seasons his teams went 34-17 in the highly competitive SEC.
The high point for Petrino in Arkansas came during the 2011 campaign when the Hogs finished up with a final record of 11-2 and a ranking of 5th in the polls after a Cotton Bowl victory over Kansas State.
However, the low point for Petrino in Arkansas came shortly after that Cotton Bowl win when he was involved in a motorcycle accident which served to reveal a number of personal and professional missteps the coach had made in the months leading up to the wreck. An extramarital affair with a woman employed within the school's athletic department, as well as cash payments and possible preferential treatment regarding the woman's initial hiring, became known as the investigation of the incident went on.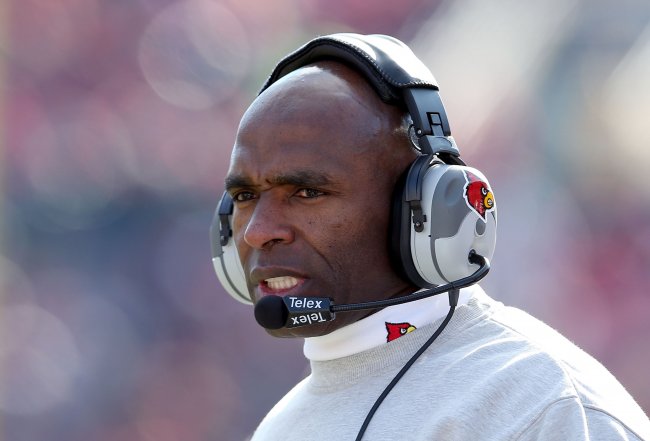 Andy Lyons/Getty Images
Ultimately, Petrino was fired and spent the 2012 football season out of coaching.
Now, the time could be right for Petrino to make his return to the sidelines. A number of coaching vacancies have come about as a number of firings having taken place within the NCAA football ranks over the last couple of weeks. And Petrino's name has been mentioned in association with virtually every one of those openings.
Among those schools seeking a new coach is the University of Tennessee. Rumor has it that the Vols covet current Louisville head man Charlie Strong, who led the Cardinals to a Sugar Bowl berth this season.
So, if Strong does indeed leave, who will take over in Louisville? Might Petrino be considered by Louisville athletic director Tom Jurich to fill the void?
Petrino seems to have a way of leaving jobs on bad terms. No doubt, Jurich and others at Louisville remember their former coach heading off for what was believed to be the greener pastures of the NFL, just after signing a contract that included a generous raise and long-term stability.
But, those at Louisville might also remember the time in which their school was actually relevant in football with Petrino at the helm. Could those memories be enough to outweigh the sting of once being jilted?
With his recent troubles still being fresh in the minds of many who are looking to hire a new football leader, Petrino's price will no doubt have to drop in order to find a taker. That could open the door for Louisville to secure the services of such a successful coach.
In many ways, their time together was the high point in the football lives of both Petrino and the University of Louisville. If there is indeed and opening along the banks of the Ohio River, has enough time passed for these two to get back together?