Oklahoma City Thunder vs. Brooklyn Nets: Live Score, Results and Game Highlights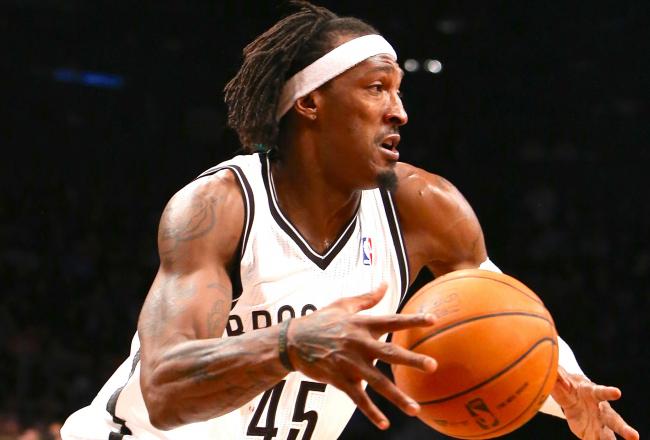 In their first game ever against the Brooklyn Nets, the Oklahoma City Thunder shot the lights out at the Barclays Center.
Andray Blatche and Deron Williams of the Nets did their best to keep up with the firepower of OKC, but the Brooklyn defense couldn't harness the three-headed monster of Kevin Durant, Russell Westbrook and Serge Ibaka.
Durant's 32 points and Russell Westbrook's 25 proved to be the deciding factors, and OKC extends its winning streak to six games.
Check out our postgame reaction, stats, media and analysis.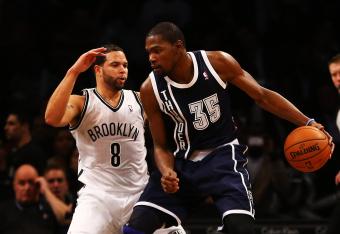 Up next for each team:
Oklahoma City (15-4) goes back home to host the LA Lakers Friday at 9:30 ET.
Brooklyn (11-6) stays home to host the Golden State Warriors Friday at 7:30 ET
Highlights at NBA.com here.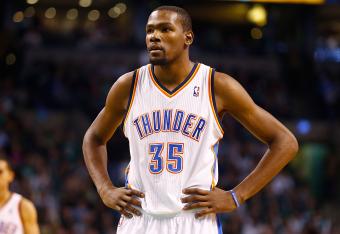 Three things to take away from tonight's game:
-Oklahoma City is still relying primarily on its megastars, but the bench did play well and kept up the fast tempo: Eric Maynard chipped in nine, Nick Collison added five and Kevin Martin had a modest seven.
-Deron Williams carried the Nets during their second-half comeback, and had a season-high 33 points. He's out of his scoring slump, but will he ever be able to beat championship-caliber guards? (D-Wade, Westbrook, etc).
-Joe Johnson's inconsistency continued, and Nets fans still wonder when he'll break out. If he had shot, say, 12-of-21 instead of 8-of-21, Brooklyn would have had a much better chance of upending the Western Conference Champs.
Key stats that led to Thunder victory:
-OKC had 20 fast break points to Brooklyn's nine.
-OKC shot 40-of-66 from the field, while Brooklyn shot 39-91.
-OKC had 28 bench points, Brooklyn had 16. Only seven Nets players scored.
-The Thunder shot 66 percent in the first half, the best shooting half they've had so far this season.
For the Nets, Deron Williams and Andray Blatche were the only ones who raised their game to the Thunder's championship level:
The #BrooklynNets fall to the @okcthunder 111-117. DWill led the way with 33 pts and 7 dimes. Blatche adds 19 pts and 11 boards. #BKNvsOKC

— Brooklyn Nets (@BrooklynNets) December 5, 2012
Bogans, Watson and Brooks had as many points as I did tonight: 0.
Durant liked the Thunder's resolve to hold off Brooklyn's comeback and maintain the lead through the second half:
KD on radio after game with Matt Pinto: "We played hard, got through that tough stretch (3rd qtr), 2nd unit was really good tonight."

— OKC THUNDER (@okcthunder) December 5, 2012
He gives the second unit credit, but fails to mention that he dropped 32 points himself.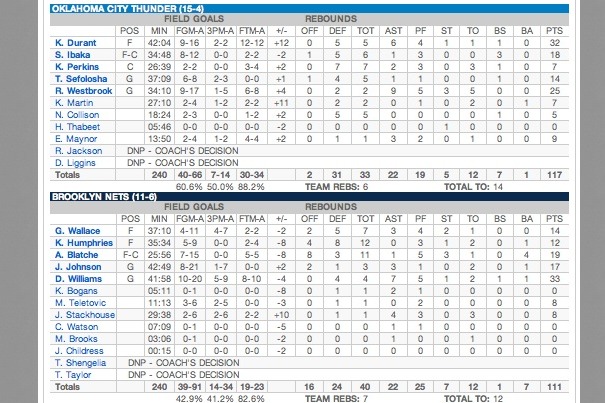 Final box score
OKC hangs on for a high-scoring, entertaining 117-111 victory. Keep it locked here for postgame reaction and analysis!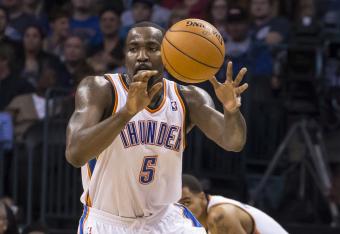 The free-throw parade continues, and this one's all but sown up.
Thunder 115, Nets 109, 7.7 seconds remaining in 4th quarter
Mirza Teletovic hits a deep, contested three to keep the Nets mathematically in the game.
But Oklahoma City is still sitting pretty with nine seconds left.
Thunder 113, Nets 109, 0:09 remaining in 4th quarter
Thabo Sefolosha follows Russell Westbrook's shot with a rebound and a left-handed lay-in.
OKC is in the driver's seat from here on out.
Thunder 112, Nets 106, 0:36 remaining in 4th quarter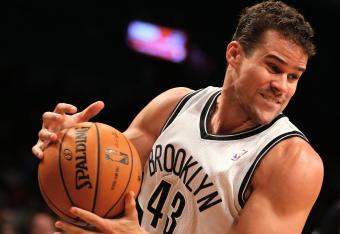 Brooklyn gets a crucial defensive stop, and it's a two-possession game with 1:08 left.
Thunder 110, Nets 106, 1:08 remaining in 4th quarter
A goal-tending call gives Durant a layup, but the officials are taking a look at the replay.
The ball hits the glass almost exactly when Kris Humphries gets a hand on it. Extremely difficult to tell whether the ball hit the glass before Humphries blocked it.
The officials call stands, as there was insufficient evidence to overturn the call.
Thunder 110, Nets 106, 1:40 remaining in 4th quarter
Kendrick Perkins gets a big block on Deron Williams, and OKC has done a better job of protecting the rim tonight.
OKC: 7 blocks
BKN: 1 block
Thunder 108, Nets 104, 2:31 remaining in 4th quarter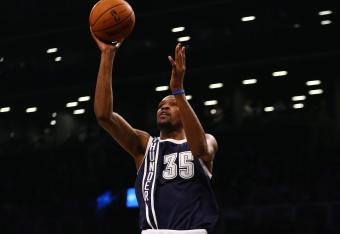 A strong pick-and-roll by D-Will and Humphries puts Brooklyn over the century mark.
On the other end, Durant goes to work on Joe Johnson and draws a reach-in foul from Williams stepping in to help.
Thunder 106, Nets 102, 3:45 remaining in 4th quarter
D-Will has 31 as he's trying to get the Nets over the hump here in the 4th.
Thunder are isolating Durant and Westbrook more frequently as we head to crunch time.
Thunder 104, Nets 99, 4:38 remaining in 4th quarter
He's out there, but sometime's tonight I've wondered if he's going to find another gear.
Rumor has it that Joe Johnson is in fact playing tonight. Can't confirm myself. Trying to get a source.

— devin kharpertian (@uuords) December 5, 2012
Couldn't say it better myself. Get to a TV if you can, and stay locked into our coverage!
If you like fun basketball, put on the YES Network. 90-86 #Thunder going into the fourth.

— Mike Mazzeo (@MazzESPN) December 5, 2012
If you're in Oklahoma, put on FOX-OK. And the game is also on NBA TV.
Oklahoma City spent much of the 3rd quarter committing fouls, but they start the fourth quarter drawing one, as Nick Collison gets to the line early.
Thunder 91, Nets 86, 11:05 remaining in 4th quarter
Kevin Durant shows everyone who the alpha male of the game is, as he sneaks in a drive to end the 3rd quarter.
Thunder 90, Nets 86, end of 3rd quarter
Brooklyn keeps things moving on the perimeter, and Jerry Stackhouse rewards the teamwork with a triple, followed by back-to-back Wallace threes.
OKC keeps the tempo even though Brooklyn is on a roll.
Thunder 88, Nets 86, 0:20 remaining in 3rd quarter
Gerald Wallace hits back-to-back threes, but Serge Ibaka isn't impressed.
He's too busy flushing another monster jam. An and-1 version, putting the Thunder back in control.
Thunder 84, Nets 75, 2:45 remaining in 3rd quarter
Joe Johnson just can't get into a rhythm for the life of him. Even layups aren't falling for the star guard.
On the other end, Russell Westbrook's aggressiveness gets the best of him as he picks up an offensive foul, his fourth foul of the night.
Thunder 81, Nets 75, 2:50 remaining in 3rd quarter
OKC's lead is cut to single-digits as D-Will has 12 in the third quarter alone. He used his strength and bulk to spin through Westbrook for a scoop shot.
Thunder 77, Nets 68, 6:01 remaining in 3rd quarter
Deron Williams is doing his best to help Blatche out, and is much more assertive than he was in the middle of the first half.
Thunder 75, Nets 64, 7:05 remaining in 3rd quarter
This article is
What is the duplicate article?
Why is this article offensive?
Where is this article plagiarized from?
Why is this article poorly edited?