25 Programs with the Most to Lose/Gain in Bowl Season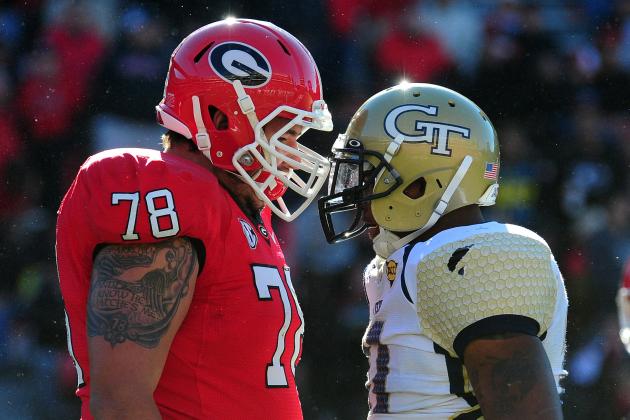 Scott Cunningham/Getty Images

The bowls are set, and invitations have been accepted. Apart from the Louisiana Tech situation, teams that deserve to be in bowls are in bowls. Maybe they aren't in the bowl they deserve, but the hands have all been dealt.
All that's left is for the teams to play. From USC vs. Georgia Tech to Notre Dame vs. Alabama, bowl season has some less-than-thrilling games and some serious heavyweights battling it out on the gridiron.
From teams that have nothing to lose to teams that have everything to gain, there are 25 teams whose reputations are on the line. Presented in order of magnitude, here are the 25 teams with the most to lose or the most to gain during the 2012 postseason.
Begin Slideshow

»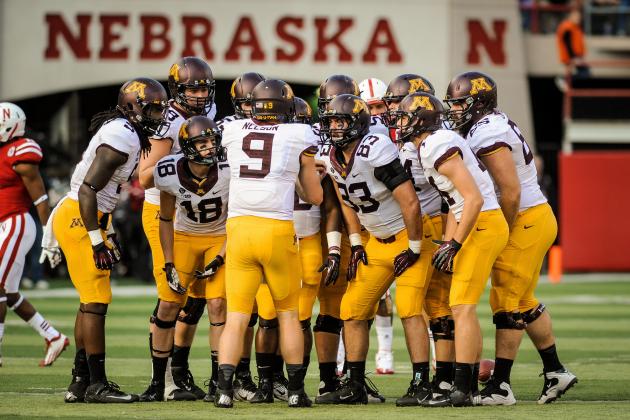 Eric Francis/Getty Images

Category: Most to Gain
Minnesota is one of the surprise Big Ten teams that made it to the postseason. The Gophers are a 14-point underdog to the Texas Tech Red Raiders in the Meineke Car Care Bowl, and that presents Minnesota with a shot at some serious recognition.
Texas Tech has bested some of the best in the land, but the Red Raiders have also fallen to some mediocre teams along the way. That's not to say that Minnesota is mediocre; it's just to point out that Minnesota has a good chance of winning this one (despite the odds laid against it).
Minnesota won't lose any respect for failing to overcome a 14-point spread, but it will definitely make a ton of postseason highlight reels if it knocks down Tommy Tuberville and the Raiders.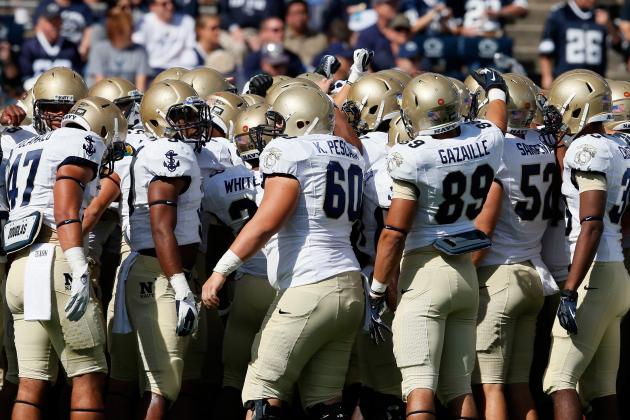 Rob Carr/Getty Images

Category: Most to Gain
Navy still has the rivalry game against Army left (scheduled for Saturday, Dec. 8) before we will know their final record. For our purposes here, we will assume that the betting line (Navy -7) is correct, which will put the Midshipmen's record at 8-4 when kicking off against the 7-5 Arizona State Sun Devils in the Kraft Fight Hunger Bowl on Dec. 29.
Navy lost in an overseas blowout to now-No. 1 Notre Dame in the season opener, but it has rallied since then to a great record. Navy has defeated the likes of East Carolina but has also lost some questionable games, such as the Troy debacle. All other losses came to teams that contended for or won their respective conferences.
Navy has the opportunity to pull out a bowl victory over Arizona State. It's not a win over Oregon or Kansas State, but it would be a more-than-respectable victory over a Pac-12 middler.
Navy has a lot to gain here and almost nothing to lose. (The nation wouldn't be surprised if the team that lost to Troy lost to Arizona State.)
Anchors Aweigh!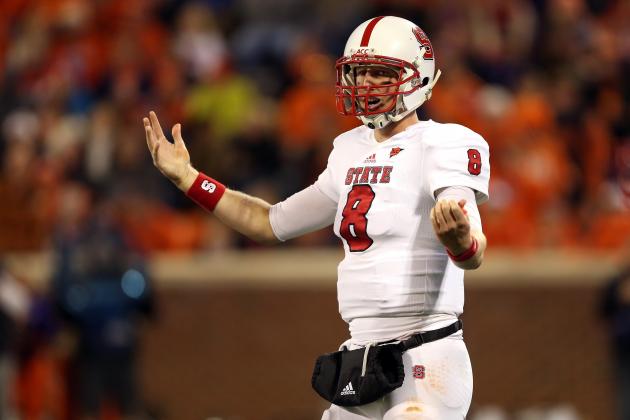 Streeter Lecka/Getty Images

Category: Most to Gain
NC State started the season off with a loss to Tennessee. Nobody foresaw how bad the Volunteers would turn out to be this season, so NC State gained a lot of attention by playing the SEC team closely. As the season wore on, that loss looked worse and worse.
NC State responded by stunning Florida State 17-16 and ruining what could have been a national-championship run for the Seminoles. NC State then reeled off losses to North Carolina (understandable) and Virginia (whaaaat?).
NC State can pull off a massive upheaval if it can take down the Vanderbilt Commodores in the Music City Bowl. So far this season, only one SEC team has lost to an ACC team (Clemson defeated Auburn). For NC State to bookend the season for the ACC like that would be truly poetic...well, at least as poetic as a brutal sport can be.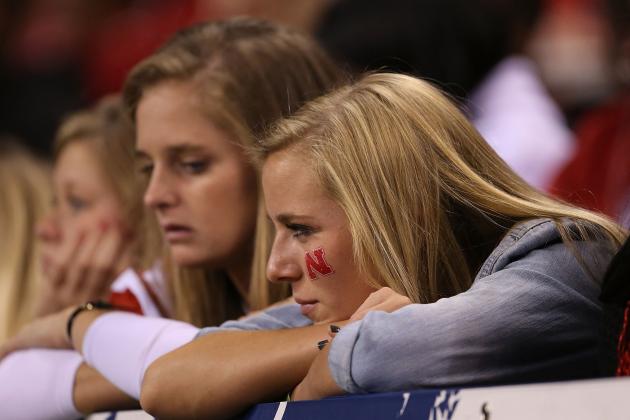 Leon Halip/Getty Images

Category: Most to Gain
Nebraska did not fare well against Alshon Jeffery and the South Carolina Gamecocks last year in the Capital One Bowl, losing 30-13.
While Nebraska isn't expected to win this game against Georgia, Taylor Martinez does possess some key attributes that could help the 'Huskers come out on top. It will take a Johnny Manziel-like performance from Martinez to come away victorious, but there is plenty of information to glean from the SEC championship game tape.
Martinez is capable of leading Nebraska in handing Georgia its third loss of the season, but the Cornhuskers have to prove that the Wisconsin situation was a fluke.
Nebraska would earn itself a ton of respect by defeating the Bulldogs, and the 'Huskers would simply be delivering the expected by losing. They have a lot to gain and little to lose.
That's exactly the team that you don't want to face on the gridiron. A team with nothing to lose always plays like it has nothing to lose.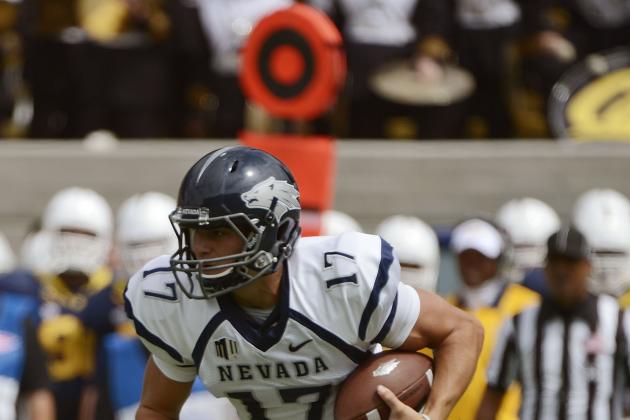 Thearon W. Henderson/Getty Images

Category: Most to Gain
Nevada already took down the California Golden Bears (3-9 overall) in the season opener. Now, the Wolf Pack have the golden opportunity to take down a 7-5 Pac-12 Arizona Wildcats squad in the New Mexico Bowl, which would prove that Nevada can hang with bigger competition.
While Nevada should have competed better in its conference this season, there were some close games that the Wolf Pack simply couldn't turn into wins.
A win over a Pac-12 team with a legit resume that includes a win over USC would give the Wolf Pack faithful something to seriously smile about during the offseason. A loss in this game wouldn't really hurt Nevada, as it's not expected to contend with teams from the Pac-12 yet.
Nevada has the talent to slash Arizona's defense for a ridiculous number of yards, and a win wouldn't be "shocking." It would be unexpected, though, and that could be all the motivation Nevada needs to pull out the win.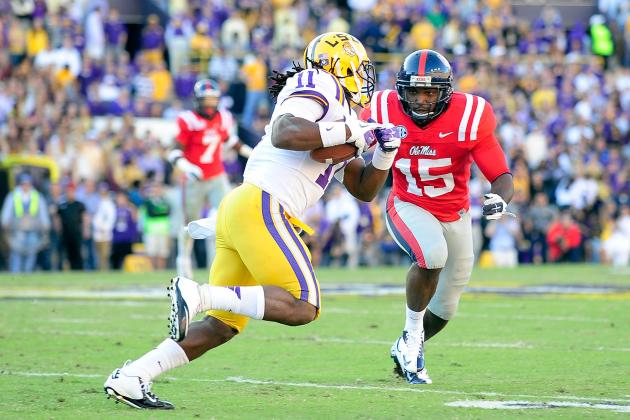 Stacy Revere/Getty Images

Category: Most to Gain
Ole Miss is coming off a 2-10 season in 2011 and has made a bowl game against the Pittsburgh Panthers after going 6-6 in 2012.
Ole Miss is one of the biggest stories in the SEC, though it went largely unnoticed due to the Alabama, Florida, South Carolina, Georgia and Texas A&M tales.
Hugh Freeze worked wonders at Arkansas State, and the gravity of his influence is still felt as Arkansas State has found its way to the GoDaddy Bowl without him.
Freeze has taken Ole Miss from a guaranteed conference win to a 6-6 team heading to the postseason simply by coaching the recruits that were already there. Ole Miss can put an exclamation point to the end of the season with a win over Pitt in the BBVA Compass Bowl.
What that will gain Ole Miss is a recruiting advantage even bigger than it already has over about half of the SEC. Ole Miss has a lot to gain this December, and a win over Pitt doesn't seem unlikely at all.
The Rebels better show up to play football, though. Pitt already proved that it can hang with some contenders by knocking down then-No. 13 Virginia Tech earlier this season.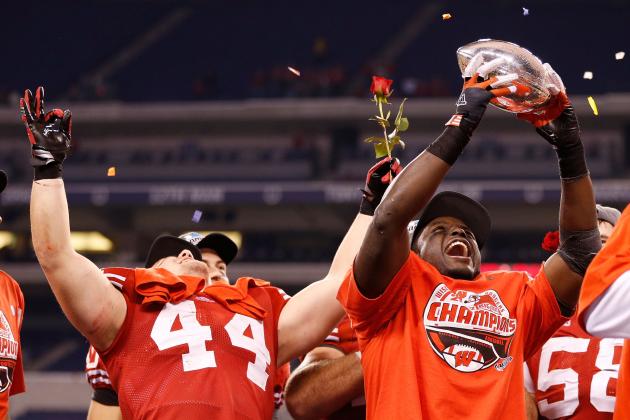 Gregory Shamus/Getty Images

Category: Most to Gain
Wisconsin should not have been in the Big Ten championship game, as it finished behind both Ohio State and Penn State in the Leaders Division. Of course, there is something to be said about taking advantage of opportunity.
Wisconsin joined a select club of teams that have hung 70 points on Nebraska and earned every bit of its Rose Bowl appearance in the process. Wisconsin will face Stanford, which is the only Pac-12 defense to shut down the mighty Oregon Ducks.
Wisconsin can take down the Pac-12 team that beat USC, Oregon and UCLA (twice). That is a lot to gain in one game. Wisconsin's Montee Ball is one of the best running backs in the country, and he's ready to have his breakout game. He's had some good ones, of course, but none on a seriously big stage aside from the Big Ten championship.
A banner game against the Pac-12 champion that shut down the Ducks would certainly raise his draft stock and the level of respect given to the Badgers.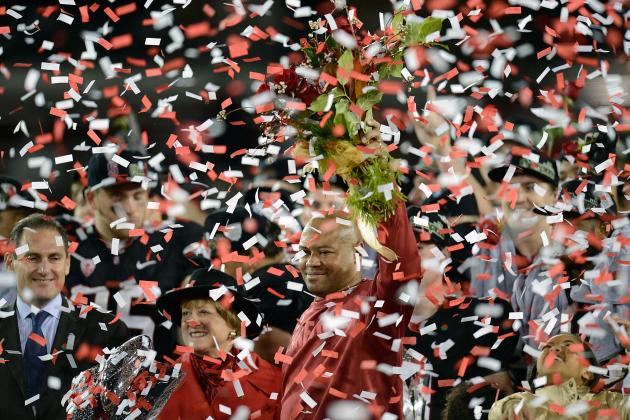 Thearon W. Henderson/Getty Images

Category: Most to Lose and Most to Gain
Facing Wisconsin in the Rose Bowl will be the Pac-12 champion Stanford Cardinal. Stanford already shut down running backs Kenjon Barner and De'Anthony Thomas in the Oregon game earlier this season.
Stanford's defense has become one of the most respected units in the Pac-12 and the nation. Wisconsin's Montee Ball is coming off a 21-carry, 202-yard, three-touchdown performance on the biggest stage of the season against a team that already bested Wisconsin once this season.
Stanford's defense has the grand chance to stop a tailback that has amassed over 1,700 yards on the ground in the Big Ten this season. Stanford can gain respect for its defensive prowess by holding Ball to fewer than 150 yards.
Stanford's defense can begin the journey to legendary by holding him under 100. Of course, the flip side is that Stanford has the chance to lose to a team that technically shouldn't have even been in its conference championship game.
That's a high-risk, high-reward battle if we've ever seen one.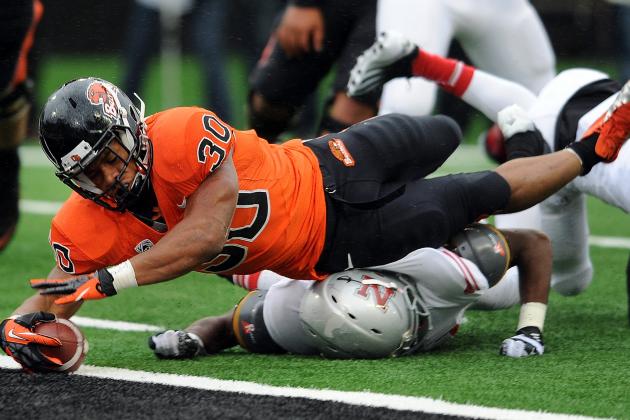 Steve Dykes/Getty Images

Category: Most to Gain
Oregon State has seen one of its best seasons in recent memory, and the Beavers only lost three games in the process. (It would have only been two games, but there was a substitution issue relating to the quarterbacks during the Washington game.)
Oregon State will be facing Texas in the Valero Alamo Bowl with the opportunity to take down one of the most storied programs in college football history. The really cool thing for Oregon State fans is that the Beavers are favored over the Longhorns by two points (via sportsbook.ag).
Oregon State can finish a memorable season with a memorable postseason victory over Mack Brown and the Texas Longhorns. A victory like that is not exactly "business as usual" for the Oregon State Beavers.
That's a lot to gain for a team that was still eyeballing the Rose Bowl in late October.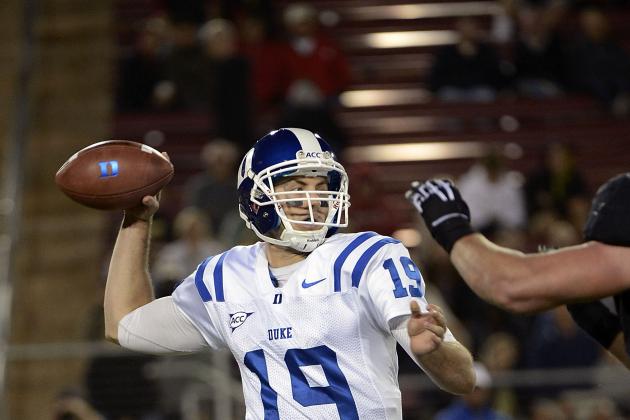 Thearon W. Henderson/Getty Images

Category: Most to Gain
Duke will participate in the postseason (dead-horse alert) for the first time since 1994, and that's already enough to make Blue Devils fans smile. A win in the postseason would be icing on the cake, but check out the Devils' competition: the Cincinnati Bearcats.
Duke finished highly enough in the ACC to actually draw a recognizably successful opponent. Not only is Cincinnati a great matchup for Duke, but either team is capable of winning the Belk Bowl.
Sean Renfree and Munchie Legaux will be battling with all they have in order to come away with a win. There are a lot of good-to-great bowl matchups on the docket for the 2012 postseason, but this game could provide the most entertaining football of the postseason.
Duke has already impressed us by making a postseason game that doesn't involve a hardwood playing surface. A win over a Big East power like Cincinnati on the gridiron would be a sweet accomplishment for this ACC basketball powerhouse.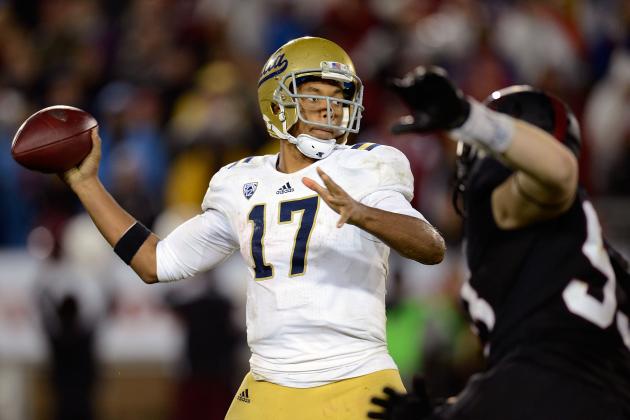 Thearon W. Henderson/Getty Images

Category: Most to Lose
UCLA finished roughly fourth in the overall Pac-12 standings due to the fact that there are three teams with better records. (UCLA finished first in the Pac-12 South Division and lost the conference championship to Stanford.)
Baylor finished fifth in the Big 12, thus making it a little worse than UCLA, in theory. UCLA has an opportunity to prove that the middle of the Pac-12 is better than the middle of the Big 12. This information combined with the result of the Oregon vs. Kansas State game will assist in assessing which conference is stronger from top to bottom.
If the divisional champion from a power conference loses to a middle-of-the-pack player in another power conference, it looks bad no matter how you cut it. UCLA has a lot to lose in this game.
A win would be a solid win over a great offense, but it would still be a win over Baylor. UCLA has much more to lose than it has to gain in this year's Holiday Bowl.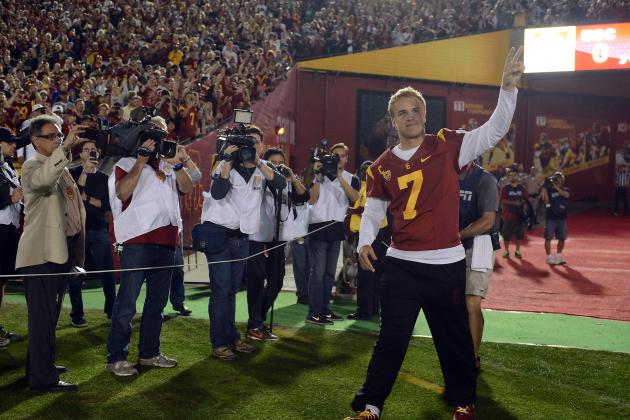 Harry How/Getty Images

Category: Most to Lose
USC has had a disappointing season by any USC standards, much less going from preseason No. 1 to 7-5 without an appearance in even the conference championship game.
Facing a team like Georgia Tech is a test unlike any the Trojans have faced this year. That's not to say that Georgia Tech is better than all the teams that USC has faced; it's simply a different style from any other.
USC QB Matt Barkley stayed for his senior season to take care of "unfinished business." That business has become simply winning in the postseason. Even in the class of quarterbacks last season, Barkley would likely have gone early in the second round at the latest.
If the Trojans can't even get past Georgia Tech, Barkley's draft stock will be terrible.
USC has a lot to lose in the Hyundai Sun Bowl. Unfortunately, there's not much for the Trojans to gain, either. A win in the bowl is still just a win over Georgia Tech. That's a crappy situation to be in, but the onus is on USC. Only USC lost the games it should have won, and only USC has gotten itself into the Yellow Jackets nest.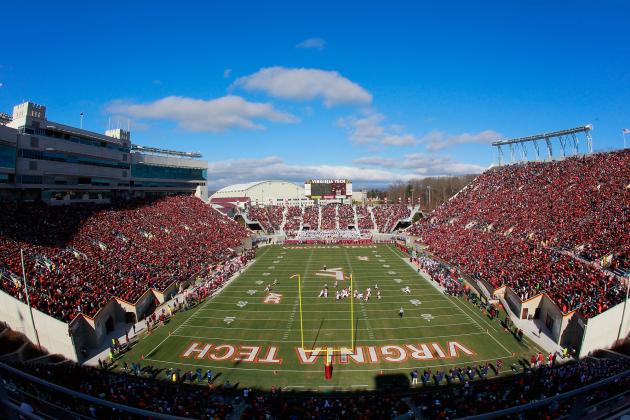 Geoff Burke/Getty Images

Category: Most to Gain
Virginia Tech got off to a decent start this season and rose as high as No. 13 before falling to unranked Pittsburgh. After that, things got a little sticky for the Hokies. Losses to Cincinnati, North Carolina, Clemson, Miami (FL) and Florida State put the Hokies in must-win situations against both Boston College and Virginia at the end of the season.
Virginia Tech finished the season strong after facing a brutal stretch through late October and early November, landing right into the postseason against the Rutgers Scarlet Knights.
Unfortunately for Virginia Tech, Rutgers has only fallen to three teams this season: Kent State, Pittsburgh and Louisville.
The disparity in records apparently didn't faze the Vegas guys, as Virginia Tech is currently favored by two points over Rutgers (according to sportsbook.ag) in the Russell Athletic Bowl.
Virginia Tech's line should move, and the Hokies should end up underdogs against the Knights before kickoff. Virginia Tech can salvage the season with a bowl win over a Big East co-champion.
Virginia Tech has a lot to gain with a win but will not shock the nation by losing. Yes, fans would be disappointed, but Virginia Tech really has a knack for dropping big games under pressure.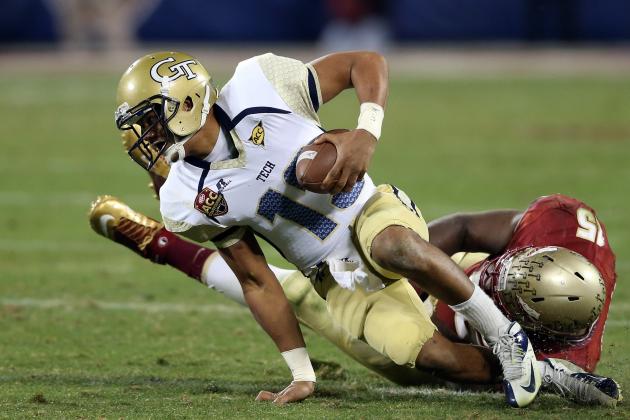 Streeter Lecka/Getty Images

Category: Most to Gain
While USC hasn't exactly had a banner season by going 7-5, the Trojans have provided Georgia Tech with a valuable opportunity to add a signature win to the end of the season.
Georgia Tech got into the ACC title game by virtue of the fact that UNC (sanctions) and Miami (self-imposed ban) were ineligible for the game. Florida State escaped Georgia Tech by a mere six points in that game, proving that Georgia Tech simply plays a difficult-to-defend style of offense with a decent defense. (Only NC State held Florida State to fewer than 21 points this season.)
Georgia Tech may not have had the greatest season in its history, but the bowl situation has presented the Yellow Jackets with a prime opportunity to take down the preseason national-title favorite and the preseason Heisman favorite in the Sun Bowl.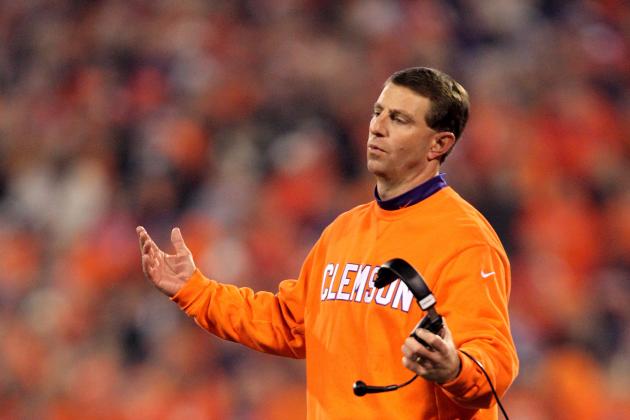 Streeter Lecka/Getty Images

Category: Most to Gain
After a heartbreaking 10-point loss to South Carolina on rivalry weekend, Clemson had to sit at home and watch Georgia Tech play Florida State for the ACC crown. While that was a hard pill to swallow, the rules state that the divisional champions will face off, not the two best teams in the conference.
Still, losing to Florida State and South Carolina both by less than two touchdowns each is tough. The Clemson Tigers take on the LSU Tigers in the Chick-fil-A Bowl.
Clemson has already lost to its only ranked opponents all season. A bout with LSU is a rough opportunity to change that fate, but it's an opportunity nonetheless.
Clemson would gain a gargantuan amount of respect by taking down LSU in Atlanta. Almost everyone on both these teams' schedules has lost to them, so there is honor even in defeat. A win over Les Miles and company would be huge. After all, Clemson is facing one of the only teams in America that held its own against Alabama.
In fact, LSU's play-calling is the only reason that Notre Dame isn't facing Florida, Oregon or Kansas State in the national championship game. If Clemson can knock down a team that good, the respect earned would be unmatched by anything that Florida State could earn against Northern Illinois.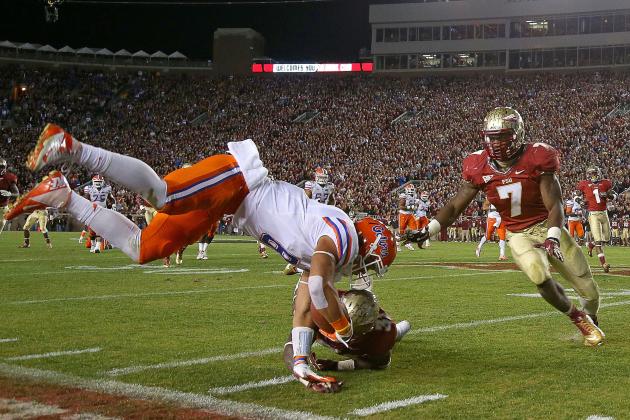 Mike Ehrmann/Getty Images

Category: Most to Lose
Florida drew a short straw as a result of the non-AQ rules that caused Northern Illinois to make its way into the BCS picture. In a Sugar Bowl that could have pitted Florida against Oklahoma, the Gators will now face the Big East-champion Louisville Cardinals.
Traditionally, the Big East champion faces the ACC champion in the Orange Bowl. But Northern Illinois got into that bowl, and that pushed Louisville up to the next-to-last bowl in the selection rotation.
Florida should throw down on unranked Louisville in a blowout, much like the 2009 Cincinnati situation. With great anticipation comes great potential for letdown. Since Florida will be a heavy favorite (14 points according to sportsbook.ag as of this article), a loss would be devastating to the Gators' reputation as a formidable opponent this season.
Florida would lose a lot of 2013 preseason respect by losing to an unranked opponent, regardless of whether that opponent is an AQ conference champion. Florida has even more to lose than Florida State does in this set of BCS bowls.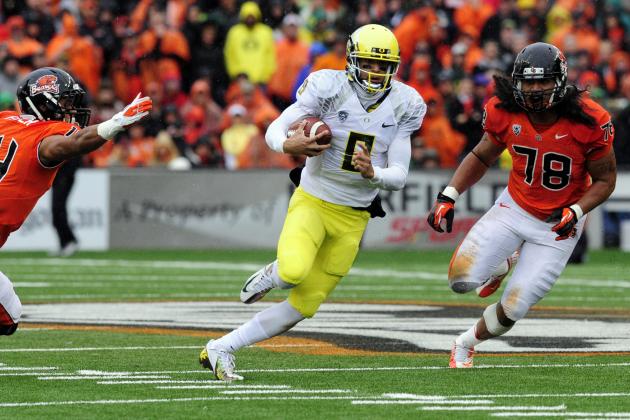 Steve Dykes/Getty Images

Category: Most to Lose

Oregon has played some seriously high-scoring games throughout the season. With the exception of the USC game, the scoring was decidedly lopsided. Entering the Stanford game, the Ducks hadn't played a stout defense.
After what Baylor did to Kansas State, Oregon should be the clear favorite to beat the Wildcats in the Fiesta Bowl. This puts Oregon in the "most to lose" category quite soundly.
While Oregon won't gain much with a win (because the Ducks will be expected to win), a loss would be earth-shattering to the Ducks. A loss would mean that Oregon is susceptible to any defense. If that is true, the Ducks could have a difficult time getting to the national championship game in the near future.
Of course, in any year that the Pac-12 champion is undefeated, getting into the playoffs should be an obvious conclusion. (But we've seen some crazy stuff happen, haven't we?)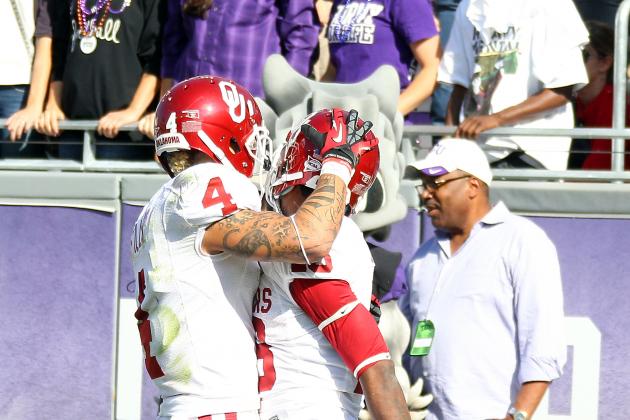 R. Yeatts/Getty Images

Category: Most to Lose and Most to Gain
Oklahoma is planted opposite the Texas A&M Aggies in the AT&T Cotton Bowl this season. While Texas A&M has a lot to gain from this meeting, so does Oklahoma. Oklahoma can begin to shed the "Choklahoma" nickname with just a few major wins in a row. The Sooners already reinforced that nickname with a 30-13 loss to the Notre Dame Fighting Irish in Norman this season.
If Oklahoma can take down an extremely hot Texas A&M squad that's still on a high from beating Alabama, it will attract a boatload of good attention to itself. Oklahoma only lost one conference game, and that was to Kansas State (the Big 12 champion by virtue of head-to-head results).
Just as Oklahoma can garner a lot of positive attention with a win, the negative attention from a loss would be brutal. Johnny Manziel would become the talk of the offseason, and Oklahoma's Landry Jones would slip into anonymity as a middle-of-the-road draft pick.
Oklahoma has a lot riding on this game, and Texas A&M's future SEC recruiting classes will probably only widen the gap between the two. Right now, Oklahoma's best shot at taking down a great Texas A&M team that hails from the SEC is in 2012.
In the future, Texas A&M may not be as great. The Aggies may be even greater, which would make them harder to beat—or they may be worse, which would make a future victory more hollow. Oklahoma has serious reputation on the line in this one.
Jamie Sabau/Getty Images

Category: Most to Gain
Michigan posted four losses this season, and here are the current rankings of each team that beat the Wolverines:
1. Alabama, No. 2 (BCS)
2. Notre Dame, No. 1 (BCS)
3. Nebraska, No. 16 (BCS)
4. Ohio State, No. 3 (AP)
The Wolverines have a prime opportunity against BCS's No. 10 South Carolina to prove that the Nebraska loss was a fluke. Michigan entered the season ranked No. 8 and has really done nothing outside of the Nebraska game to prove that it isn't a Top 10 team.
If you're eighth in the nation, you should lose to Nos. 1, 2, 3, 4, 5, 6 and 7. It's unusual to face three teams that finish in the Top Three, but Michigan did it.
Michigan can gain a lot by beating South Carolina in the Outback Bowl. If the Wolverines lose to South Carolina, then they have officially proved that their No. 18 ranking may be accurate.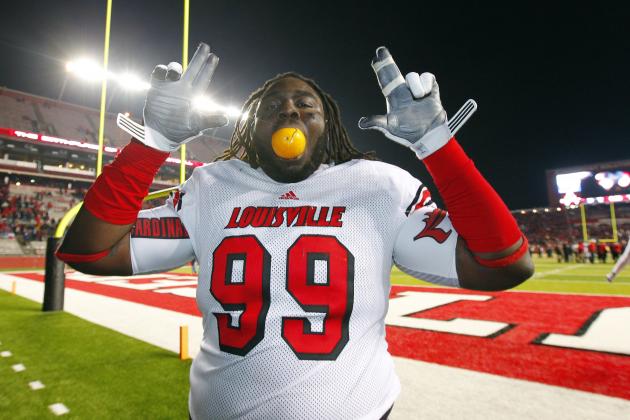 Rich Schultz/Getty Images

Category: Most to Gain
Louisville has a prime opportunity to represent the Big East in a huge way. Though it's almost the opposite of what the Cardinals would have wanted to happen, they are unranked and in the BCS picture.
Louisville will be heading to the Sugar Bowl (as evidenced by the orange in No. 99's mouth in the picture) to face the Florida Gators. Louisville won't suffer much ridicule if it loses to the Florida Gators, as only one team has beaten them all season (Georgia by eight points.)
On the flip side, Louisville can give its fans one of the biggest upsets of the season if Teddy Bridgewater can expose the Florida defense as weak to the pass. If Bridgewater possesses the key to beating Florida, the nation will take notice.
No matter what game you're watching on Jan. 1, you can expect a cut-in every few minutes if Louisville is making a football game out of what looks like a blowout on paper.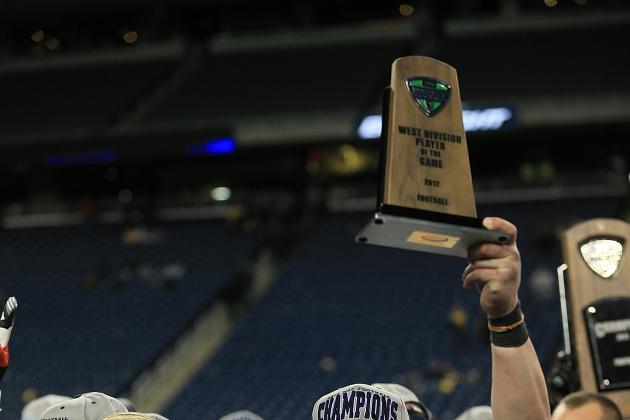 Dave Reginek/Getty Images

Category: Most to Gain and Most to Lose
Northern Illinois faces the Florida State Seminoles in the Orange Bowl. We will not discuss whether this bowl is deserved, but we will go ahead and put this out there: Northern Illinois earned this berth via the system we all knew was in place at the beginning of the season.
Northern Illinois has had a heck of a season, and seeing Jordan Lynch on the national stage against a major player will be entertaining, to say the least. Here's the issue playing on a stage like this: Northern Illinois is in the same situation as Boise State was just a few years ago. (Although the Huskies are not undefeated, the rest of the equation is the same.)
Northern Illinois can do something Boise State couldn't by earning respect for other little guys with a win over Florida State. (Boise State succeeded in only gaining respect for itself by beating Oklahoma.)
The Huskies can prove that there are more teams out there that should be taken seriously in terms of national ranking. The concern here is that the Huskies can also prove that being undefeated and dominating the schedule of a "weaker" conference are necessities when voting in the polls.
A Northern Illinois win should put smaller programs on the map in terms of non-AQ conference champions with one or zero losses. A loss would prove that a smaller school can only compete with the elite if it is undefeated and wins all its games by large margins.
The Huskies season has been excellent, and the BCS berth is the reward. Nobody can (or would) take that away from them. However, there is a lot riding on this one game for NIU.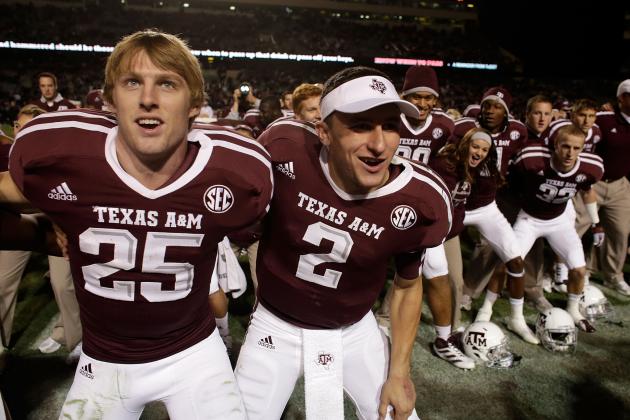 Scott Halleran/Getty Images

Category: Most to Lose and Most to Gain
Texas A&M just left the Big 12 for the SEC this season. There are a full three recruiting classes that will take the field against Oklahoma that have already played Oklahoma. Most of the players have even played against Landry Jones.
That puts a ton of pressure on the Aggies this postseason. Assuming that the Heisman favorite actually wins the Heisman, that will be Johnny Manziel. Manziel and the Aggies can prove a few things by beating Oklahoma in the Cotton Bowl:
1. Manziel did actually deserve the Heisman (assuming, of course, he wins it in the first place).
2. The SEC's gauntlet of teams is better than the Big 12's. (By preparing the Aggies for the postseason better than Oklahoma's schedule prepared for it.)
3. The Aggies' move to the SEC was one of the best decisions ever made by the athletic department.
4. Texas A&M is no longer anyone's "little brother."
The proof that the SEC level of competition provides better preparation will be evident in the final score. In 2011, Oklahoma beat Texas A&M 41-25.
On the other hand, a loss by the Manziel-led Aggies would be devastating to the SEC's cause. Granted, Oklahoma has a share of the Big 12 title, but after Manziel's performance against Alabama, the perception is that the Aggies are currently leaps and bounds better than anyone outside the SEC with little exception.
If the Aggies turn out to be worse than the Big 12 co-champion, it makes Alabama's spot in the BCS title game over Kansas State a little questionable. (Of course, the Big 12 can fix that by dissolving the Longhorn Network and expanding to 12 teams to get an official conference championship game.)
That's what makes bowl season so much fun, though: the lively discussions during bowl season about who deserves what.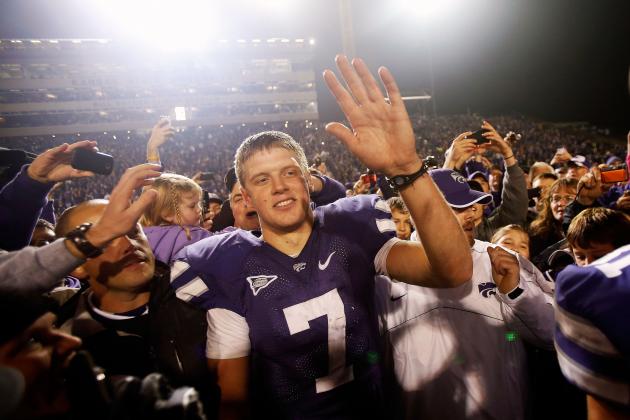 Jamie Squire/Getty Images

Category: Most to Gain
After seriously dropping a game to the Baylor Bears (as in a 52-24 blowout), Kansas State was removed from national title contention by the pollsters. Oregon did the same thing to itself by dropping the Stanford game (in overtime) just hours later in the same day.
After Alabama's loss to Texas A&M, Oregon and Kansas State were poised to meet each other in the BCS title game in January. All they both had to do was finish running the table. While that didn't happen, the Fiesta Bowl has provided the nation with a huge New Year's bonus check.
What could have been the national championship has been scheduled in the Fiesta Bowl. If Kansas State can ride its defense (which did take a third week of rest against Baylor) to a commanding victory over Oregon, the controversy will take over.
If Notre Dame gets blown out by Alabama (not very likely) and Kansas State can completely stomp Oregon, there will be a major question on the table: Should the BCS title game have been Kansas State vs. Alabama?
Few teams get to directly influence the BCS controversy, and Kansas State is in that position. A win will prove that the Big 12 is greater than the Pac-12, at least for this particular season. A commanding win will help guide the playoff gurus in setting up their selection criteria.
If the BCS is smart, a Kansas State domination and the fact that Alabama is meeting Notre Dame in the title game will lead them to pushing this playoff in 2013 instead of 2014. That is seriously unlikely, but Kansas State could win big enough to at least get that discussion going.
If the BCS went out on the high notes of this season's Fiesta Bowl and BCS National Championship Game, it would be remembered fondly in spite of the annual controversy it created.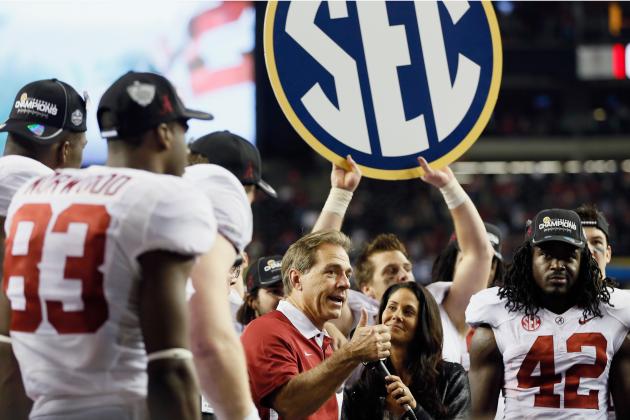 Kevin C. Cox/Getty Images

Category: Most to Gain
Alabama has rolled through its season and racked up huge win over huge win. Until the LSU game, every Tide victory had come by 19 points or more. The LSU game featured two less-than-one-minute scoring drives that propelled the Tide to an unlikely victory in one of the most deadly venues in the nation.
Alabama has a lot to gain by winning the title in 2012:
1. It would become the only school in the country with three BCS titles (record could not be broken).
2. It would become the only school in the country to repeat as national champions in the BCS era.
3. It would be the first school since Nebraska to win three out of four consecutive national titles.
4. It would extend the SEC's national-title streak to seven.
Alabama has a lot to gain by winning the national championship this season, and another crystal football isn't even on that list, though it's an obvious perk. (I just didn't want the list to get out of hand; that's why it was left off.) Alabama has very little to lose by losing the title game, as it will still be a premier program of the BCS era even without the win.
The Crimson Tide can go from being a non-factor in the early BCS era to being the most dominant team of the era simply by winning this one game on Jan. 7.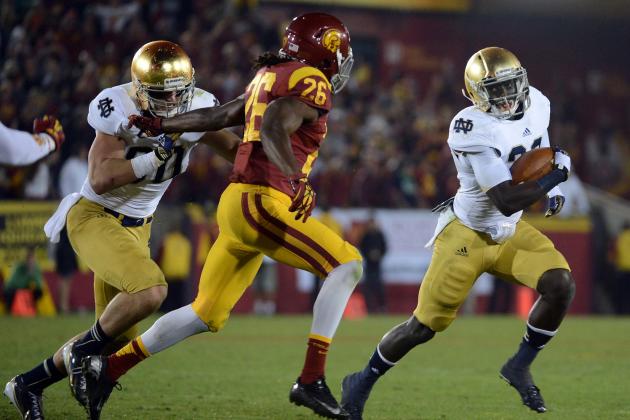 Harry How/Getty Images

Category: Most to Gain
The Fighting Irish have moved through the season as the only undefeated team that's eligible for the postseason. (Ohio State is undefeated, but it's serving NCAA sanctions for the 2012 postseason.)
Michigan State was supposed to beat the Irish, but it didn't. Michigan, Stanford, Oklahoma (in Norman) and USC followed suit by not beating the Irish. While the Irish have nothing left to prove as far as championship contention goes, they do have a lot to gain from winning their bowl game.
Notre Dame can gain all of the following with a win in the BCS title game:
1. A rare win over the Alabama Crimson Tide. (Only LSU and Texas A&M can claim that in the last two seasons.)
2. The Irish can be the ones to end the SEC's national championship run at six.
3. The crystal football.
4. The comeback of the century.
Even the mighty Alabama under Nick Saban got stopped in the conference championship game in 2008. Notre Dame can go from being a non-factor to a national champion in a single season by taking down the Tide.
The last two decades of mediocrity have already faded away with a berth in the national championship. The crystal football would just be icing on the cake. It would be rich, sweet icing, though.