UFC 156: Erick Silva vs. Jay Hieron Head-to-Toe Breakdown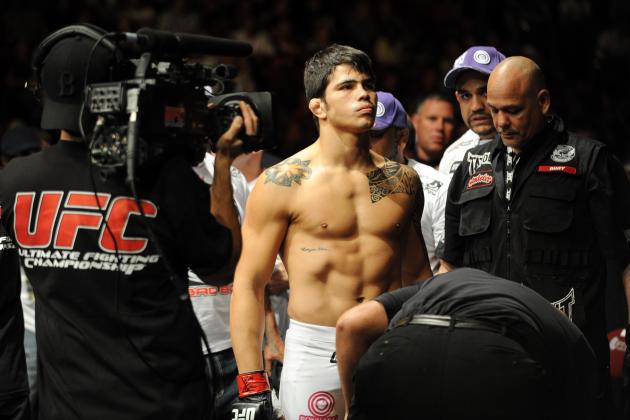 Steve Mitchell-USA TODAY Sports

Fight fans have spent much of December looking forward to the UFC's four planned events. However, I'm a little concerned. What if we're not looking ahead far enough? What if those four events don't give us enough to think or talk about? If we here on the Internet run out of things to talk about, I think we might start eating each other. Just a little fear that I have.
To allay these fears, here is a breakdown of the recently announced welterweight fight between the rising but recently short-circuited Erick Silva and Mayor of Grizzletown Jay Hieron.
Begin Slideshow

»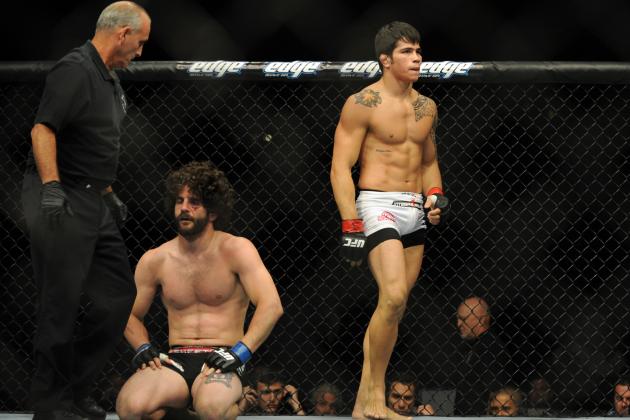 Steve Mitchell-USA TODAY Sports

This one's a little closer than people might think.
Erick Silva fights with a lot of energy, and that's most noticeable in the striking phase. However, his striking, while dangerous, may be a bit overblown. Silva has three T/KO victories in the 14 wins on his docket (or 21 percent). I'd still say, though, that he has a power advantage over Jay Hieron, who has nevertheless used his technique and guile to snag six T/KO wins in 23 total victories (or 26 percent).
This is the same Jay Hieron who kept Jake Ellenberger at bay and even won a round (in my opinion) from the knockout artist. He is smart and will probably punish Silva if he tries to rush forward, which he may very well do. According to FightMetric, Silva lands 1.98 significant strikes per minute, but absorbs 4.3. He literally takes two to give one.
Silva is a little more diverse in his attack than Ellenberger, although punches are his bread and butter. It's entirely possible that one fist or knee from Silva could put Hieron on roller skates. Both of these men have respectable chins, so I don't foresee a knockout. However, I think Silva has the dynamism to batter Hieron.
Slight advantage: Silva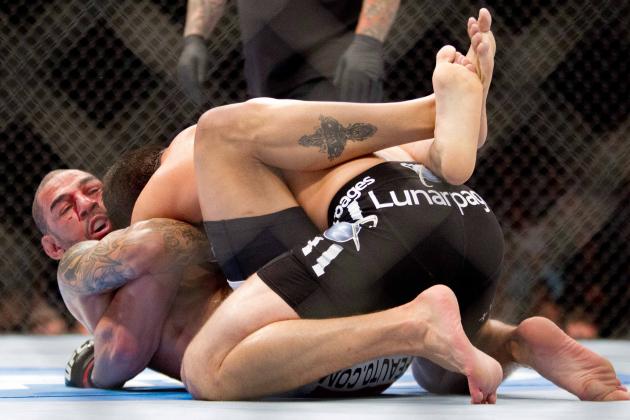 Bruce Kluckhohn-USA TODAY Sports

Just as Silva's striking may be slightly overrated, his grappling may be underrated.
As people saw when he fought Jon Fitch, Silva's perfectly comfortable on the mat. Time after time, the jiu-jitsu and judo black belt put Fitch in compromising positions that might have finished a lesser mortal.
Juco wrestling champ Hieron enjoys himself a grind-it-out ground battle. He might try to go for a takedown, especially if Silva wobbles him on the feet. Silva's takedown defense is decent, but not exactly an iron dome. With that being said, when you've got two black belts in the groundward arts, going horizontal probably isn't a major concern.
Advantage: Silva
Bruce Kluckhohn-USA TODAY Sports

Both of these men have proven they can go the distance, so gas tank shouldn't be a deal breaker for either man.
Silva is coming off a loss to Fitch, and unless you are mistakenly counting Carlo Prater, it was his first loss since 2006. How will he rebound?
Hieron, meanwhile, might feel like he's playing with house money. He's never going to make a title run, but his three-round battle with Ellenberger established him, for now, as a serviceable UFC fighter. Perhaps even a longer-term gatekeeper for rising stars or a rebound relationship for big names coming off a letdown. This will be his 30th fight in 13 promotions. He won't be rattled.
Slight advantage: Hieron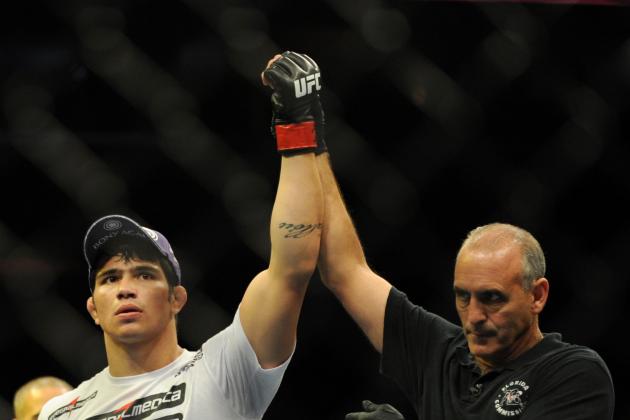 Steve Mitchell-USA TODAY Sports

Silva has all the skills where it counts. There's really no glaring weakness in his game. Hieron has never been submitted. There's a first time for everything.
Verdict: Erick Silva by submission, Rd. 3
Follow MMA" target="_blank">Scott Harris on Twitter.