The Top 10 Free Agents for the Philadelphia Eagles in 2013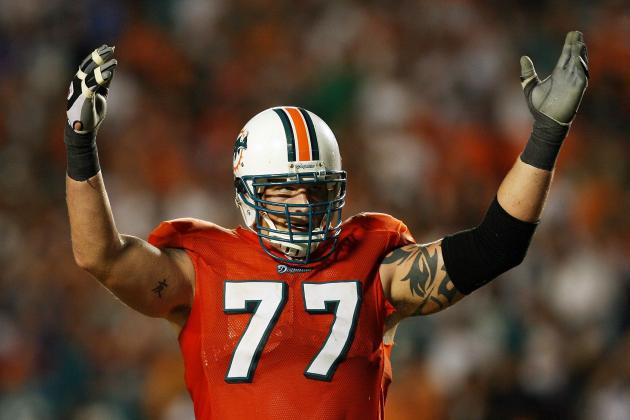 Doug Benc/Getty Images

I have honestly never seen a team like the 2012 Philadelphia Eagles. A team that looks so good on paper yet has so many holes on the field.
Picked to win the division by many, the Eagles are now in the running for the first overall draft pick.
There are two types of Eagles' fans at this point. Those who would like to see a fire sale, and those who still hold some hope. I happen to be the latter.
I have faith that a 3-9 team could be a few smart decisions away from the 2013 playoffs. Landing a couple of these free agents in the offseason would be a fantastic start.
Begin Slideshow

»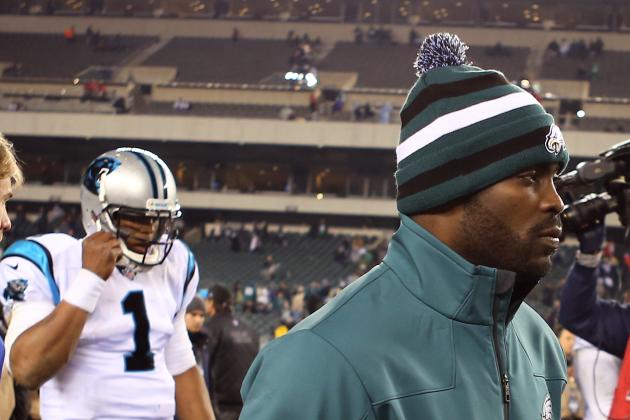 Elsa/Getty Images

We need to just get this one over with at the beginning. I'm sure some of you have dismissed me as crazy just two words into this slideshow. Put down your pitchforks for one minute and let me explain.
Once his contract is voided, Vick is obviously going to get nowhere near the money the Eagles threw at him. But when you look down the list of teams in need of a quarterback, it is noticeably thinner than recent offseasons.
Rookie quarterbacks come cheaper than ever before. Combine that with the facts that Vick has done anything but impress and has a controversial track record off the field, and the Eagles are now in a buyer's market.
Vick knows the offense. That's not a very good reason to justify signing him. He's injury-prone, can't pick up a blitz and has been anything but handy in the red zone. With that being said, those are all reasons that the Eagles could land him in a cost-efficient manner.
Why would we want a guy with such obvious limitations?
Well, what are our options?
Joe Flacco will be back with Baltimore. Do I really need to make an argument against Carson Palmer? Nick Foles is a rookie. Rookies need development, but he's not going to get them to the Super Bowl anytime soon.
If Vick could stay healthy and develop as a pocket passer, he is still dynamic enough to win it all.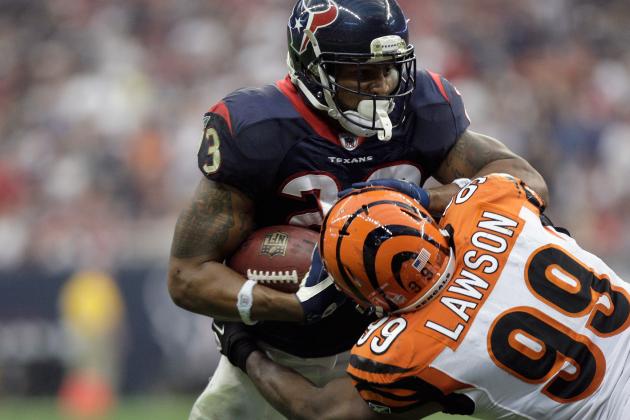 Thomas B. Shea/Getty Images

Manny Lawson is a linebacker who has managed to stay under the radar over the past couple of years. He had 78 tackles in 2011, including seven tackles for a loss.
Even better, Lawson has been cost-effective at only $1.2 million in an incentive-based contract this past season. He should stay in that range as he's on pace for a mediocre season in terms of tackles recorded.
Whether the Eagles sign him for depth between Gerard Lawson and Mychal Kendricks or move one of them to weak-side linebacker, reinforcement could never hurt. As we saw with the offensive line this year, too much of one position is never enough.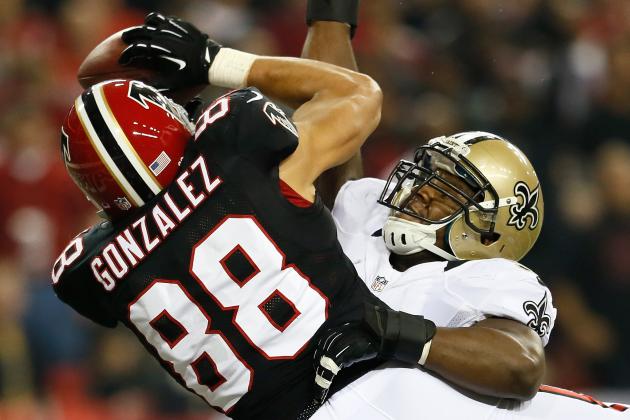 Kevin C. Cox/Getty Images

Tony Gonzalez is a future Hall of Famer. More importantly, he's a leader.
Gonzalez has always had the reputation of being not only a great clubhouse guy but just a great guy altogether. This is exactly what the Eagles need.
I like Brent Celek a lot. I believe he has become a little bit of a scapegoat for a fumbling offense. He's the only large, consistent target the Eagles have over the middle, and that has value.
Gonzalez would not only bring his Hall of Fame talent to the offense but allow the Eagles to have a strong tight-end core. This is something I have been hoping for ever since they established their two starting wide receivers under 6' tall and 200 pounds.
He has made it clear (95 percent sure) that he will be retiring at the end of the season. But you can never take that seriously until it's final. He has admitted he could play another three years if he wanted, and that says something to me.
Leaving the game may be easy to talk about, but until Gonzalez puts his money where his mouth is, the Eagles should continue to keep an eye on him.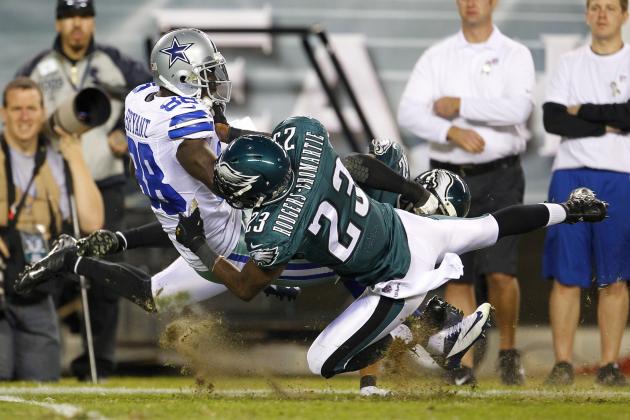 Rich Schultz/Getty Images

Rodgers-Cromartie was in the shadow of Nnamdi Asomugha coming into last year. Since then, it's been the opposite and really hasn't even been close.
Thanks to the severe disappointment of Asomugha, that unfortunately isn't the compliment that we all thought it would be. But don't let it outshine Rodgers-Cromartie, either.
Look, he's no Darrelle Revis. Nobody is making that argument. But he's young and has been a cheaper alternative to a guy like Asante Samuel.
Let's also keep in mind that the defensive turmoil and safeties behind him have done nothing to help.
With Asomugha gone, I would hate to see two brand-new corners along with what will probably be brand-new coaches as well. The best thing the Eagles can do is salvage the good and cut the fat.
There's no way that the Eagles made this trade last year without the intention of locking him up long-term. His play thus far has done nothing to change that.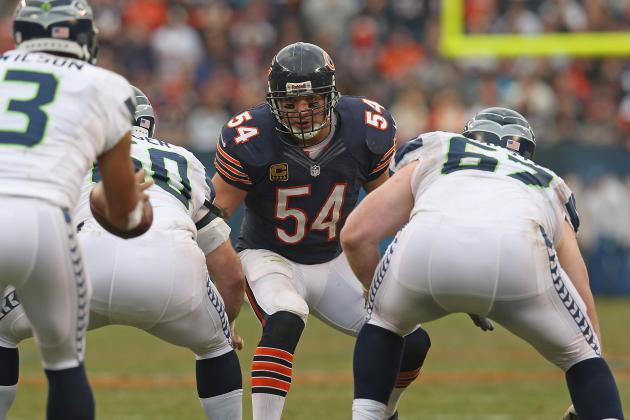 Jonathan Daniel/Getty Images

I decided to get a little creative here. If you're a football fan, you have to love Brian Urlacher. Just like Tony Gonzalez, he's the leader and player the Eagles need.
There are obvious barriers to this move. DeMeco Ryans has played well and is locked up for a couple more seasons.
Urlacher would provide great depth, but could he slim down and speed up enough to move outside?
Also, Urlacher is injury-prone. In fact, that might be the only reason he's even available to other teams come the offseason. Every season is another year on his age, and some feel his career is headed in a strong and expected decline.
The most likely scenario is that Urlacher never leaves Chicago. However, with the latest injury news, who knows what Chicago is thinking?
All I know is that a player and leader of Urlacher's caliber deserves a place on this Eagles defense.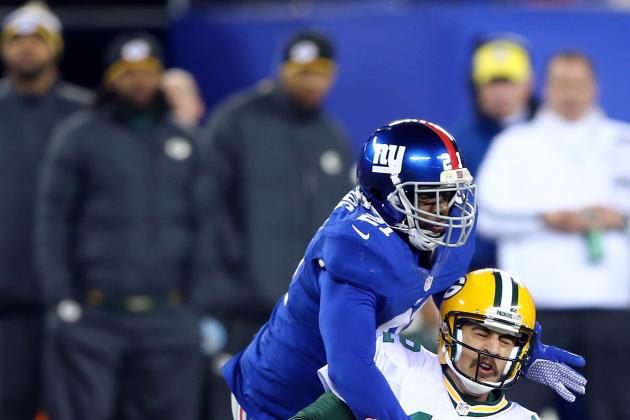 Al Bello/Getty Images

You have to be tired of watching these safeties throw their hands up at each other in frustration. I'm still in the boat that blames Asomugha's poor play on those behind him. Maybe that's a cop-out.
Maybe it's not.
Either way, Nate Allen and Kurt Coleman are the exact opposite of a long-term solution in Philadelphia. In fact, they are not even a short-term option. When the whole team is healthy, by far the biggest holes on the roster are at safety.
Phillips has only played six games this season, which would make him fall right into the hands of the Eagles. With 82 tackles, four interceptions and 11 pass deflections in 2011, Phillips is exactly what the Eagles are looking for. He is at the peak of his potential, has won before and is still young enough to have an impact in Philadelphia.
Better yet, the Giants are stuck between a rock and a hard place. With upcoming free agents such as Victor Cruz, Corey Webster, Justin Tuck and Hakeem Nicks, the Giants have to decide where Phillips falls in the pecking order.
Could they clear enough money to consider bringing him back?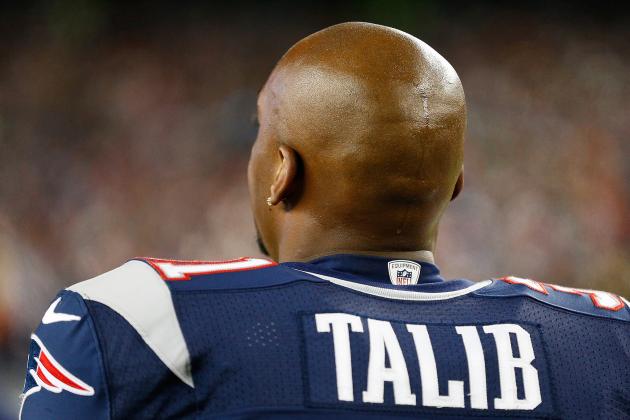 Jim Rogash/Getty Images

The argument against Talib is that his conduct issues should instantly cross him off the list.
I find this laughable.
The Patriots have made a fine living taking the players no one else wanted. If provided the correct environment, no skilled player should ever be turned down due to off-the-field issues.
Talib is absolutely a skilled player. After four interceptions his rookie season, he followed up with five and six interceptions in the next two years.
What if the Eagles lose both Asomugha and Rodgers-Cromartie? The secondary would then consist of Nate Allen, Kurt Coleman and whomever else the team can scrap up.
Talib takes on value for the Eagles out of pure need. I think it's safe to assume Asomugha will be gone next season, as the Eagles look to jettison that contract.
Gaining one valuable corner is tough enough. With the risk of having to find two, I think it's hard to deny that Talib is a top target.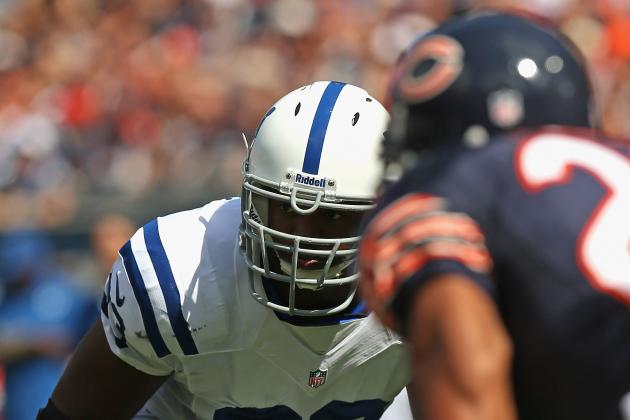 Jonathan Daniel/Getty Images

Like a couple of other guys on this list, Dwight Freeney has his best years behind him. That doesn't mean he has lost his value.
The Eagles will have plenty of opportunities to fill holes between the draft and free agency, but Freeney would bring something many others cannot. His leadership and championship experience are priceless and should be even more valuable for the Eagles.
After Chuck Pagano took over the Colts, defensive end Freeney moved to outside linebacker. Sound familiar?
If the Eagles are serious about Brandon Graham, a guy they moved up to get over Jason Pierre-Paul and Earl Thomas, they should get serious about his development.
By filling holes on the defensive line or in the linebacker corps (if not both), Freeney could simultaneously help the team while teaching a young player everything he needs to know.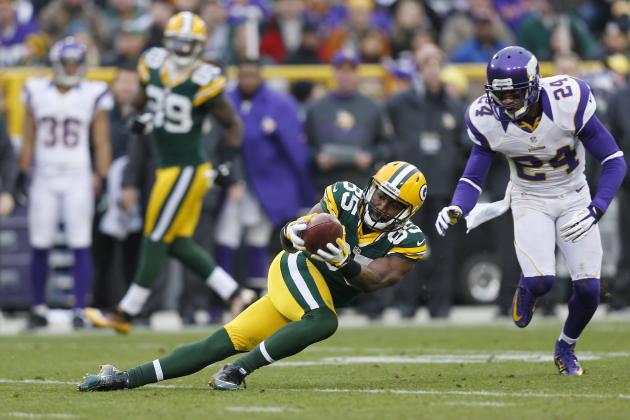 Joe Robbins/Getty Images

It's clear what the Eagles were trying to establish in their offense. With players like Vick, DeSean Jackson, Jeremy Maclin and LeSean McCoy always on the field, they would have the fastest and most dynamic offense in the league.
I bought into it too, but it just didn't pan out.
After a couple of years of this experiment, it's obvious that Jackson and Maclin can't cut it as a starting core. Size issues have kept both of them from healthy seasons recently, and maturity issues for Jackson continue to linger on the field.
Jennings has an injury history of his own, but he's way more of a threat than the deep-streak or screen-pass options the Eagles have now.
By adding a guy of his caliber, the Eagles would be able to move Maclin to the slot, which is more suitable for his size and skill.
With the Packers seeing success from Randall Cobb and Jordy Nelson, Jennings may now be expendable. But as they say, one man's trash is another man's treasure.
He's not flashy, his talent is not peaking but the fit would be ideal.
Winslow Townson/Getty Images

Jake Long shouldn't be the top free-agent target for the Eagles. He should be the top free-agent target for the entire league.
After being the No. 1 pick overall in 2008, Long has been a Pro Bowler in every season. The left tackle is the cream of the crop for the league.
He won't come cheap.
In order for the Dolphins to place the franchise tag on Long, it will cost them almost $13 million. A hefty price tag, especially for a franchise that isn't known as the biggest spender in the league.
On the other hand, the Eagles have so many big contracts coming off the books that a deal with Long is feasible. Not to mention their offensive line has been laughable this season.
There's no doubt that I have faith in a healthy Eagles' offensive line as it is. But that concept is anything but a sure thing.
Left tackle Jason Peters staying healthy this season would make this move unrealistic. But as we have seen, lack of depth in the offensive line can be the Achilles' heel of any team.
This deal would require the Eagles to get creative in multiple ways, but a talent like Long isn't up for grabs every offseason.
I haven't seen great protection of an Eagles quarterback in quite some time. Signing Long would be a giant leap toward that achievement.