Handicapping the Defensive Player of the Year Race Heading into Week 14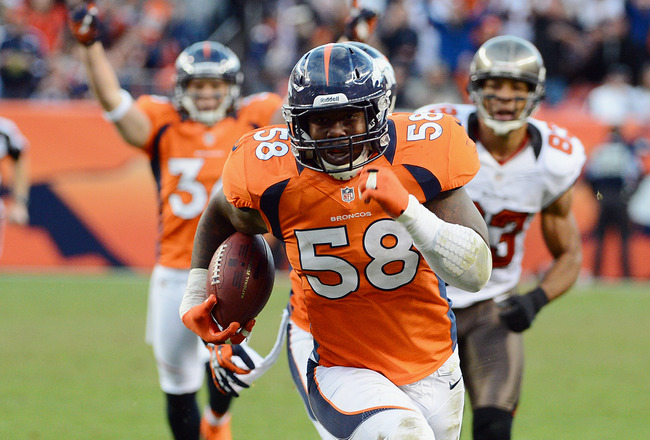 Garrett Ellwood/Getty Images
Von Miller, J.J. Watt, Aldon Smith, Tim Jennings and Charles Tillman all have staked their claim for the 2012 NFL Defensive Player of the Year award, but which player has made the biggest impact heading into Week 14?
That's a question we aim to answer, though it's not an easy one to figure out.
Unlike the MVP trophy, which should go to the player who would be missed the most should he not be on his team, this award is based on production. But seeing as how we're looking at four different positions out of these five players, there isn't necessarily a clear line of distinction.
No doubt many of you will not agree with my rankings, so feel free to disagree in the comments section below.
Tim Jennings: Cornerback, Chicago Bears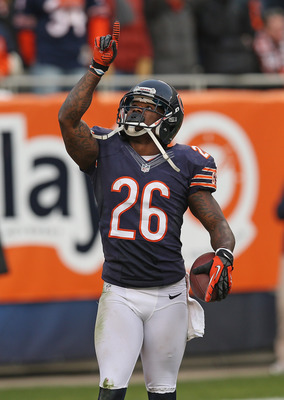 Jonathan Daniel/Getty Images
Odds to Win DPOY: 20/1
It's hard to believe that the NFL's interception leader (by three) isn't higher up on this list, but rather than an indictment against Tim Jennings, the players above him have simply been phenomenal this season.
Jennings has eight interceptions this season—one of which he returned for a touchdown.
He has only allowed three touchdowns all season long, according to Pro Football Focus (subscription required), and is allowing a passer rating of just 46.8.
Jenning's chances to win this award are hurt by the fact that Charles Tillman is also having a career year, and by the fact that he's playing with so many stalwarts alongside him on the Bears defense.
Aldon Smith: Outside Linebacker, San Francisco 49ers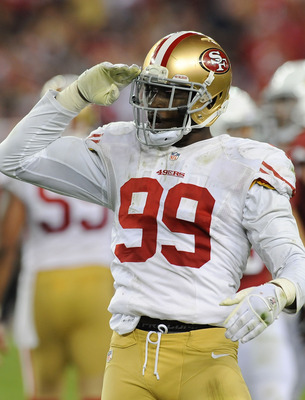 Norm Hall/Getty Images
Odds to Win DPOY: 15/1
Aldon Smith has a chance to break Michael Strahan's single-season sack record, with 18 sacks through 12 games, so how is he not higher on this list?
Two reasons:
1. Justin Smith paves a highway for many of Aldon's sacks, and
2. A. Smith isn't as multi-dimensional as the three players above him on this list.
Furthermore, even though Smith has more sacks than Von Miller, he doesn't compare as a pure pass-rusher when you look at the overall numbers:
- Miller has logged 42 quarterback hurries, per PFF, to go along with his 15 sacks.
- Smith has logged just 25 hurries to go along with his 18 sacks, per PFF.
Charles Tillman: Cornerback, Chicago Bears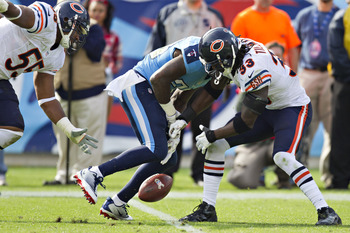 Wesley Hitt/Getty Images
Odds to Win DPOY: 10/1
There isn't a more physical and intimidating cornerback in the NFL than Charles Tillman—Richard Sherman and Brandon Browner notwithstanding.
And while his teammate, Tim Jennings, has amassed eight interceptions, Tillman has made an even bigger impact in other ways.
Tillman has forced an incredible eight fumbles this season through 12 games—more than last year's leader, Terrell Suggs, had at the end of the season.
Furthermore, Tillman has intercepted two passes—both of which he returned for touchdowns.
In coverage, he's as stout as any cornerback in the NFL, allowing just 8.6 yards per completion—the No. 4 ranked cornerback in the NFL, per PFF.
Von Miller: Outside Linebacker, Denver Broncos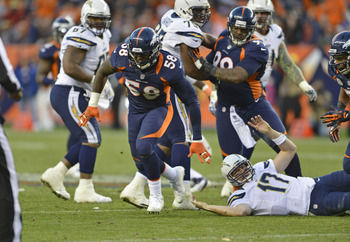 Ron Chenoy-USA TODAY Sports
Odds to Win DPOY: 5/1
Von Miller is the most disruptive pure pass-rusher in the NFL, and the scary thing is that he's nowhere near his ceiling.
Consider this: His interception returned for a touchdown in Week 13 against Josh Freeman was his first career interception.
Combined with his 42 quarterback hurries and 15 sacks—as a 4-3 outside linebacker, no less—Miller has the talent to become one of the NFL's all-time greats if he can stay healthy.
He's the Broncos closer, in a way, too, as many of his pressures and sacks come late in games when opposing teams are attempting to come back.
J.J. Watt: Defensive End, Houston Texans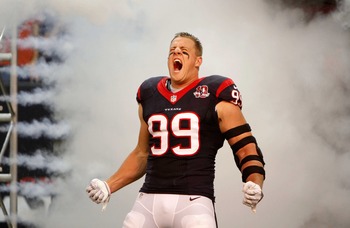 Brett Davis-USA TODAY Sports
Odds to Win DPOY: 2/1
There isn't a defender in the NFL who makes as big an impact for his team as J.J. Watt.
Through 12 games, he's tallied 59 tackles, 15.5 sacks, 14 tackles for loss, 15 pass deflections, one forced fumble and two fumble recoveries.
Outside linebackers have become the NFL's premier pass-rushers these days, but Watt's getting pressure on opposing quarterbacks at nearly the same pace as Von Miller and Aldon Smith...from his 3-4 defensive end position.
For a comparison, the best 4-3 defensive end in the NFL in terms of sacks is Cameron Wake, who has 10.5.
When you consider that his pass deflections are almost as good as sacks, you get the picture that this guy is making impact plays on a level we've never seen before.
Unless Watt's production wanes significantly during this final month of play, he's a lock to win the 2012 Defensive Player of the Year award.
Follow me on Twitter @JesseReed78 and check out my weekly NFL picks at Pickfactor.com
Keep Reading