Manny Pacquiao: Top 10 Storylines Going into Juan Manuel Marquez Fight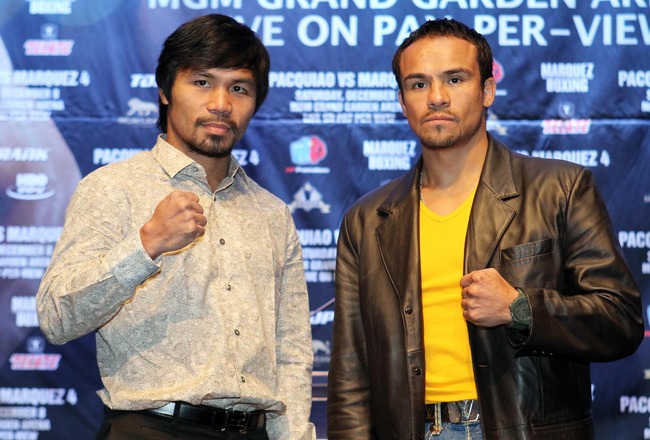 Ed Mulholland-USA TODAY Sports
The fourth fight between Manny Pacquiao and Juan Manuel Marquez may seem repetitive, but it is really another chapter in a ferocious series between two warriors.
Pacquiao is undefeated with a 2-0-1 record against his rival, but all three fights have been close.
Is another close decision at hand or will either fighter shock the other with a barrage of punches that leads to a knockout?
Fight fans have been waiting for this bout since their third fight last year. It's not only just the fight itself that fans are waiting for. There are several storylines that fans are expecting to unfold as Pacquiao and Marquez battle.
How Much Does Pacquiao Have Left?
Pacquiao, 33, lost a controversial decision to Timothy Bradley in his last fight.
While the decision was considered a poor one and most observers believe Pacquiao won the fight, it was not an impressive performance.
Pacquiao has not stopped an opponent since registering a 12th-round TKO over Miguel Cotto in 2009.
Fight fans have questioned how much Pacquiao has left in the tank. This fight may go a long way towards determining that answer.
Marquez's Conditioning
Pacquiao's trainer, Freddie Roach, has questioned Marquez's conditioning methods in the weeks leading up to the fight.
Roach suggested that Marquez's more muscular physique may be the result of using performance-enhancing drugs, according to sportswriter Jon Saraceno's story in USA Today.
Marquez denied using drugs and said that his improved muscle mass and physique is due to hard work.
"I have never done this type of work before," Marquez told USA Today. "That's why my body has changed. I have been working very hard, specifically to get more strength."
How Will the Judging Play Out?
Pacquiao has to be concerned about the judging of a decision in this fight.
In his fight with Bradley, Pacquiao appeared to win the fight. However, he lost the decision. If it happened once, could it happen again?
Additionally, the first three fights in this series have been close. Pacquiao won a majority decision and a split decision, and the third fight was a draw.
The judges may be psychologically disposed towards favoring Marquez in a close fight.
These factors have to be weighing on both fighers' minds, particularly Pacquiao.
Marquez's Ability
Just how much does Marquez have left in the tank?
He is a 39-year-old fighter with 61 fights under his belt.
He appears to have trained hard for the fight and he looks strong and in shape.
However, it's difficult to excel in boxing when you have passed your prime. Marquez may look ready and may have trained hard, but there are no guarantees that he will not tire as the fight goes along.
He could struggle once the fight reaches the halfway point and may have a difficult time finishing the fight in top shape.
Pacquiao's Finishing Ability
What kind of power does Pacquiao have at this point in his career?
He registered a technical knockout over Cotto in 2009, but he has not registered a full-fledged knockout since pounding Ricky Hatton to the canvas in the second round earlier that year.
It's fair to question whether Pacquiao still has the ability to finish an opponent, let alone a solid fighter like Marquez.
If Pacquiao lands multiple combinations, how will Marquez hold up? Will he feel the pain or will he shake them off? Since Pacquiao hasn't registered a knockout since 2009, Marquez may not be stifled by those punches.
Can Marquez Hurt Pacquiao?
Despite losing two of the three fights to Pacquiao, Marquez has gotten in plenty of damaging shots and handed out quite a bit of punishment.
However, Pacquiao has always been able to survive Marquez's barrages. It's fair to ask whether Marquez can seriously hurt Pacquiao.
Can Pacquiao Silence the Doubters?
Even though Pacquiao had not lost a fight since 2005 prior to the Bradley debacle, a large chorus of doubters had emerged in recent years, wondering if Pacquiao is still a great fighter.
The boxing world is still waiting for a potential Pacquiao fight with Floyd "Money" Mayweather. Is Pacquiao still deserving of such a fight?
This fourth fight with Marquez can go a long way towards silencing the Pacquiao doubters.
Can Marquez Handle the Weight?
Marquez and Pacquiao have agreed to a weight limit of 147 pounds for this fight.
This is a good weight for Pacquiao, who has fought his last six bouts at 145 pounds or higher.
Marquez has only had two fights in his career at weights greater than 140 pounds. Marquez has never weighed more than 142 pounds for a fight, but he will likely come in at 143 or 144 pounds this time around (per BoxingScene.com).
How will Marquez handle the extra weight?
Pacquiao vs. Mayweather
Once the fourth fight between Pacquiao and Marquez is over, does that make a Pacquiao-Mayweather bout a reality?
This long-discussed fight has never gotten out of the rumor stage. However, this is the fight that all boxing fans want to see.
Mayweather would likely be a solid favorite and Pacquiao would face a very difficult challenge. Nevertheless, Pacquiao is the highest-profile boxer that Mayweather could fight.
If Pacquiao can defeat Marquez, shouldn't a fight between Pacquiao and Mayweather be scheduled for 2013?
Pacquiao vs. Marquez V
These two fighters have fought for 36 rounds.
Three close 12-round fights.
Both fighters are talking about strategy changes and going for the knockout. However, it seems more likely that another close decision is in store.
If Marquez and Pacquiao fight another close fight, could Pacquiao-Marquez V be on the horizon?
Would boxing fans demand it?
Keep Reading