Miami Dolphins State of the Union: Where They Stand Headed into Week 14?
Use your ← → (arrow) keys to browse more stories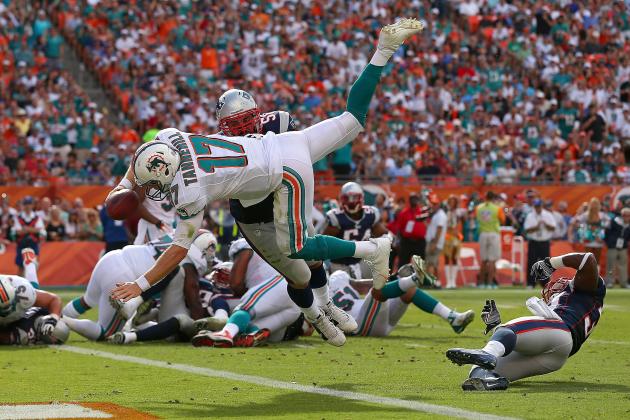 Mike Ehrmann/Getty Images

The Miami Dolphins season, to this point, can be summed up in four words: Close, but no cigar.
They have lost five games by seven points or less. They'll take a step toward playoff contention just as soon as they take a step back.
It may be nearly too late for that bid—nothing less than a four-game winning streak will do, and with the Patriots and 49ers still left on the schedule, the Dolphins are swinging up at their competition and hoping for someone to stumble along the way.
Here's where the Dolphins stand at this point, and where things are headed as we look forward to Week 14.
Primary Talking Point
Coaching decisions have become major questions this season. Between the benching of Reggie Bush following a fumble against the Titans, the benching of Cameron Wake and Jared Odrick on the final drive of Sunday's loss to the Patriots, or the continued playing time for second-year back Daniel Thomas, the Dolphins have made plenty of questionable decisions in regards to their personnel.
"He's not in any doghouse that I know of," Philbin said of benching Bush, who (via ProFootballFocus.com) has not played more than 56 percent of the snaps in six games, and only just hit 56 percent this week against New England.
"They were running the ball," Philbin said of benching Wake. "We have a play count that we want to keep guys fresh." Wake averages 79.9 percent of the snaps this season, and played just 72 percent of the snaps against the Patriots.
Justify those decisions any which way, but there's something to be said for the best players seeing the bulk of the playing time, and in the most important situations to boot.
There are growing pains with rookie players, and rookie head coaches are no different. Philbin is getting it right most of the time, but when he's not getting it right, he's way off base.
Injury Updates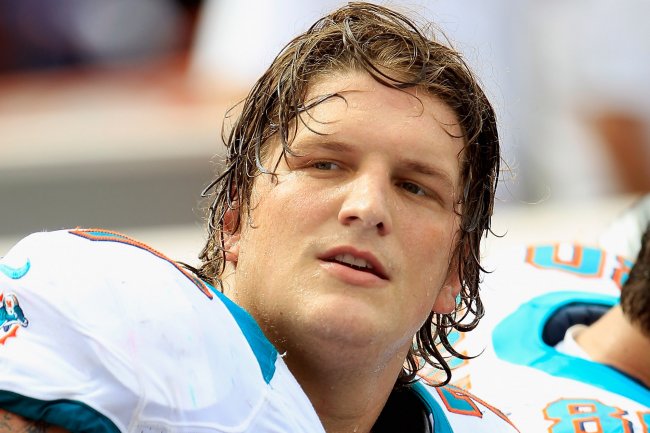 Chris Trotman/Getty Images
The Dolphins have been very lucky with injuries this season, until now. Left tackle Jake Long has been shelved for the season with a triceps injury.
The move thrusts right tackle Jonathan Martin into the spotlight as the team tries to replace their franchise left tackle. The injury puts Long's future with the Dolphins into question; he is on the final year of his rookie deal, and is set to enter free agency in 2013.
The Dolphins could use the franchise tag, which would give Long $15.36 million for 2013 on a one-year deal.
Stock Up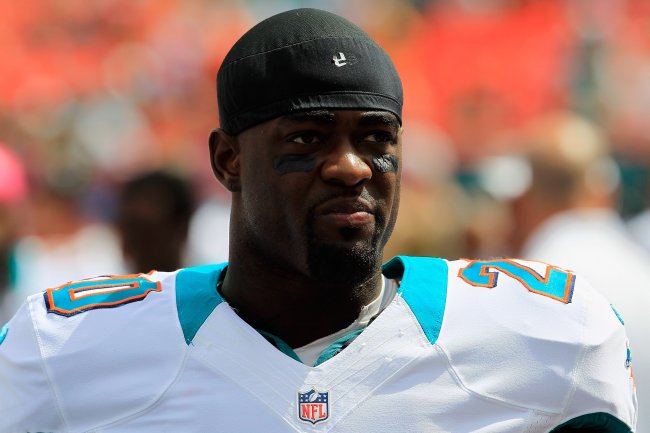 Chris Trotman/Getty Images
Reshad Jones
Jones had a sack, an interception, a pass deflection and 10 tackles in Sunday's loss.
His stock is pretty much on a constant upswing at this point, and it's getting to the point where his inclusion in this section is becoming passé. He has already proven that he is a top 10 safety in the NFL, and this was a hallmark performance in terms of his all-around contribution to the defense.
Reggie Bush
Bush picked up his pace over the past two weeks, with 29 carries for 151 yards (5.2 YPA). With 274 more rushing yards in the final four games of the season (68.5 yards per game), Bush will cross the 1,000-yard plateau for the second straight year. He averages 60.5 yards per game right now.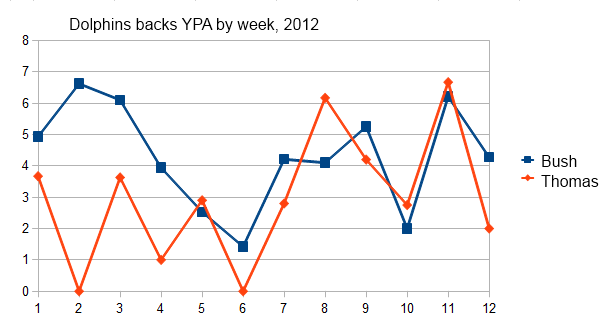 Stock Down
Daniel Thomas
He continues to get reps in spell duty of Reggie Bush, despite averaging just 3.6 yards per carry this season. He had 10 yards on five carries against the Patriots, and missed a block on a blitz inside the red zone on third down.
Coaching staff
See "primary talking point." The coaching staff is a shareholder in the downward-trending stock of Thomas, but they are also the ones pulling the strings behind his workload.
He has proven best as a goal-line back; the Dolphins should be excited to use him in that role, and allow Bush to do his thing between the 20s. How about some playing time for Lamar Miller, too? He hasn't seen the field since Week 10 and has just 69 offensive snaps all year, with 23 in Week 1.
Notebook
That being said, he's performing almost directly to the expectation we set for him on the AFC East

blog

in the offseason, and he's doing it with a limited cast of skill position talent around him and not as much help from the offensive line as he might like.
The Dolphins are still undefeated when they win the turnover battle, but have now fallen to 1-7 in games where they either draw even in turnovers or lose the turnover battle.
Perhaps Daniel Thomas is beginning to fade into the back of the game plan; his snap percentage has decreased in each of the past two weeks (55 percent to 48 percent, then to 43 percent).
Outlook
Right now, the outlook is not promising for the Dolphins chances at the playoffs. In fact, it no longer even looks promising for a .500 record. The Dolphins face two easy opponents in the Jaguars and the Bills, both in the confines of their own stadium. But to pull out a win against either the 49ers or the Patriots on the road would be a surprise, to say the least.
How many wins will the Dolphins finish with in 2012?
The Dolphins are running out of opportunities this year, but they have a big opportunity to build toward next year and for the long-term future of the team.
The coaching staff could look to get some more reps in for some of their younger players to help better evaluate them for next year. Specifically, they still have major question marks at wide receiver going forward, like whether they'll retain Brian Hartline and what they can expect out of younger players like Marlon Moore and Rishard Matthews.
Barring an upset of the 49ers, there's still plenty to play for besides the playoffs.
Erik Frenz is the AFC East lead blogger for Bleacher Report. Be sure to follow Erik on Twitter and "like" the AFC East blog on Facebook to keep up with all the updates. Unless specified otherwise, all quotes are obtained firsthand or via team press releases.