Giants vs. Redskins: Unsung Heroes from Washington's Huge Win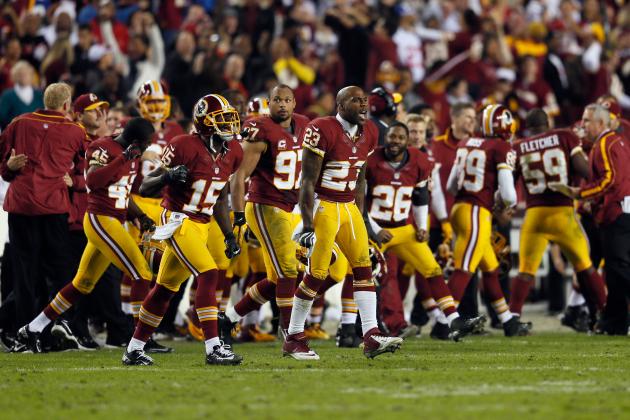 Rob Carr/Getty Images
The Redskins' win over the Giants was the definition of a team victory.
Robert Griffin III has had a superb season and continued to play well on Monday night against the New York Giants, accounting for 235 total yards in leading the Washington Redskins to a gutsy 17-16 win.
But football is the epitome of a team sport and there were many other players donning burgundy and gold that had an immense impact on the victory. As good as RGIII was, he wasn't great enough to win the game by himself. He had plenty of help.
The Redskins are more than their quarterback and that balance was on full display against New York. Washington probably needs to win each of their next four games to make the playoffs, so the rest of the team will have to continue to step up and support RGIII. If that happens, the Redskins will be a team that no one in the NFC wants to face come playoff time.
Begin Slideshow

»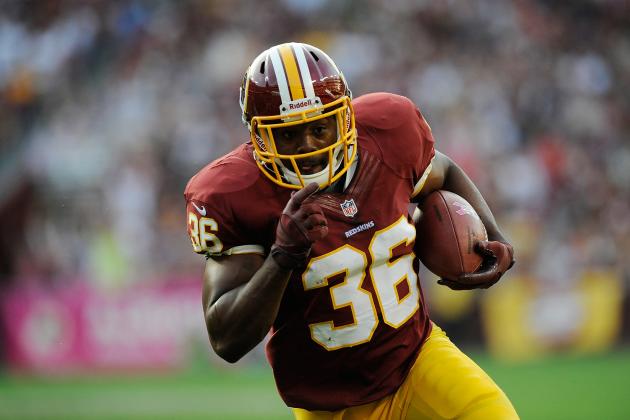 Patrick McDermott/Getty Images
Darrel Young had two critical carries and opened holes all night for the Redskins running game.
Redskins fans will never forget the exploits of Mike Sellers in the early-to-late 2000's, but Darrel Young is doing his part to forever emblazon his name in the minds of the dedicated Washington fan base. Young had one of the best games of his career on Monday, carrying two times for eight very important yards and opening huge holes for the Washington run game.
Countless times, Young took on blitzing players with ease and often stayed in to protect Robert Griffin III in the passing game. He may not have made a huge impact on the stat sheet, but his performance was felt for the entirety of the game. The Redskins would not have run the ball for over 200 yards if Young hadn't played as well as he did.
Young doesn't get the same publicity that fellow backfield mate Alfred Morris does but he has been just as important. He blocks as well as any fullback in the league and is very versatile—he also has six catches for 73 yards and two touchdowns this year. Young is only in his third year in the league and should be a bulldozer in the Washington backfield for years to come.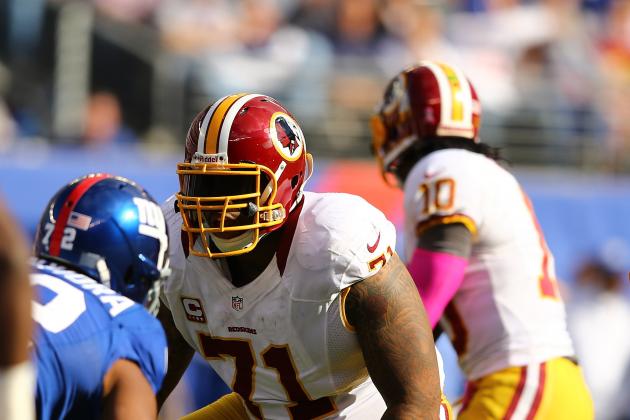 Al Bello/Getty Images
Trent Williams has been a standout performer on the Redskins' offensive line in 2012, and his strong play continued against the Giants' front four.
Trent Williams was thrown in the doghouse in the eyes of Redskins fans when he was suspended for the final four games of 2011 for drug possession. Coupled with his spotty play after two years in the league, Williams was looking like a guy who would never live up to the billing of being the fourth overall pick in 2010.
In 2012, Williams has made his presence felt and he was spectacular in the game on Monday night. He consistently allowed RGIII to have a clean pocket and held his own against Jason Pierre-Paul, one of the best defensive ends in the league. It was a sterling performance on a huge stage, and a continuation of the stellar play that has defined his coming-out season.
Williams has played well against the likes of Trent Cole, DeMarcus Ware and Jared Allen, and was a major reason why the Giants couldn't record a sack on Monday. The Redskins have to be excited that their franchise left tackle has finally developed into a star and can protect their franchise quarterback for years to come.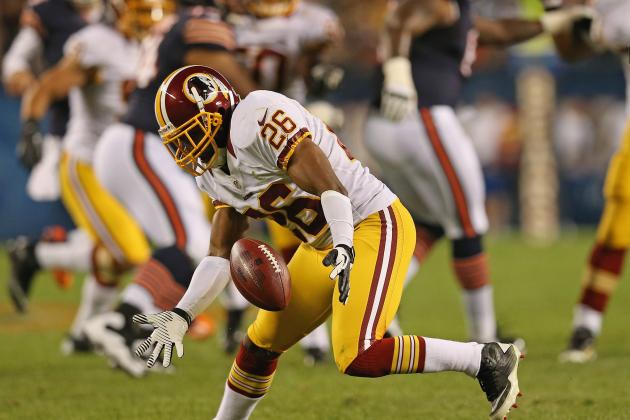 Jonathan Daniel/Getty Images
Josh Wilson was his usual solid self against the Giants, shutting down Hakeem Nicks for most of the game.
The Washington Redskins' pass defense has been nothing short of horrid in 2012, but Josh Wilson has been a steady hand through it all. Wilson isn't flashy. He doesn't snag game-changing interceptions or make incredible athletic plays to break up passes. He quietly goes about his work and limits the opposing receiver without any fanfare.
The best media coverage for a cornerback is no media coverage. That means they're not getting beat and not missing tackles, aspects of the game that would have pundits calling for their heads. Wilson has been a constant in the Redskins' defensive backfield for a few years and no one really makes a peep about him. While DeAngelo Hall is getting burned for long passes week in and week out, Wilson just does his job.
He held Hakeem Nicks to a paltry five catches for 43 yards on Monday night and continued playing well. The Redskins pass defense is putrid but it's more a case of poor safety play and lack of a pass rush. Wilson has done his part in 2012 and should be a fixture on the defense for a few more seasons.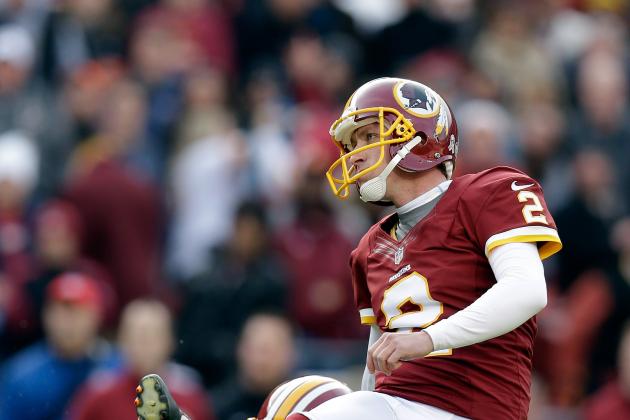 Rob Carr/Getty Images
Kai Forbath only kicked one field goal, but his value went beyond simply banging the ball through the uprights.
Nick Novak. Shaun Suisham. Billy Cundiff. Graham Gano. These are the names of the kickers that have tried to catch on in Washington, failing in each case. Enter Kai Forbath, the unknown kicker out of UCLA who has seemingly solved one of the most pressing issues in Washington since 2004.
Forbath added another field goal to his ledger on Monday, making him 11 for 11 on the season since replacing Cundiff. But he does more than kick field goals. Forbath also kicked the ball off very well, keeping the Giants from gaining any ground in the field position battle.
Against Dallas on Thanksgiving, Forbath nailed a field goal that gave the Redskins a ten point lead late. If he had not made it, the Cowboys would have been set up for a potential game-tying drive late after falling behind 28-3. It's kicks like that are endearing Forbath to Redskins fans and making him a cult hero. If he can continue his great kicking and finally solve one of the biggest problems of the last decade for Washington, he will go down in history (no exaggeration) in Washington as a savior of sorts.