Ranking the Most Watchable NFL Games of Week 15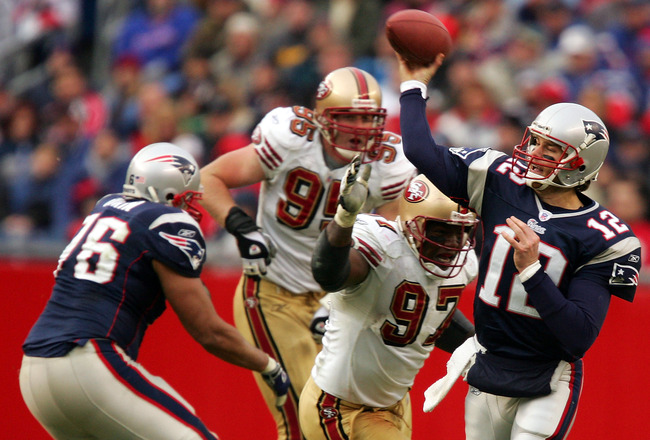 Tom Brady and the Patriots versus the 49ers headlines Week 15 action.
Al Bello/Getty Images
There are a number of watchable games for Week 15 of the NFL regular season, as the schedule maker has come up with at least six intriguing contests. Five of the six games are between teams with a winning record, which is a big difference from Week 14, which only offered one such game.
The sixth game is vital to both teams on the verge of playoff contention, which always makes for compelling football for the viewers.
Sure there are a few duds, but after 14 weeks, you are bound to have a few teams that are already starting to think about next year.
Regarding the Week 15 point spreads, we have six home underdog games. All point spreads are courtesy of ESPN.com, and were current at time of publication.
We begin as always with our least-watchable game and work our way up to the marquis game of Week 15.
16) Kansas City Chiefs (2-11) +3 at Oakland Raiders (3-10)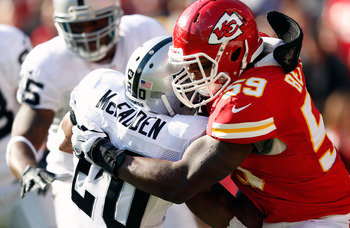 The Chiefs and Raiders will battle it out to avoid AFC West cellar.
Jamie Squire/Getty Images
The executives at ESPN are pulling out their hair at the ratings disaster that awaits them for the Monday Night Football game between the two cellar dwellers of the AFC West. The Kansas City Chiefs travel to face the Oakland Raiders, which comes in as our least-watchable game of the week.
The teams have a combined record of 5-21.
Can't really think of many compelling reasons to turn this game on, so we will leave the description short and to the point. The winner has a good chance to avoid the AFC West cellar, and the loser is a step closer to a plum draft slot in 2013.
These are two bad football teams that are looking forward to the draft and the offseason to fill a number of holes.
15) Jacksonville Jaguars (2-11) +7 at Miami Dolphins (5-8)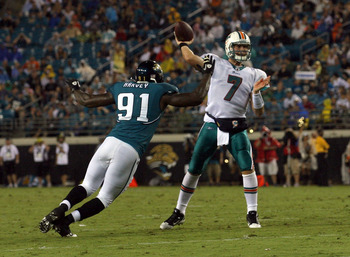 Last time these teams met, Chad Henne was the Dolphins QB.
Sam Greenwood/Getty Images
This game features two AFC teams from Florida with losing records that have already been eliminated from the playoffs. How is that for a build up?
Chad Henne was the Dolphins quarterback when these teams last met in 2010. Now he is the quarterback for Jacksonville, and the way that he left the Dolphins may prove to be some extra incentive for him to beat his old team.
Both teams are playing out the string for 2012, and outside of the fans of each team, there really isn't any compelling reason to watch this game.
14) Carolina Panthers (4-9) +3 at San Diego Chargers (5-8)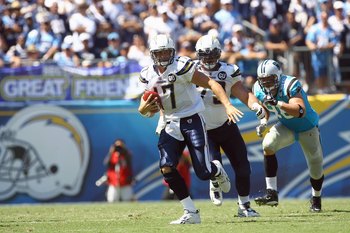 Philip Rivers and the Chargers just upset Pittsburgh in Week 14.
Jeff Gross/Getty Images
Back in the summer, this contest might have been viewed as a game to watch. But the 2012 seasons turned in by Cam Newton and Philip Rivers can only be described as a disappointment. That is why this game comes in with only a ranking of No. 13 for Week 15.
We are glad to see that both teams still have some degree of life left to them, since each squad pulled off an upset win in Week 14. San Diego surprised the Pittsburgh Steelers while Carolina shocked the Atlanta Falcons.
Cam Newton had a big game against Atlanta, as he rolled up more than 400 yards of combined total offense.
The Chargers won their first two games of the year, and haven't won consecutive games since. Carolina hasn't won consecutive games all season. So, the winner of this game will be riding high on a two-game winning streak, which adds a little more suspense to the outcome.
Another two-game winning streak won't be enough to save Norv Turner's job. The jury is still out on Ron Rivera coming back for 2013.
13) Detroit Lions (4-9) at Arizona Cardinals (4-9) +6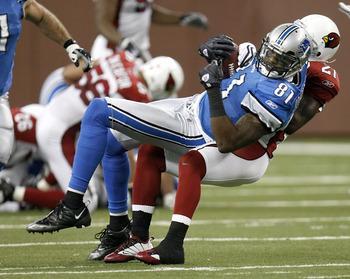 Larry Fitzgerald and Calvin Johnson are featured in this game.
Gregory Shamus/Getty Images
Coming into Week 15, both teams are 4-9 and their playoff hopes were gone. Two of the premier wide receivers in the NFL, Larry Fitzgerald and Calvin Johnson are featured in this game.
In Week 14, Arizona rolled over and played dead in Seattle, as they were embarrassed by the score of 58-0 by the Seahawks. The Cardinals committed eight turnovers in the game, and they are now playing like they don't seem to care if Ken Whisenhunt is fired or not.
Detroit competes but continues to find a way to lose close games most weeks. A playoff team in 2011 with a 10-6 record, the Lions have now lost five-straight games and are reeling.
The Cardinals on the other hand won their first four games, and since that great start, have tanked by losing nine-straight losses. Since they lost by 58 points last weekend, it seems like being a six-point home underdog isn't enough for the way they are playing.
The good news is that the winner of this game will have snapped their long losing streak. For the loser, it will just be one more week of misery piled on top of the rest.
12) New York Jets (6-7) +1 at Tennessee Titans (4-9)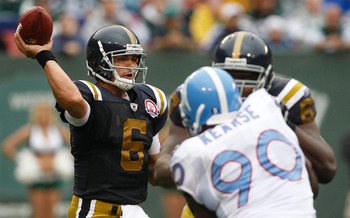 The Jets and Oilers wore retro jerseys in their last meeting.
Jared Wickerham/Getty Images
The New York Jets at the Tennessee Titans is a Monday Night Football game pitting two teams with a losing record, which on the surface suggests a less than favorable matchup.
However due to the amount of AFC playoff contenders that lost in Week 14 (Pittsburgh, Cincinnati, Buffalo and Miami) the circumstances might have actually created some new life for the New York Jets.
The Jets wound up defeating the Jacksonville Jaguars 17-10, and have now pulled off two-straight wins to creep back into playoff contention.
The Jets are now just one game behind Pittsburgh and Cincinnati for the final playoff slot in the AFC. With a win over Tennessee, the Jets could conceivably catch at least one of the teams they are chasing in Week 15. At least they will know the fate of both teams when they go into the kickoff on Monday night.
Jets coach Rex Ryan opted to start Mark Sanchez, and while Sanchez only threw for 111 yards, it was good enough to defeat the hapless Jaguars.
The Titans have now lost five out of their last six games, so we will see if playing before a national audience at home can inspire the team to snap out of their recent funk.
11) Cincinnati Bengals (7-6) at Philadelphia Eagles (4-9) +4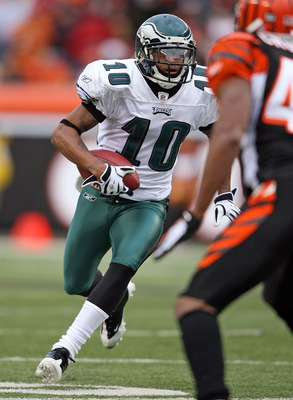 DeSean Jackson is one of the many injured Eagles stars in 2012.
Andy Lyons/Getty Images
The Philadelphia Eagles will be hosting the Cincinnati Bengals in a Thursday Night Football game that is of the utmost importance to the Bengals. Cincinnati is tied with the Pittsburgh Steelers for the final playoff spot in the AFC, and are just one game ahead of the New York Jets, so this is a must-win game for the Bengals.
Pittsburgh will be facing the Dallas Cowboys in a must-win game for both teams, so Cincinnati can put some extra pressure on Pittsburgh by securing a win Thursday night.
The Eagles finally ended their eight-game losing streak by defeating the Tampa Bay Buccaneers 23-21 in Week 14. Rookie quarterback Nick Foles is auditioning to become the starting quarterback in 2013 and he took a major step in that direction by coming up with a huge game.
Foles completed 32 of 51 passes in the game which resulted in 381 yards and two touchdowns. The other key development was that he didn't throw an interception. Foles ran for a touchdown and wound up directing his first comeback win in his brief NFL career.
RB LeSean McCoy was inactive for Week 14 and with WR DeSean Jackson on Injured Reserve, the Eagles are limited in who can dress for the game.
The Bengals were leading Dallas, but allowed the Cowboys to rally late in a tough 20-19 loss. The painful loss was somewhat lessened by Pittsburgh losing to San Diego. The Bengals have to win this home game if they want to make a repeat appearance in the playoffs.
10) Minnesota Vikings (7-6) +3 at St. Louis Rams (6-6-1)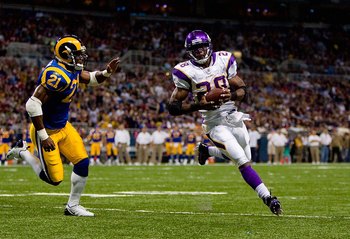 Adrian Peterson has a goal to reach 2,000 rushing yards.
Dilip Vishwanat/Getty Images
Minnesota Vikings visit the St. Louis Rams in Week 15. This game features Adrian Peterson inside the dome, trying to inch closer to his goal of 2,000 rushing yards for the 2012 season. As of now Peterson has 1,600 yards on the year, and owns a commanding 334-yard advantage over Marshawn Lynch. At this juncture, Peterson appears to be a lock to win the 2012 NFL rushing title.
The two NFC Wild Card slots are up for grabs and the list of teams competing for them is getting crowded to say the least. Both Minnesota and St. Louis have an outside shot, but they can't afford to lose any more games. Whoever loses this game can kiss their postseason aspirations away.
The Rams were shut out in the first half in Buffalo but managed to come up with two touchdown drives in the second half to secure a 15-12 win on the road. It wasn't pretty, but the Rams defense played well enough to win.
The Vikings had a big upset of the Chicago Bears and now trail Chicago by one game in the standings. This game looks like it will be test to see which run defense can do the best job in trying to control Peterson or Steven Jackson.
9) Washington Redskins (7-6) +1 at Cleveland Browns (5-8)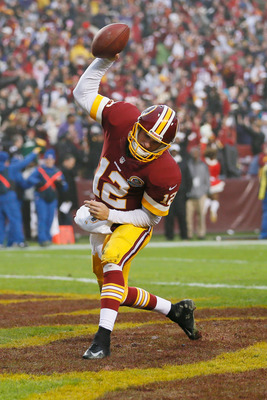 Kirk Cousins rallied the Redskins to an overtime win over Baltimore in Week 14.
Rob Carr/Getty Images
The contest between the Washington Redskins and Cleveland Browns features three rookie quarterbacks in Robert Griffin III, Brandon Weeden and Kirk Cousins. We know that Weeden will start for the Browns, we just don't know for sure whether it will be Griffin or Cousins for Washington.
Griffin of course sprained his knee in the final minute of the game against the Baltimore Ravens in Week 14. Cousins came in cold off of the bench to rally the Redskins to come from behind overtime win that allows the Redskins to trail the New York Giants by only one game in the NFC East division.
The Browns have been playing better football of late, as they are now riding a three-game winning streak. The Redskins have won four-straight games, so somebody's streak will continue, while the other streak comes to an end.
Check back later this week to find out what the medical prognosis is for Griffin. If he can't go, Cousins looks like he is ready for his first NFL start.
8) Seattle Seahawks (8-5) at Buffalo Bills (5-8) +4 in Toronto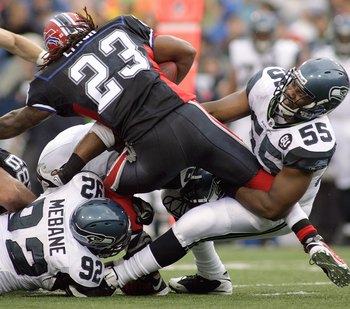 Last time these teams met, "Beast Mode" wore a different color uniform.
Rick Stewart/Getty Images
Toronto serves as the site for this Week 15 game when the Seattle Seahawks meet the Buffalo Bills. This is the Bills' one-home game per year that they play in Toronto, in their attempt to attract a larger regional fan base.
Seattle is coming off of a big 58-0 shutout of the Arizona Cardinals in Week 14. The Seahawks defense created eight turnovers in the game and thoroughly embarrassed the Cardinals from start to finish.
Buffalo meanwhile saw their faint playoff hopes dashed when they couldn't protect a late lead against the St. Louis Rams. The Bills defense shut out the Rams in the first half, but they eventually cracked enough to allow 15 points and lost 15-12.
The Bills will face old friend Marshawn Lynch in this game, so it will be interesting to see which running back winds up with the best totals: Lynch or C.J. Spiller. Fred Jackson suffered a knee injury in the Rams game and will likely miss the rest of the season.
Since Spiller only saw eight touches against the Rams, you can be sure he will be getting plenty of looks against Seattle with Jackson out of the game. To think the Bills had all three of these backs to begin the 2010 season, there was too much talent and only one football to go around.
Seattle rookie QB Russell Wilson continues to lead the Seahawks to wins, as they have now won four of their last five games. Wilson is making a late season charge to challenge Robert Griffin III and Andrew Luck for the NFL Offensive Rookie of the Year award.
7) Tampa Bay Buccaneers (6-7) +4 at New Orleans Saints (5-8)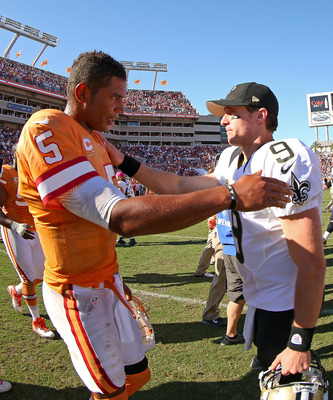 Drew Brees and Josh Freeman square off again in Week 15.
Mike Ehrmann/Getty Images
The Tampa Bay Buccaneers travel to New Orleans to face the Saints and Drew Brees. The Bucs hopes for the postseason were dealt a serious blow in Week 14 when they were upset by the Philadelphia Eagles and rookie QB Nick Foles.
Tampa Bay QB Josh Freeman has enjoyed a very solid 2012 campaign. To date, Freeman has thrown for 25 touchdowns compared to just eight interceptions. That 3:1 ratio is a far cry from what he did in 2012.
Drew Brees meanwhile has thrown 32 touchdowns but also has 18 interceptions on the year. Even though Brees throws for an average of 64 more yards per game, Freeman is ranked as the No. 10 passer in the QB Passer Ratings, while Brees is right behind him at No. 11.
These NFC South rivals battle it out for pride in Week 15. The Bucs could still finish at 9-7 by winning their final three games. That would be a great accomplishment considering that they lost their final 10 games of 2012. For the Saints, they probably just want the nightmare season of 2012 to come to an end sooner than later.
6) Pittsburgh Steelers (7-6) at Dallas Cowboys (7-6) +1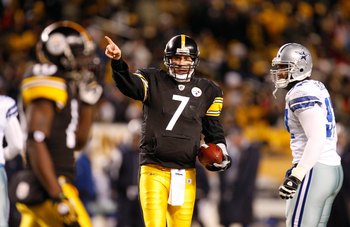 Ben Roethlisberger is active again, so should start in Week 15.
Gregory Shamus/Getty Images
The game between the Pittsburgh Steelers traveling to meet the Dallas Cowboys is a crucial game for both teams. The winner continues to keep their 2012 playoff hopes alive, while the loser will run the risk of being eliminated from the postseason.
Both teams are 7-6 and barely hanging on, so this is a classic must-win mini-playoff game. The Cowboys are currently a one-point home underdog.
Ben Roethlisberger and Dez Bryant are key figures in this game, and both players are playing hurt. They both recognize the importance of this contest, so you know that they will do whatever they have to do to be able to participate.
That spirit will be evident throughout the game as these two storied franchises will battle it out. The winner stays alive, while the loser is likely done for the 2012 postseason. This should be an entertaining game to watch.
5) Indianapolis Colts (9-4) +9 at Houston Texans (11-2)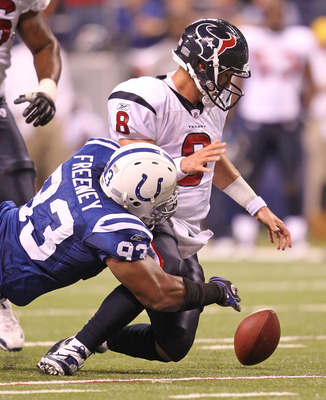 Texans have to protect Matt Schaub from Dwight Freeney and Robert Mathis.
Andy Lyons/Getty Images
Two AFC South division rivals square off when the Indianapolis Colts travel to meet the Houston Texans in a game featuring two likely AFC playoff teams. Everybody expected the Texans to repeat with another playoff appearance, but nobody thought the Colts would be playing in the postseason in 2012.
Andrew Luck, Reggie Wayne, Chuck Pagano and Bruce Arians have to take the majority of the credit for the amazing run the Colts have made in 2012.
The Houston Texans are the most complete team in the AFC. They tangled with the New England Patriots on Monday Night Football in Week 14 and wound up losing 42-14, as Tom Brady picked the Texans defense apart.
As well as the Colts have been playing lately, winners of seven of their last eight games, they are receiving nine points in this game, which seems like a lot. This game is for bragging rights in the AFC South.
.
4) New York Giants (8-5) +1 at Atlanta Falcons (11-2)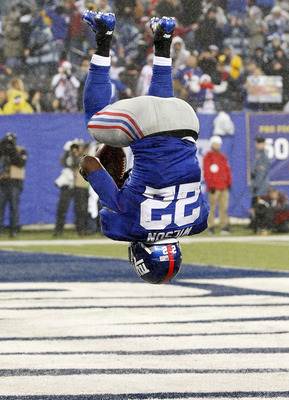 David Wilson flips after one of his touchdowns in Week 14.
Jim O'Connor-USA TODAY Sports
The New York Giants at the Atlanta Falcons offers two current NFC division leaders colliding in a game that both teams need to win.
The Falcons have been coasting along with the best record in the NFC, but were upset by the Carolina Panthers in Week 14. The last thing the Falcons want to do is to start a losing streak prior to the start of the playoffs. Talk about a momentum killer.
For the Giants, they are holding on to a slim one-game lead over the Dallas Cowboys and Washington Redskins in the NFC East. They can't afford to lose any of their final three games, so this is shaping up as a huge game for both teams.
Atlanta can consider this battle as a preview of the playoffs. They can see how they compete against the defending Super Bowl champions, and then still have a few more games to fine tune before the start of the postseason.
The Giants might have discovered lightning in a bottle in rookie RB David Wilson, who exploded in Week 14. Wilson has been residing for most of the year in Tom Coughlin's dog house. It looks like he is ready to be unleashed to make a splash in December, just when the Giants need a boost the most.
3) Denver Broncos (10-3) at Baltimore Ravens (9-4) +3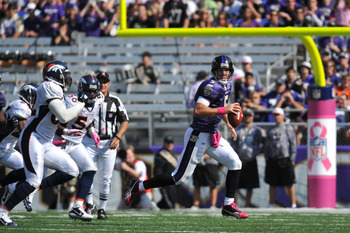 Ravens will need to keep Joe Flacco away from Denver's pass rush.
Larry French/Getty Images
In Week 14, we had a potential AFC playoff preview game when New England played Houston. In Week 15, we get to watch the other two division leaders square off when the Denver Broncos visit the Baltimore Ravens.
As dominating as the Ravens have been in the past few years, it is hard to imagine them being a home underdog, but the Broncos are one of the hottest teams in the NFL.
Peyton Manning draws a Baltimore defense that is not what it used to be in years prior. But, the Ravens still find a way to compete with what they have.
If the Ravens hang on to win the AFC North, these two teams could wind up facing each other in the postseason, so this could be a playoff preview contest.
2) Green Bay Packers (9-4) at Chicago Bears (8-5) +3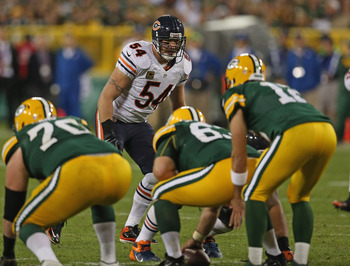 Aaron Rodgers won't have to face Brian Urlacher this time around.
Jonathan Daniel/Getty Images
One of the oldest, classic rivalries in the NFL is renewed when the Green Bay Packers visit the Chicago Bears in Week 15. This game could very easily determine the final tiebreaker scenarios for the NFC North division, so it is clearly a very big game.
The Bears are a home underdog in part because of some key injuries to personnel. QB Jay Cutler took a bad hit in Week 14 but it looks like he is determined to start. This is a huge game for the Bears, who can't afford any more losses in the tight NFC.
For the Packers, they are on the verge of clinching the NFC North, and winning this game will go a long way towards reaching their goal.
This promises to be a typical hard-fought NFC Central battle, which equals must-watch TV.
1) San Francisco 49ers (9-3-1) +6 at New England Patriots (10-3)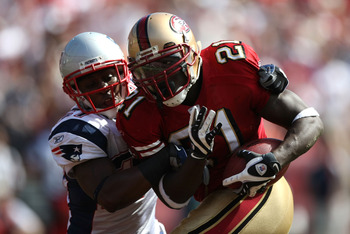 Can the Patriots contain Frank Gore in Week 15?
Jed Jacobsohn/Getty Images
The Sunday Night football game featuring the San Francisco 49ers at the New England Patriots receives our top-billing for Week 15.
The Patriots No. 1 offense goes up against the 49ers defense, which is No. 2 in the NFL. Something has to give when these two units collide with each other. Pitting two-highly ranked units against each other will be compelling, but what will happen when San Francisco has the ball?
The 49ers offense is ranked No. 11 overall, while the Patriots defense comes in at No. 26. On paper that would seem to favor the 49ers, but we all know the game is played between the lines, not on paper.
San Francisco is still finding out what Colin Kaepernick can do, and he will be the wild-card factor in this game.
Tom Brady looked great against the Houston Texans defense. If he can come up with a repeat performance against San Francisco, that might be a big step towards securing another NFL MVP trophy after the season.
Both teams need this game for home field advantage in the playoffs, and it is not out of the question that they could meet again in the Super Bowl.
Keep Reading