Lions vs. Packers: 10 Keys to the Game for Detroit
Matthew Stockman/Getty Images

The Detroit Lions no longer have a chance at a second straight winning season, and barring a complete NFC implosion, they've also lost any chance at the playoffs.
That means the Lions are back to playing out a string of meaningless games in December. Disappointing doesn't begin to color this season for Lions fans.
There have been positives this season, of course, and there will be plenty of time to recount those after Week 17. For now, though, there is plenty that the Lions can accomplish still this season in preparation for their comeback attempt in 2013.
No. 1 on that list has to be wiping out their embarrassingly long losing streak at Lambeau Field, where they Lions have not emerged victorious since 1991. That means the Lions have been unable to beat Brett Favre, Aaron Rodgers or even Matt Flynn at Lambeau Field throughout their careers.
The Packers are not the same high-flying death machine they were last season, but the matchup remains a tall order, especially for a Lions team that has suffered three soul-crushing, fourth-quarter losses in as many weeks.
Even more compelling is that this game will take place in prime-time Sunday night. That's two conditions the Lions have struggled under: Lambeau Field and national television.
Despite the Lions' 4-8 record, this game is actually one of two prime-time games left in the Lions season, with the next being a Saturday night game (that cannot be flexed away) against the Falcons on Dec. 22. That's two games left to make a statement about what kind of team they are, both to the NFL and to themselves.
Last season, the Lions won a lot of games, but none came against "elite" teams. They won only one game against a playoff team, but that was a dismantling of the Tim Tebow-led Broncos before the Broncos simplified the offense enough for Tebow to understand how football works.
The Lions may be out of the postseason chase this season, but they may still be only a few pieces away from a deep playoff run next season. A strong finish to this season (against very strong competition) is just what the Lions need to change the offseason storyline from "should they blow it up?" to "what do they need to get over the top?"
That starts with playing spoiler for the Packers at Lambeau, and here's how.
Begin Slideshow

»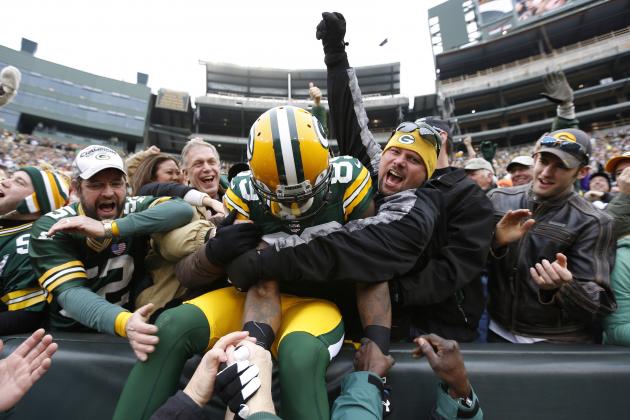 Joe Robbins/Getty Images

Jason Hanson is the only Lion who has been in Detroit for the entire Lambeau losing streak. He got to Detroit in 1992, a year after the last time the Lions won in Wisconsin.
Most of the rest of the team has only very recent memories of losing at Lambeau, if any at all. But the team as a whole still has a stigma.
Now, it's likely that the Lions, like most professional sports franchises, are very good at blocking out the narratives from the media, but it's also likely they've at least heard the news.
So they need, really, to block that out and just focus on beating the Packers. If they do that, they take the crowd out of the game, and then it doesn't matter that much where they're playing.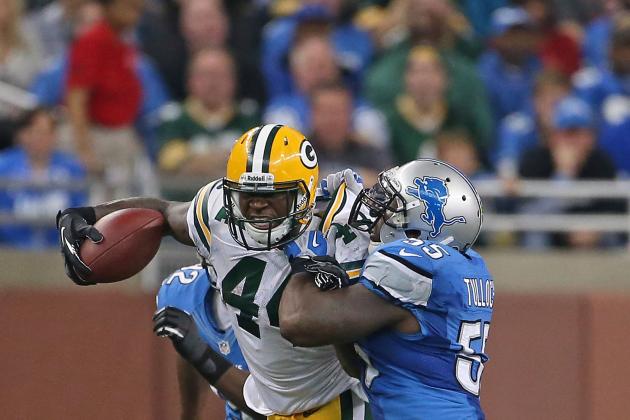 Leon Halip/Getty Images

The Packers are about as thin at running back as the Lions are at receiver right now.
The difference is, the Lions still have an All-Pro on a record-breaking pace atop their receiver depth chart, while the Packers will go with Alex Green and, according to the AP, recently re-signed Ryan Grant at running back.
Opposing defenses have done a good job against the Lions this season by playing safeties deep and daring the Lions to run the ball. That's what the Lions need to do against the Packers. They have far less to fear from Grant and Green up the middle than from Greg Jennings and Randall Cobb streaking down the sidelines.
The more the Packers run the ball, the more they shorten the game, and the less chance there is for a game-changing mistake in the secondary.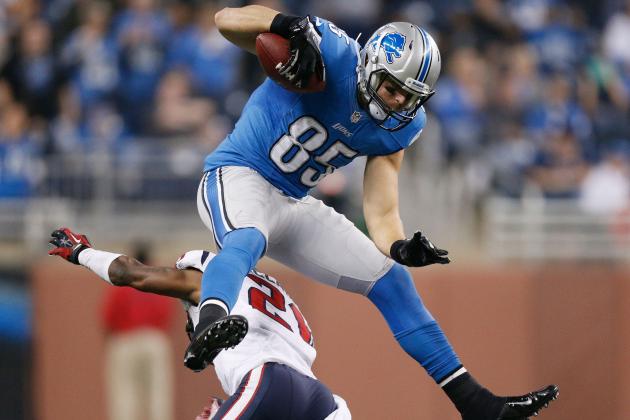 Gregory Shamus/Getty Images

It's times like this that the Lions are glad they have a stable full of capable receiving tight ends.
The Lions are missing their second, third and fourth receivers in the forms of Nate Burleson, Titus Young and Ryan Broyles, and none of them will be back this season. Burleson has a broken leg, Broyles a torn ACL and Young a defective attitude.
Suddenly, the Lions' decision to trade for Mike Thomas earlier this season looks like genius, but only inasmuch as their decision to draft Young in the second round of the 2011 draft looks moronic.
Still, with the Lions so shorthanded in the receiving corps, the existence of Brandon Pettigrew and Tony Scheffler as effective receivers is going to be huge over the last four games.
Scheffler, in particular, was lining up as the Lions' slot receiver after Broyles' injury against the Colts and may be poised to keep that role going forward.
Brandon Pettigrew will have to be run out on more routes as well, which means his effectiveness as a blocker will be diminished, but it's necessary unless the Lions are willing to go back to triple-coverages on Calvin Johnson.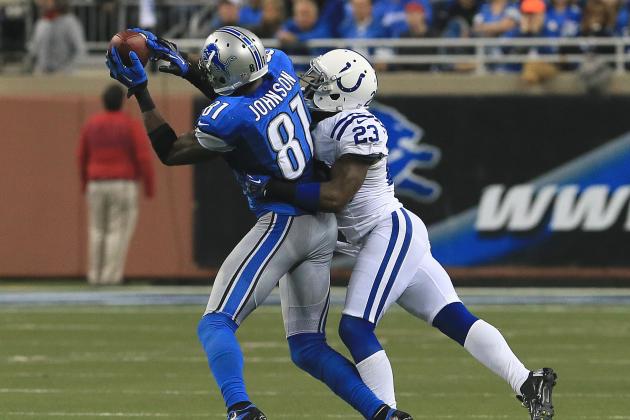 Dave Reginek/Getty Images

There was a point in the season that we were wondering if the Lions were leaning a little too hard on Calvin Johnson.
The answer may even have been yes. But that doesn't matter anymore. What matters is that Johnson has ascended to full-on permanent Beast Mode and is now on pace to break the single-season record for receiving yards.
Even Johnson's touchdown reception numbers are starting to pick up, and his timing with Matthew Stafford has never been better.
Johnson caught 13 passes last week against the Colts, a career high for him. But considering he's the top target on a team known for throwing the ball 50-60 times a game, it's a little surprising 13 catches is a career high for him.
Surely, they can manage better. They'll sure try to, with the team lacking all its other top receivers.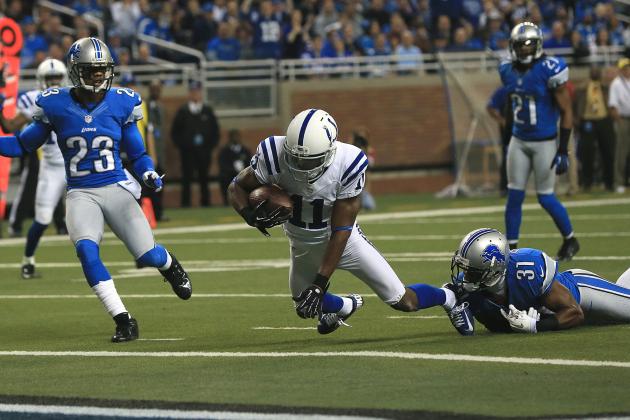 Dave Reginek/Getty Images

When the Lions had a commanding 12-point late in the fourth quarter against the Colts, they rightly moved into a prevent shell coverage.
The prevent defense takes a lot of flak for giving up seemingly effortless methodical drives, but it's more or less designed to do exactly that. The theory behind it is to give the offense space to work, but keep them in bounds and working in small chunks. This forces the offense to run the clock, which at that point, should be a bigger concern than first downs.
The only things the prevent defense can't do are give up the deep pass and let people get out of bounds. In other words, the two things the Colts did against the Lions' prevent defense are the only two things the prevent is designed to stop.
The first of the Colts' two comeback touchdown drives took 83 seconds and ended with a 42-yard touchdown pass.
The second was a 75-yard drive in 67 seconds. Neither drive used a timeout.
So in other words, in the defense designed specifically to stop the offense from scoring quickly, they yielded 14 points in exactly two minutes and 30 seconds.
That's two minutes and 30 seconds of game film on how to not protect a lead.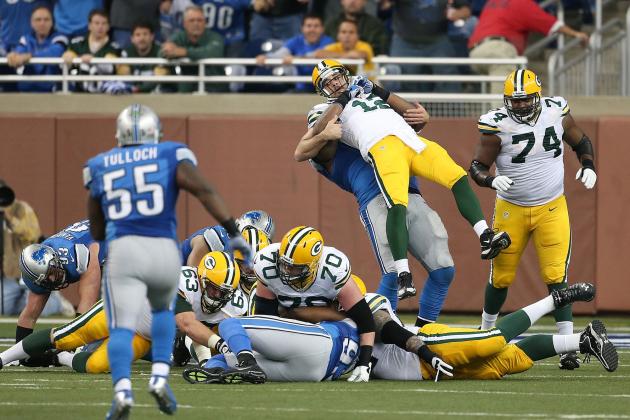 Leon Halip/Getty Images

The Lions have done a good job of getting after the quarterback in the latter half of the season.
That showed up against Andrew Luck in the form of three interceptions and a bunch more underthrown passes under duress.
But Luck also did a good job of rolling away from contact. Pressure is good, even when it doesn't result in sacks, but it's not as good if the quarterback escapes it and rolls out to reset himself.
Luck was able to do that last week, which is why he had two effective scrambles against the Lions during the Colts' final comeback drive.
Now the Lions will be facing Aaron Rodgers, who is second perhaps only to Ben Roethlisberger at escaping pressure and avoiding sacks.
If the Lions continue to provide an escape hatch when they bring pressure, they'll keep getting burned.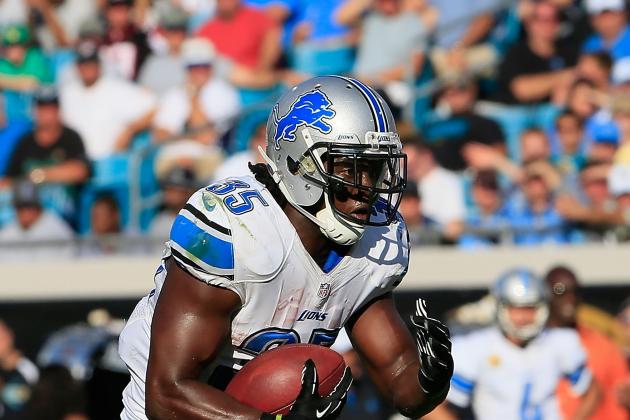 Sam Greenwood/Getty Images

Mikel Leshoure is a good running back, and he should be first on the depth chart. He's the second-round pick with exceptionally high upside who is just about the only thing standing between the Lions and running back oblivion.
That said, Joique Bell has been quite the find.
He's probably not starter quality, but Bell has been a stellar performer in limited action as a closer. He's not the most graceful runner, but he's one of the more determined ones Detroit has seen in years. The man simply refuses to go down.
Oh, he also happens to be responsible for the Lions' three longest runs of the season, including a 67-yard explosion against the Colts. That might have something to do with why he's averaging 5.7 yards per carry.
So...can someone explain to me why a running back averaging 5.7 yards per carry is getting less than five carries per game? This seems like a (correctable) problem.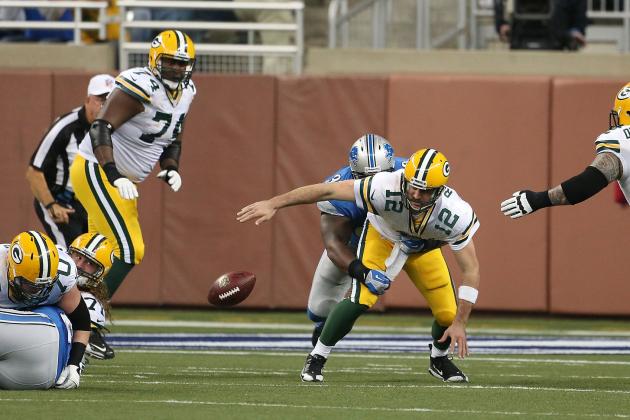 Leon Halip/Getty Images

For all the lies and misrepresentations involved in statistics, turnover margin remains one of the most trustworthy statistics when it comes to predicting the outcome of a game.
As such, this may be obvious enough already, but it's worth pointing out because the Packers can be so hard to force turnovers on.
That means the Lions also need to take care of the ball. Maybe the defense will be able to force a fumble or get a bad throw out of Aaron Rodgers. Maybe not.
But if they can't, that makes it all the more important that the Lions offense takes care of the ball.
Just to illustrate how important this is, the last time these teams met, Matthew Stafford threw an interception to M.D. Jennings that was returned 72 yards for a touchdown. The Lions were in field-goal range, so the play was at least a 10-point swing in favor of the Packers.
The Lions lost by four.
Any questions?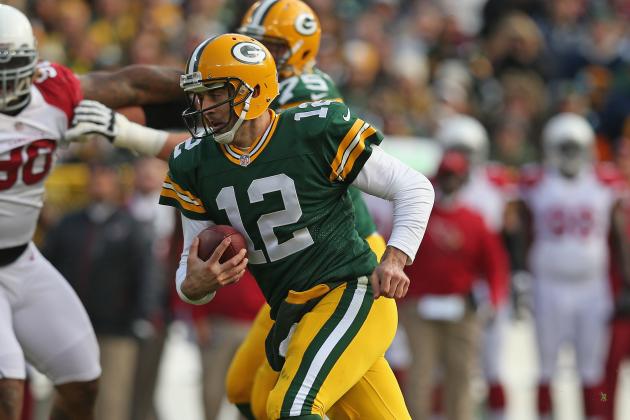 Jonathan Daniel/Getty Images

Fun fact: Aaron Rodgers is averaging 4.7 yards per carry this year and has more rushing yards this season than Kevin Smith.
Rodgers isn't a Mike Vick/Cam Newton type who tries to run for 1,000 yards in a season. For starters, he's an actual good quarterback. But more to the point, his running ability is a secondary weapon to his ability to toss the ball around.
But still, Rodgers has a very bad habit of crushing a defense's momentum by rushing for a first down when the defense thought they had things handled on third down.
That's how Rodgers keeps drives alive, and sometimes, a first-down scramble ends up turning into a 20-yard scramble.
It doesn't happen every game, but the Packers can be so tough to stop on offense, the last thing the Lions need is to give them another way to keep possession.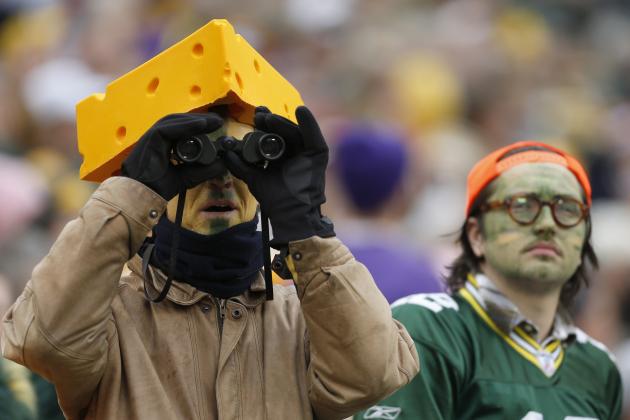 Wesley Hitt/Getty Images

Actually, I retract my earlier statement. The Lions have nothing left to play for but draft position and pride.
And part of playing for pride is walking into a division rival's house and spiking the punch at their playoff party.
So while the Lions do need to tune out the crowd, the losing streak and the other distractions that come with playing at Lambeau Field, they should recognize the magnitude of this game. In no uncertain terms, this is the most important game the Lions have left on the schedule.
This game is in prime-time, against a rival that likes to assert its dominance, during a season in which the Lions have had almost exclusively bad press.
This is a chance to get something positive going in a season with very little of that, and in a place that has not been a source of positivity for the Lions since 1991.
It may not turn around this season, but it might help to turn around perceptions of next season, both in and out of the locker room.