2013 NBA Mock Draft: Identifying the Key Players Every Fan Needs to Know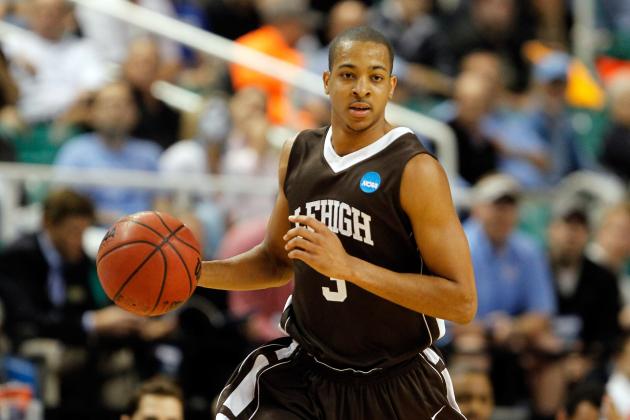 Streeter Lecka/Getty Images

There was a fair amount of movement in this week's 2013 NBA mock draft. We had a top-four prospect slip, and a mid-round guard make a leap into the top ten.
Almost a month in, and we're already beginning to identify some of the key prospects likely to play a role in the big event this June.
Still, the No. 1 overall pick is up for grabs with no consensus top dog in the class.
Begin Slideshow

»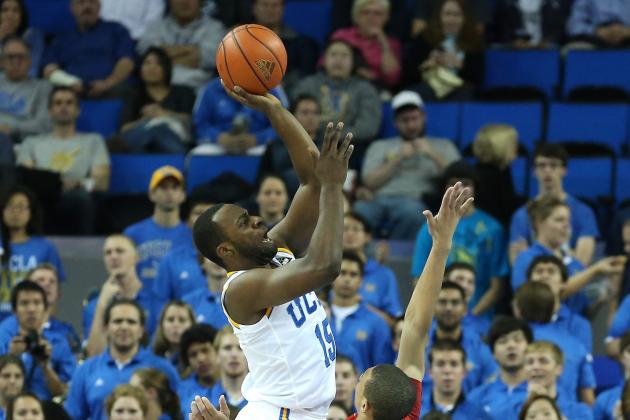 Stephen Dunn/Getty Images

Shabazz Muhammad has actually been a bright spot for the dysfunctional Bruins, who just can't seem to get the offense right.
UCLA is at its best when the ball is in Muhammad's hands, whose one foot touch off is second to none when attacking the rim.
He double-doubled in a brutal loss to Cal Poly and shot 7-12 in a bad beat to San Diego State.
The idea that he can shoot poorly and still impact the scoreboard keeps his basement higher than anyone's.
He hasn't done anything to knock your socks off but neither has anyone else. He'll stay at No. 1 in this week's mock draft and for the foreseeable future.
Muhammad is averaging 16 points and five boards with minimal practice time on the year.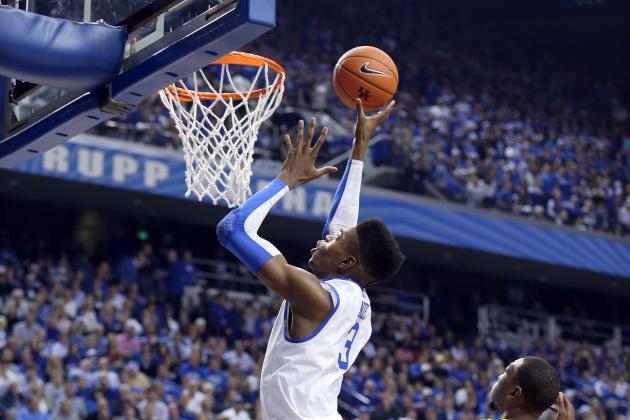 Andy Lyons/Getty Images

Nerlens Noel had a strange game against Baylor, where he somehow managed to miss 11 shots, almost all of which came directly above the rim.
He's actually executing the hard part, which is getting off a clean look. But his hands looked like they were made of bricks this weekend, when he just couldn't finish to save his life.
Noel did bring in 16 rebounds and rack up six steals, so his defensive effort was there.
Though I've been critical of his footwork in the past, he looks more fluid with each game facing up. His offense should come around once he gets a better feel for the shots he'll be typically taking on a daily basis.
Averaging 11 points, nine rebounds and 2.9 blocks a game, Noel is back at the No. 2 spot in this week's mock.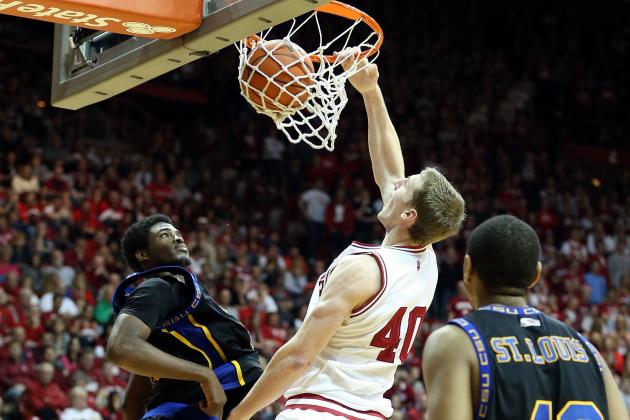 Andy Lyons/Getty Images

Nothing new to report on the most polished big man in the country. Cody Zeller's numbers are nearly identical to last year's in practically every statistical category.
Zeller scored 20 on North Carolina this past weekend, who just didn't have anyone capable of guarding a scoring center.
He scored eight of the 20 points in transition, where he inexplicably beat the entire UNC defense down the floor on four separate occasions.
Zeller looks good, but with a high-post face-up jumper he'd look even better to prospective employers searching for a franchise center to build around. There is still room to grow.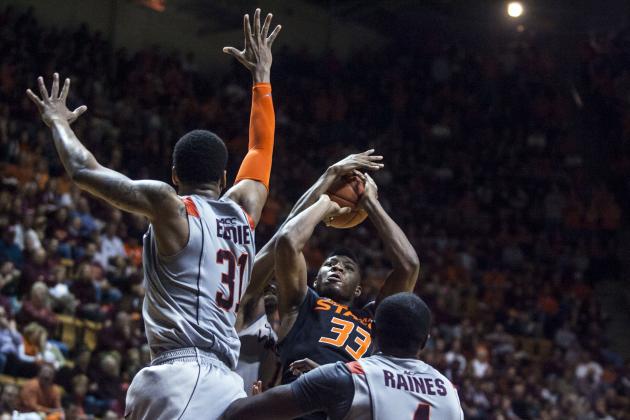 Peter Casey-USA TODAY Sports

Marcus Smart didn't have the greatest day shooting the ball in a loss to Virginia Tech but still managed to score 18 points, grab 11 rebounds and dish out six assists.
I'm already making a note for my 2013 fantasy basketball keeper league draft.
He's averaging 14 points, 7.7 rebounds and 5.8 assists per night as a do-it-all guard in his freshman year. Smart still has work to do as a shooter, but it doesn't seem to be a long-term concern.
He remains my top point guard prospect in the country.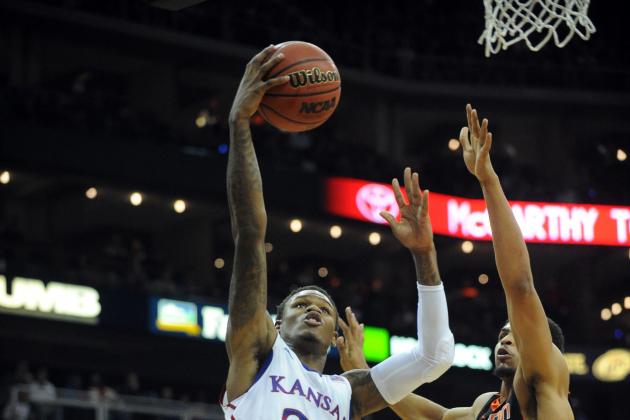 John Rieger-USA TODAY Sports

Ben McLemore scored 21 points in 27 minutes in a good win over Oregon State, nailing three of his four three-point attempts and eight of his 12 shots overall.
He's almost a lock to score when given the ball as a slasher attacking the rim and has been used on back cuts towards the basket and back screens popping out on the perimeter.
With better spacing in the NBA game, McLemore's skill set should be even more effective than it is now. He looks as NBA-ready as any pure 2-guard in the country.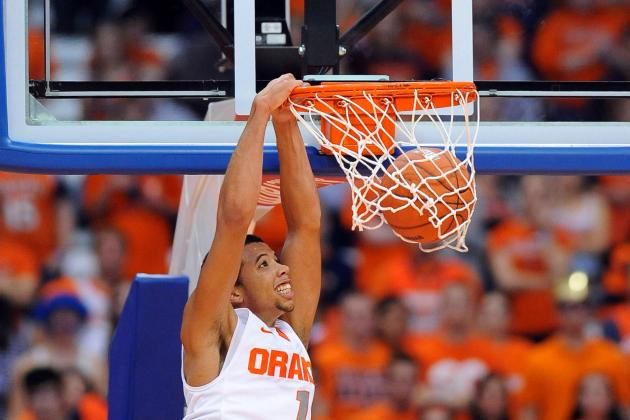 Rich Barnes-USA TODAY Sports

Michael Carter-Williams is everywhere.
He dropped a 13-assist game against Colgate, a 17-point, 10-rebound, nine-assist line on Arkansas and an 11-point, 11-assist, seven-rebound game against Eastern Michigan.
It looks like he has the ball in his hands for 40-straight minutes.
Carter-Williams' ability to create easy opportunities for teammates is extraordinary for someone with a previous reputation as a scorer.
He's got the size, skills and IQ to be a great NBA point guard. I don't see him dropping out of my projected lottery anytime soon.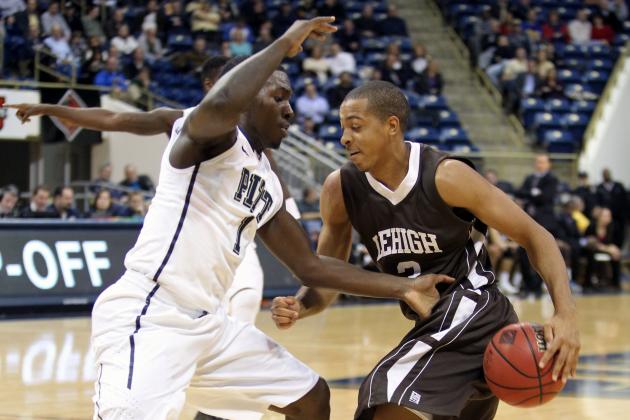 Charles LeClaire-USA TODAY Sports

At this point, the only question mark surrounding C.J. McCollum's game is whether or not the 3.1 assists he's averaging is a red flag for a future NBA point guard.
However the 25 points he's averaging on 52 percent shooting is pretty sound evidence that there's good reason for him to hold onto the ball.
Why give it up when you can score in volume with efficiency.
He's making three three-pointers a game on an absurd 55 percent from downtown. Assuming that number dips to around the 40 percent range by March, it would be the exact same improvement Damian Lillard made as a senior (34 percent to 40 percent, junior to senior year).
The nitpickers will pass, and those who believe their eyes will not. With so few sure things, McCollum presents a promising reward-to-risk ratio.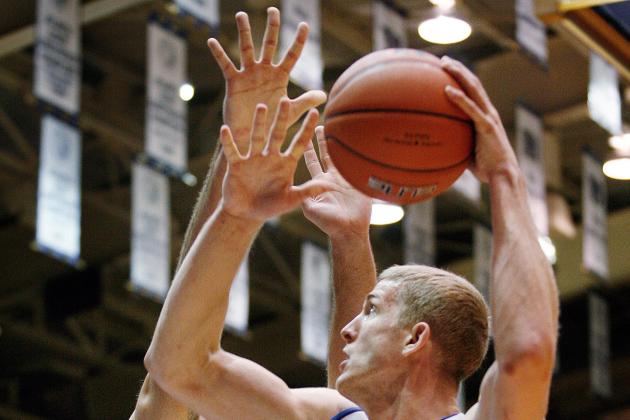 Mark Dolejs-USA TODAY Sports

Another week at the office for Mason Plumlee, who now looks like the favorite for National Player of the Year.
He went for 21 and 17 in a win over Ohio State, wowing on a number of plays than can only be considered NBA-caliber.
He's averaging 19 points and 11 rebounds in front of a whole lot of people watching the national stage.
Plumlee is sure to have grabbed the attention of at least a few general managers likely to draft in the Top Ten, if not all of them.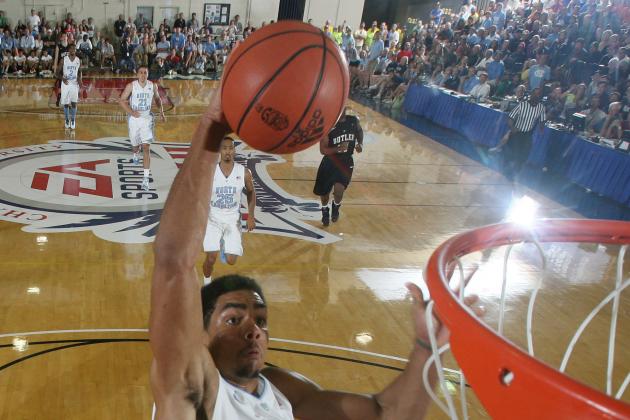 Brian Spurlock-USA TODAY Sports

James McAdoo has looked good against the bad and bad against the good.
He missed nine shots in a beat-down to Indiana then shot 7-9 in a win over UAB.
Scouts are looking to see what McAdoo does well and haven't come away with anything in particular. His basketball ability is still overly raw. He's averaging a ridiculous 3.8 turnovers a game, an awful number for a forward.
But his athleticism and size have built a ceiling that just can't be ignored. He'll remain in the lottery throughout the year, but his status is not what it once was.
McAdoo slipped down to the back of the lottery after being the No. 2 prospect earlier in the year.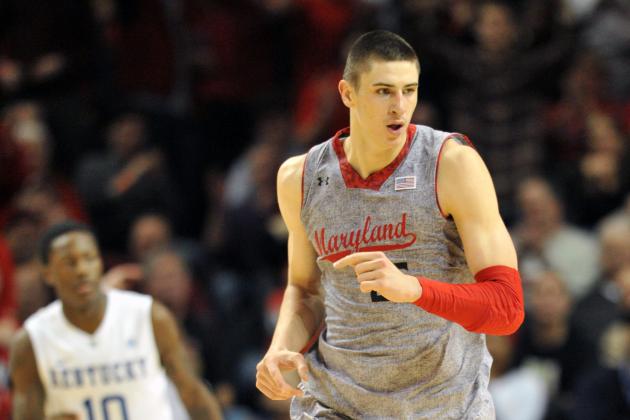 Jason Szenes/Getty Images

Alex Len's usage rate hasn't been where it should be, which has affected his scoring numbers over the past few games. But he's still converting at a high rate, remaining active on the boards and blocking shots.
Scouts love his aggressiveness and agility working inside, which combined with a 7'1'' athletic body only increases his appeal as an NBA prospect.
He's a lock for the lottery and could eventually crack the top five by year's end.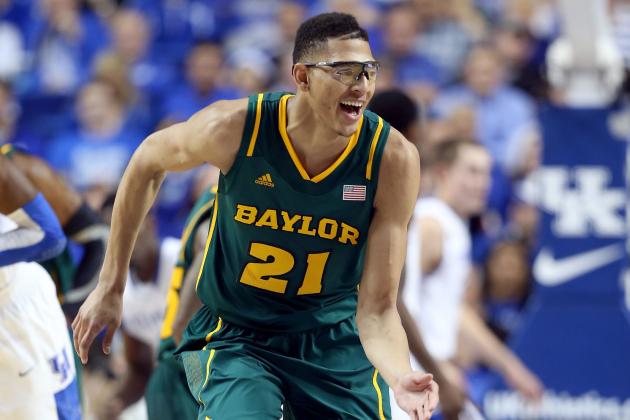 Andy Lyons/Getty Images

Isaiah Austin could be a top-five guy but has some kinks to work out before he gets there.
Though it's a strength, he plays a little too much finesse basketball and not enough in attack mode.
He's a lot more efficient inside the arc than outside. It actually seems like he's trying to prove a point that he can make three-pointers, which is unnecessary this early in his career.
Austin has a high ceiling because of his versatile scoring repertoire at 7'1'', and he shouldn't stray far from the lottery, either this year or the next.
He's averaging 13 points and seven rebounds in his first month at Baylor.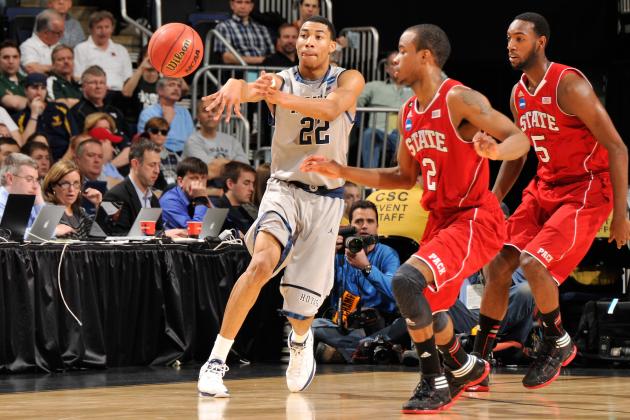 Jamie Sabau/Getty Images

Not much has changed for Otto Porter, whose stock should remain relatively stable throughout the rest of the year.
He doesn't do anything great that would justify a top-five pick but offers reliability that is tough to pass on after 15 picks.
Porter's stock has the best chance at rising with some big scoring games in Big East play.
Rudy Gobert will remain a fixture in our first-round mock drafts, so get used to hearing me talk about his unprecedented 7'9'' wingspan.
His arms resemble two long strands of fettuccine that he can whip up and down or side to side in order to take up space and cause defensive clutter. The ability to block shots while out of position will surely frustrate penetrating guards and frontcourt scorers.
Offensively, he's a target above the rim, has the mobility to get up and down the floor and keeps balls alive on the glass.
We don't know what he'll look like as a finished product, but it's possible that Gobert is something never before seen.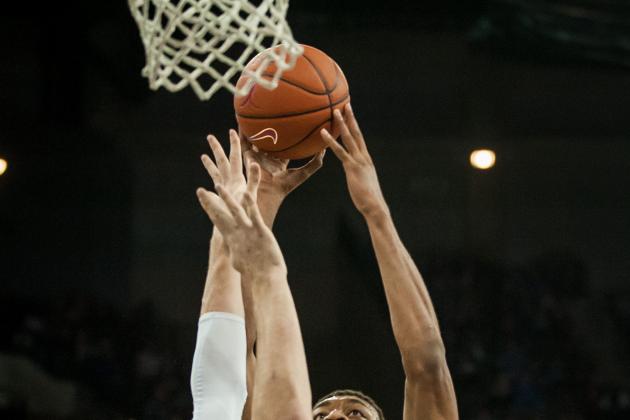 Eric Francis/Getty Images

Tony Mitchell's stock has hit some turbulence.
His team can't win a game, and his impact has been minimal.
The three-point shot that was such a strength for him last year has failed him thus far. Down to 29 percent from downtown, he's taking over 1.5 more attempts a game, a bad sign from a 6'8'' forward with elite athleticism.
His competition is mediocre, and Mitchell isn't taking advantage. He' s grabbing two less rebounds per game and is losing strength as a can't miss mid-major prospect.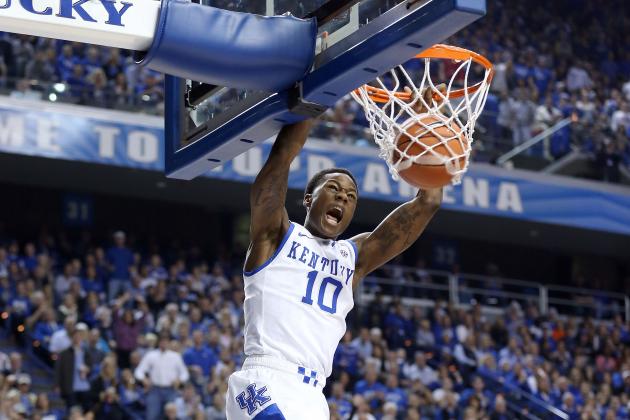 Andy Lyons/Getty Images

Archie Goodwin has done a really nice job playing out of position, using his speed and explosiveness to break down a defense and create open shots for teammates.
He was Kentucky's best player in a loss to Baylor, putting up 17 points, six rebounds and five assists. Goodwin was aggressive attacking the rim and is clearly more comfortable inside the arc than outside.
The Tyreke Evans comparison isn't that far off at this point. An NBA team will need to use his strengths effectively in order to maximize his talent.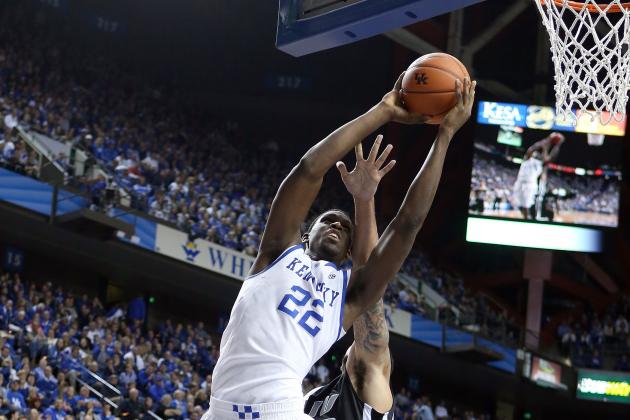 Andy Lyons/Getty Images

Alex Poythress was invisible against Notre Dame and played a minimal role in a loss to Baylor.
Generating self-offense is not a strength of Poythress', whose only scoring opportunities have come off the creativity of others or open lanes to the hoop.
He's an NBA athlete and is only a jump shot away from being a big time player. But it's creating that jumper that will be the challenge for Poythress.
Expect him to bounce around between that mid-first round and late lottery throughout the year.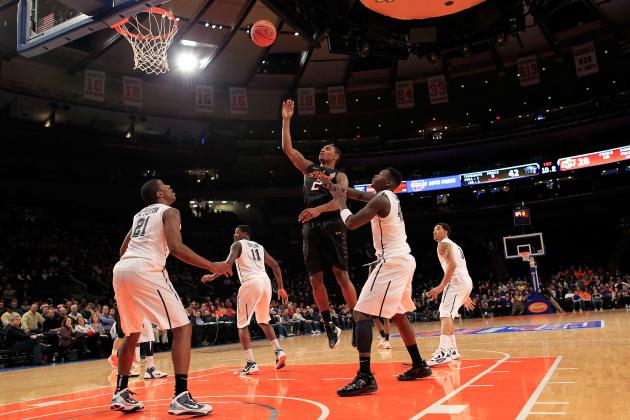 Chris Trotman/Getty Images

LeBryan Nash is scoring at an NBA level, and I'm not talking about volume.
He's getting to the line, creating separation on jumpers and has tightened up his overall shot selection.
Nash has been consistent all year and actually played well in the Cowboys' loss to Virginia Tech. He's averaging 19 points on the year and would receive a huge boost if he could pick up his three-point percentage, which is stuck in the mud at 26 percent.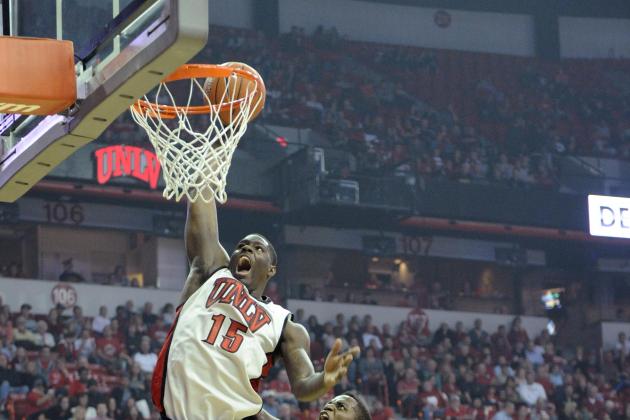 Josh Holmberg-USA TODAY Sports

Anthony Bennett continues to impress, looking like a more complete player than initially thought.
He's stepping out behind the three-point line and converting, making almost one a game on 35 percent. Down low he's using his strength and touch to score easy baskets in the post.
If he were two inches bigger he'd be a top-ten guy, but at 6'7'', the easy ones he's getting in college won't be so easy in the pros.
Bennett is still an explosive athlete with an NBA role and is averaging 18.8 points and 7.8 rebounds in only 26 minutes a night.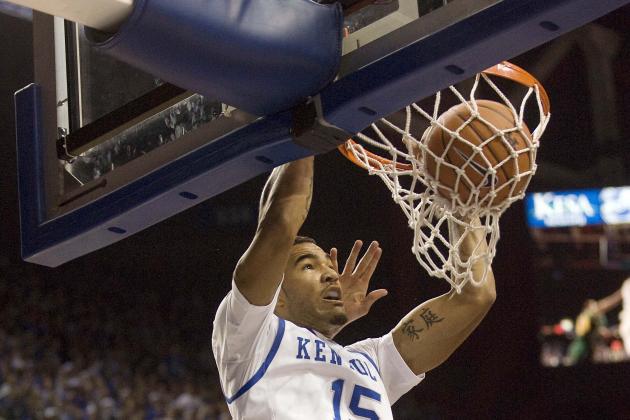 Mark Zerof-USA TODAY Sports

Willie Cauley-Stein has been effective if he could stay on the court, which has been a problem thanks to foul trouble and a short leash.
In 13 minutes against Baylor he had six points, seven rebounds and two blocks. His presence is inevitably felt because of his size and activity level at the rim whether he knows what he's doing or not.
It might take a few years before Cauley-Stein develops an offensive game, but you might want to be there when it does.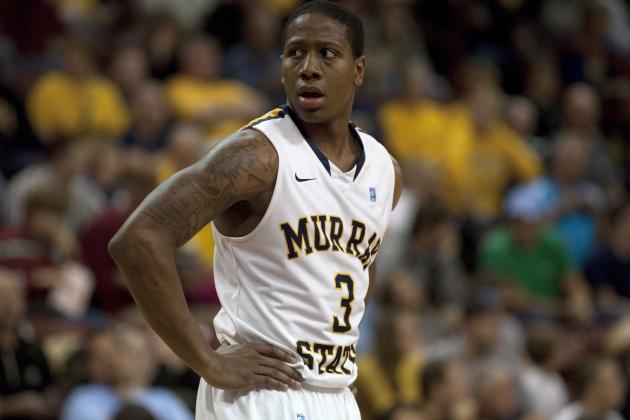 Joshua S. Kelly-USA TODAY Sports

Isaiah Canaan can't seem to shake the doubters, who are starting to look foolish.
Those expecting him to start playing true point guard better think twice. At this point, there's no reason for him to ever give up the ball after scoring 30 and 32 points in two consecutive wins.
He looks like a Raymond Felton replica, only a better shooter from downtown. He's once again raised his three-point percentage over 40 percent, a number he's stayed above in all three years at Murray State. It's an incomprehensible stat when you consider how many threes he takes.
Canaan is averaging over 22 points a game and 3.5 assists, a meaningless number under the circumstances.
He's an NBA point guard with starter potential.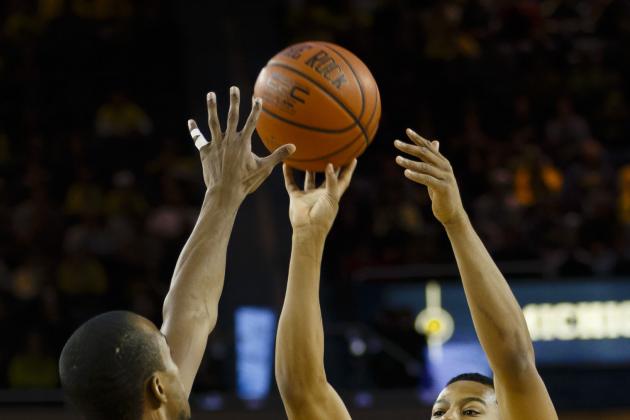 Rick Osentoski-USA TODAY Sports

Trey Burke makes his first appearance onto the mock draft board at the No. 21 spot, after a strong week that has kept Michigan's undefeated streak alive.
He took care of business against Lorenzo Brown and NC State, going for 18 points, 11 assists and zero turnovers in the victory.
Burke looks more explosive yet under control, a deadly combination that could decide a game and control its tempo. His assist rate has increased dramatically from 4.6 to 7.1, and although early, he appears to have matured both mentally and physically.
It's possible that No. 21 is only the start for Burke, who will no doubt enter the draft after his sophomore year is up.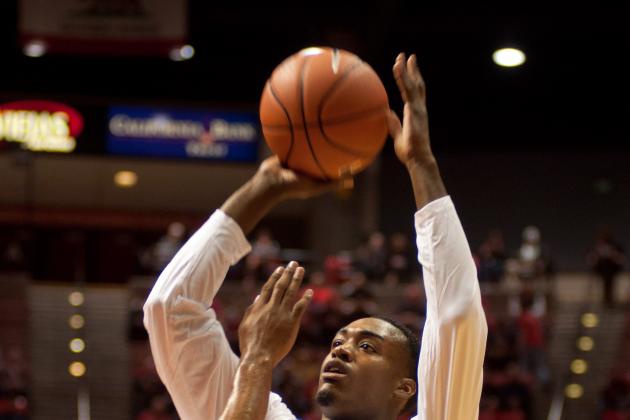 Kent Horner/Getty Images

Jamaal Franklin was at his best in a win over UCLA, scoring 28 points on 9-18 shooting.
He's still shooting too many threes, as he missed seven of them in the win. But on the bright side, he made six of his eight attempts inside the arc.
He's really effective at making plays off the ball, slashing to the rim, tipping in rebounds and flying in transition.
Franklin is now averaging 19.9 points and 10.7 rebounds a night, monster numbers for the 6'5'' wing. His athleticism alone puts him in the first round.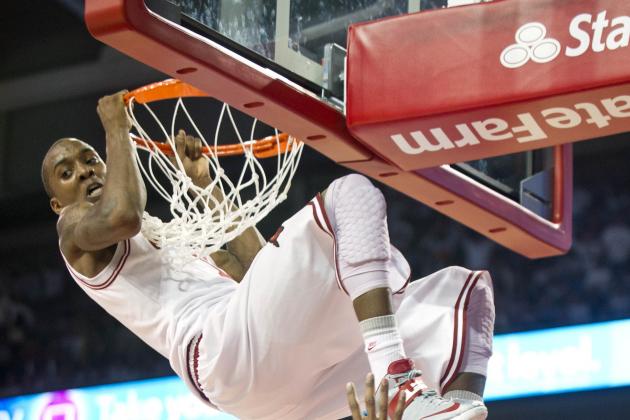 USA TODAY Sports

B.J. Young has been a scoring machine and appears to be positioning himself as one of those "throw out the measurement" prospects.
He's a shoot-first combo guard at 6'3'', which is typically a recipe for an NBA tweener. But Young is a strong finisher in traffic and at the rim and has the breakdown quickness and speed to create scoring opportunities for others.
How well he balances scoring and playmaking will determine his success at the next level. He's unlikely to last past this year at Arkansas and his offensive upside seems too high for the second round.
Young is averaging 21 points so far on the year.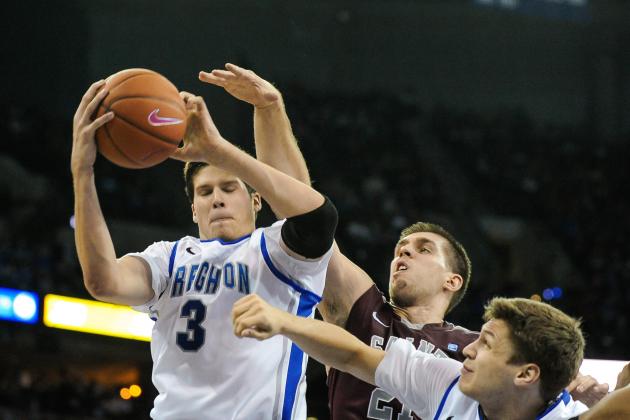 Eric Francis/Getty Images

Doug McDermott had a great individual week, most notably for shooting 9-12 from downtown over his last two games.
It's an important statistic for McDermott, who will be forced to play mostly on the perimeter in the pros due to his lack of athleticism and under-the-rim explosiveness.
He's now scored 21 or more points in four consecutive games and has his three-point percentage up to 46 percent. Having the ability to put the ball in the hoop from anywhere on the court is a quality that will be coveted by numerous NBA teams.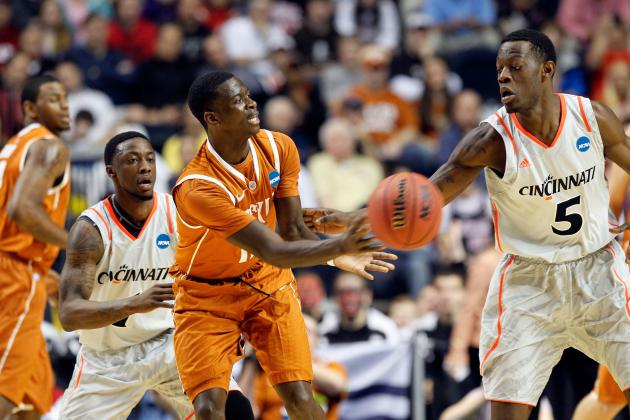 Kevin C. Cox/Getty Images

Things haven't gone smoothly since Kabongo entered college, and it seems more and more likely he'll try and get out while he can.
Still ineligible due to another NCAA investigation regarding his relationship with an NBA agent over impermissible benefits, this was supposed to be the year Kabongo put it all together.
A top high school recruit, Kabongo struggled with adjusting to the pace of the college game as a freshman but still showed promise as an NBA-caliber point guard.
He might just be better off leaving school with potential being his selling point.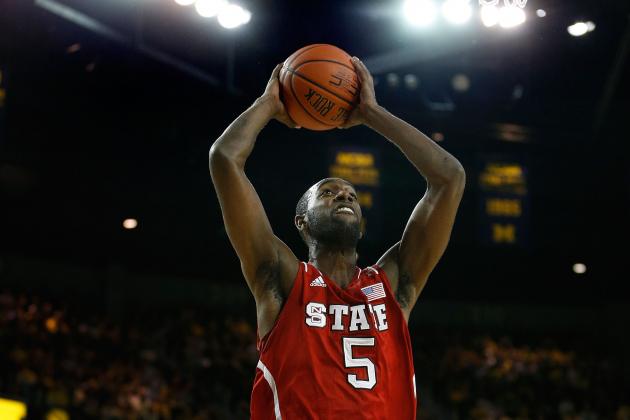 Gregory Shamus/Getty Images

C.J. Leslie had a nice week despite suffering a loss to Michigan. He double-doubled in back to back games, grabbing 10 or more rebounds for the first time all season.
As the supposed leader of a team with talent, the losses are somewhat troubling. Leslie never really had many leadership qualities, but you'd hope his presence made a bigger impact on the game.
His talent level is too high for the second round, but Leslie's stock still isn't as stable as it once might have been.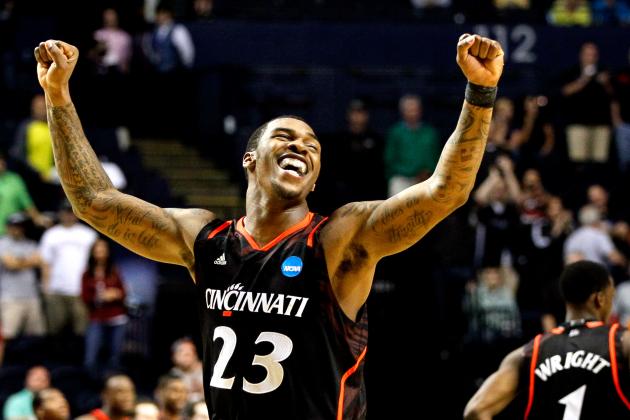 Kevin C. Cox/Getty Images

After a 32-point masterpiece, Sean Kilpatrick came back down to Earth but not enough to bump him out of the first round.
He's still averaging 19.9 points on 41 percent from downtown and is getting to the rim easier than he ever has before.
He'll be a Big East Player of the Year candidate and will be someone to watch for once conference play gets underway.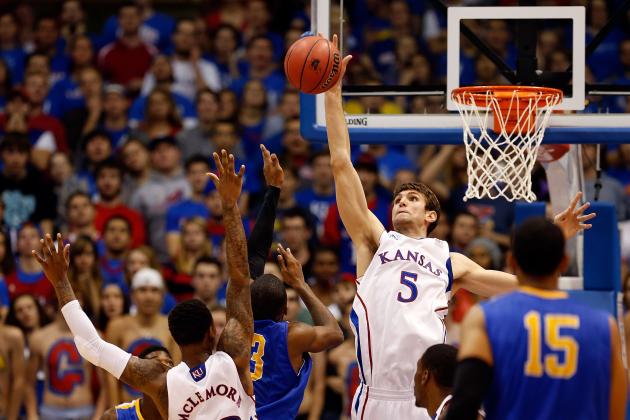 Jamie Squire/Getty Images

Jeff Withey had a quiet 17-point, three-block game against Oregon State, continuing to finish on the offensive end and impact the game defensively.
At this point we know who Withey is. A typical Kansas center in the mold of Greg Ostertag and Cole Alrich who can provide valuable minutes in a limited role.
And for anyone wondering, his shot-blocking average is down to 5.7 a game.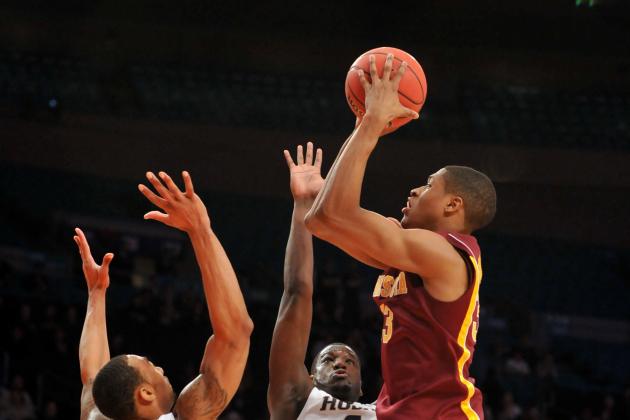 Jason Szenes/Getty Images

Rodney Williams has been a constant for a Minnesota team that has started their year at 8-1.
He's been incredibly consistent, scoring in the 12 to 16-point range in all nine of Minnesota's games.
Though he's not an adept shot-creator, almost all the ones he take are good looks, made evident by his 59 percent field goal mark.
A team looking at Williams won't ask anything more but to put your athleticism to good use. That could be enough to make an impact.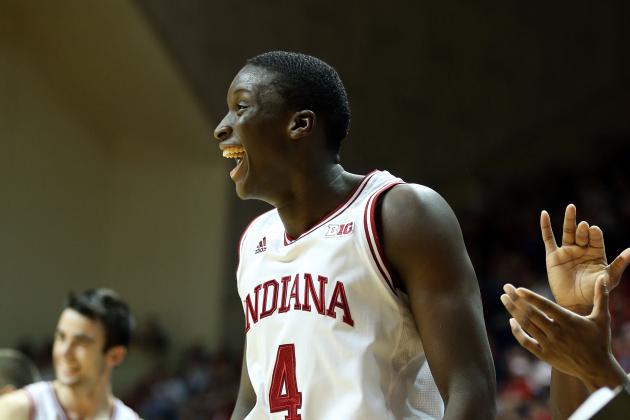 Andy Lyons/Getty Images

One of the most exciting role players to watch, Oladipo is a big play waiting to happen.
He's scoring 12 points a game on 63 percent shooting, meaning almost all of his made baskets come attacking the rim as a slasher or finisher in transition.
He's also averaging 2.3 steals in 25 minutes and has established the reputation as one of the most irritating and effective on-ball defenders in the country.
The thought of unleashing him off the bench to provide some type of spark just seems like an enticing option.
Regardless of where he goes, he presents minimal risk and a low ceiling.