WWE Raw: 5 Talking Points from Monday Night's Show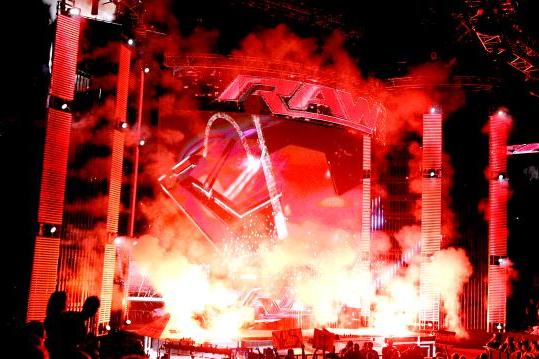 Photo courtesy of WWE.com
With TLC: Tables Ladders and Chairs fast approaching, Raw continued its solid form of recent weeks, live from Greensboro, NC.
A hot crowd, various intriguing developments and some unexpected twists and turns gave viewers plenty to be grateful for, and as ever, plenty to discuss in the Tuesday morning aftermath.
With these events in mind, it is time once again to analyse five of the biggest talking points to emanate from Monday Night Raw this week.
Enjoy.
Begin Slideshow

»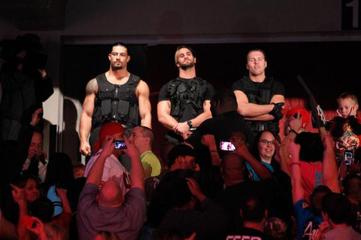 Photo courtesy of WWE.com
I thought this was played out brilliantly, despite Michael Cole's amateurish blunder in referring to "Daniel" Ambrose.
The trio's stalker-like approach to the ring really added to the anticipation surrounding their potential involvement in Team Hell No's match, and ultimately we were not disappointed.
But this time there was more of a tactical edge to their savage assault, as Ambrose and Roman Reigns lured the Big Red Machine Kane out of the ring, allowing Seth Rollins to jump the unsuspecting Daniel Bryan from behind.
It added a new side to the faction, a sense of cunning and intelligence to add to their previously-displayed mic skills and physicality.
Their true motives remain some cloudy, but the WWE has done a great job of adding another dimension to this intriguing stable whose appearances have become arguably the most exciting aspect of the show.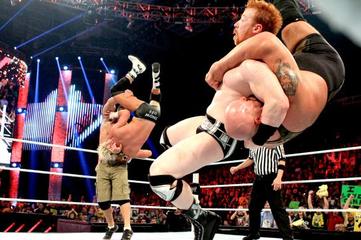 Photo courtesy of WWE.com
Their promo early on in the show was difficult to watch, a complete cheese-overload.
Sure, it must have been great for the younger audience to see the two top babyfaces on the same page, but unfortunately I am not a part of such a targeted demographic.
Say what you will about these guys though, the end to their tag team contest with Big Show and Dolph Ziggler was a great moment as we saw an Attitude Adjustment and White Noise in stereo, much to the apparent delight of the North Carolinian crowd.
It made up for their juvenile promo prior to the match and further adds to the complexion of either man's scheduled match at the upcoming pay-per-view.
Speaking of which...
Photo courtesy of WWE.com
What many of us assumed would come to pass was finally confirmed on Raw this week: Dolph Ziggler vs. John Cena at TLC: Tables Ladders and Chairs.
And while the specific stipulation had been speculated amongst many of the IWC, I for one did not see it coming to fruition.
Having Ziggler's Money in the Bank briefcase on the line seems to make the match somewhat more predictable, as it appears highly unlikely that the WWE would crush the Showoff's push in favor of Cena already.
I may be wrong, but perhaps putting Vickie Guerrero's job on the line would have been a better idea.
Either way, regardless of who wins and who is right or wrong, Cena and Ziggler will most likely deliver a fantastic Ladder match which could indeed steal the show.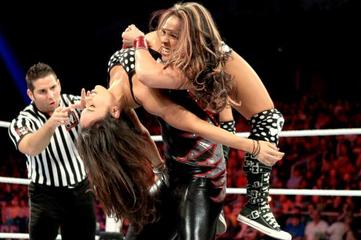 Photo courtesy of WWE.com
At first, I felt the WWE should have waited until the PPV for this one, much like the Cena vs. Ziggler encounter last week.
But in the end we were treated to a surprisingly decent Divas match—in my mind one of the best I've seen in a long time.
For starters, it lasted more than three minutes and actually told something of a story. Furthermore, the result leaves this rivalry open to continue, as Tamina will surely be looking to atone for being caught off guard via AJ's schoolboy pin.
AJ was nonetheless rather impressive in this one, and she gave me confidence that she can make the transition back to an in-ring competitor after her successful role in the CM Punk/Bryan/Kane rivalry earlier in the year.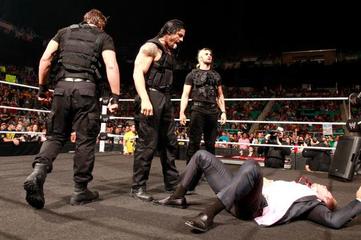 Photo courtesy of WWE.com
Having clamoured for a Miz face-turn, I must issue an apology and accept the error of my ways, because after just one or two weeks I quite frankly cannot stand the Miz as a face.
Thus it was a fairly welcome development when The Shield returned to jump him during his lie detector test with CM Punk.
But rather than end the show in dominant fashion, we saw a weakness in The Shield as they were split up for the first time and eventually overcome by Kane, Daniel Bryan and of course Ryback.
We also saw a change in fortunes for Punk, as Ryback came back for more and eventually stood dominantly tall over the WWE Champion.
Does this give us any answers as to a potential Punk/Shield alliance?
It is perhaps still too early to tell, but one thing's for sure: You can bet your bottom dollar that the Shield will be involved in the WWE title match at TLC: Tables Ladders and Chairs in some way or another.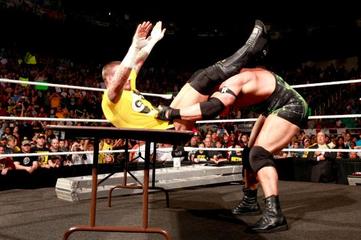 Photo courtesy of WWE.com
So while some answers were provided regarding the TLC card in two weeks time, we are still awaiting confirmation surrounding The Shield's continued involvement in CM Punk's business.
And there is still of course the role of Brad Maddox's to consider. Does he have a part to play in this or not?
I'm also sure many of you will be keen to find out whether Paul Heyman will be forced to step into the ring with Ryback next week, as the results of CM Punk's lie detector test were never fully revealed.
However you look at it, there is plenty to look forward to next week on Raw, in what will be the go-home show for the forthcoming PPV.
Until then, feel free to comment below with your thoughts on Raw, TLC: Tables Ladders and Chairs and as ever, any of the issues discussed in this week's article.