The 10 Most Unorthodox Swings in Golf History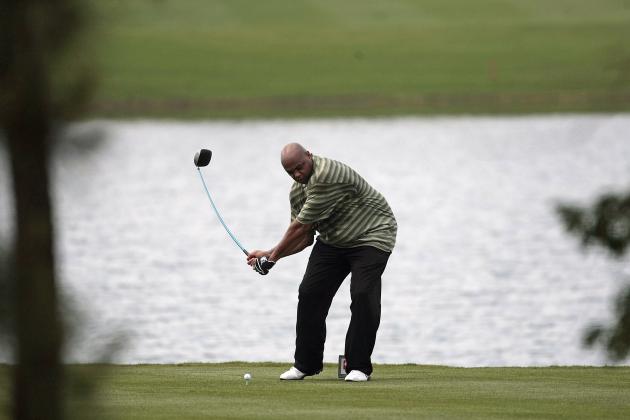 Dave Martin/Getty Images
No, Charles Barkley doesn't make this list, but his swing is certainly unorthodox.
Beauty, they say, is in the eye of the beholder and when you look at the wide variety of golf swings in use in the game yesterday and today, some of them really require some beholding.
In the end, however, how the club is swung is not nearly as important as how the clubhead impacts the ball. If a player can get the clubhead square at impact, good things will happen.
The following list is a testament to that. Some of the game's greatest players and biggest names have some of the most unorthodox swings, but they still have the trophies and the big bank accounts.
Begin Slideshow

»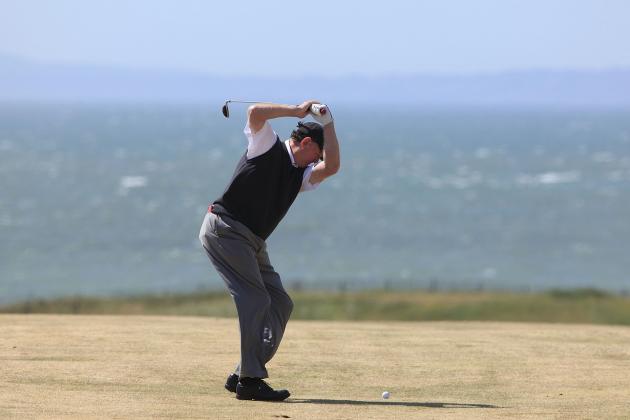 Phil Inglis/Getty Images
Don't look for Eammon Darcy's swing in any instructional manuals.
To win as a professional in three decades absolutely requires a swing that not only works under pressure but is able to withstand the test of time.
It may not be the prettiest of swings but if it works and a player can count on it, you could be Eammon Darcy and win four times on the European Tour.
At the top of his backswing, his right arm was bent and parallel to the ground, his left arm was bent and perpendicular to the ground.
It wasn't exactly smooth the rest of the way through the shot, either.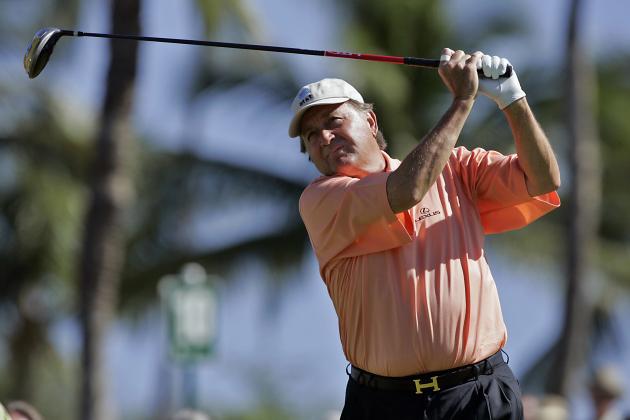 Marco Garcia/Getty Images
Raymond Floyd hit very few shots without a great deal of passion.
When he was at his best, Raymond Floyd never concerned himself a great deal about getting the club on line.
He took it back inside the line and laid off. On plane? Only if one happened to be flying overhead.
His hands then re-directed toward the sky at the top of the back, and then he dropped the club back into a more conventional path on the way toward the ball.
Not necessarily pretty, but good enough to produce 22 PGA Tour wins, including four majors.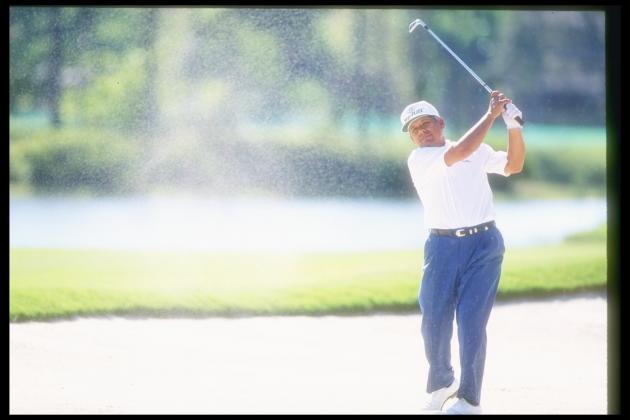 J.D. Cuban/Getty Images
Lee Trevino became one of the best ball-strikers of all time.
As Lee Trevino was learning the game, he fought a nasty hook.
He observed Ben Hogan swinging one day on the practice range and saw the gentle fade Hogan's swing produced.
While he couldn't reproduce the classic Hogan swing, he was able to produce the same results.
The Merry Mex became one of the best ballstrikers since Hogan
A Hall of Fame career was the result of his trying to be like Hogan.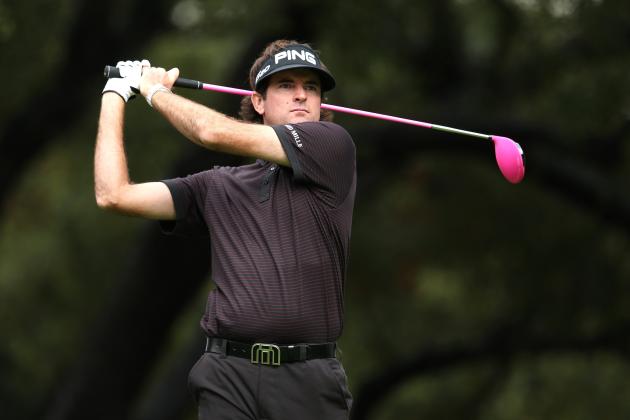 Stephen Dunn/Getty Images
Bubba Watson gets his money's worth every time he swings the club.
Long and loose are two words that seem to describe Bubba Watson's very distinctive swing.
Uncoachable is another.
Watson no doubt sent swing coaches crying into the night after watching him win the Masters with that spectacular shot from the right trees in a playoff that set up the win.
Watson appears to have several moving parts making up his swing and not many of them appear to be moving in concert.
But he led the PGA Tour in driving, 315.5 yards average, and swing speed, 124.69 miles per hour.
Enough said.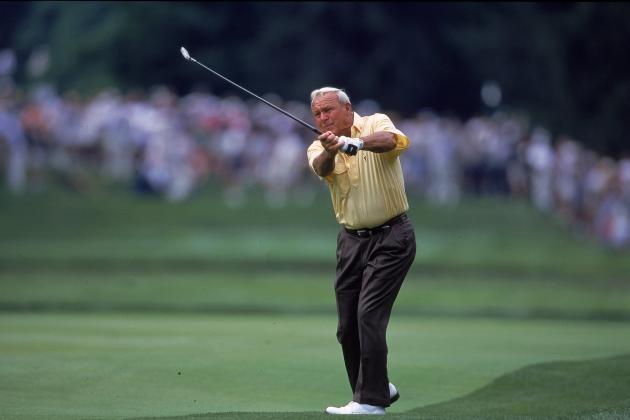 Matthew Stockman/Getty Images
Arnold Palmer's swing certainly wasn't classic, but he made it work for him quite nicely.
Arnold Palmer knew his swing wasn't a classic by any means. But he also knew he could make the ball do what he wanted on most occasions and that was his main concern.
He lived by his father's strong advice of "Hit it, go find it and hit it again." He would hit the ball hard every time, and then would follow through to something of a crouching corkscrew finish.
When he first appeared on the PGA Tour, his swing drew lots of comments and stares.
After a career that included 62 PGA Tour wins and seven major championships, he drew great respect and admiration for that non-classic swing.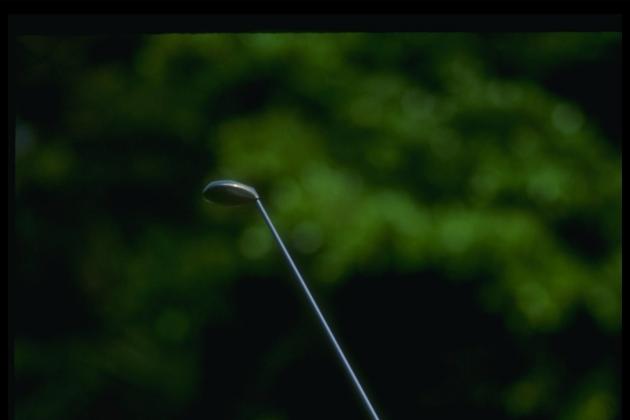 Gary Newkirk/Getty Images
Miller Barber's results were very good, even if his swing wasn't.
Miller Barber played in the same era as Palmer, and like the King, really didn't care much what other people thought of his swing.
His distinctive touch was that at the top of his backswing, the club in his hands was almost straight upright, nowhere near the accepted norm of getting it back to parallel.
He heard all the jokes, the snickers, but he won 11 times on the PGA Tour.
Once said he looked like a man trying to open an umbrella in the wind. "After I loop the club to the inside on the downswing, I look like any other good player," Barber once said. "The downswing is all that matters."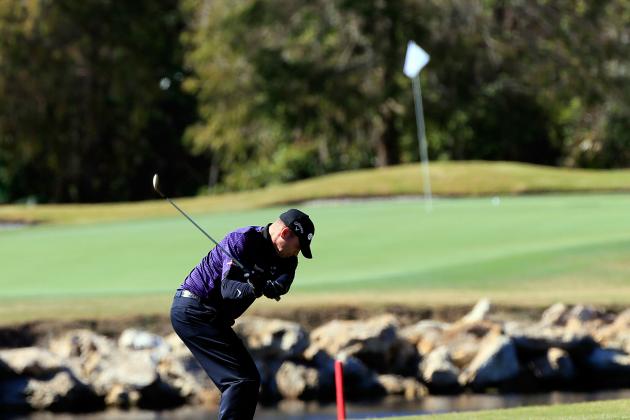 Sam Greenwood/Getty Images
Tommy "Two Gloves" Gainey is bent over much more than most teachers would like.
Tommy "Two Gloves" Gainey's victory at the McGladrey Classic earlier this fall is a vindication for all those in the younger generation who play the game without a classic swing.
He proved, as did his more famous predecessors, that the most important part of the swing is when the club makes contact with the ball.
With his two gloves, his baseball grip, a bent-over setup and some interesting gyrations of the club,
Gainey is a classic non-traditional swinger of the golf club.
Don't try this at home. He's a professional.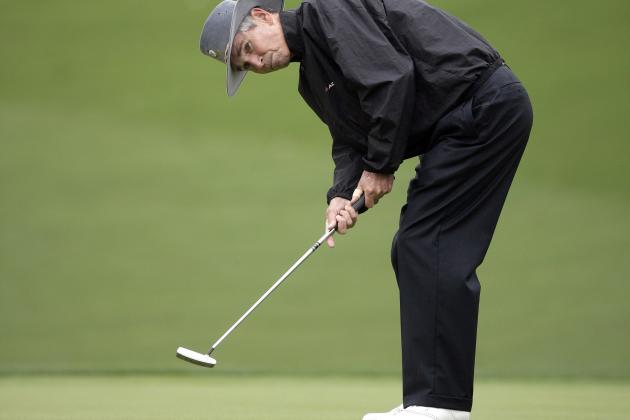 Dave Martin/Getty Images
Hubert Green's shows off his distinctive putting style.
The golf swing today is taught on the premise of a wide arc for power, shoulder turn and transfer of weight from the right side to the left (for right-handers, of course).
Hubert Green didn't do much of that but still won 19 times in the 1970s and 1980s, including a pair of majors.
Green was a wise-cracking guy and said he wasn't overly fond of his swing. "I looked at it once on film and almost puked," he laughed.
If you blinked your eyes, you could easily miss his compact, quick swing that was big on wrist cock.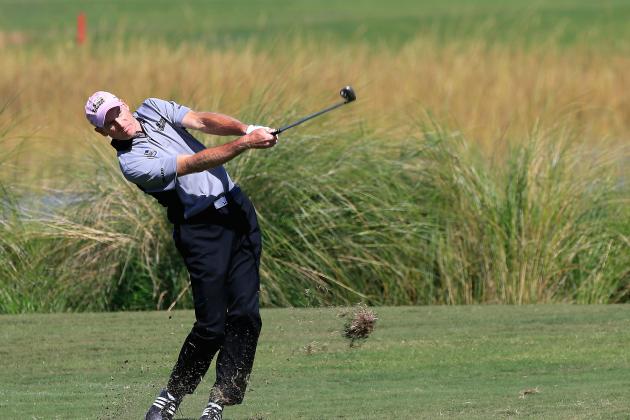 Sam Greenwood/Getty Images
Jim Furyk took a strange route to get to this point, but it worked for him.
Jim Furyk has more changes of direction in his golf swing than a GPS system gone mad.
His hands are very low, there's a loop in his backswing, his downswing is hardly classic and there's plenty of lower-body movement as well.
Part of all of that is a double overlapping grip and more loops than the rides at your favorite amusement park. And now he's added a maddening pre-shot routine that certainly jangles the nerves of those watching him while calming him.
But guess what? The guy has won 16 times on the PGA Tour, won a U.S. Open and is a Hall of Famer.
Any questions?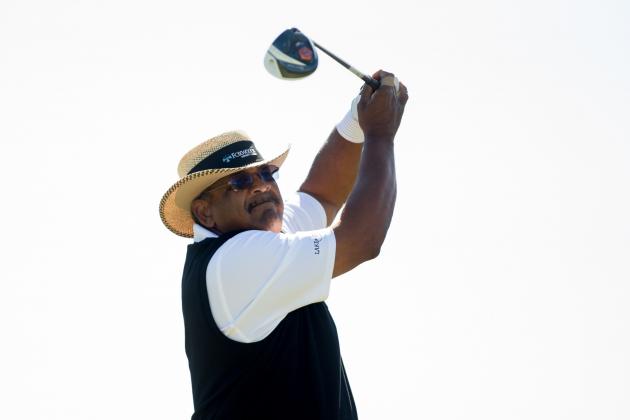 Darren Carroll/Getty Images
Don't try Jim Thorpe's follow through at home, it could be painful.
Jim Thorpe is a big man with a big golf swing. And not only is it big, it's violent.
Thorpe knows no other way to get at the ball. He takes the club back outside the line, finds a way to get it back on line and under the ball and then rips through the ball, finishing with a unique twirl at the top of his follow through.
Thorpe won three times on the PGA Tour in the 1980s and cleaned up on the Champions Tour with 13 victories.