Power Ranking the Top Plays in Europe so Far That Should Have Happened in NHL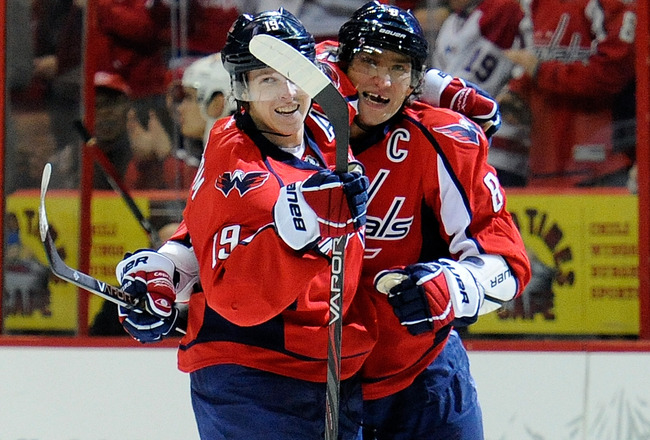 Patrick McDermott/Getty Images
Like a succulent slice of pizza, a dazzling hockey highlight is its most appreciable when it is oven fresh and delivered with a familiar brand and emblem.
The NHL lockout has forced fans to settle for an inferior treat by taking to YouTube and seeing hours-old clips of their favorite players performing in strange attire. Players seeking extramural game action who are unable to find it in the AHL have gone elsewhere, one ocean or another away from their normal fanbases.
As a consequence, there is no chance for those fanbases to assemble at an arena, a sports bar, dorm basement or living room and absorb the newest elite plays as they happen. They must instead settle for going online to see snippets of a performance given and filmed from a half-world's distance.
Do not even try to put forth the notion that that is better than nothing. The more NHL fans see any of these top 20 clips from the KHL or other European league, the more they ought to be craving world-class hockey's return to North America.
20. Sergei Gonchar
I'm not really sure if KHL rinks are supplied with inherently more fragile glass or not. After all, this season has also yielded this incident already.
Come what may, it is hard not to conclude that the aging Gonchar still has significant power in his point shot. Even with the Norris Trophy recipient Erik Karlsson at their disposal, the Ottawa Senators and their faithful followers will want as much of Gonchar's power as possible while it is still available.
18. Patrick Kane
A year after telling Peggy how he scores from the left side, Kane gave a Swiss crowd a visual demonstration of how he might score from the right side.
While seeing that live may be a new experience in Biel, it does not get old in Chicago. On the contrary, devout Blackhawks buffs must be having withdrawal symptoms.
17. Ilya Kovalchuk
The would-be New Jersey Devil absorbed a teammates' diagonal saucer pass through a forest and then let a wrister go top shelf and thud back down, forcing the puck to strike the net twice in one journey.
That familiar release has already notched him 12 goals through 24 KHL games.
16. Pavel Datsyuk
Even for those who do not know a single ice chip of Russian, it is plain enough that announcers around the world chuckle with astonishment in the same language.
15. Evgeni Malkin
The chief differences between this goal and Detroit's Datsyuk's from the previous slide are that Malkin had to maneuver through more backcheckers was still being shadowed when he released the puck, and that he deposited it on a backhander into the opposite post.
14. Alexander Ovechkin
These not-so-incidental collisions were from Ovechkin's season debut with his hometown Dynamo Moscow. By bringing that much of the physical dimension of his game, he proved himself sufficiently energized for a clean sheet.
If only, the Washington faithful will surely say, that sheet were laid out for him at the Verizon Center with the memory of another playoff shortcoming still fresh, but combined with the promise of a new era under head coach Adam Oates.
13. Alexander Ovechkin
This low-flying, searing one-timer from the circle-top falls within the more glamorous element of Ovechkin's game.
12. Andrei Markov
Even if there were no lockout, the game encapsulated above is the type for Markov that Montreal Canadiens would not take for granted. Look no further than the spot-on summation he gets from his scouting report in The Hockey News regarding his "career potential."
The far-angle, high-flying, net-bound point shot would have been an especially welcome display at the Bell Centre given that Markov has been confined to one goal in 20 appearances over the previous two NHL seasons.
11. Pekka Rinne
On its second try, the persistent opposing forecheck may or may not have gathered the message that Rinne's left boot did not miss the biscuit's company. However, seeing this sequence will make Predators fans miss the sometimes game-changing acrobatics of their Vezina finalist all the more.
10. Vladimir Tarasenko
This release by the up-and-coming St. Louis Blues striker was a little off balance, yet thoroughly on target through a narrowing five-hole for one of his 11 goals and 24 points this KHL season.
9. Nicklas Backstrom
Well, at least puck-deprived Capitals fans can sympathize with the opposing defenseman sporting the No. 75 white jersey. They both have had their difficulties trying to track Backstrom this fall.
8. Rick Nash
Part I of Nash's September hat trick was a mostly unspectacular burial from the front porch, but it got progressively better.
Part II was defined by overwhelming maneuverability. Part III was characterized by uncanny precision as he crossed paths with Joe Thornton's behind-the-net feed in the high slot and nimbly thrust a laser upstairs.
7. Tyler Seguin (Featuring Patrick Kane)
Seguin potted the icebreaker and later a natural hat trick for EHC Biel a little less than one year after his first three-goal game for the Bruins.
In this quick hit game video, Seguin's second goal (and Biel's fifth) is set up in highlight-reel fashion by a hustling Kane.
Granted, that combination will likely never be seen on North American ice outside of an All-Star Game. Nonetheless, trading in Seguin for Jonathan Toews or Marian Hossa in Chicago and Patrice Bergeron or Brad Marchand in Boston ought to be equally enthralling.
6. Claude Giroux
So far, the craftiness that Giroux used to charge up a whopping 65 assists for the Flyers last season has manufactured 15 helpers in nine contests for the Berlin Polar Bears. The scoring play he manufactures to polish off a two-on-two rush around the 90-second mark of the video above is likely the best one available for replay to date.
5. Artem Anisimov
Think this could help Columbus Blue Jackets fans forget about Nash?
It just might, but only when Anisimov gets down to pulling off moves like this at Nationwide Arena. It does not do much good for the NHL faithful when he is on display in Russia and nobody on this continent sees it until sometime after the fact.
4. Semyon Varlamov
The would-be second-year Avalanche netminder evoked mild memories of Tim Thomas on Steve Downie with this rapid recovery and save with the palm of his blocker glove.
All right, Varlamov's move was not quite as spectacular or impactful, but it would have been appreciable enough to a Colorado crowd in any regular-season contest.
3. Dustin Brown
Good movement of the feet, a good read on the drop pass, a good drive to cut through the defense and absorb the return feed and good stickhandling to outsmart the opposing netminder.
So much good of that variety on a single play inevitably equates to greatness. If this play is any indication, the Kings captain is staving off Stanley Cup hangover well enough.
2. Nicklas Backstrom and Alexander Ovechkin
The combination of Backstrom's leaping hit-dodge and Ovechkin's backward reach to absorb Backstrom's lateral feed before issuing his own homeward-bound pass would have likely aroused a minutes-long standing ovation from the Verizon Center.
Trouble was, all of that took place on a KHL pond, which is Moscow's gain at Washington's expense.
1. Logan Couture
Couture doubtlessly evoked ear-to-ear grinning memories for San Jose fans when they saw that he channeled a previous Shark in Jonathan Cheechoo. Too bad he was not actually wearing a Sharks uniform and doing this at HP Pavilion or at least in front of CSN Bay Area television cameras.
Keep Reading