LA Lakers Stock Watch: Rising and Falling Players After the First Month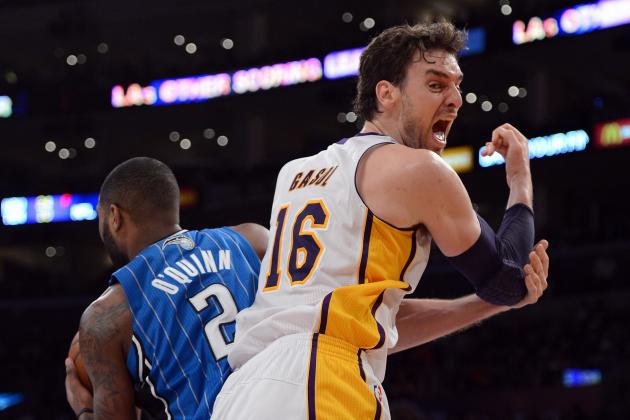 Harry How/Getty Images

Winning six of their 14 games in November, the L.A. Lakers have yet to find a consistent formula to victory.
Furthermore, other than Kobe Bryant, Dwight Howard and Metta World Peace to a lesser extent, there hasn't been a truly consistent performer on the roster.
Despite whether or not the issues lie in the drastic system change due to Mike D'Antoni's signing, the Lakers will need to find some consistency in their player production in order to be successful.
If the Lakers and the entirety of their staff do not know what to expect from certain players from game to game, there is no way they can make a definitive game plan.
However, with the return of Steve Nash on the horizon and the ongoing implementation of D'Antoni's system, players' stocks will rise or fall. Hopefully these upward or downward trends will ultimately lead to consistency from a roster that has been void of it.
This analysis will target three groups.
The entirety of the roster will be divided into groups depending on whether their stock within the team is rising, falling or stationary.
For the players whose stocks remain stationary, it is implied that their productivity, efficiency and the intangibles they bring to the game have been constant throughout November.
Furthermore, only players playing over 10 minutes per game will be mentioned on this article.
Statistics in this article are accurate as of Dec. 3rd, 2012.
Begin Slideshow

»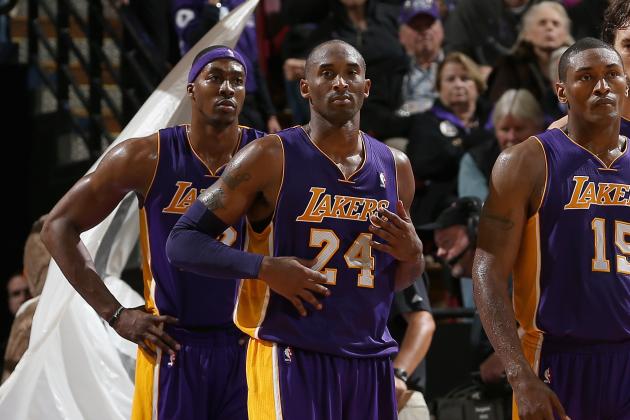 Ezra Shaw/Getty Images

Darius Morris/Chris Duhon:
There is no doubt that Chris Duhon and Darius Morris have gotten quite a bit more run at the point guard position than intended due to the injuries to Steve Nash and Steve Blake.
Both guards are getting a little over 20 minutes each and are putting up average numbers.
They aren't intended to be creators or even scorers for the team. Being merely placeholders for Nash and Blake, the two guards are averaging a combined 9 points, 5.8 assists and 3.4 rebounds in their combined 47 minutes per game in the last 10 games.
Though their productivity doesn't stand out too much on a standard box score, they have been consistent in their production.
Dwight Howard:
In terms of Dwight Howard, the superstar has been scoring at a high clip and with efficient field goal percentage.
It isn't surprising that his stock hasn't dropped given the fact that he is undeniably the focal point of the Lakers' game plan.
Averaging 17.7 points, 11.8 rebounds and 2.8 blocks in the last ten games, Howard's only real gripe has been on the offensive end, where he hasn't been able to hit his free throws. Averaging 43.4 percent from the line, Howard has been an offensive liability at the end of games, when teams generally begin to utilize the Hack-a-Howard strategy.
Kobe Bryant:
Averaging 28.1 points, 4.4 rebounds, 1.6 steals and 5.8 assists per game in the last 10 games, Bryant has had to assume a bigger role as a playmaker in the absence of Nash.
However, it is a marvel in itself how Bryant is still able to perform at such a high level despite his age.
Despite his impressive statistics and the fact that he has been more of a creator, Bryant is at his best when he doesn't have to worry about making the players around him better.
Although that doesn't sound like the mark of a truly great player, players like Michael Jordan and Dwyane Wade never truly looked to make their teammates better either.
Sure, they were great passers and could find an open teammate, but they did so by looking for their offense first. Whereas players like Magic Johnson and LeBron James are active creators, players in the same mold as a Jordan or a Bryant do their best work finding their own offense and letting teammates work through their offensive mindset.
Once Nash returns, Bryant will be able to refocus on what he does best, like he has stated, and that should not only increase his productivity, but allow for Nash to orchestrate the offense.
Metta World Peace:
Averaging a steady 13.2 points, 5.4 rebounds and 2.3 assists for the season on a less than spectacular shooting percentage of 40.9 percent, Metta World Peace has been a steady presence for the Lakers.
Providing scrappy defense and decent scoring despite his relative inefficiency, World Peace has provided his brand of energetic play despite the system change.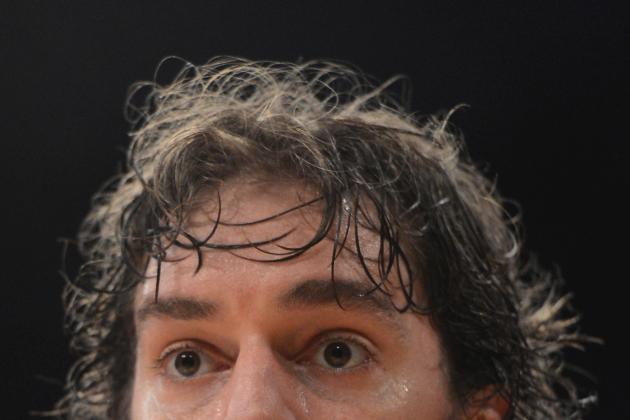 Harry How/Getty Images

Pau Gasol started off the season with the same criticisms that have plagued his entire career.
Gasol's statistics have dropped a tremendous deal this season, and the issues regarding his softness have been recurring.
Averaging 12.6 points, 8.8 rebounds and 3.5 assists on the season and they've regressed to 9.2 points, 7.2 rebounds and 3.4 assists in the last five games.
It is clear that Gasol's style of play doesn't fit in too well with D'Antoni's system.
Although Gasol can stretch the floor with decent range, the fact that he can't stretch out beyond three point range and that his greatest strength coincides with Dwight Howard's low-post presence makes him a bad fit for D'Antoni's system.
No matter how D'Antoni's system is interpreted, it basically revolves around the pick-and-roll, utilizing one big man and four shooters on the floor.
In this system, it seems that Gasol has become the odd man out because his skills are best utilized in the post and in the paint, an area that is primarily Howard's domain.
Harken back to Mike D'Antoni's experience with Shaquille O'Neal and Amar'e Stoudemire; the Suns could not make the run-and-gun system work utilizing both men as interior presences. This may be a bad omen in terms of utilizing both Gasol and Howard in the same system.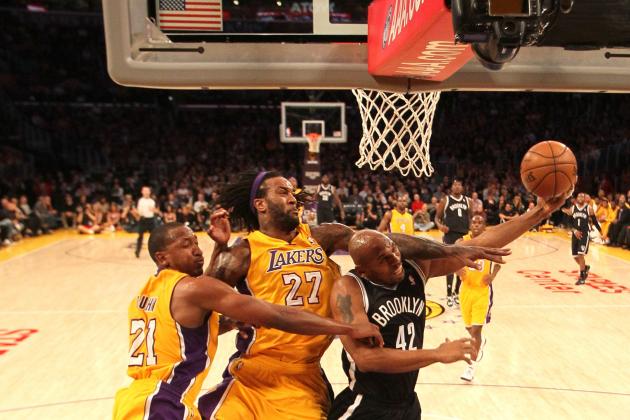 Stephen Dunn/Getty Images

Another player that doesn't truly fit into D'Antoni's system is Jordan Hill.
Hill is a player who is known to bring energy on the glass on both ends of the court. However, his skills are being mitigated in D'Antoni's system due to the fact that he isn't a big man that can shoot.
Back in D'Antoni's Suns teams, the most successful supplementary big men could all shoot. Boris Diaw was a prime example of a role playing big man intended only to spread the floor and make the open shot for the tandem of Amar'e Stoudemire and Steve Nash back in Phoenix.
Averaging 5.5 points and 4.6 rebounds over the course of the season, Hill's averages have regressed to 1.8 points and 3.2 rebounds over the last five games.
Hill is an energy player in the same vein as a Ronny Turiaf. He can be effective in spurts with his raw and undeveloped style of offense. However, he does not fit the mold of a D'Antoni big man and his stock may continue to fall as the system gets fully implemented.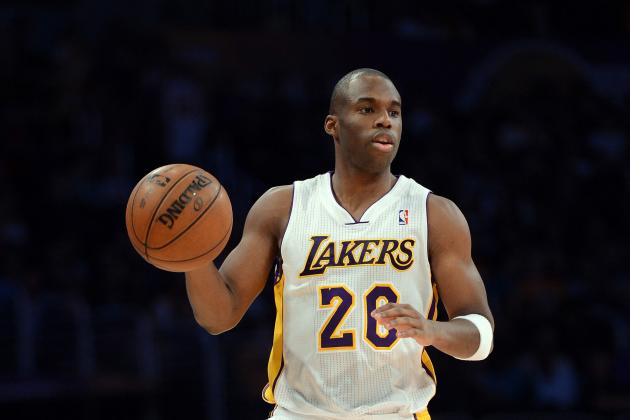 Harry How/Getty Images

Jodie Meeks was brought to the Lakers for two reasons.
He was supposed to bring in stingy defense on the perimeter and to stretch the floor with his three-point shooting.
However, under Mike Brown's Princeton offense, his skills were mitigated in a system that made use of post passing, screens and constant motions.
However, under D'Antoni's offense, Meeks has upped his averages to 8.2 points with a field goal percentage of 50 percent from the field and 56.5 percent from three-point range.
With his ability to stretch the floor in order to make space for Howard to operate down low, he has become an extremely valuable component off of the bench.
Furthermore, his perimeter defense is a definite boon to a team that emphasizes offense more than defense.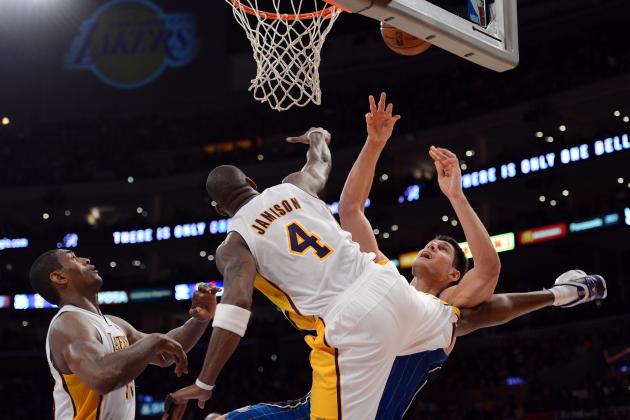 Harry How/Getty Images

Probably the biggest beneficiary of D'Antoni's system is Antawn Jamison.
His stock is definitely on the rise as his minutes and production are shooting through the roof.
Jamison is the ultimate player to compliment Dwight Howard's interior presence.
With his proficiency on the boards, his ability to hit the open shot and his mobility in terms of making cuts and making easy baskets off of double teams, Jamison's complimentary skills will enable him to produce major numbers in the system.
Averaging 16.2 points and 8.6 rebounds while shooting 58.2 percent from the field and 40.9 percent from three-point range in his last five games, Jamison's production is a far cry from his putrid numbers that started off the season.
As the return of Steve Nash nears and D'Antoni's system becomes fully implemented, Jamison should remain an integral part of the offense as long as he is able to stay healthy.