San Francisco 49ers: Grading the Week 13 Loss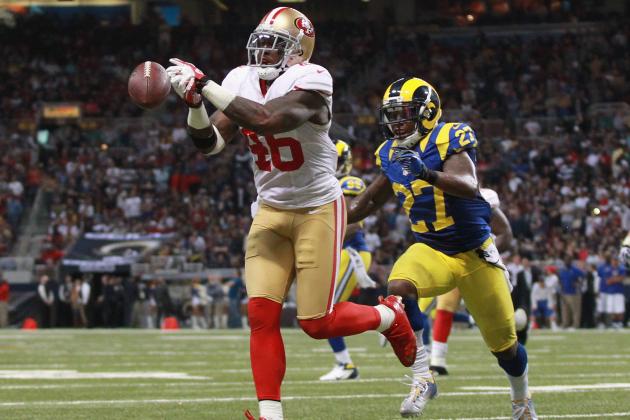 Dilip Vishwanat/Getty Images

I said it last week, and I'll say it again: Colin Kaepernick is not the answer. Not yet, anyway. He again showed some flashes of brilliance (I'm not sure how a few of his throws get into tight spots so fast) and great escapability.
Unfortunately, he also showed immaturity and lack of knowledge as an NFL starter, by essentially giving the St. Louis Rams the 10 points the needed to take us to overtime...again.
The only difference this week as opposed to four weeks ago is that the Rams came through with a clutch field goal to take home the win. Nothing went well for the San Francisco 49ers on offense this past Sunday, but there is an explanation.
To see why we lost and to get my official grades on this week's lackluster performance, read on:
Begin Slideshow

»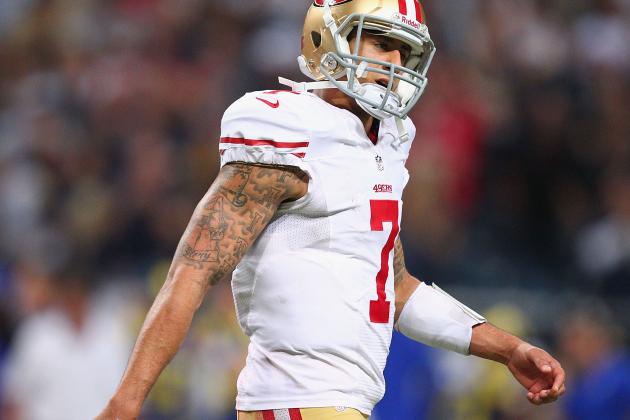 Dilip Vishwanat/Getty Images

This is generous, really. Kaepernick went 21-of-32 for 208 yards, no touchdowns and no interceptions. You've got to love his arm strength, and his accuracy on a few throws was incredibly impressive. But I'm starting to lose count of how many times the offense has been flagged for delay of game under his watch.
I'm also worried about the execution of a very simple pitch with just a few minutes left in the game. And the decision-making on the play that resulted in a safety. Regardless of how that play was called, he still ran 10 yards back into his own end zone and gave the refs a chance to make that call.
He nailed a perfect throw to Delanie Walker that was dropped in the end zone, and hit Michael Crabtree about 94 times on the day, which was awesome. But overall, this wasn't a Smith-esque game. More like a good day for Greg McElroy (who actually threw more TD passes than Kap this week...).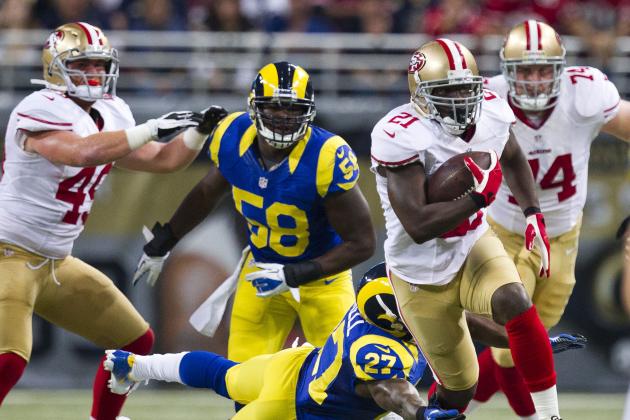 David Welker/Getty Images

Believe it or not, it's Kaepernick who is the saving grace of this unit's grade. His 50-yard run late in the game to set up a score was dynamic and beautiful and...probably executed by most quarterbacks who have any semblance of speed.
I'm not trying to take anything away from that play because it really was huge—but with two blockers in front and one defender, is there a QB in the world who wouldn't win a three-on-one and break for some yardage? Obviously Kap is a special runner, but take away that breakdown by the Rams defense, and you're looking at eight carries for 34 yards on the day for him.
And the old horse Frank Gore is getting battered and beaten like crazy with Kap under center. He came off the field after a play twice on Sunday with his left arm hanging limp, as if he had a shoulder stinger. Being the gamer that he is, he went back in. But you have to worry about him after he came off the field like that in a nearly five-quarter game in which he only averaged 2.5 yards per carry.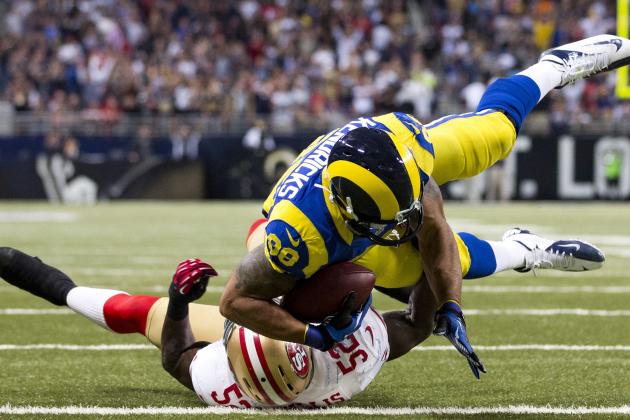 David Welker/Getty Images

Justin Smith was an absolute beast in this game, making eight tackles and getting a sack. Aldon Smith added to his NFL-leading sack total by ringing up another against the Rams, but other than that the pass rush wasn't really there against the Rams.
However, they effectively bottled up Steven Jackson and eliminated big plays that plagued them last time we saw St. Louis. The other linebackers, Ahmad Brooks, Patrick Willis and NaVorro Bowman all had pretty solid games as well.
You have to like any defense that allows a total of zero points until about 59 minutes and 55 seconds into the game (remember the first 10 points were on a safety and a fumble recovery, both by the Rams defense).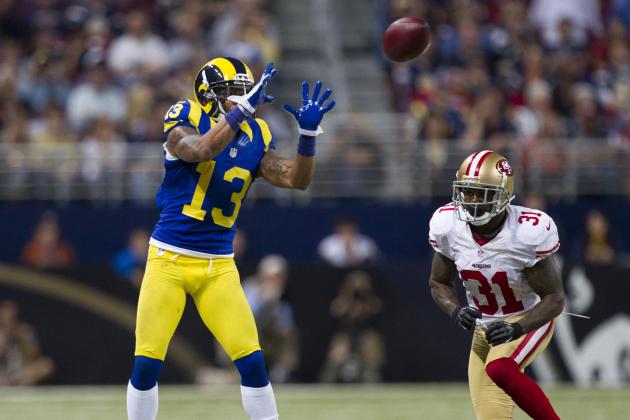 David Welker/Getty Images

I wish I could give them an A for bottling up Sam Bradford, but Dashon Goldson had to go and ruin the fun for everyone. He got juked badly on a couple plays, missed a couple tackles and had the idiotic personal foul on Bradford's slide to keep a Rams drive alive.
Otherwise, he looked fine in coverage. And the rest of the crew had great games, most notably Chris Culliver. That kid was fired up on Sunday and played solid defense most of the game. Culliver, Carlos Rogers and Donte Whitner combined for 18 tackles.
Bradford finished 26-of-39 with 221 yards, no touchdowns and no picks. It was a game much like Kaepernick's. Very boring; not good, not bad. And even though it looks like Chris Givens had a huge game, he was also targeted 14 times. Good job overall by the secondary.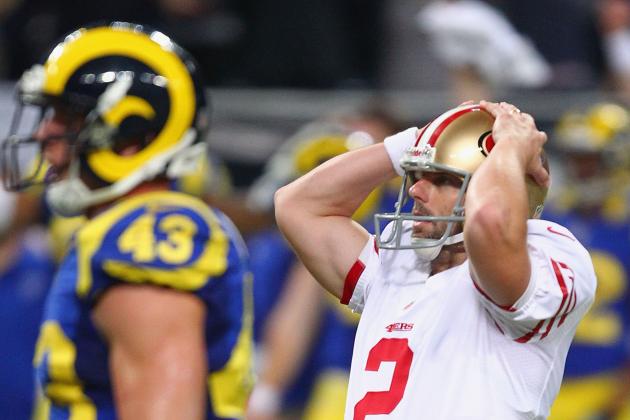 Dilip Vishwanat/Getty Images

Let's play Good, Bad and Ugly with the special teams...again:
The Good
Andy Lee, you dirty man, you. He punted six times against the Rams for an average of 51 yards, and pinned them inside the 20 on four of those kicks. Lee continues to set the precedent for NFL punters.
The Bad
Ted Ginn Jr. gets off the hook for this game because of his ridiculous one-handed grab as a receiver (all that effort for one measly yard), but he had four punt returns for 36 total yards. I want a Ginn Jr. big play!
The Ugly
What in the world has happened to David Akers? Props to the old man for hitting his first two field goals, and I understand the one he missed in OT was a long one. But he missed in OT. Against the Rams. Again.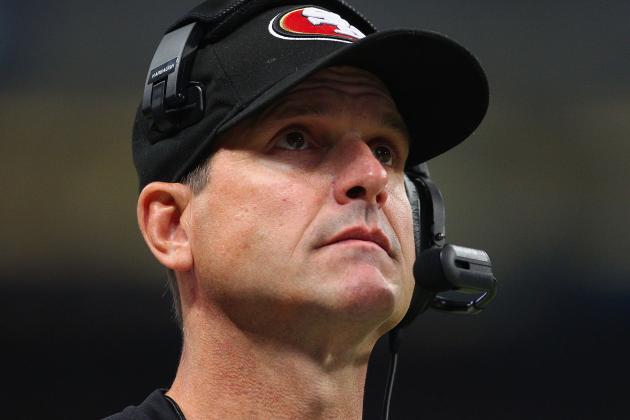 Dilip Vishwanat/Getty Images

I won't accept the "bad play call" excuse for the Kaepernick fumble, because it was an easy play to execute and he messed it up about as bad as humanly possible. That being said...it was a pretty bad play call.
The 49ers defense was geared up and ready to go, but I don't think anyone knew what the heck was going on with the offense. Gore is getting banged around and Anthony Dixon doesn't even touch the ball? Brandon Jacobs only gets a few carries? LaMichael James still inactive?
It doesn't make sense. With Kendall Hunter out, you would think they could at least replace some of his production with a very similar player in James. Anyway, the fact of the matter is that we played the Rams, a very winnable game, and lost.
And now if the Seahawks win out (besides a home game against the 49ers, they have home games against the Rams and Cardinals and a road game in Buffalo) and the 49ers lose to the Patriots in Foxboro, Seattle will win the division. That should be a scary, scary thought for 49er fans.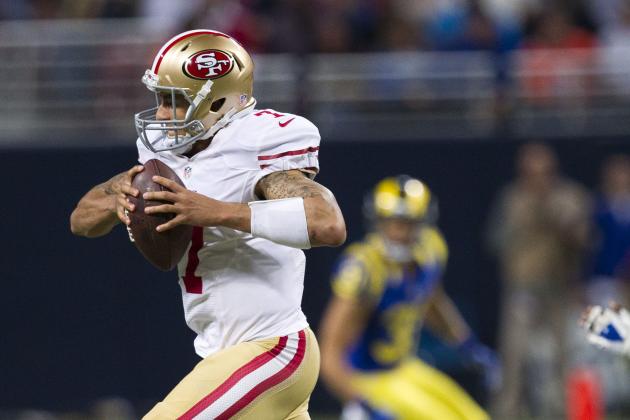 David Welker/Getty Images

What can I say? It just wasn't a good game. As far as the defense is concerned, they are definitely in the A range. They shut out the Rams until the very end of regulation, and almost held them scoreless (again) in overtime.
But on offense, Kaepernick looked like a guy starting his third career game, Harbaugh and the coaching staff made some questionable decisions and the offensive line was getting beaten to a pulp. As long as Kap is under center and the nice rhythm we were in is stalled, fans have a reason to worry.
Don't get me wrong—Kap is the future, and I have a feeling he'll be a star. But not this year. Not this season. Not in our Super Bowl or bust, all or nothing, avenge the NFC Championship season.
Here's to hoping Kap and the whole team pulls their act together and steamrolls Miami at home this weekend. They better, because I'll be in attendance this time. And I'm really good at yelling inaudible things from the stands.