3 Positive Lessons the New Orleans Saints Can Take out of the 2012 Season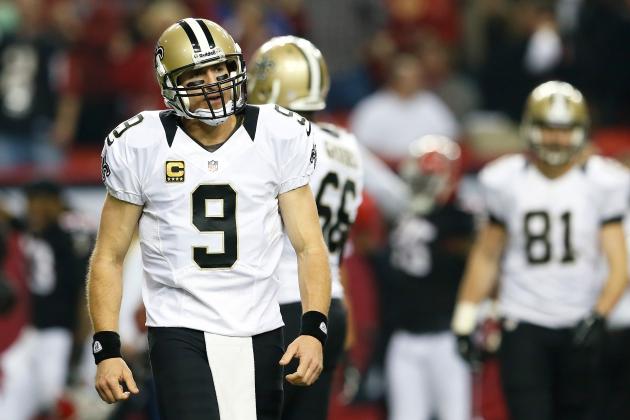 Kevin C. Cox/Getty Images

Time to call this season "saran," Who Dat Nation, because it is a wrap.
Yes, I know there is a very slim chance that our beloved New Orleans Saints could reach the playoffs this year, but it's not going to happen. The main issue is that they no longer control their own destiny for a wild-card spot. They could win out and still be left at home come January.
That's why I wouldn't worry so much about the rest of this year unless it pertains to the team's future, and there are some positive things that the Saints could learn going forward from these last four games.
The next slides will be the factors that I find the team could learn valuable lessons from.
Begin Slideshow

»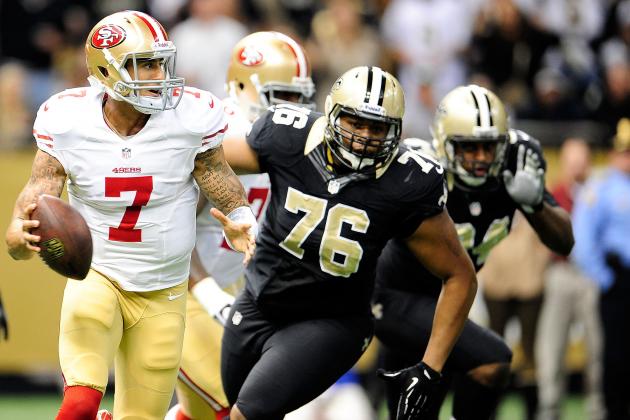 Stacy Revere/Getty Images

Now look, I'm not saying replace all of the starters and bail on this season, but you have to see what you have for the future of your team.
And if those depth-chart changes lead you to find better, cheaper options on your team, then you have to go for it. You have to see if you can let a veteran walk that will command a high salary. That is a big reason why I say play the rookies, and second-year, and third-year players more.
That financial flexibility will be dire for a team that will be flirting with being over the cap come this offseason.
Another reason would be to speed up their development so that they could be better contributors next season. The more reps those reserves can get, the better.
Akiem Hicks, Isa Abdul-Quddus, Michael Higgins, Tyrunn Walker and Corey White are the names that pop up that would benefit tremendously from extra snaps.
Those players combined with the other young talent are going to be the building blocks for helping keep Drew Brees' window open for championships.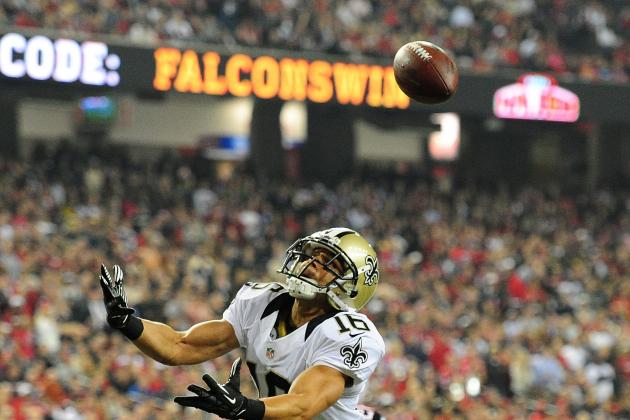 Scott Cunningham/Getty Images

Consistency.
This is a big concern heading into the last four games because it will be key to see if this team will ever play a complete game. They had a bunch of those last year, and that's a big reason for the 13 wins.
Consistency.
Any time the offense or defense is having a great game, its counterpart never holds up to its end of the bargain.
Lately, it has been the offensive side that has been costing the team games much like the historically bad defense had done for much of the year.
This team needs to jell and build some momentum for next year. This is a scary team that has some of the best talent in the league, and if it starts getting its confidence back as a cohesive unit, it could be hello No. 1 seed in 2013.
It just needs to learn how to get that confidence back. Maybe not controlling their destiny for a playoff spot will give them the ability to play a little looser.
It couldn't hurt.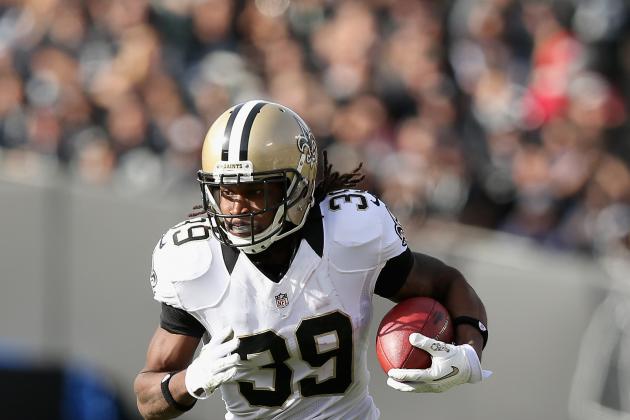 Ezra Shaw/Getty Images

Heading into the 2013 season, this Saints coaching staff has to realize one thing: Their most talented and deepest positional group is the running backs.
Chris Ivory, Mark Ingram, Pierre Thomas, Darren Sproles and Travaris Cadet.
That is a very dangerous group of players when all are healthy. (Remember when we kept telling ourselves that before the season?) Oops. What was that? They are all healthy?
Yup. All five backs are all well and ready to go, and all are under contract next year except Ivory, who will be a restricted free agent who will definitely be tendered in the offseason.
Without Sproles, the Oakland game gave us a little preview of how the Saints could use a four-back rotation into a touchdown machine. Their first couple drives against the Raiders they had a new back in every play.
Not only were they keeping guys fresh, but the coaching staff was featuring each back when they came into the game.
A screen to Pierre. A zone play to Ingram. A swing pass to Cadet. A dive to Ivory.
They were all featured, and the offense was run through them, and you know what?
It was run very efficiently.
If the Saints are going to keep this many capable backs, they are going to have to start tailoring their offense to these guys. That would open up the play-action, deep routes that Brees likes to go for.