10 College Football Stars from 2012 Who Are Surefire Bets in the 2013 NFL Draft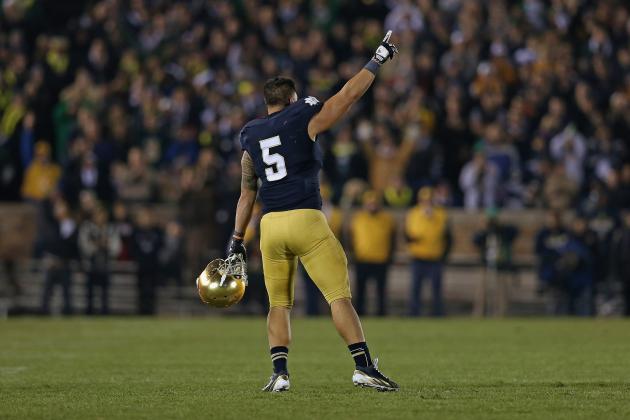 Jonathan Daniel/Getty Images

The top college football players from 2012 have one more big game to play for Dear Old U and one more opportunity to impress pro scouts gearing up for pro days, the combine and the 2013 NFL draft.
And while many players still have room to improve that résumé, there are a number of stars from 2012 that have NFL general managers tripping all over themselves to line up draft picks to snag the next great NFL superstar.
Here are 10 of those stars that are sure to make a major impact on the 2013 NFL draft.
Begin Slideshow

»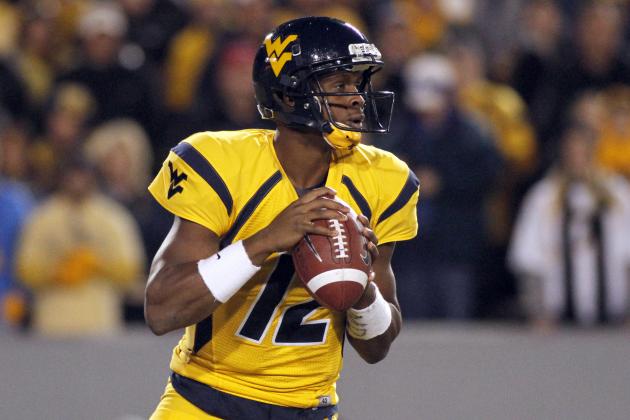 Justin K. Aller/Getty Images

So maybe all of that Heisman talk surrounding Geno Smith at the start of the season was a bit premature.
West Virginia had more flash than substance this season in the Big 12, but you can't pin all of that on Smith. We are, after all, talking about a guy who finished the regular season sixth in the nation in total offense and fourth in passing yards.
He also completed 71.4 percent of his passes in 2012 (second in the nation) and tossed 40 touchdown passes to just six interceptions.
So why did WVU wind up 7-5 (4-5 in the Big 12) this year?
The Mountaineers were 111th in total defense this season.
Bob Levey/Getty Images

Freshman Heisman finalist Johnny Manziel is renowned for his amazing ability to pick up yards with his arm or his feet. His 4,600 yards of total offense (third in the FBS) this season are the major reason he's making his way to New York City.
But just a scant 276 yards behind Manziel and fourth in the FBS in total yards is Louisiana Tech's senior quarterback Colby Cameron.
Cameron nearly led his team to an epic upset win over Manziel and the Texas A&M Aggies on October 13 in Shreveport's Independence Bowl Stadium. A&M may have taken home a two-point victory, but it was Louisiana Tech that showed the nation it could play with any team on any day.
Shockingly, the 9-3 Louisiana Tech Bulldogs were left out of the bowl season this year due to some premature demands by the Independence Bowl and the WAC's complete inability to find more than two bowl tie-ins.
Cameron is exactly the kind of quarterback the pro scouts love. He is smart with the football (31 TDs to just 5 INTs with a completion percentage of 68.8), doesn't panic under pressure, gets the ball out of his hands quickly and can run when necessary.
Add in a perceived "down year" for quarterbacks in the draft, and all of the sudden, Cameron's stock is skyrocketing.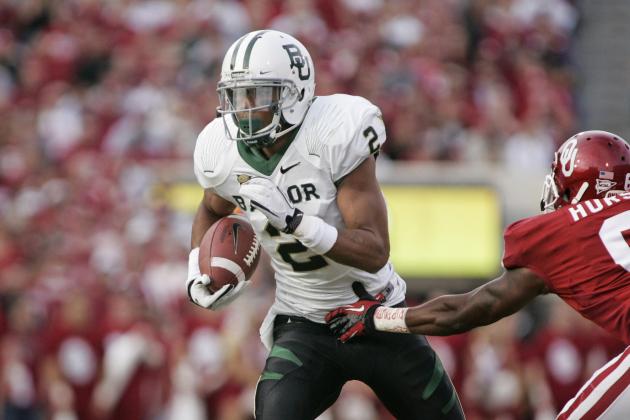 Brett Deering/Getty Images

Over the past couple of seasons, Baylor's Terrance Williams has shown himself to be an everyday superstar at wide receiver.
After cracking the top 50 in receiving yards last season courtesy of passing from Robert Griffin, III, Williams has jumped into the limelight this season by becoming the nation's top receiver with 1,764 yards.
Baylor led the offensive-minded Big 12 with 353.3 passing yards per game, and the tandem of Nick Florence to Williams provided several big moments for the Bears in 2012.
With sure hands and the ability to gain huge chunks of yards after the catch, Williams is just the kind of wide out over which NFL scouts gush.
Who knows? Maybe there's even a chance of a reunion with old teammate RG3 in Washington.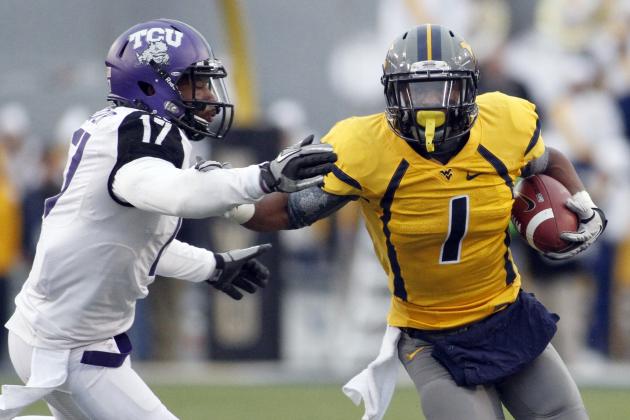 Justin K. Aller/Getty Images

With all of those passing yards racked up by the aforementioned Geno Smith, it stands to reason that there must be a target for all of those passes.
Enter Tavon Austin.
Austin finished the 2012 regular season with 1,266 receiving yards (sixth in the FBS, fourth among seniors) and 12 touchdowns while averaging over 100 yards per game.
But that's not all. Austin also added nearly 600 rushing yards and three touchdowns on 61 carries this season.
Add in a kick-return average of over 26 yards per return and one touchdown each on kick and punt returns, and you have yourself all the ingredients for the type of versatility that can guarantee a spot on an NFL roster.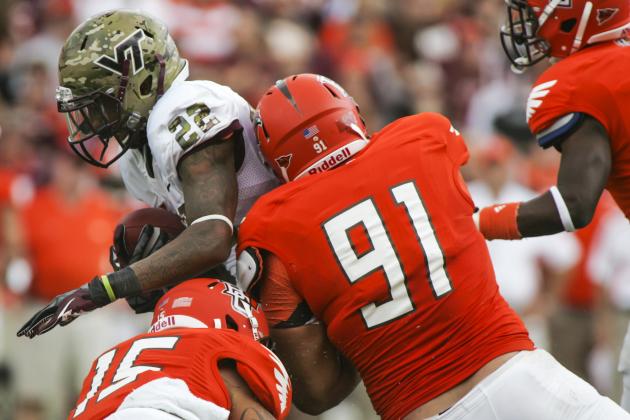 Peter Casey-USA TODAY Sports

When talking about big, physical defensive stars named Jones with 12.5 sacks on the season, most people instantly assume you mean Georgia's standout linebacker Jarvis Jones.
But there's another Jones that's been terrorizing opposing quarterbacks this season, and he goes by the name Chris.
He also wears the colors of the Bowling Green Falcons.
Jones has 12.5 sacks on the season (tied for fourth in the nation) and 19 tackles for loss (tied for eighth).
He's also a big guy for a defensive lineman at 293 pounds.
The MAC had one of its better football seasons this year, even managing to crack the BCS for the first time with conference champion Northern Illinois heading to the Orange Bowl. It should then come as no surprise that there is some prime NFL talent lurking around the Midwest.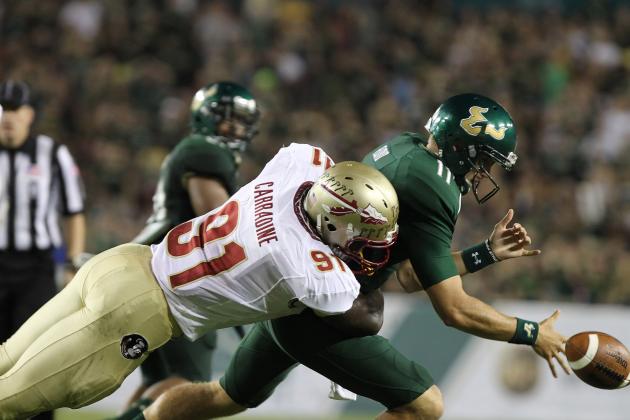 Kim Klement-USA TODAY Sports

The ACC may have had a rough season, but that doesn't mean there weren't some outstanding individual performances throughout the season.
The lone BCS representative from the conference this year—Florida State—greatly benefited from one such exhibition of raw talent and athleticism in defensive end Cornellius Carradine.
Carradine anchored the defensive line of the No. 2 defense in the FBS this season, and accumulated 80 tackles, 12 tackles for loss, 11 sacks, nine quarterback hurries and a forced fumble.
And at 6'5" and 265, Carradine will have no trouble adjusting to the size and strength at the next level. Any NFL franchise looking to add some big-play ability on the defensive line need look no further than Tallahassee.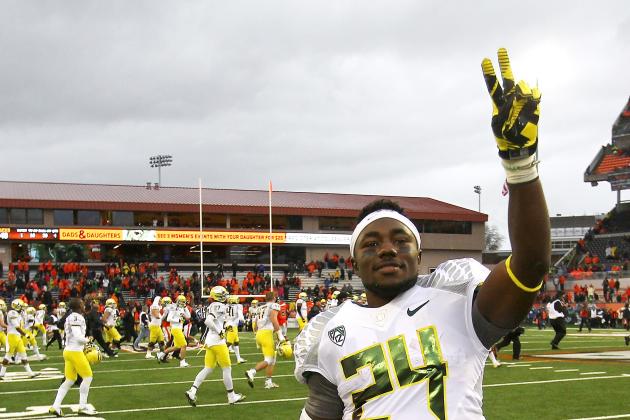 Jonathan Ferrey/Getty Images

Everyone knows that the NFL is an order of magnitude faster than college football, right?
Maybe not when you're talking about Oregon's Kenjon Barner.
Barner led the always dynamic Oregon run game this season with 1,624 rushing yards which was good enough for fifth in the FBS this season. He also added 21 rushing touchdowns, 232 receiving yards and one receiving touchdown to help Oregon to an 11-1 and Fiesta Bowl berth.
Many running backs need to find an extra step of higher gear to really become an elite speedster in the NFL. Barner won't be one of them.
He's already there.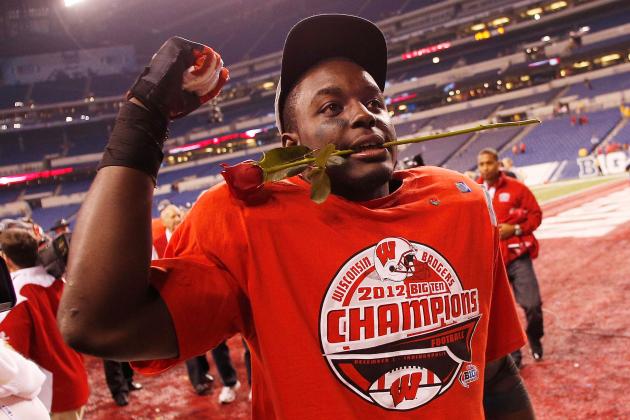 Gregory Shamus/Getty Images

Say what you will about Wisconsin, the Badgers are still headed to their third consecutive Rose Bowl this January. And with quarterback woes in Madison, it's no secret that Montee Ball is a huge reason there was any kind of success for Wisconsin this year.
Ball was the leading rusher among seniors in the Big Ten this year finishing the regular season with 1,730 yards and 21 touchdowns.
Perhaps more importantly, Ball etched his named in the history books with 77 rushing touchdowns—the most ever by an FBS player.
With production like that, how can Ball not be a surefire bet in the NFL?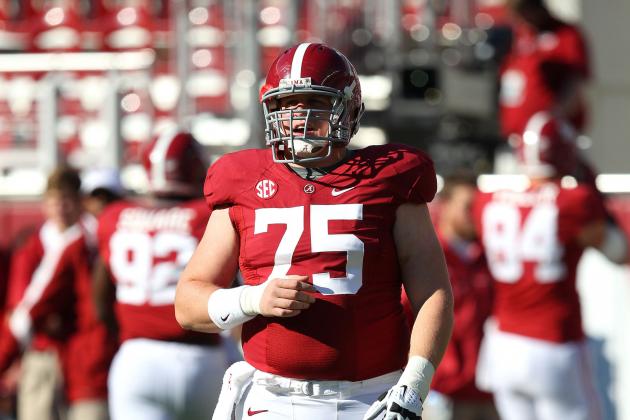 Mike Zarrilli/Getty Images

The success of any football team—professional or college—begins and ends with the offensive line. That makes it easy to see why Alabama has been so successful these fast few seasons.
Barrett Jones is a once-in-a-generation type player. He has been singularly dominant at whatever position on the Crimson Tide offensive line he's occupied over his years in Tuscaloosa, and he will have an opportunity to collect his third national championship ring when the Tide meet the Irish to play for the BCS title in about a month.
But even is Alabama isn't successful against Notre Dame, Jones will still go down in history as one of the best offensive linemen not just at Alabama, or even in the SEC, but to ever play college football.
Often the unsung hero, a dominant lineman like Jones can singularly change the trajectory of a program like no other player on the field except perhaps the quarterback. With owners, GMs and coaches placing so much emphasis on protecting that franchise quarterback combined with Jones's raw power, talent and athleticism, don't be surprised to see him go very high in the first round—perhaps even No. 1.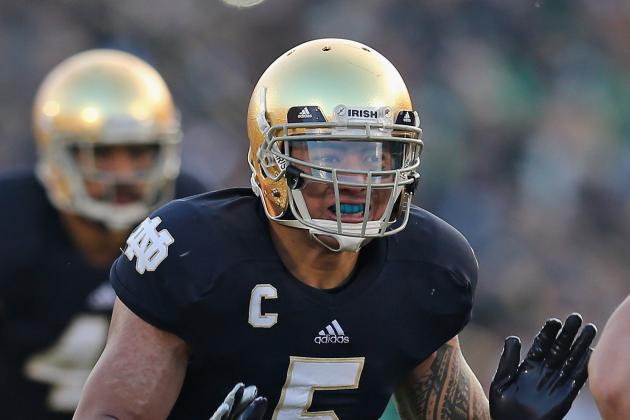 Jonathan Daniel/Getty Images

After the 2011 season, there was speculation that Manti Te'o would forgo his senior season at Notre Dame for a surely lucrative contract in the NFL.
Instead, Te'o returned to South Bend to finish his career and is being justly rewarded.
The 2012 Heisman finalist is looking to become just the second defensive player in history to win the coveted award, and a simple glance at his stat sheet shows why: 103 tackles, seven interceptions, 5.5 tackles for loss, 1.5 sacks and one fumble recovery.
But stats only tell a small fraction of the story.
Te'o overcame great personal loss this season after suffering through the deaths of both his grandmother and girlfriend to become the heart and soul of the Notre Dame Fighting Irish.
The Irish rode their defense—headlined by Te'o—to a 12-0 record this season, and they are now preparing for the BCS National Championship Game in Miami. But win or lose, this season has been something special for Our Lady of the Lake, and Notre Dame fans everywhere have Manti Te'o to thank.
And unlike others around the nation who opted to return to campus in 2012, Te'o's senior year has proven to only cement his status as a soon-to-be NFL superstar.