5 Pieces Dallas Cowboys Still Need to Become a True Contender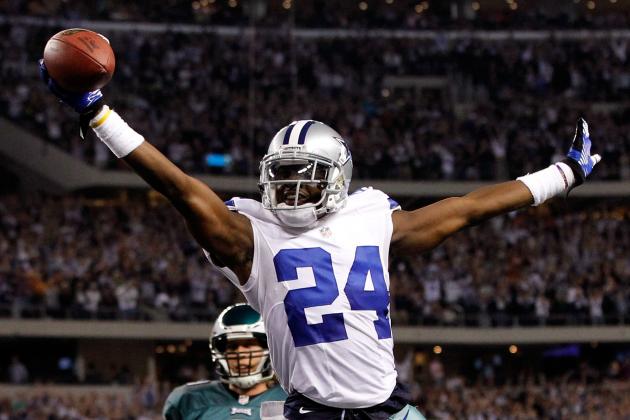 Tom Pennington/Getty Images
Dallas rookie cornerback Morris Claiborne
Sunday night's 38-33 victory over the Philadelphia Eagles has placed the Dallas Cowboys back in the playoff hunt with six wins to go with as many losses.
While a postseason berth is still a possibility, the Cowboys obviously have a ways to go before being considered a Super Bowl contender.
In less than typical fashion, the Cowboys learned some lessons against Philadelphia that perhaps it can carry over into next weekend's meeting with red-hot Cincinnati.
If Dallas is to make it four wins in their last five games against the Bengals, the Cowboys will have to continue some things that helped earn a season sweep over the Eagles.
I'm not including the position of head coach even though I fully believe that Dallas is going nowhere with Jason Garrett wearing a headset. This is about what the Cowboys need on the field no matter who is the coach.
Here's the top pieces Dallas still needs to identify to become a contender in 2012—and this will be a major task.
Begin Slideshow

»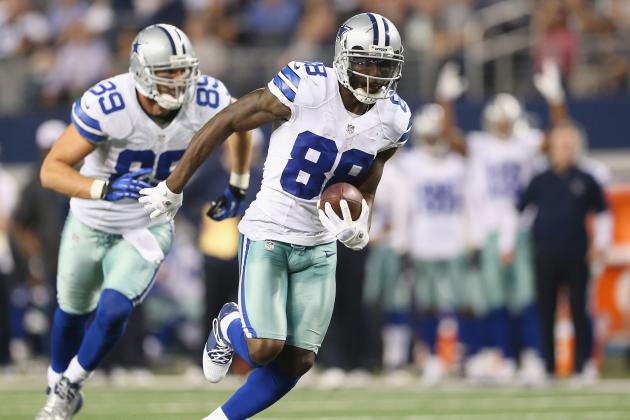 Ronald Martinez/Getty Images
Dez Bryant
In his third year out of Oklahoma State, wide receiver Dez Bryant looks to be turning a major corner in his development as an elite pass-catcher. There are not many players you expect to develop into such a distinction, but Bryant is an exception.
Bryant is also really hot right now.
Against the Eagles on Sunday night, Bryant caught six passes for 98 yards and two touchdowns. Quarterback Tony Romo is showing each week how much more he's trusting Bryant as his young receiver seems to be getting the playbook down and might also be in the early stages of being able to improvise in unison with Romo.
Given Dallas' recent record, it's no shocker that Bryant has 29 catches for 475 yards and six scores. Even in last week's loss to Washington on Thanksgiving Day, Bryant was the leading Cowboys receiver with 145 yards on eight receptions with two touchdowns.
This kind of production has to continue if Dallas is to find itself playing for a championship this year.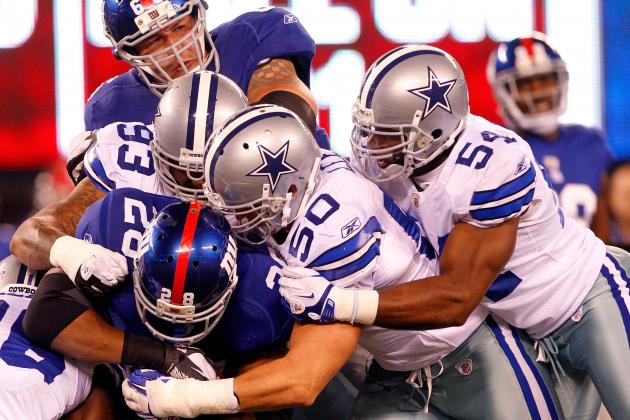 Rich Schultz/Getty Images
Sean Lee (50) and Bruce Carter (54)
Season-ending injuries to starting inside linebackers Sean Lee and Bruce Carter have devastated the Dallas defense.
If you're running a 3-4 defensive front, as Dallas is, then your inside linebackers have to be some really good football players, especially against the run.
Well, the Cowboys have really good football players in Lee and Carter, despite the fact these two have not had too much time playing together. These guys are good at everything—run defense, coverage, pass rushing, etc.
Lee and Carter were both steals in the NFL draft in 2010 and 2011, respectively. These were linebackers with first-round talent that only slid as far as they did because of injuries suffered during their final seasons in college.
Yes, Lee and Carter are huge losses that guys like Dan Conner, Ernie Sims and Brady Poppinga can't just replace because they walk onto the field.
Having said that, Dallas is in fair shape at inside linebacker with this corps of veterans. The Cowboys could use better numbers in this area of the depth chart, but the experience and ability is adequate to win in the playoffs.
But the Cowboys have to stay healthy at inside linebacker and one of these veterans needs to start making some big plays in order to help the struggling Dallas offense as much as possible.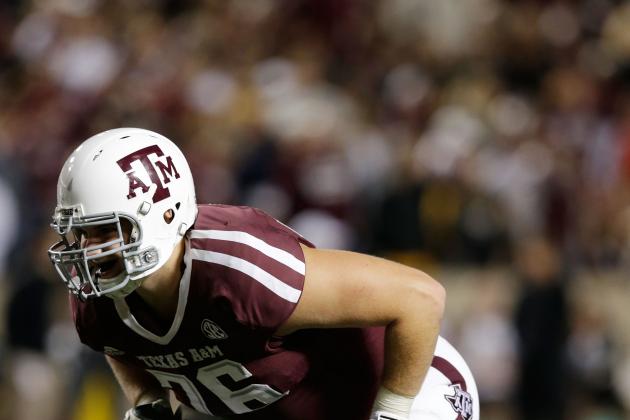 Scott Halleran/Getty Images
Texas A&M left tackle Luke Joeckel
Cowboys owner and general manager Jerry Jones entered 2012 thinking he was in good shape at offensive tackle.
Wrong.
The Cowboys have been shuffling tackles for far too long, and they really only have one guy who looks to be a long-term answer at one tackle spot or the other.
Sound confusing already?
Tyron Smith was drafted in the first round of the 2011 NFL draft and was immediately penciled in as the starter at right tackle.
After a successful rookie campaign at the very position he played in college at USC, Jones decided to find out if Smith could play left tackle, especially since current right tackle Doug Free had already shown he could not do it on the left side.
First of all, why move Smith to a position he's never played before?
This was Jones hoping to have his cake and eat it too—and we've seen this before.
It wasn't long ago that Jones became convinced that Free could replace former right tackle Marc Colombo and, after learning that he could, wanted to find out if he could replace left tackle Flozell Adams!
Let's try this: Draft a tackle to play on the left side or sign a guy like Ryan Clady in free agency. After that, move Smith to his natural place on the right side and do this right.
Romo cannot continue squeaking by with 60-plus pass attempts per game. He also needs a running game and the Cowboys entered Sunday's Eagles game dead last in the NFL in rushing.
Tackles are arguably the most important and most difficult offensive linemen to find. This position sets the tone for the entire line and it begins with protecting the opponent's most threatening pass-rushers.
Dallas knows it has one tackle for sure.
But now it needs another.
Tampa Bay defensive end Adrian Clayborn via Twitter offered his sentiments on Free during Sunday night's game.
This just has to stop.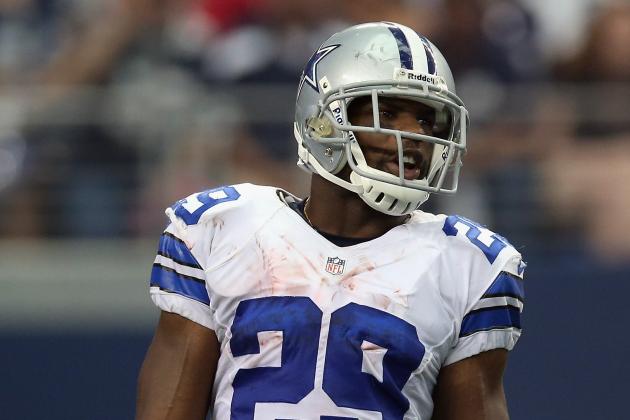 Ronald Martinez/Getty Images
DeMarco Murray
If you have followed the Cowboys over the last month or so, you undoubtedly noticed that the Dallas offense really struggles to run the football. Granted, at times the offensive line struggles with just getting the ball snapped, but run-blocking will never be mistaken as a Dallas strength, at least not with four games remaining in 2012.
What should have popped during Sunday night's win over Philadelphia was the burst and power of starting running back DeMarco Murray.
Murray returned after more than a month from an injured ankle and was definitely noticed no matter what shape he was in. He provided a lift the Cowboys have been hurting without.
Murray didn't have a huge night statistically, but his contribution in all areas was a huge upgrade over the mediocre Felix Jones or anybody else in the Dallas backfield. The second-year veteran carried 23 times for 83 yards and a touchdown against an Eagles defense that's lacking in both bodies and inspiration. Four receptions for 19 yards was enough to keep the chains moving and the Cowboys in a game that they trailed until late in the fourth quarter.
The Cowboys need a healthy Murray, and they have yet to have this benefit since drafting him out of Oklahoma in 2011. Murray is a difference-maker at running back and can hurt defenses in the passing game as well. But health is not proving to be a plus with this particular player.
Keeping Tony Romo healthy and his offense balanced will be essential in reaching the playoffs and contending this season. But there is no way that this happens if Murray is not a big part of this offense from this point forward.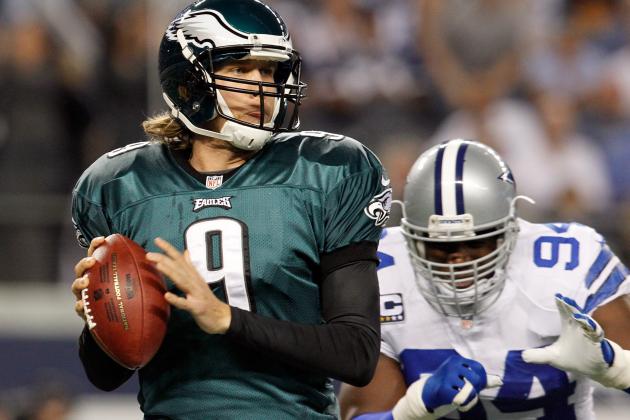 Tom Pennington/Getty Images
DeMarcus Ware hunts Nick Foles.
It took just under two seconds for Philadelphia rookie quarterback Nick Foles to feel the heat of Cowboys pass-rusher DeMarcus Ware in Sunday night's victory for the Cowboys. Looked like the beginning of something big from the Dallas defensive front. But in the end, Dallas earned only a single sack—and it wasn't even from Ware!
Yes, Ware just about set the tone with a huge play on Foles, but the rookie passer just got the ball away on an incomplete pass, not a sack.
Beyond that, backup Victor Butler would log the only sack on Foles and this one didn't come until late in the fourth quarter.
It's no secret that Ware is the only consistent or volatile pass-rusher on the Cowboys roster.
Moving forward, this must change in a big way if contention is coming this season.
Ware is a future Hall of Fame player, but somebody else has to join the pressure. Nose tackle Jay Ratliff never will, especially from the nose and his health is another issue entirely.
Outside linebacker Anthony Spencer is the most likely candidate to offer a surprising jump in production should a playoff push be in the cards for the Cowboys. Still, Spencer is an unrestricted free agent following this year, so Dallas is likely to be dealing with this missing link often in the near future.
But if the Cowboys are going to shock anybody this year, it will have to involve a few ingredients from the New York Giants' Super Bowl win a year ago—or the one in 2007. The Giants were able to become the worst team ever to win a championship last year because they brought the best pass rush to the football game that day. The season did not matter in 2011, or in 2007 for that matter.
The Cowboys have some time to work with and it would seem that 15-16 more sacks need to be a part of the plan should the Cowboys make it to New Orleans for Super Bowl XLVII.