All-Time NFC South Defensive Team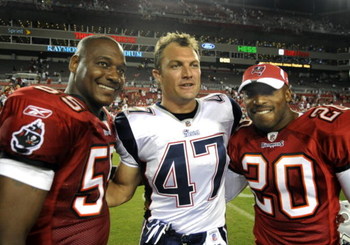 About a week ago I wrote an article on the all-time offensive team of the NFC South. This is the sequel to that article with defense.
I had a lot of fun doing this article. It is probably because I played defense when I played football.
This list compiles a lot of future Hall of Fame players. The stats that are listed are from 2002 and on. Also, it is only stats from when they played with their NFC South team. Some players might have only been there for a year. Others have been there since the NFC South was formed.
Due to trades and free agency the NFC South has seen some of the best defensive players in the game.
Now this article is just who I personally think would be on this team if it was formed. I personally hope you enjoy this article as much as I did writing it.
Defense wins championships.
DE: Julius Peppers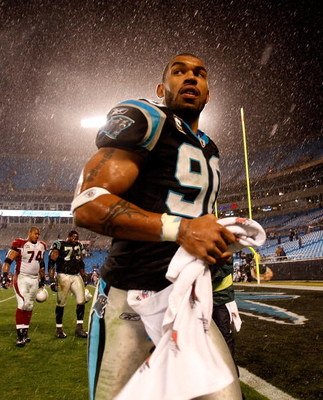 This is one of the best players in the game right now. I personally love watching him play. Even though when it's against my favorite team, the Saints, he usually owns our o-line.
He is ranked second in the league in sacks since 2002, only behind Jason Taylor.
Stats.
Sacks 70.5
Tackles 339
Interceptions 4
Defensive touchdowns 1
DE: Will Smith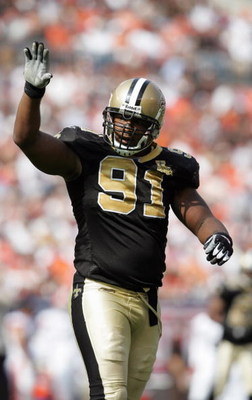 Drafted by New Orleans In 2004. Will Smith last year signed a contract extension, making him one of the highest paid defensive players in the game.
He is well balanced with run tackling and pass rushing. He draws a lot of double teams allowing Charles Grant and now Bobby McCray to make it into the backfield.
Stats since 2004
Sacks 36.5
Tackles 276
DT: Warren Sapp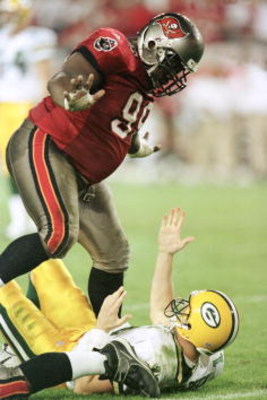 Need I really explain why this guy is here? A future Hall of Fame player. He was amazing when he played for Tampa Bay.
Even though he only played for two years with Tampa since the NFC South was formed, I think any player that is going to be a future Hall of Famer should be on this list.
He was also part of the 2002 Super Bowl winning team. Which is the only team in the NFC South to win a Super Bowl. Also they would put him in on goal line and have him score in short yardage situations
Stats while playing for Tampa Since 2002 till 2004
Sacks 14
Tackles 90
1 Interception
DT: Kris Jenkins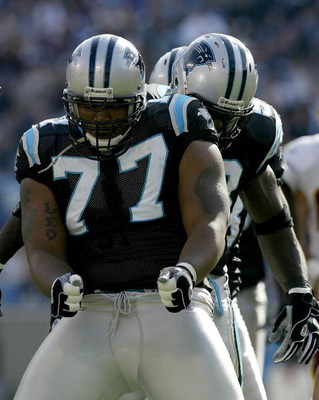 Last year I was so happy to see this guy go to the Jets. I remember when people would argue if he or Warren Sapp were the best defensive tackle in the NFC South.
He might not have put up huge numbers, but he opened up holes for linebackers to take care of the offense. He commanded a double team on almost every play.
Stats from 2002-2007
Sacks 18.5
Tackles 181
LB: Derrick Brooks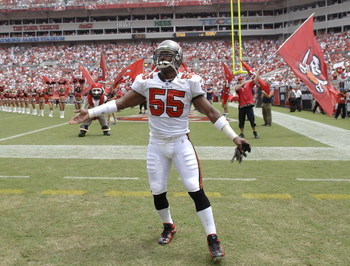 Here Is another future Hall of Fame player. This year, Tampa decided to part ways with Derrick Brooks. In the time he has spent in Tampa, he has won a Super Bowl ring and is a 10 time Pro Bowl player, with anamazing 1,674 tackles.
Stats from 2002-2008

Tackles 783
Sacks 8
Interceptions 12
Touchdowns 5
Tackles
LB: Dan Morgan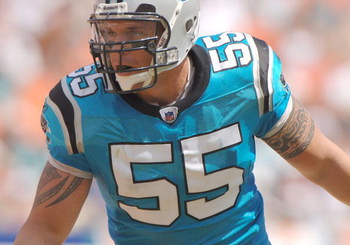 When this man is healthy he is one of the best Linebackers in the NFL. I think it may have to do something with wearing No. 55, as we saw Derrick Brooks also wears this number.
On a more serious note, this man is a former Pro Bowl player. He's played on a Super Bowl team.
He has decided to come back this season and play for the New Orleans saints after taking last season off.
Stats
Tackles 319
Sacks 6
Interceptions 4
LB: Keith Brooking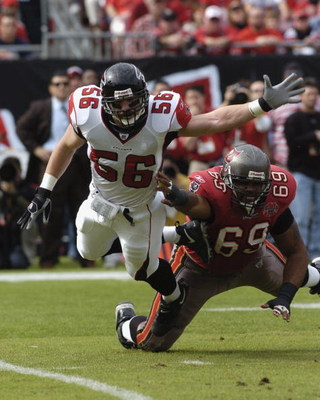 This guy has been one of the best Linebackers in the NFC South. He is a five time Pro Bowl player, and one of the most intimidating tacklers in the division.
I remember watching him play against the Saints. Blood would just drip down his face from his bridge getting cut from his helmet because he would hit so hard.
Stats
Tackles 972
Sacks 17
Interceptions 11
CB: Ronde Barber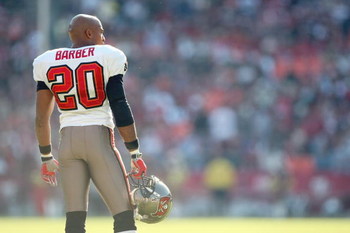 Ronde Barber is another all-time great on this list. He will be in the Hall of Fame once his career is over.
Ronde Barber has been one of the better man-to-man cover guys in the NFL for the past 13 seasons. He has been one of the captains for one of the best defensive teams in this decade.
Stats
Tackles 604
Sacks 12.5
Interceptions 31
Defensive touchdown's 5
CB: Mike McKenzie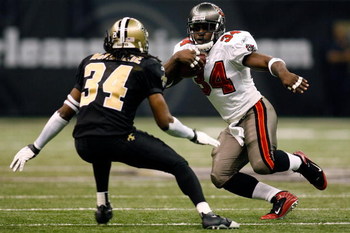 Another one of the best man-to-man cover guys. New Orleans acquired him in a trade in 2004. Unfortunately, he was cut from the roster on March 21 to save cap room.
People don't realize how great of a corner he was for the Saints. Some of this is due to his short seasons due to injury. If you go back and watch game footage everyone threw against whatever corner was on the other side.(i.e. Jason David getting burned for big plays)
Stats with the Saints.
Tackles 186
Interceptions 12
Touchdowns 2
SS: John Lynch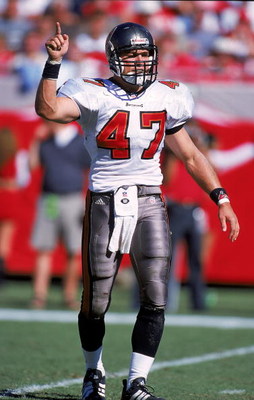 I know Tampa fans were upset to see him go to the Broncos. Heck, even I was upset to see him go. Not only was he the best safety to play in the south, he is another Hall of Fame player player from that amazing Bucs defense of this decade. He should be a first-ballot Hall of Famer.
Stats from 2002-2003
Tackles 151
Sacks 1.5
Interceptions 6
FS: Jermaine Phillips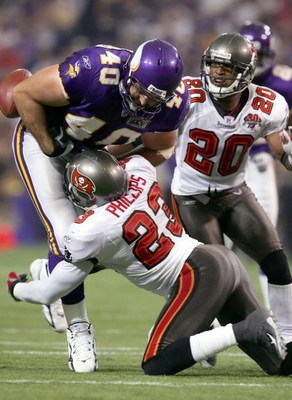 Jermaine Phillips especially the last three years has shown amazing improvement. In the 2006 season, he intercepted 2 passes and made over 100 tackles.
Last year he was going on pace to go over 100 tackles but only wound up playing in 11 games.
They are talking about moving him to linebacker which shows his versatility, which makes him a great football player.
Stats
Tackles 406
Sacks 17
Interceptions 11
Keep Reading

Tampa Bay Buccaneers: Like this team?