New England Patriots' Closing Drive Shows Another Side of the Running Game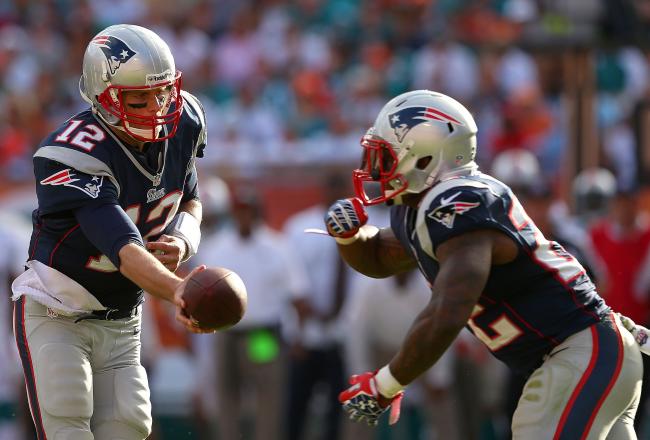 Brady handed the ball off to Ridley 10 times during the final drive for 46 yards.
Mike Ehrmann/Getty Images
Imagine Keanu Reeves on the Patriots sideline talking to New England offensive coordinator Josh McDaniels:
"Pop quiz. It's your ball on the 20-yard line and there's 8:28 left in the game. What do you do? What do you do?"
McDaniels had the answer.
First play: three-yard run by RB Stevan Ridley.
Second play: eight-yard pass to TE Aaron Hernandez.
Third play: eight-yard run by Ridley.
Fourth play: nine-yard run by Ridley.
Fifth play: five-yard run by Ridley.
Four of the first five plays were runs that gained 25 yards. Time to shut off the lights.
After calling just eight running plays in the first half, McDaniels called for a dozen runs on the final drive. Fifty-three of New England's 77 yards gained were on the ground.
More importantly, after a Stephen Gostkowski 20-yard field goal, New England had a 10-point lead and 1:10 remained on the clock. The game was pretty much over.
Closing out games has been a problem for the Patriots of late. This season in particular, the inability to put opponents away with the offense contributed to losses to Seattle and Baltimore.
Steve Mitchell-USA TODAY Sports
With four drives to put those teams away, New England barely moved the ball and failed to score a single point.
This time, McDaniels didn't back down. He went right at Miami's run defense, ranked seventh in the NFL before the game, and challenged the Dolphins to stop what they knew was coming.
By the eighth play, six of them runs, Miami head coach Joe Philbin began calling timeouts to conserve time, but also to give the defense a breather from getting pushed around.
It's been more than a year since the Patriots closed out a game behind the run game. They did it to the New York Jets last October when they fed RB BenJarvus Green-Ellis on nine of 13 plays for 59 yards while consuming 6:12.
This time the Patriots burned 7:18 off the clock as Ridley and the offensive line rose to the challenge.
Winning the battle at the line of scrimmage was even more remarkable considering the O-line did it without their starting guards, as Logan Mankins did not play and Dan Connolly left the game with a back injury.
New England already established it can run the ball this season. But it hadn't proven it can run when they have to. It was something the Patriots did in the days of Antowain Smith and Corey Dillon.
With a reputation of being a high-flying finesse offense, New England showed a different side to the offense. It was not a saggy wrinkle. This was a firm, muscular, physical nose-to-nose side that Miami could not stop.
Don't make too much of the Patriots imposing their will on the ground for the first time this season. It doesn't make a statement, but the ability to run during crunch time would be a valuable weapon if McDaniels believes in it and the offense executes with the same force as they did on Sunday.
Ridley became a 1,000-yard rusher for the first time in his career during that drive. The offense gave opposing defenses something else to think about as well.
Questions? Comments? Send to randolphc82@comcast.net.
This article is
What is the duplicate article?
Why is this article offensive?
Where is this article plagiarized from?
Why is this article poorly edited?

New England Patriots: Like this team?