While most of the attention will be on BCS bowls, college football fans will be pleasantly surprised at the great matchups that the non-BCS bowls will offer.
Just because they don't involve the best teams in the nation doesn't mean that the lesser bowls won't be exciting. There will be plenty of great players to watch in these bowls and that should make for some exciting football.
Here are the best bowls to watch that aren't connected to the BCS.
Chick-fil-A Bowl: LSU Tigers vs. Clemson Tigers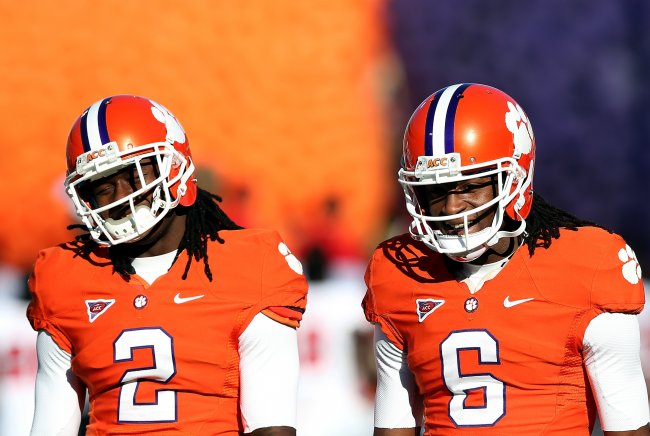 Streeter Lecka/Getty Images
This game will feature the great defense of LSU against the great offense of Clemson. Such a matchup will make this game about as unpredictable as they come.
LSU comes into this contest with the No. 11 defense in the nation which is allowing a shade under 17 points per game.
Les Miles' defense will bring a ton of pressure as proven by their 30 sacks as a team, and LSU's defense finished in the top 10 in interceptions and was No. 6 in the nation in regards to returning those picks for touchdowns.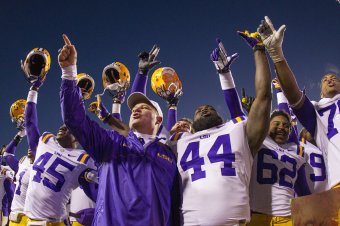 Wesley Hitt/Getty Images
On the flip side, Clemson finished with the No. 6 offense in the country and has a ton of weapons to account for.
Quarterback Tajh Boyd finished as one of the best at his position this season and has two incredibly talented receivers in DeAndre Hopkins and Sammy Watkins, both with the ability to spread the field.
Both teams are on opposite sides of the spectrum as far as what makes them successful, so this one should be an interesting game to watch. If it's low-scoring, the edge will go to LSU. If it's a shootout, the advantage goes to Clemson.
AT&T Cotton Bowl: Texas A&M Aggies vs. Oklahoma Sooners
After barely missing out on a BCS bowl, Oklahoma will have to settle for a showdown with Texas A&M.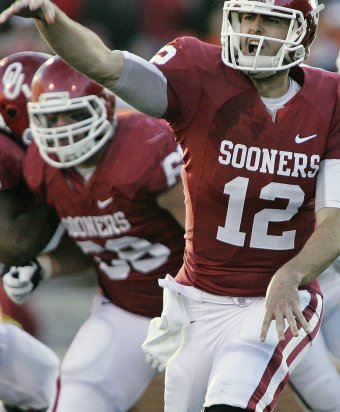 Brett Deering/Getty Images
The Aggies finished the season with the No. 3 offense in the nation led by Heisman Trophy favorite Johnny Manziel. The Texas A&M signal-caller is easily one of the best quarterbacks in the country and can even do damage with his legs, as evidenced by his rushing for 1,181 yards.
Along with Ben Malena, Mike Evans and Ryan Swope, this team has no shortage of offensive weapons to score points with.
Oklahoma isn't too shabby on the offensive end themselves. It does have a guy named Landry Jones behind center who is very good in his own right. To go with Jones, the Sooners will also bring talented offensive players like Damien Williams and Kenny Stills to the party.
The Sooners finished with the No. 12 offense in the nation.
With both teams having an explosive offense and decent defense, there should be plenty of points scored in this game. Expect some great quarterback play and a ton of big gains en route to an exciting scoring fest that will bring a "blink and you'll miss it" theme.
Buffalo Wild Wings Bowl: TCU Horned Frogs vs. Michigan State Spartans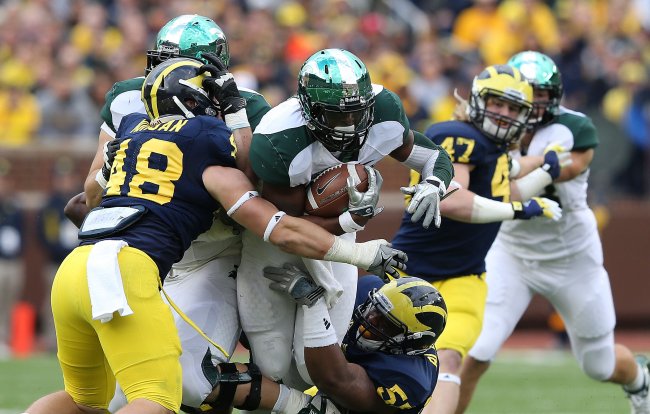 Leon Halip/Getty Images
These two teams aren't the most flashy teams you'll ever see, but they are evenly matched and that should make this a close, nail-biter of a game.
Michigan State comes into this game as one of the top defenses in the country as it holds the No. 10 spot in that category. But beyond their great defense, the Spartans also have one of the best running backs in the country in Le'Veon Bell who compiled over 1,600 yards on the ground this season.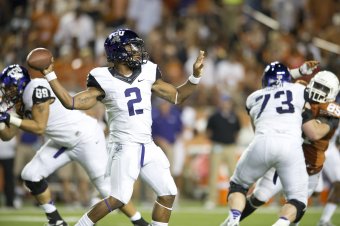 Cooper Neill/Getty Images
TCU also features a solid defense and against the run; the Horned Frogs finished in the top 10 this season. If anyone can stop Bell, it's TCU's stingy defense.
Offensively, the Horned Frogs won't be able to do much against the Spartans, but their quarterback, Trevone Boykin, is one of the more explosive quarterbacks in the nation with an uncanny ability to break the big one.
This matchup isn't one of the more sexy ones, but that doesn't mean this won't be a close game from start to finish that will leave fans on the edge of their seats.