15 Boston Red Sox Players Who Will Bounce Back in 2013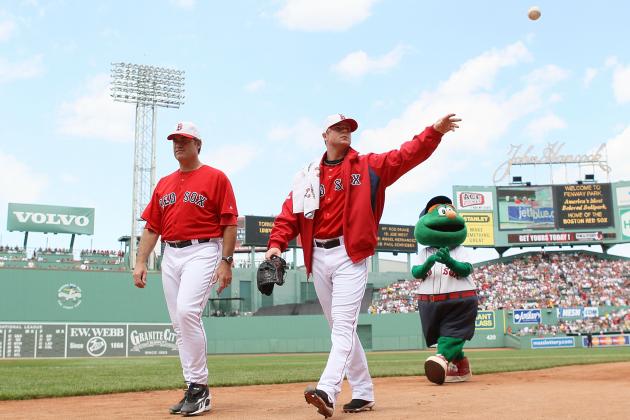 Elsa/Getty Images
The return of John Farrell will help several pitchers, including Jon Lester, bounce back in 2013.
You read that right. 15.
There are 15 players on the Red Sox roster who will be better in 2013 than they were in 2012.
For a team that won just 69 games with a $170-plus million payroll, the Red Sox likely won't regress again in 2013. This is the same team that's averaged 93.2 wins per season from 2002 to 2011.
The Red Sox dumped Bobby Valentine and brought back old pitching coach, John Farrell, as the new manager.
The team acquired David Ross, who's not a great hitting catcher, but he's a great fielding catcher who calls games well and posted a significantly better catcher's ERA than Jarrod Saltalamacchia.
And, on top of that, numerous All-Stars and rising stars will enter the new season healthy or with a chip on their shoulder.
The Red Sox will bounce back from a tumultuous 2012 season, and here are 15 players who will regain form in 2013.
Begin Slideshow

»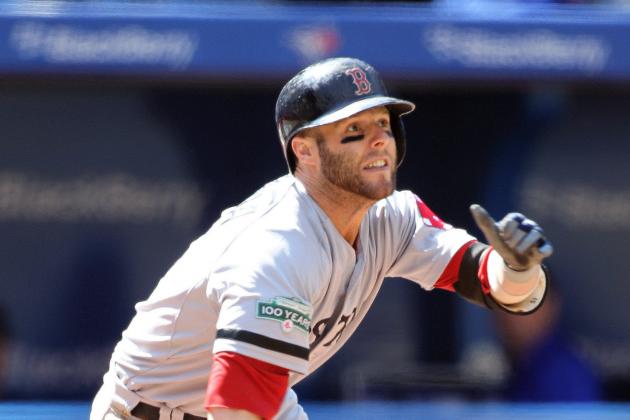 Claus Andersen/Getty Images
Dustin Pedroia was hurt and still played more games than any other Red Sox player in 2012.
Despite being one of numerous Red Sox All-Stars landing on the disabled list in 2012, Dustin Pedroia still played more games than any other player on the team.
However, he did not put up All-Star-like numbers in the 141 games he still played.
Pedroia hit .290/.347/.449 with 39 doubles, 15 homers and 65 runs batted in last season. His AVG was the second-lowest of his career, his OBP was the lowest of his career, and his SLG was the third-lowest of his career.
The three-time All-Star did hit well in the final months of the season though. After the All-Star break, Pedroia hit .318 and slugged .508 with 20 doubles, nine HRs, 32 RBI and 14 stolen bases. He hit .342 in August, .307 in September and .429 in October.
On the field, the two-time Gold Glove Award winner also posted a .992 fielding percentage in 2012, which tied his career-high from 2008 (the first year he won the award).
The second baseman went on the disabled list in May after tearing a muscle in his right thumb, and he also broke his left ring finger in the final week of the season.
But, Pedroia will enter the 2013 healthy and be playing for a possibly expensive contract extension.
Red Sox Nation should expect another great year from Pedroia.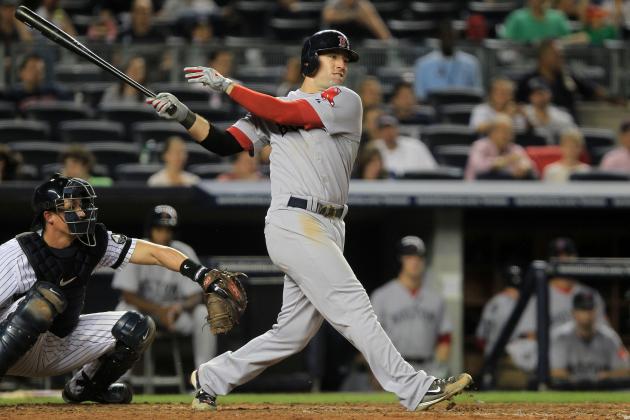 Chris McGrath/Getty Images
Ryan Kalish is eager to recover from two surgeries and return to his 2010 form.
Ryan Kalish appeared to be the future outfielder for the Red Sox with his emergence to the big leagues in 2010.
However, since then he's had two surgeries and played just 36 games professionally in the last two seasons.
Kalish missed the 2011 season after undergoing shoulder surgery in April. Last season, the 24-year-old underwent neck surgery and played just 36 games.
The lefty hit just .229 and slugged a low .260 in 2012, with only three doubles, no homers and five runs batted in.
Kalish did not show flashes of stardom in the field, at the plate or on the base paths like he did in 2010. However, he's just 24 years old and is very hungry to bounce back and enter spring training healthy.
The young outfielder has been working out with Mike Boyle, who is an MLB strength and conditioning coach, and Dan Dyrek, who is a physical therapist, four days a week to get his strength back, according to Pete Abraham of The Boston Globe.
The Red Sox have already signed Jonny Gomes and will likely add another starting outfielder to the mix. But, Kalish still provides depth and can be a great spot starter, if they make that move.
Given his work ethic this offseason to get back to 2010 form, look for Kalish to improve from his disappointing and injury-plagued 2011 and 2012 campaigns.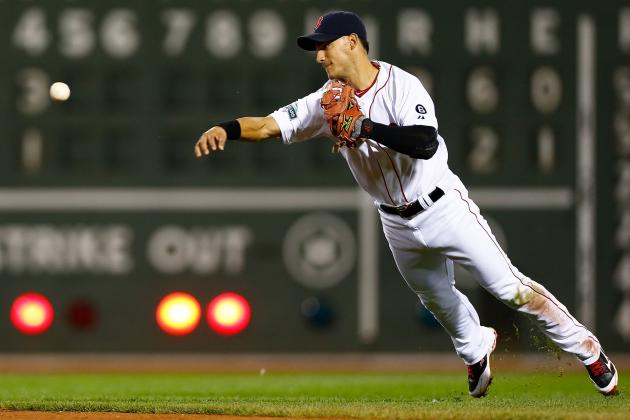 Jared Wickerham/Getty Images
Jose Iglesias showed great potential in the field but hit just .118 in 2012.
Jose Iglesias can't hit any worse than he did in 2012, right?
The slick-fielding shortstop hit well below the "Mendoza Line" last season, batting a mere .118 and slugging a minuscule .191. In 25 games, he hit two doubles, one homer and two runs batted in over 68 at-bats.
Iglesias did not hit well in the minor league level either in 2012, batting .266 and slugging .306 with only 11 extra base hits in 88 games.
Both Dustin Pedroia and David Ortiz have invited Iglesias to work out with them in the offseason to improve his hitting.
If he wants to be a full-time shortstop he needs the hitting help. "If he likes money he will (accept the offer)," Ortiz said in an interview with ESPN Boston.
Iglesias will be 23 years old at the start of the 2013 season. He does not have to be a great hitting shortstop, but if he can at least hit mediocre and get on base, his incredible fielding skills will make up for his lack of offensive production.
Ozzie Smith was a 13-time Gold Glove Award winner at shortstop, and he only hit .262 and slugged .328 over his career.
If Iglesias can hit close to that, which is a significant improvement from the 2012 season, he'll remain a long-term starting shortstop and a minor detriment in a loaded Red Sox lineup.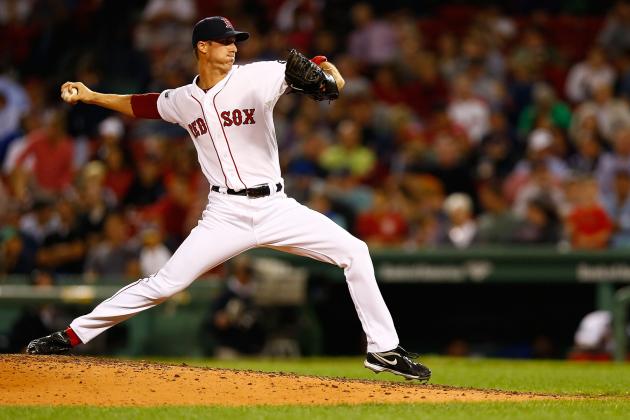 Jared Wickerham/Getty Images
After a hot start, Clayton Mortensen faded in the final months of last season.
He is not a potential star or a big-name player, but Clayton Mortensen was a great relief pitcher in the first three months with the Red Sox.
Then, he started getting shelled after the All-Star break.
Mortensen was acquired from the Rockies before the 2012 season in exchange for Marco Scutaro. The trade not only helped the Red Sox dump salary, but it also got them a former 36th-overall draft pick and a former No. 6 prospect from the St. Louis Cardinals farm system in return.
The lanky, 6'4" and 185-pound pitcher breezed through AAA, posting a 1.91 ERA and 0.96 WHIP, and he got a well-deserved early call-up to the big league level.
From May through July, Mortensen posted great numbers. He had a 1.17 ERA and 0.87 WHIP, allowing just three runs, two home runs, 13 hits and seven walks over 23.0 innings.
However, in the final three months, the former top 10 prospect was abysmal. The 27-year-old posted a 5.68 ERA and 1.63 WHIP, allowing 12 runs, five home runs, 19 hits and 12 walks over 19.0 innings.
Like the rest of the team, Mortensen faded in the final months of the season. The Red Sox closed out July with a 54-51 record, and Mortensen finished with a 1.17 ERA. Then, the team won just 15 of its last 57 games, and the reliever posted a 5.68 ERA over that span.
At least in games at Fenway Park, the lanky pitcher posted a 3.00 ERA, 1.21 WHIP and .213 BAA.
Unlike with Scott Atchison and Rich Hill, who both had better overall seasons, the Red Sox did not allow Mortensen to be a free agent this offseason.
The team should expect a bigger, more consistent year out of Mortensen, who came to Boston in exchange for the 2012 NLCS MVP.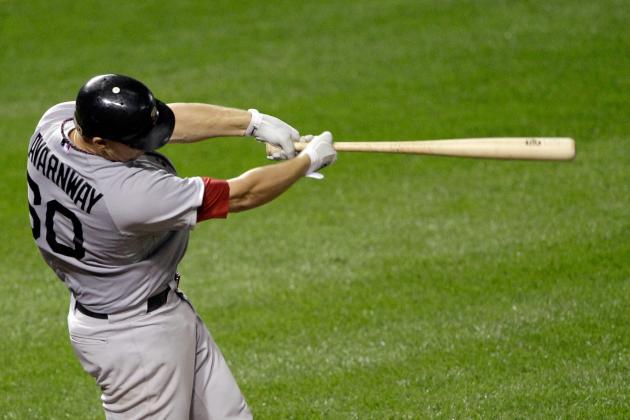 Rob Carr/Getty Images
Ryan Lavarnway needs to prove he's an MLB-caliber player.
Ryan Lavarnway is a highly touted prospect that's been in the Red Sox farm system since 2008.
Lavarnway entered the 2012 season as the No. 9 prospect in the Red Sox system. On top of that, Baseball America ranked the top 10 prospect as the "Best Power Prospect" in the International League in 2011, and the "Best Defensive Catcher" in the International League in 2012.
But in two stints at the major league level, the catcher has not performed like an MLB-caliber player. And, his offensive numbers in 2012 were much worse than those from the 2011 season.
In 2011, Lavarnway hit .295 and slugged .612 with 18 doubles, 18 homers and 55 RBIs in AAA. Then in 2012, he hit .295 and slugged .439 with 22 doubles, eight HRs and 43 RBI in the minor league level.
In 2011, Lavarnway hit .231 and slugged .436 with two doubles, two homers and eight RBIs over 17 games in the MLB. Then in 2012, the current 25-year-old hit just .157 and slugged .248 with eight doubles, two HRs and 12 RBIs in 46 games.
Like Iglesias, Lavarnway is going to have to hit his way into the starting lineup on a regular basis. And like Iglesias, it would be surprising if Lavarnway hit any worse than he did in 2012, given his abysmal numbers.
With the addition of David Ross, Lavarnway or Jarrod Saltalamacchia will likely be traded. Lavarnway is not any better of a defensive catcher than Salty (both have high catcher's ERAs and low caught stealing percentages), but he's a much younger option with greater upside.
That is, if he can bounce back in 2013 and live up to his high expectations.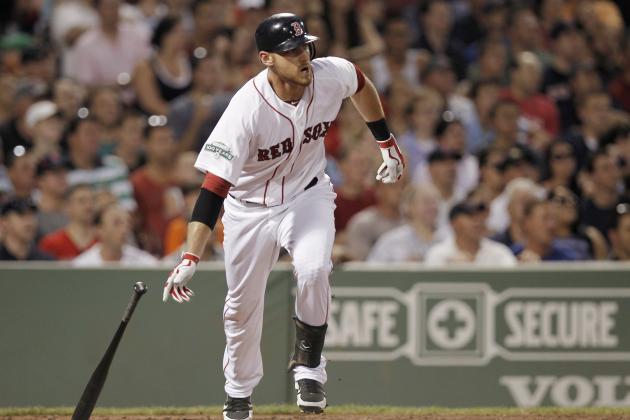 Winslow Townson/Getty Images
The Red Sox should be excited to see how well Will Middlebrooks can perform over the course of a whole season.
Will Middlebrooks was a pleasant surprise for the Red Sox in 2012, but his emergence lasted only 75 games.
After earning the starting job at third base over fan favorite Kevin Youkilis, Middlebrooks broke his wrist and was placed on the 60-day DL in August, which ended his season.
Prior to the injury, the team's No. 1 prospect during the 2012 season hit .288 and slugged .509 with 14 doubles, 15 homers and 54 runs batted in.
In his first month with the team, the third baseman hit .316 and slugged .579 with seven doubles, six HRs and 21 RBI. Prior to the All-Star break, he hit .298 and slugged .538 with 11 doubles, 10 HRs and 37 RBI over 48 games.
However, his season was cut short just one month later.
The 24-year-old will enter the 2013 healthy and as the team's starting third baseman of the future.
If Middlebrooks' numbers prior to the All-Star break played out for a whole season over 162 games, he was on pace for approximately 30 doubles, 32 home runs and 117 runs batted in.
Look for the former No. 1 prospect in the farm system to emerge as one of the team's best hitters again in 2013.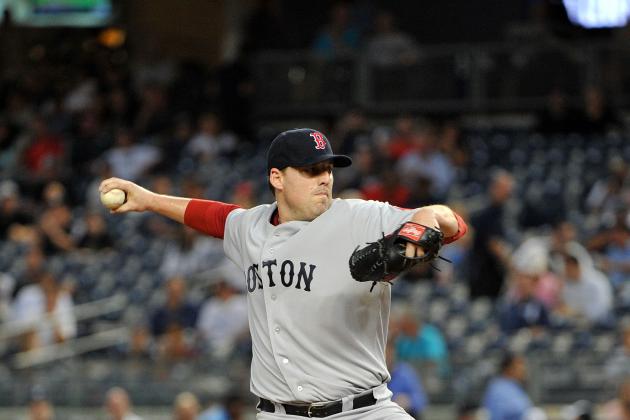 Christopher Pasatieri/Getty Images
John Lackey looks to bounce back from Tommy John surgery after a terrible 2011 season.
Hopefully John Lackey wins more games than he did in 2012 and posts a much better ERA than he did in 2011.
After three years, Lackey has not lived up to his five-year, $85 million deal, which started in 2010.
The former Angel missed all of the 2012 season after undergoing Tommy John surgery. His 0 starts last season might have helped the team more than his 28 starts did in 2011.
In 2011, Lackey posted a 12-12 record, 6.41 ERA, 1.62 WHIP and .308 BAA against. Only Daisuke Matsuzaka's numbers from 2012 were worse than those.
On the bright side, the struggling starting pitcher will be re-united with Mike Napoli, who signed a three-year deal with the Red Sox on Tuesday. Napoli caught for Lackey from 2006 to 2009, and during that span, Lackey posted a 3.55 ERA and 1.26 WHIP.
The 32-year-old had all of 2012 to heal his injury, and he was even throwing productive side sessions towards the end of the season.
Lackey will enter 2013 as a healthy starting pitcher, and Ben Cherington expects to "see a very good version of John Lackey in 2013," according to ESPN Boston.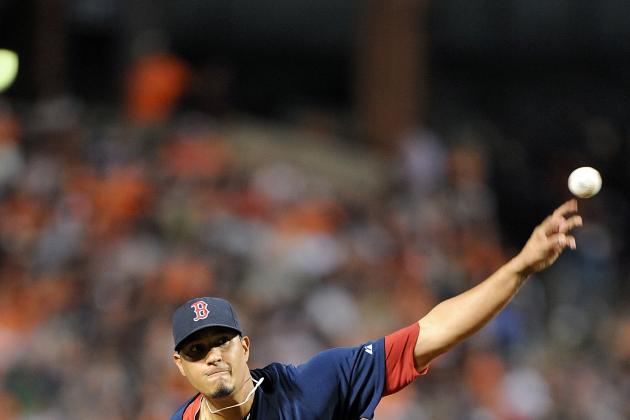 Greg Fiume/Getty Images
Felix Doubront showed early potential but finished 2012 on a disappointing note.
Felix Doubront is one of several starting pitchers who will likely benefit from the return of John Farrell.
In his rookie season, the southpaw posted a 4.32 ERA, 1.48 WHIP and .270 BAA at just 22 years old. In AAA in 2010, he also posted a 3.16 ERA and 1.41 WHIP.
Since then, Doubront recorded a 6.10 ERA and 1.94 WHIP in 2011 and a .4.86 and 1.45 WHIP in 2012. Even in AAA in 2011, the lefty struggled and had a 2-5 record with a 4.22 ERA.
Prior to the All-Star break in 2012, Doubront posted a 9-4 record and an average 4.41 ERA, but after the break, he had a 2-6 record with a 5.54 ERA.
Doubront will enter 2013 at just 25 years old, and he's a southpaw with incredible stuff. Just two years ago, he entered the 2011 season as the team's No. 5 prospect.
Similar to Mortensen, as the Red Sox played terribly at the end of the 2012 season, so did Doubront.
In 2013, Doubront will bounce back from his terrible second half of the 2012 season and pitch more like he did in the first two months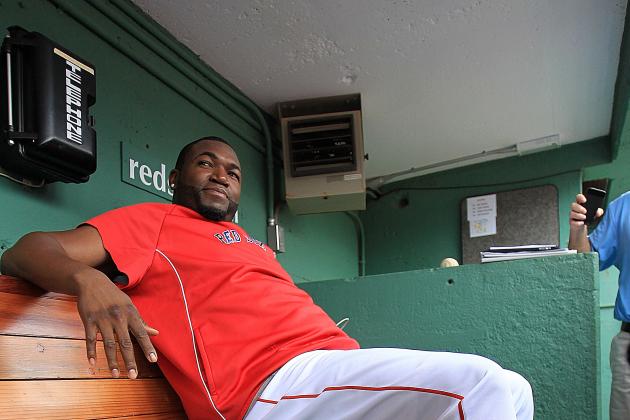 Jim Rogash/Getty Images
David Ortiz played just 90 games in 2012 after suffering an Achilles injury.
David Ortiz was one of the best hitters in the league until he injured his Achilles and landed on the disabled list, which prematurely ended his 2012 season.
The designated hitter played just 89 games from Opening Day through July 16 and one game on August 24 in 2012.
During those 90 games, Ortiz hit .318 and slugged .611 with 26 doubles, 23 homers, 60 runs batted in and a .415 on base percentage. Over the course of 150 games, an average season for him, Big Papi was on pace for approximately 43 doubles, 38 HRs and 100 RBI.
When healthy, Ortiz is one of the best hitters in the game. Last year, he proved it, and between 2010 and 2011, he averaged 38 doubles, 30.5 homers and 99 RBIs, while dropping his strikeout total from 145 to 83.
And with the addition of Napoli and the return of Middlebrooks to protect Ortiz, the eight-time All-Star and five-time Silver Slugger Award winner will likely have another solid year.
The 37-year-old likely won't provide MVP-caliber numbers in 2013, but given a full, healthy season, Ortiz certainly will bounce back and be a major contributor for the Red Sox again.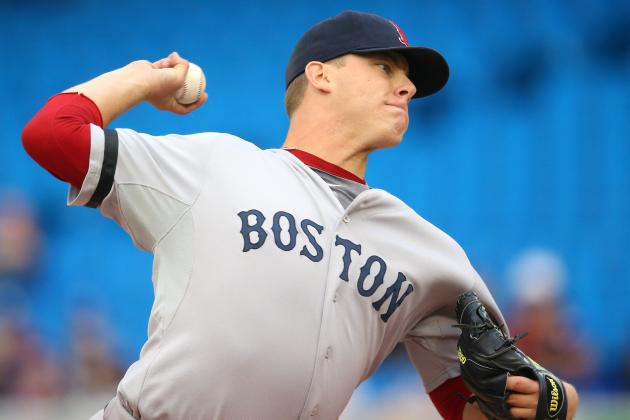 Tom Szczerbowski/Getty Images
Andrew Bailey looks to bounce back from his thumb injury in 2012 and take over as the Red Sox closer in 2013.
Andrew Bailey was expected to replace Jonathan Papelbon as closer in 2012, but he did not make a relief appearance until August 14.
Over just 19 games, the closer's stats were well below average in 2012, posting a 7.04 ERA, 1.89 WHIP and .318 BAA. But his numbers weren't so terrible, and they inflated in the final weeks.
Through Sept. 4, Bailey had two saves, a 1.35 ERA and 1.05 WHIP over nine appearances. Through September 18, he had four saves, one win, a 3.09 ERA and a 1.20 WHIP over 14 appearances.
Then, in the final five appearances of the season, the closer posted a 22.50 ERA and 4.09 WHIP.
Hopefully, Bailey can enter the 2013 season fully healthy and ready to close out games. Before joining the Red Sox, he recorded a 3.24 ERA in 2011, 1.47 ERA in 2010 and 1.84 ERA in 2009 with the A's.
The Red Sox can count on Bailey being the full-time closer in 2013, instead of Alfredo Aceves.
Otto Greule Jr/Getty Images
Alfredo Aceves will put up better numbers in 2013 as a middle reliver, instead of the Red Sox closer.
Speaking of Alfredo Aceves, with Andrew Bailey taking over as closer, Aceves will move back to middle reliever, where he's recently been more dominant.
In 33 save opportunity games last season, Aceves posted a 5.89 ERA and a 1.28 WHIP. In 34 non-save opportunity games from Opening Day until Sept. 8, the reliever posted a 3.15 ERA and a 1.18 WHIP, while averaging exactly 9 K/9.
Also on the bright side for Aceves, he will no longer have to deal with Bobby Valentine, with whom he often feuded in 2012. John Farrell is the new Red Sox manager.
Farrell has also taken note of how good Aceves can be.
"He can do some things in the game, he may be the only guy who can do them," Farrell said of the former closer in an interview with ESPN Boston. "With the frequency with which he can pitch, to the number of pitches that are thrown, he's a talented guy."
Aceves was effective as a non-closer in 2011, as well, posting a 2.61 ERA as a reliever that season.
The soon-to-be 31-year-old should regain his form not pitching as a full-time closer, and Aceves will have a bounce-back season in 2013.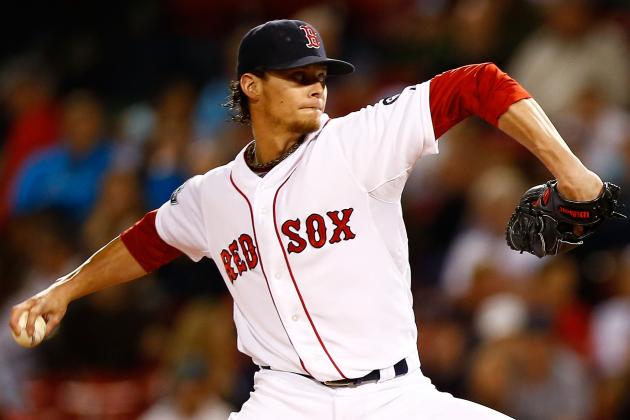 Jared Wickerham/Getty Images
Clay Buchholz should bounce back and return to old form in 2013.
Clay Buchholz is another pitcher who could benefit from the new manager and old pitching coach. In 2012, he had arguably the worst season of his career, excluding his 2008 rookie season.
Last year, Buchholz posted an 11-8 record with a 4.56 ERA, 1.33 WHIP and .263 opposing average.
However, 2012 wasn't so terrible for the young pitcher.
From June through September, the starter recorded a 2.95 ERA and 1.07 WHIP. Buchholz even recorded a 2.40 ERA in June and a 2.45 ERA in July, respectively.
The 28-year-old is not far removed from his Cy Young-caliber season in 2010, when he posted a 17-7 record, 2.33 ERA and 1.20 WHIP.
Buchholz will once again enter the 2013 season healthy and re-united with his old pitching coach, who he once thrived with.
Buchholz should post similar numbers to those he did from June through September in 2012 and have a bounce-back year in 2013.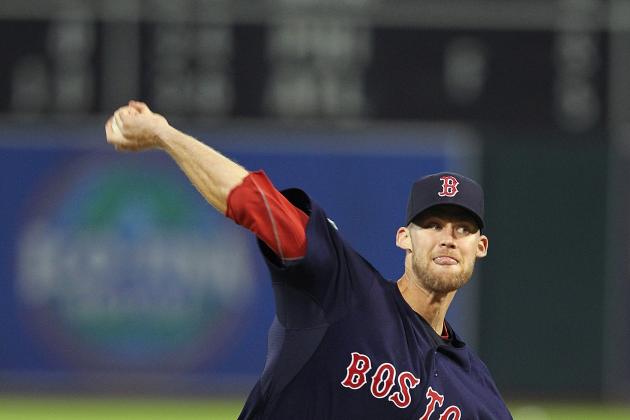 Tony Medina/Getty Images
Hopefully Daniel Bard can return as a dominant set-up man again in 2013.
Remember him? The once-dominant reliever, turned starter that disappeared for almost three months in 2012?
The Red Sox can once again count on Daniel Bard as a reliever entering 2013 and hopefully never use him as a starter again. Bard could be one of the biggest additions to the 2013 roster, if he can pitch like he did prior to 2012's disastrous experiment.
As a starter, the flamethrower was not much of a dominant flamethrower, losing velocity and posting a 5.30 ERA, 1.62 WHIP and 5.63 K/9 over 10 starts last season.
When he returned as a reliever, Bard did not return to old form, and posted a terrible 16.20 ERA and 3.00 WHIP in seven relief appearances.
The Red Sox would love to have their dominant set-up man back. From 2009 to 2011, Bard had a 2.88 ERA, 1.06 WHIP and 9.73 K/9.
In his last season working with Farrell, the true flamethrower posted an incredible 1.93 ERA, 1.00 WHIP and 9.16 K/9 in 2010.
If Farrell can help Bard return to his old form as a dominant relief pitcher, the 27-year-old and former first-round draft pick should rebound and have a big year in 2013.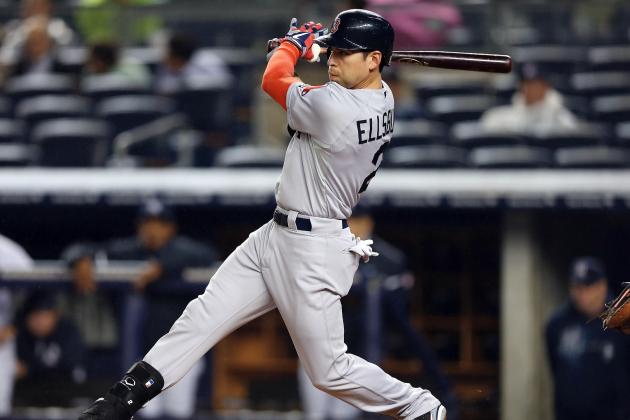 Elsa/Getty Images
Jacoby Ellsbury will need to have a healthy, impressive contract year before becoming a prized free agent next offseason.
Jacoby Ellsbury could have the biggest year out of everyone on this list in 2013. He's financially going to need it more than anyone else on the team.
When healthy, Ellsbury is an elite center fielder in the league, but he played just 74 games in 2012.
Last season, the 2011 MVP runner-up hit just .271 and slugged .370 with 18 doubles, four home runs, 26 runs batted in and 14 stolen bases. The year before that, Ellsbury hit .321 and slugged .552 with 46 doubles, 32 HRs, 105 RBI and 39 SB.
The 2011 All-Star, Gold Glove Award winner and Silver Slugger Award winner enters the final year of his contract.
Unless the 29-year-old is traded away this winter, look for a healthier Ellsbury to have another huge year in 2013. The Scott Boras client would love to pad his resume with an exceptional contract year before signing a monster contract in next year's offseason.
The Red Sox already coughed up a seven-year, $142 million deal for Carl Crawford. Ellsbury needs a bounce back season in 2013 to sign a similar deal to that one.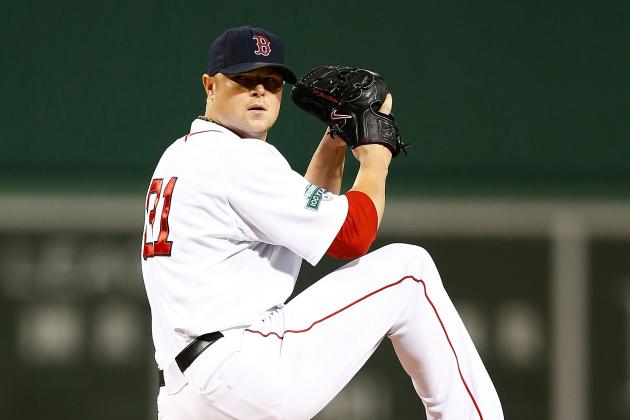 Jared Wickerham/Getty Images
Jon Lester will bounce back and hope to return to elite form in 2013, after posting career-low numbers in losses, ERA, WHIP and BAA in 2012.
Jon Lester is arguably the Red Sox player with the most pressure to bounce back in 2013. He's even been rumored as a possible trade to the lowly Royals (who won three more games than the Red Sox did in 2012).
But if one thing's for sure, the two-time All-Star needs to bounce back from a terrible 2012 season, and the former ace is excited to work with his former pitching coach again in 2013.
"Welcome back John!! Can't wait to get back to work!! #RedSox," Lester immediately tweeted after the signing of the new manager.
In 2012, the southpaw posted career-high numbers in losses (14), ERA (4.82), WHIP (1.38) and BAA (.273), since becoming a full-time starter in 2008. He also recorded just 166 strikeouts, the second-lowest total over that span.
Even at home, Lester struggled, posting a 3-10 record and 6.31 ERA, while allowing 15 home runs in front of his home crowd.
On top of that, August was the only month last season in which the former ace recorded an ERA below 4.00 (3.59). The month before that, he had a horrible 9.36 ERA with a 0-3 record and .327 BAA.
However, last season he was with Bobby V. Next season he will be with his old friend, Farrell.
From 2008 to 2010 working with his old pitching coach, Lester averaged approximately a 17-8 record and 207 innings with a 3.29 ERA, 1.24 WHIP and 201 strikeouts per season.
Look for Lester to be the Opening Day starter for the third year in a row, succeed again with Farrell and have a much-needed bounce-back year in 2013.
He might just need it more than any other player on the current roster.