2013 NFL Draft: Five Future Busts Teams Should Avoid in Opening Rounds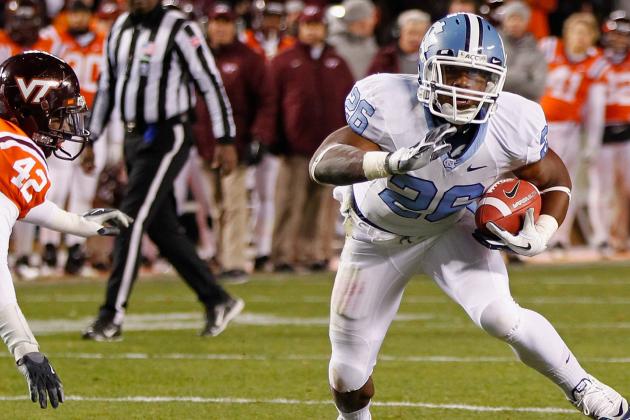 Geoff Burke/Getty Images

Throughout the history of the National Football league there has been quite a bevy of first and second round selections that have unexpectedly formed into complete busts, such as high expectation draft picks Jamarcus Russell and Ryan Leaf. This year there seems to be quite a few prospects that may have NFL bust written all over them, despite how successful they performed in college.
From North Carolina running back Giovani Bernard, to USC quarterback Matt Barkley and West Virginia wide receiver Tavon Austin, there are many players in the upcoming 2013 NFL Draft that may seem to have next level potential but really will eventually become complete busts.
It may be hard to believe but with the current talent in the NFL at their respective positions, and the extreme depth in the upcoming draft, down the road of their professional careers they will not be able to adapt to the faster and more physical pace of the NFL game. More than likely they will become nothing but a big bust, mistake, and a complete waste of a draft pick.
The following five prospects should be approached with caution by NFL organizations when deciding which players to draft.
Begin Slideshow

»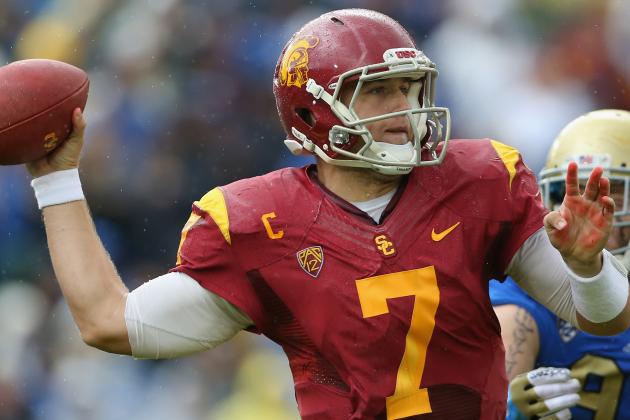 Jeff Gross/Getty Images

Matt Barkley may have recorded over 3000 passing yards the past two seasons, however, the competition wasn't anything out of control and he lost some games that should have been easy wins. Barkley is also much like former USC quarterback Mark Sanchez.
Sanchez has had the opportunity to man the starting position for four seasons with the New York Jets and has not contributed in the high-quality productive manner expected of him. I see the same thing happening with Matt Barkley at the next level, if he is even given the opportunity which Sanchez was so blessed to receive.
There are quite a few quarterbacks I would take in the later rounds and have more confidence in than selecting Matt Barkley with a pick in one of the first two rounds.
Height: 6-2
Weight: 230 pounds
2012 College Season Stats: Completed 246 of 387 attempted passes for 3273 yards, 36 TDs, 15 INTs, a 63.6 CMP%, 157.6 QB rating, and was sacked 14 times
Current Draft Projection: Late First Round / Mid Second Round (May go first round if team is desperate for a quarterback)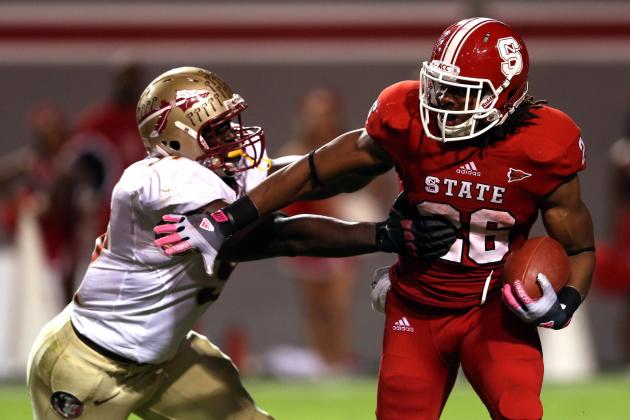 Streeter Lecka/Getty Images

To many Football experts, and maybe even some NFL organizations, Cornellius Carradine is seen as one of the best defensive players in the 2013 NFL Draft. There is no doubt that Carradine has some talent, but I do not believe he is worth being selected any earlier than the late third round. And it seems as if he may go in the second, maybe even the first.
The Florida State schedule wasn't very impressive this season and Carradine, as well as the rest of the team, took advantage of the weaker opposition. Carradine has shown some flashes of greatness at the collegiate level, however, there is no way he is a first or second round talent. He will probably have one or two successful NFL seasons throughout his professional career, but other than that I see him as being a basic role player.
Carradine's effectiveness at the next level really depends on which team decides to draft him. In certain schemes and with certain coaches Carradine could thrive. However, I believe by the end of his career Carradine will have been nothing more than an average player. And that is a complete waste of a first or early second round pick.
Height: 6-5
Weight: 265 pounds
2012 College Season Stats: Recorded 47 solo and 33 assisted tackles, along with 13.0 tackles for loss, one fumble forced and 11.0 Sacks
Current Draft Projection: Early to Late Second Round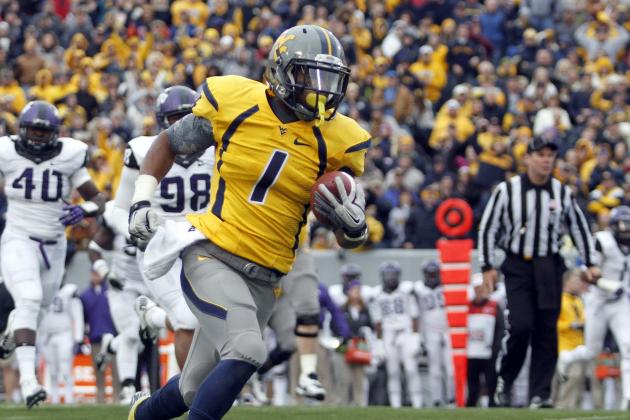 Justin K. Aller/Getty Images

Nowadays there are more and more smaller players beginning to assume important roles on certain teams because of their elusiveness and speed. Although Tavon Austin seems like he could be one of those Wes Welker or Percy Harvin type skill players, his NFL potential isn't very thrilling.
Austin has put up some incredible numbers while at WVU, but if he has any hope of competing in the National Football League he will have to put on some more muscle or else he will be nothing more than a returner on special teams. If a franchise decides to select Austin before the third round it really is a waste of a pick. I would only take a chance on Austin if he was available after the fifth round. Bring him in and see if he can be developed.
Drafting a player in the first or second round that is clearly not NFL-ready on any team is foolish. I only see Austin thriving at the next level if he's selected by the right team. There is too much talent available in the draft to even think about taking Austin in the first few rounds.
Height: 5-9
Weight: 174 pounds
2012 College Season Stats: 110 receptions for 1259 yards and 12 touchdowns, along with 61 rushing attempts for 598 yards and three touchdowns
Current Draft Projection: Late First to Late Second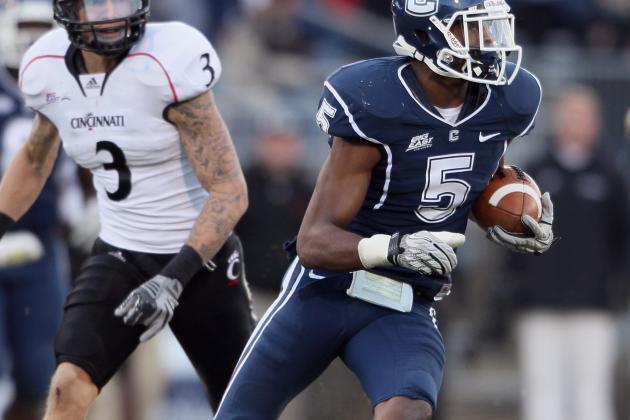 Elsa/Getty Images

Blidi Wreh-Wilson is currently projected to be drafted about somewhere in the third round, however, I still believe that is too high. Wreh-Wilson proved to be a solid cover corner at Connecticut, but lets face the reality of the situation. He faced, at best, average competition and the football team as a whole struggled throughout the entire season.
Wreh-Wilson does have great size for his position, but his game will not translate and I do not believe a team should take a chance on him unless they could snag him in the sixth or seventh rounds. Or Maybe even as an undrafted free agent. With his size and the coverage he has exhibited in college he could someday be a decent cornerback. But he is definitely not second or third round talent. He will need time to develop which means his stock and value should be much lower entering the 2013 NFL draft.
Height: 6-2
Weight: 190 pounds
2012 College Season Stats: Recorded 31 Solo tackles, 15 assisted tackles(46 total tackles), one interception, and ten pass deflections
Current Draft Projection: Early to Late Second/ Maybe Early Third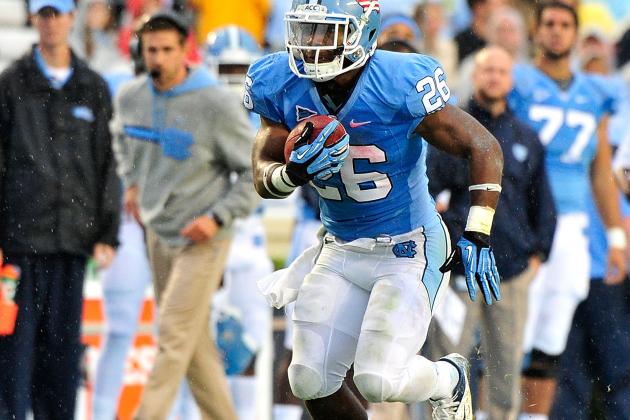 Grant Halverson/Getty Images

Giovani Bernard is currently rated as one of the top running backs, if not the very best, of the 2013 NFL Draft class. After his spectacular performances this past season the attention is absolutely warranted, however there are quite a few running backs entering the NFL in 2013 that possess more talent and promise for the future.
Bernard has declared for the NFL Draft this year as a red-shirt sophomore and I believe that is a terrible mistake. It is definitely understandable with the attention he has been receiving and the current draft stock he holds, but Bernard would absolutely benefit from staying in college one more season. In the 2013 NFL Draft there are at least five running backs that are just as good, if not better, as Giovani Bernard.
Height: 5-10
Weight: 205 pounds
2012 College Season Stats: 184 rushing attempts for 1228 yards and 12 touchdowns, along with 47 receptions for 490 yards and five touchdowns
Current Draft Projection: Mid Second Round to Mid Third Round