WWE Worst of the Week: McMahon, Ziggler and More!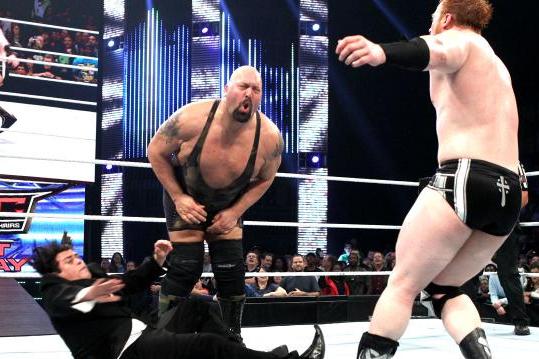 photo from wwe.com
WWE gave us our Christmas gifts early this year.
But for the 99 percent of us who don't enjoy Hornswoggle and Khali matches, the WWE has left us wondering where we can return those gifts.
Hey, at least we got a man getting hit in the crotch. That's always funny...right?
We're coming up on TLC, and WWE had to scramble to find a replacement main event.
The Shield vs. Team Hell No and Ryback should be interesting, but it's always a bummer when a star goes down.
We can only hope that Punk's injury doesn't keep him out of action for long.
Well, now that the kind words are out of the way, it's time to get annoyed!
Let's take a look back at WWE's worst of the week from December 2-8, 2012.
Begin Slideshow

»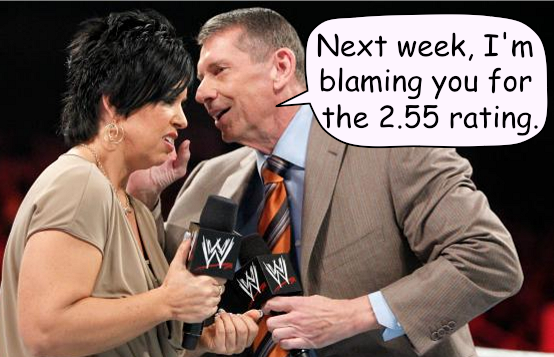 photo from wwe.com
WWE basically did this same skit with Vince McMahon and Vickie Guerrero a few weeks ago.
It was so bad that the WWE decided to do it again!
First off, why did Vince need to make fun of Vickie's looks?
Jerry Lawler, John Cena, AJ Lee and now Vince have all made fun of her physical appearance, and it's getting really old.
Make fun of Vickie's delusional claims, her sucking up to authority or her failures as a GM. Keep it within the story, no need to be a bully.
Anyway, when Vince used to show up, it meant something. These past two times have been big letdowns.
Also, he's punishing Dolph Ziggler because of the AJ/Cena accusations, which kind of ended up being true?
I'm not sure I see a correlation between that and making Ziggler put his Money-in-the-Bank briefcase on the line.
If he has more power than Vickie, he could have popped in at any time and put a stop to that.
But then, we wouldn't have been treated to this hysterically unfunny TV segment!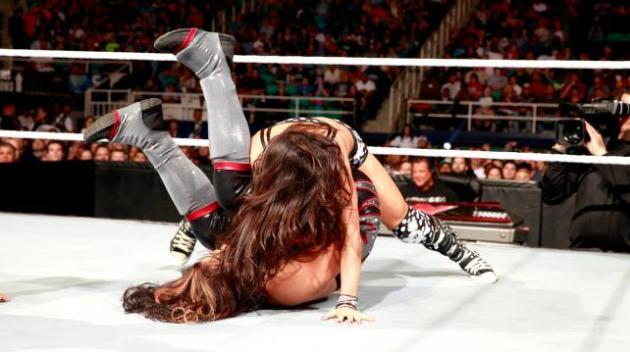 photo from wwe.com
I'm becoming convinced that WWE has no idea how to book a feud these days.
For fans who ordered Survivor Series, there was a segment on the show that ended with Tamina Snuka attacking AJ.
Basically, that was Chapter 1 of the feud.
Essentially, there was no Chapter 2.
AJ never seemed concerned with having the crap beat out of her. She was too busy with her relationship with Cena to care.
Instead, WWE went to the end of the story. AJ defeated Tamina cleanly.
Sure, maybe those two will continue on. But WWE already gave us the ending.
So, if you ordered Survivor Series, you paid to watch a feud that went nowhere.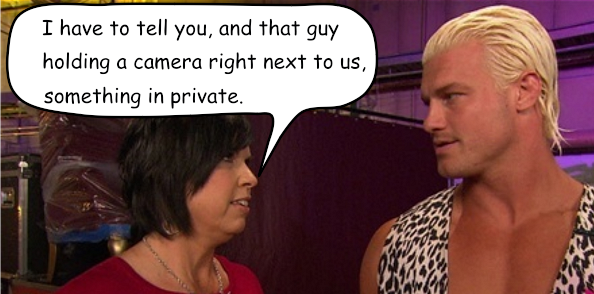 photo from wwe.com
Some will say this is a nitpick, but WWE has no consistency in how it presents its own television shows.
During the Sheamus and Cena backstage segment, Cena looked directly into the camera while Sheamus was doing his best attempt at a standup routine.
It was bad comedy, but hey, whatever.
Later during the show, Dolph and Vickie had a segment together.
He was about to give her a kiss, when she looked around to see if anyone was looking.
However, she didn't notice the cameraman two feet in front of her.
She then left the room only to have another camera right in her face.
So what is it? Can the wrestlers see the camera or not? Seriously, just pick one and go with it!
Every other TV show can at least get this fundamental logic right.
On Breaking Bad, Walter White doesn't look at the camera and wink when something funny happens.
Some shows do acknowledge the camera, like Malcolm in the Middle did, but those shows stay consistent with which character can break the fourth wall.
Even in TNA, there are roving cameramen who secretly tape things. Yes, it can suspend belief at times, but at least it's consistent.
If WWE is going to borrow a few things from TNA, this would be a great one to take.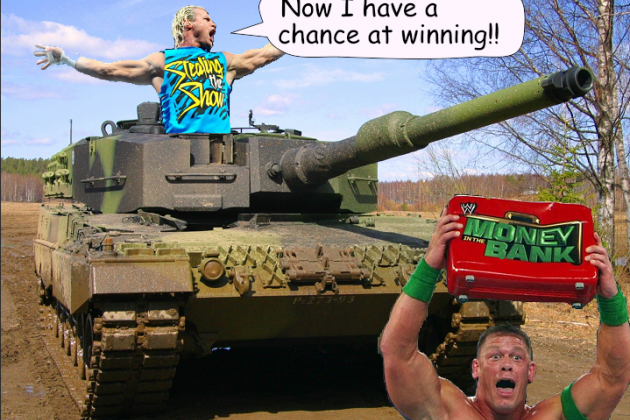 photos from wwe.com and bhmpics.com
Again, I'm becoming convinced that WWE has no idea how to book a feud these days.
Whoever wins the next Money in the Bank match, cash in your briefcase as soon as you can.
Otherwise, the crazy owner may make you put it on the line whenever he feels like it.
Why didn't Ziggler bring his briefcase to SmackDown and attack Big Show after his match with Daniel Bryan?
He could have cashed in right there!
The bigger problem is the setup to Cena vs. Ziggler.
To promote their match at Survivor Series, this is what has gone down the past two weeks:
-November 26th on Raw: John Cena defeated Dolph Ziggler cleanly, on an injured leg.
-November 30th on SmackDown: Ziggler knocked out Cena with a briefcase, only to receive an Attitude Adjustment at the end of the show.
-December 3rd on Raw: Cena again defeated Ziggler cleanly, this time in a tag match.
Ziggler is 0-3, and now the WWE wants us to pay to watch Round 4.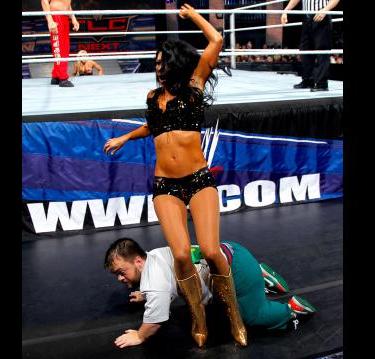 photo from wwe.com
Am I missing something here, or is Hornswoggle actually the heel in this feud?
First off, he sprayed Rosa Mendes in the face with water when she was actually going to give him a kiss.
Then, when she confronted him, he made a joke about no one wanting to kiss her.
On SmackDown, he tripped her for no reason.
It all went down when The Great Khali and Hornswoggle took on Primo and Epico.
First off, the match didn't need to be booked as Khali defeated those guys by himself in one minute just two weeks ago.
During the match, Rosa jumped up on the ring apron to get the ref's attention. The thing is, she didn't distract Khali. Khali already had Primo on the ground, so her interference didn't achieve anything.
Then, she jumped to ringside and did her shake thing as if she actually accomplished something.
Hornswoggle then set himself up behind her so she'd trip. She chased him, and then Natalya beat her up. That also makes her a heel!
After the match, Hornswoggle, Natalya and Khali danced for us.
They're basically picking on an innocent woman and gloating about it. They're a bunch of jerks.
Oh and besides, the whole thing was absolutely embarrassing and terrible.
I can't wait until they're the tag team champions!
Well, that's all for this week. Agree? Disagree? Sound off below and thanks for reading!