Bryce Brown has exploded on to the national scene with a couple of monster games for the Philadelphia Eagles, but where did this young man come from?
In the past two games, Brown has rushed for 347 yards and four touchdowns on just 43 carries—an astonishing 8.07 yards per carry.
It seems like he came out of nowhere, but the truth is that Brown's potential to be great was never in question.
Believe it or not, he was actually a more coveted recruit coming out of high school than Trent Richardson, having won the Hall Trophy—the award given to the best high school player in the country. He made his mark by tallying more career yardage at Wichita High School than Barry Sanders (h/t Rivals.com).
Brown's speed has been one of the things that's always set him apart—as we've seen the past two weeks for the Eagles. He was clocked in high school with a 4.32-second 40-yard dash time, per Scouts.com.
Unfortunately, his career took a few wrong turns at the collegiate level, and the trouble started before he ever stepped foot on campus.
His handler, Brian Butler, was under investigation for the way he handled Brown's status as an amateur (h/t NYTimes.com), though Brown was later cleared to play in the NCAA.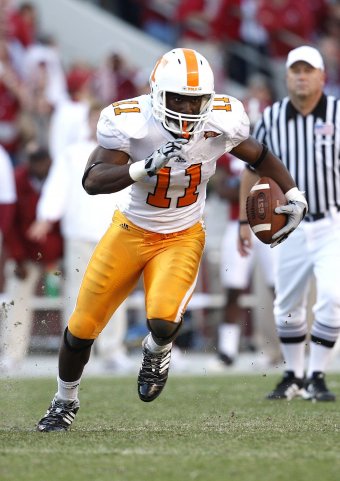 Kevin C. Cox/Getty Images
He spent his freshman year with the Tennessee Volunteers, rushing for 460 yards with three touchdowns on 101 carries backing up Montario Hardesty.
Then, right as spring practices began kicking off, Brown abruptly announced his decision to leave the Vols. Derek Dooley decided not to release Brown from his scholarship, so when he ended up enrolling into Kansas State University, he was officially a walk-on (h/t FOXSportsSouthwest.com).
By the time he was eligible to play for the Wildcats (Brown had to sit one year out, due to college transfer rules), he suddenly left the university for undisclosed reasons and never returned (h/t CollegeFootballTalk.com).
Kansas State head coach Bill Snyder said at that time, per the CFT report, "Bryce is going through some difficult times right now and we'll try to help him all we can."
Brown's next step in his football career was to enter the 2012 NFL draft, where he was taken by the Eagles in the seventh round.
If not for LeSean McCoy's concussion in 11, Brown would likely have not been given the opportunity to shine.
But that's the way it goes in the NFL. One player gets injured, and the next man steps up.
Brown has certainly stepped up for the Eagles, and given the way the franchise is evaluating all its young talent at the end of another wasted season, he'll continue getting chances to shine.
We all knew Brown had the talent to put up gaudy numbers in the NFL. Now, it's up to him to make the most of his opportunity.
Now, if he could just work on his ball security...
Follow me on Twitter @JesseReed78 and check out my weekly NFL picks at Pickfactor.com