Likeliest Candidates to Be the Next LeBron James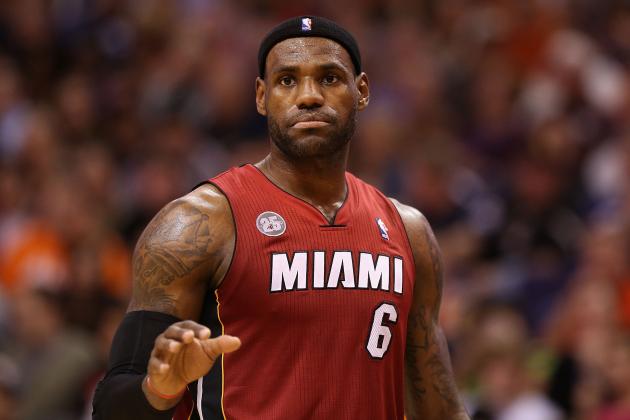 Christian Petersen/Getty Images
Miami Heat's LeBron James
LeBron James led the Miami Heat in scoring, rebounding and assists last season.
In the process, he was named league MVP.
Of the last 10 players to win the MVP award, only James did so while also leading his team in scoring, rebounding and assists.
Derrick Rose and Kobe Bryant only led their teams in scoring and assists when they were named MVP, but not rebounding.
Dirk Nowitzki, Kevin Garnett, Tim Duncan and Karl Malone only led in scoring and rebounding.
Michael Jordan, during the 1997-98 season, and Allen Iverson in 2000-01, only led their teams in scoring on their way to being named MVP.
Steve Nash only led his team in assists.
But during his MVP run a year ago, James averaged 27.1 points, 7.9 rebounds and 6.2 assists to lead his team in all categories.
In identifying the "likeliest candidates to be the next LeBron James", I've highlighted four players who have the potential to one day do what James did last season.
These players would have to win an MVP award at some point in their career while leading their team in scoring, rebounding and assists that season.
Included as possible candidates are all players who will finish this season at 24-years old or younger. James will turn 28 later this month, for some perspective.
Additionally, only current NBA players were eligible to make this list. I did not include high school or college players as possible selections.
--
Statistics: Basketball-Reference.com
Begin Slideshow

»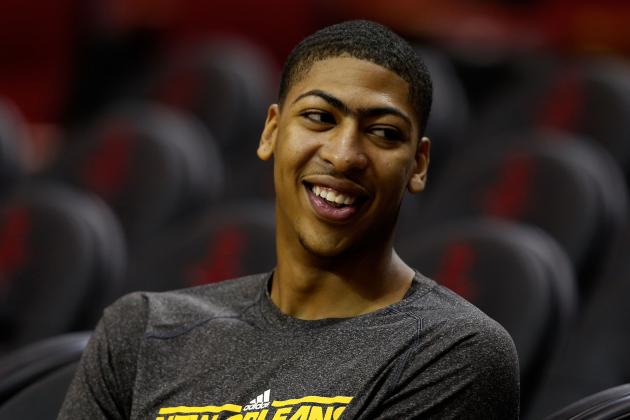 Scott Halleran/Getty Images
New Orleans Hornets Anthony Davis
Age: 19
Improvement Needed: Assists
Anthony Davis will turn 20-years old by season's end.
He's been sidelined since November 17 and only played six NBA games through Monday.
The time he has spent on the floor, however, has been impressive.
Davis is averaging 16 points and 8.3 rebounds right now as a rookie. In a few years, it's more probable than it is likely that he'll lead his team in scoring and rebounding.
He will also be in the mix for MVP awards throughout his career.
If Davis can develop as a passer, learning to kick-out to open shooters as double-teams arrive, he could have an opportunity to lead his team in assists too.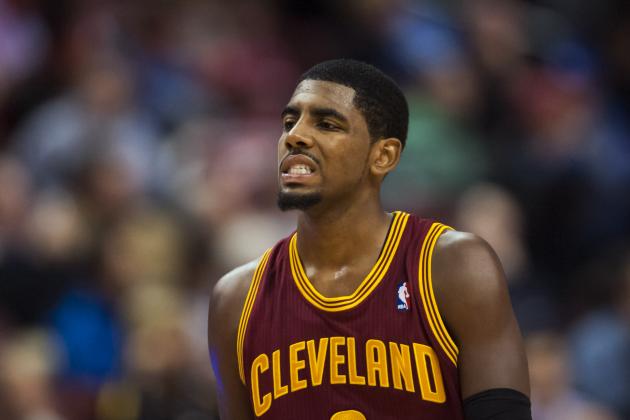 Howard Smith-USA TODAY Sports
Cleveland Cavaliers Kyrie Irving
Age: 20
Improvement Needed: Rebounding
The reigning Rookie of the Year turns 21 in March.
Be sure to send him a card.
Last season, Irving led his Cavaliers team scoring and assists.
Through Monday, he's doing that again this year.
What shouldn't be overlooked, however, is that Irving has averaged almost four rebounds per game too, finishing last season at 3.8 per game.
By the time he is 23 or 24, could he average three more rebounds than he is now?
As he continues to get stronger, that is certainly possible.
In getting himself up into the seven rebounds per game range, then, he'd be around the same rebounding number that James was last season.
So long as he's no longer playing with Anderson Varejao, that could be enough for Irving to lead his team in that department one year.
From everything else we've seen thus far too, Irving being a future MVP-candidate in this league is much less of a question.
Troy Taormina-USA TODAY Sports
Houston Rockets James Harden
Age: 23
Improvement Needed: Rebounding
James Harden is much closer than you think.
He could become the next player to win the MVP while leading his team in scoring, rebounding and assists.
He opened this season with 37 and 45-point games.
He looked, for a time, like he could win the MVP as soon as this year.
Harden has cooled off some since, but he's still averaging 24.1 points, 5.4 assists and 4.1 rebounds through his first 16 games with the Houston Rockets.
His point total is good enough to lead his team in scoring. He's second to only Jeremy Lin in assists.
Last season, coming off the bench in Oklahoma City, Harden finished second in assists for the season behind only Russell Westbrook.
He also finished fourth in rebounding.
If Harden continues to improve his overall game as a starter, rebounding the basketball specifically, expect him to be in a position at some point to do what LeBron did last year.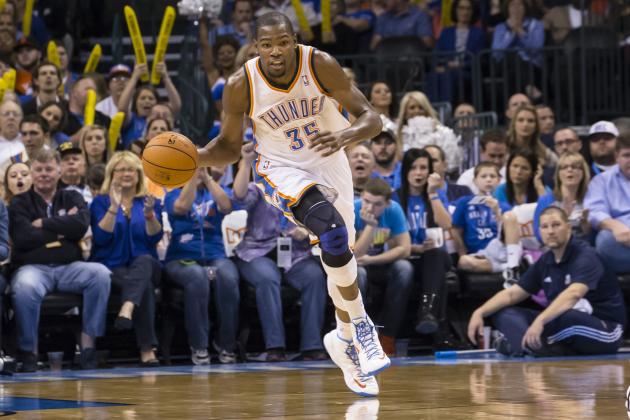 Shane Bevel/Getty Images
Oklahoma City Thunder's Kevin Durant
Age: 24
Improvement Needed: Assists
Kevin Durant led his Oklahoma City Thunder team in scoring and rebounding last season by averaging 28 points and 7.4 rebounds per game.
The 3.5 assists he averaged where good for third behind Russell Westbrook and James Harden.
This season, Durant is averaging 26.2 points, 8.7 rebounds and 4.3 assists.
If it is not James who wins this year's MVP, it appears Kevin Durant would.
At this point, at least, Durant would be a safe bet.
His assist total is up this season too, and he's now only second in that category behind Westbrook with Harden gone.
Meanwhile, Durant is also leading his team again in scoring and rebounding through 18 games.
If Durant improves his assist totals, he could accomplish this year what LeBron did last season.