John Cena, Rey Mysterio: 10 Randomly Annoying Wrestling Quirks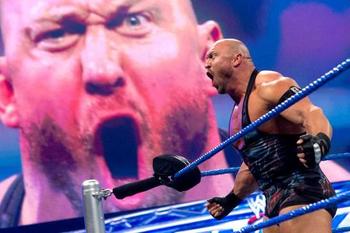 photo from wwe.com
We all have things in life that annoy us.
Drivers not using their blinkers, someone clipping their nails at work, or people who use the word "like" too much can just tee us off.
Wrestling is the same way.
All fans have a certain wrestler or an announcer that they just can't stand. They may change the channel whenever they appear, or just sit there in silent anger until they're off their screen.
This list looks at the odd traits that we see every week on a wrestling show that can be like nails on a chalkboard to a fan's ears.
Not all of these will annoy everyone, in fact some may find them downright endearing.
For others though, it's time to get our hate on and look at 10 annoying wrestling quirks.
Sheamus and Orton Are Coming for You!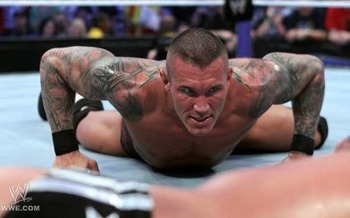 photo from wwe.com
Yes, Shawn Michaels made it popular, but letting your opponent know your finisher is coming is stupid.
When Sheamus and Orton get ready to end the match, they slap their chest or the mat repeatedly. It's an audible dead giveaway of what they're about to do.
Now, if you were the other wrestler, all you have to do is not stand up!
Sure, their head may hurt, but they should still be able to hear.
It actually takes more effort from them to get to their feet, and walk directly into the move than it does to just roll out of the ring.
If nothing else, they should just be ready to reverse the finisher and put their hands up.
What makes it worse, is that these finishers work better as "surprise" moves that can be pulled out of nowhere.
Hearing the set up takes away the fun of not knowing when it's coming.
Wrestling has a lot of suspension of disbelief moments, but for some reason this is one I just can't ignore!
After These Messages, We'll Be Right Back!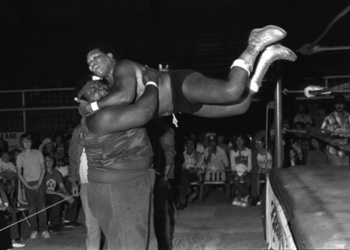 Time for a commercial! (photo from phillipgould.com)
Is there anything more frustrating in wrestling than watching a good match only to go to commercial break?
Yes there is actually, and it's watching a wrestler get knocked out of the ring, and then going to a commercial break.
How is it possible that this happens multiple times every episode of Raw and Impact?
What makes it worse is how nonchalant the announcers are. They half-heartedly tell us that the action will continue when they come back.
How do they know that the match won't end within the next two minutes? Why aren't they upset that fans are going to miss out on this great action?
Back in WCW, Tony Schiavone at least made the attempt to act like a match could end at any time. He would tell the viewers that the cameras were rolling in case anything happened.
Can you imagine UFC going to a commercial mid-match? What about the NFL or NBA taking a break during the action?
Fans would go crazy!
WWE however, doesn't treat their own product seriously enough that we should be mad at the thought of potentially missing out on the finish.
The 619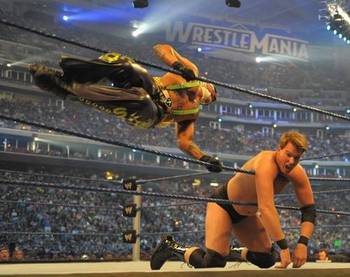 photo from prowrestling.about.com
Every move takes two to tangle.
A man just can't powerbomb another man without his help. But the 619 just looks idiotic in the sense that the guy taking the move has to align himself into perfect position to take it.
When Rey Mysterio wrestles, at some point in the match he'll dropkick, hurricanrana or drop toe hold his opponent.
The opponent then stumbles around drunkenly until they fall, and are miraculously stuck in between the second and third ropes.
This somehow happens every single match Rey is in.
Once they're in that position, all they need to do is lift their hands up to block it. But the majority of the time, they just look on in confusion until they're kicked in the face.
Yes, it gets the crowd going, but it's still one of the most contrived moves out there.
Ryback Is His Own Cheerleader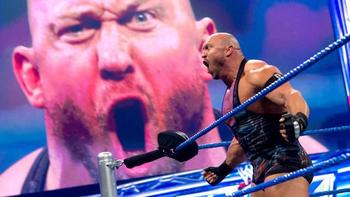 photo from wwe.com
I don't mind "feed me more"… if it was said once.
But we literally hear the phrase dozens of times every episode of Raw.
It's annoying, and the guy who starts the chant is Ryback himself.
He's his own cheerleader.
Ryback leads us to the chant after the match, by shrugging his shoulder during the match, and before the match with his voiceover on his theme song.
Goldberg never yelled "Who's next? Who's next? Who's next?", Austin never yelled "Cause Stone Cold said so" repeatedly and Bret Hart definitely didn't start "The best there is, best there was, and the best there ever will be" chant over and over (though that would be fun to hear the crowd attempt it).
The constant barrage of "feed me more" is just another example of WWE shoving Ryback down out throats.
AJ's Constant Head Tilts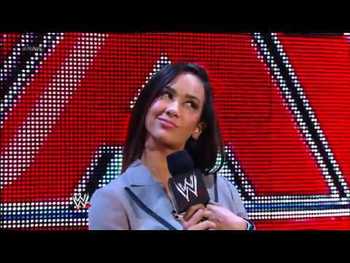 photo from popscreen.com
Let's get this out of the way: AJ is cute.
What's not so cute is her non-stop head twitching, and spastic head snapping from side-to-side.
At first, it was like her psycho facial tic, now it's just an overused part of her act.
Now, that she's no longer crazy, she needs to tone it down about 95 to 98 percent.
It's hard to explain, but whatever it is that she's doing, she needs to stop!
The 5 Moves of Doom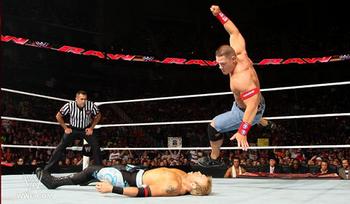 photo from kayfabenews.com
While many fans groan or boo the five moves of doom, it's the setup between moves two and three, which makes it downright idiotic.
The worst part of Cena's signature spot is after his opponent gets up after the second shoulder block. They then stand up and take a swing at Cena which misses approximately 100 percent of the time.
It's annoying to see one of a wrestler's trademark moves completely rely on his opponent setting up the move for him.
It calls back to WCW when Kidman did a face crusher when his opponent tried to powerbomb him. The thing is, every opponent tried this!
Guys who never attempted a powerbomb in their entire careers suddenly busted one out for Kidman.
While Cena's spot isn't as annoying as that move, you still think someone would learn by now not to try and clothesline him after that second shoulder tackle!
Santino's Walk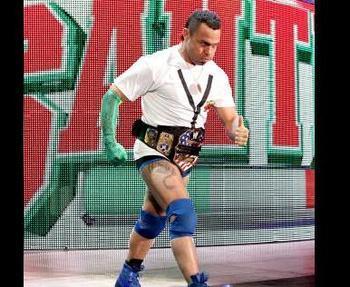 photo from wwe.com
You could probably add a lot of Santino's mannerisms on this list.
The Cobra is annoying, his fake accent, the post-match trombone, his ducking a clothesline followed by a hip toss followed by a falling headbutt…. I forgot where I was going with this. Oh yeah!
What may be the worst offender though is his powerwalk. You know, that overly exaggerated waggle back and forth from side-to-side.
It wasn't funny the first time, and the 400th time— it's not any funnier.
Santino's act wore out its welcome a couple years ago, but the least he could do is walk like an adult.
No Explanation for Why Tensai/Clay Suck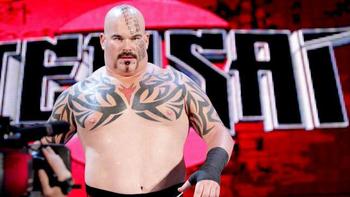 photo from wwe.com
Tensai once defeated John Cena (with the help of some mist).
Brodus Clay at one point had the best win/loss record in the company next to Ryback.
Then virtually out of nowhere, the two started to lose. And they lost to everyone.
We had to sit through weeks of squash matches when these two debuted. WWE then gave up on their pushes. Instead of trying to get something out of their losses, they treat them like a foregone conclusion.
This is far from the first time this has happened in wrestling (Chris Masters, MVP), but it always just seems so lazy that there's not even an attempt at a story about a guy going from unstoppable to completely beatable.
Big Show's Punches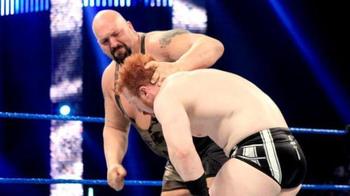 photo from wwe.com
Remember the days when The Big Show was normal and would punch his opponent in the head?
He can't do that now, because that's his finisher, a punch to the head.
Now, Show's matches are filled with one awkward-looking gut punch after the next.
Visually, the chokeslam is much more impressive. They should treat that move as devastating as they do the punch.
Every other wrestler besides Show does punches to the head/face. Maybe it's just me, but it just looks so strange.
It makes you wonder why he just doesn't do a face punch for every move, and win his matches in 15 seconds.
"This Is It!"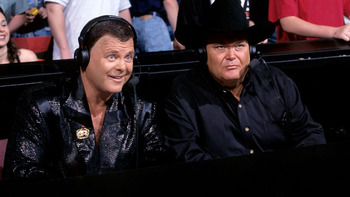 photo from wwe.com
The announcers give away the finish of a match about 95 percent of the time.
What's the clue? When an announcer says "this is it!", while a wrestler is being covered for a pinfall, he will inevitably kick out.
When the announcer is silent, that's the real finish.
It seems that Vince McMahon has trained his announcers to do this because he thinks it will be more of a surprise.
The trouble is: it's played out.
If you've watched even two weeks' worth of wrestling in your life you'll know that a wrestler will always kick out at "this is it" or the slight variations "this has gotta be it" or "it's over."
Every announcer does it too. Even the great Jim Ross is guilty.
It makes you want to watch some of the biggest matches with the sound off.
What random things in wrestling annoy you? Sound off below!
Keep Reading