NFL Week 14 Picks: Predictions for Every Game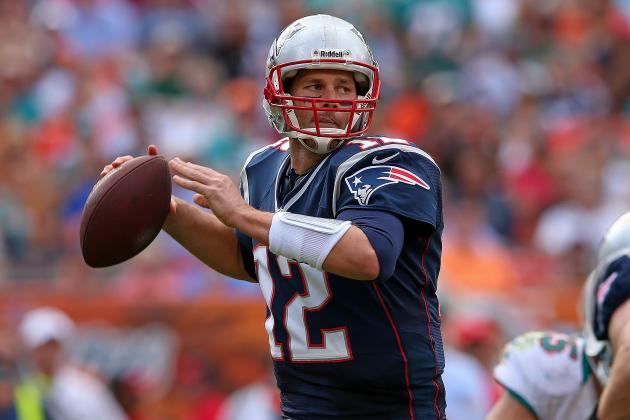 Mike Ehrmann/Getty Images

Tom Brady and the New England Patriots host the Houston Texan on Monday Night Football in Week 13—the biggest game of the week.
That's not the only big game on the slate, though.
There are 16 games on the schedule for your pleasure, and many of them are rife with playoff implications.
The Dallas Cowboys will hit the road to face the Cincinnati Bengals as both teams are fighting for their playoff lives, the Baltimore Ravens travel to Washington to take on Robert Griffin III and the Redskins and the Seattle Seahawks will try to keep their playoff hopes alive when they host the Arizona Cardinals.
We're going to run through all of the games on this week's schedule, and I'll give you my take on which teams will come out on top.
Begin Slideshow

»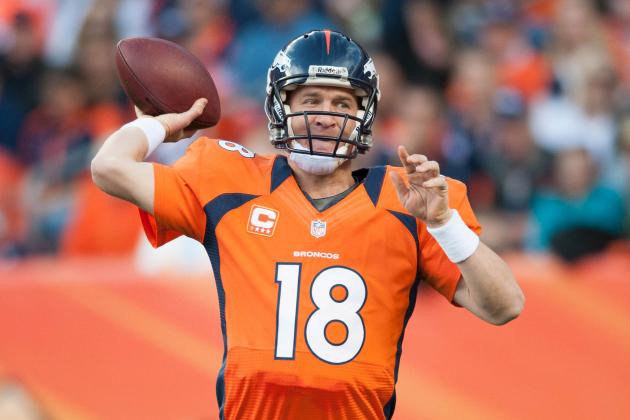 Dustin Bradford/Getty Images

Prediction: Broncos win 35-17
The last time these two teams met up, way back in Week 4, the Denver Broncos dominated the action and won handily by a score of 37-6 over the Oakland Raiders.
I expect a duplicate performance in Week 13, as these teams are headed in opposite directions. The Raiders have lost five straight games, and the Broncos have won seven in a row.
Peyton Manning has his offense running as smoothly as any he had in Indy, and Von Miller and the team's defense have been playing extremely well.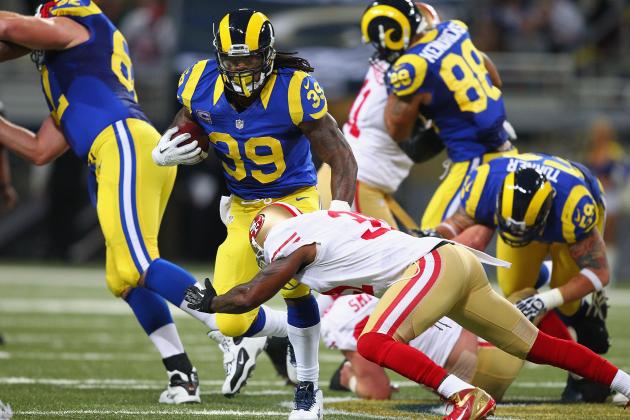 Dilip Vishwanat/Getty Images

Prediction: Rams win 23-21
This game is a bit of a head-scratcher to me.
Both teams have the ability to play well at times, but they also have the ability to lay an egg. For the sake of fans on both sides, let's hope they both come to play in Week 14.
I'm giving the Rams a slight edge over the Bills for a few reasons:
- The Bills have trouble stopping the run, and Steven Jackson has been a man on fire these days.
- The Rams have two excellent cornerbacks and a dominant defensive line that's only getting better, and I foresee a long day for Ryan Fitzpatrick.
- The Rams have the ability to shut down opponents' running games, and the Bills will not break off many big runs.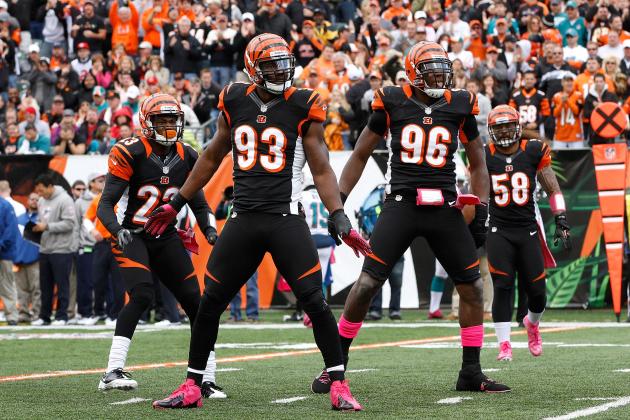 Tyler Barrick/Getty Images

Prediction: Bengals win 27-21
This one's simple.
The Dallas Cowboys' offensive line will be annihilated by the dominant front four of the Cincinnati Bengals, forcing Tony Romo into a few key turnovers that will decide the game.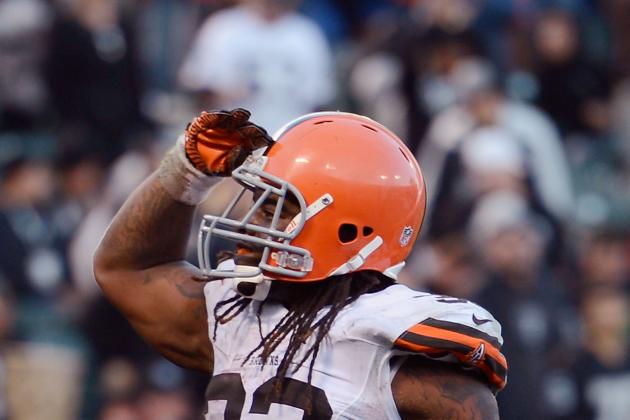 Thearon W. Henderson/Getty Images

Prediction: Browns win 23-13
The Kansas City Chiefs rallied to win their second game of the season in Week 13 as players, coaches and families came together to deal with the tragic events of Saturday, December 1.
And as much as we'd love to see this team continue to win, the truth of the matter is that it may have exhausted its emotional reserves.
The Chiefs haven't been good all year, and things will be even tougher on the road against the Cleveland Browns—a team that has suddenly won two straight games.
The Browns have been competitive all year long, and now that they're getting a bit of momentum going into the home stretch, I'm expecting this young team to win its third straight game.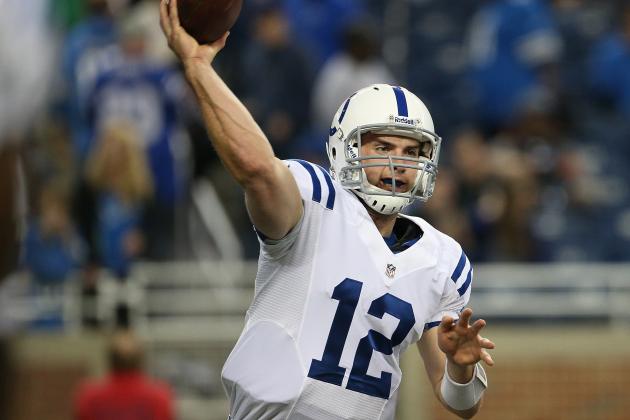 Leon Halip/Getty Images

Prediction: Colts win 24-17
When people ask me how I can still think Andrew Luck is a better quarterback than Robert Griffin III, all I have to do these days is point to his incredible five game-winning drives this season. In case you don't know, rookies just don't do that.
At this point, how can you bet against this kid?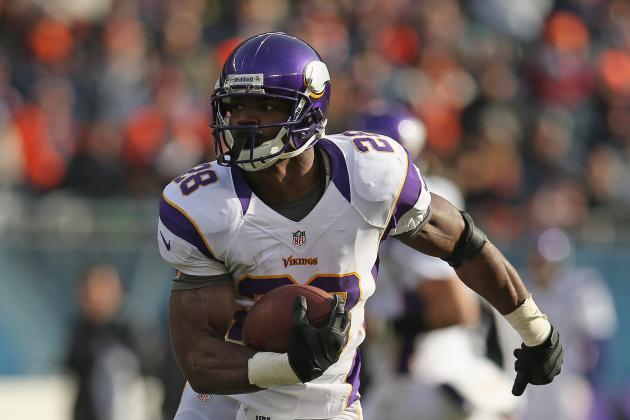 Jonathan Daniel/Getty Images

Prediction: Bears win 27-13
The Chicago Bears have had a rough last month, losing three of four contests—all three losses coming against legitimate playoff contenders.
The team's one win during this time was against the Minnesota Vikings, and I expect to see more of the same when these two teams meet up again.
That doesn't mean Adrian Peterson will have a bad day, though. Peterson has rushed for over 100 yards six games in a row, and he'll continue rolling in Week 14.
The biggest key to this game and the thing that will secure the victory for the Bears will be Christian Ponder, who will be forced into a couple of turnovers.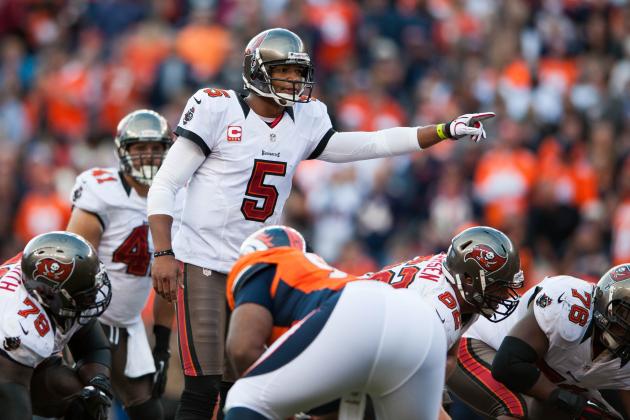 Dustin Bradford/Getty Images

Prediction: Buccaneers win 28-17
Josh Freeman made one critical mistake against the Denver Broncos in Week 13 when he was taken down from behind while passing the ball—a play that ended up resulting in a touchdown for Von Miller, who intercepted his pass.
If not for that play, the Tampa Bay Buccaneers may have defeated the Broncos in Denver.
The Philadelphia Eagles come into Tampa Bay this week, and I'm expecting the Bucs to exact revenge by beating the Eagles in all phases of the game.
Running back Bryce Brown, who's been sensational the past two weeks, will not find many running lanes against the No. 1 rush defense in the NFL, and the Eagles offense will struggle as a result.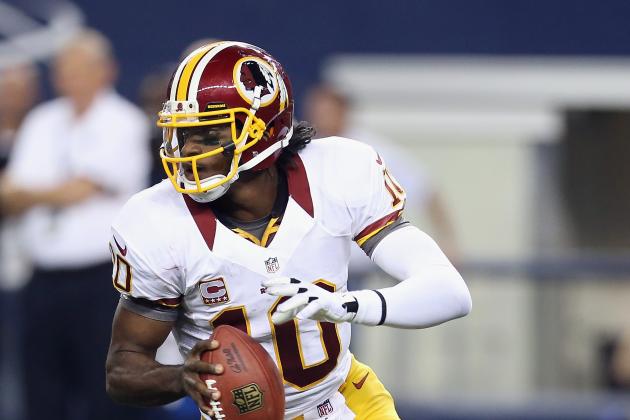 Ronald Martinez/Getty Images

Prediction: Redskins win 31-28
The Baltimore Ravens are the worst divisional leader in the NFL.
At 9-3, this team has a few glaring holes—both of which the Washington Redskins can exploit in Week 14.
1. Joe Flacco is horrible on the road—has been his entire career—and will succumb to pressure up the middle against this Redskins defense.
2. The Ravens defense can't stop the run—a terrible dilemma when facing Robert Griffin III and Alfred Morris.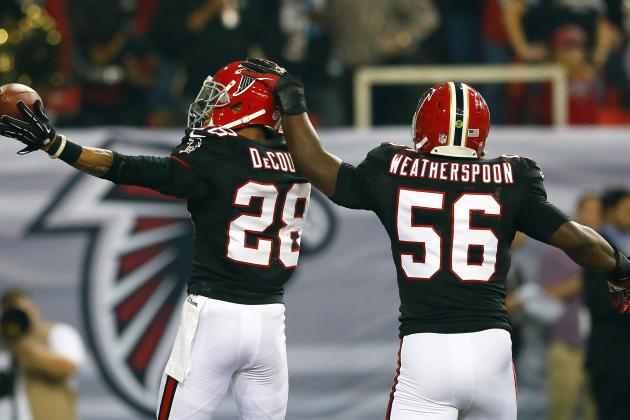 Kevin C. Cox/Getty Images

Prediction: Falcons win 27-23
Somehow, some way, the Atlanta Falcons have found ways to win this season.
I'm tired of harping on their deficiencies, at this point, and until they start losing games, I expect them to continue winning.
If it's not Matt Ryan connecting with one of his big-play receivers at the end of games, it's Thomas DeCoud and the secondary coming up with big interceptions.
The Falcons just get it done when it matters, and I expect them to continue doing so until the playoffs...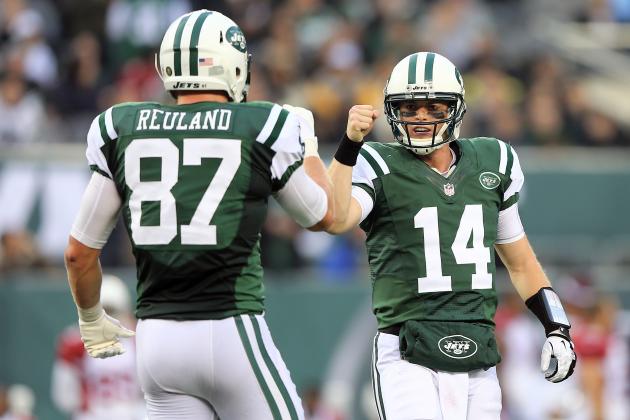 Elsa/Getty Images

Prediction: Jaguars win 17-13
Mark Sanchez is starting again, so anything can happen.
Really, I have no idea which team will win this game. Both have shown sparks of life this season, but for the most part, they've both stunk to high heaven.
Chad Henne will be able to do just enough to pull out another win for the Jaguars in 2012.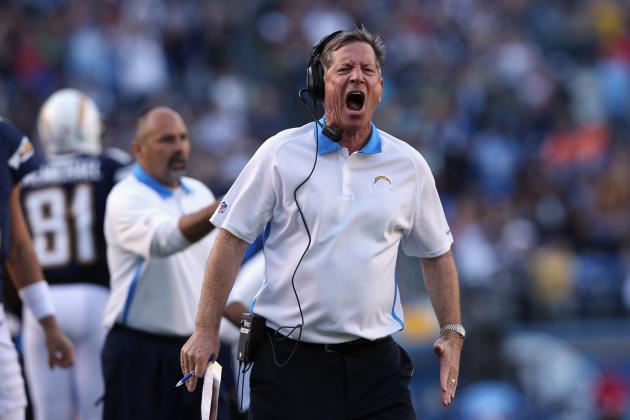 Jeff Gross/Getty Images

Prediction: Steelers win 27-24
Norv Turner, how I love to diss thee.
Turner's tenure with the San Diego Chargers has been a joke—and unfortunately for Chargers fans, the joke's been on them.
Philip Rivers is sure to throw a crucial interception or three on the road this week against the Pittsburgh Steelers, and it won't matter if Charlie Batch, Ben Roethlisberger or Mike Tomlin is behind center, the Steelers will win.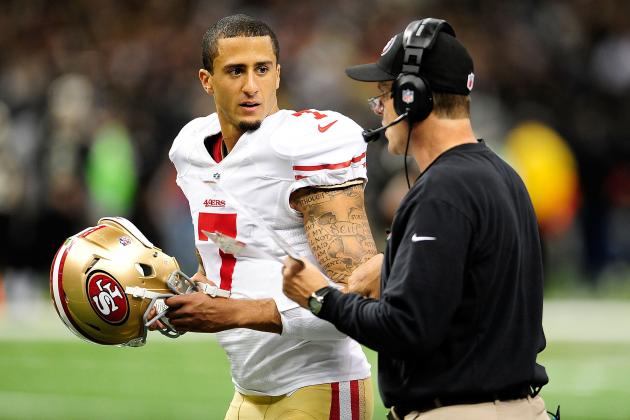 Stacy Revere/Getty Images

Prediction: 49ers win 27-10
One thing fans of the San Francisco 49ers have been able to count on this season is that Jim Harbaugh's coaching staff will have a poor outing every few weeks.
It happened in Week 3 against the Minnesota Vikings, in Week 6 against the New York Giants (Alex Smith didn't help in that game, either), and it happened again in Week 13 against the St. Louis Rams.
It won't happen again in Week 14, as the 49ers have a tendency to bounce back from losses (and ties, apparently) to perform at the highest level.
The Miami Dolphins are in trouble.
Jonathan Daniel/Getty Images

Prediction: Seahawks win 28-9
In a tale of two teams heading in opposite directions, the narrative won't change this week in Seattle when the Seahawks host the Arizona Cardinals.
Russell Wilson has been phenomenal this season, and he's proven to be as dynamic as any rookie quarterback we've seen in the past few years.
The Seahawks will roll at home, and if the 49ers happen to slip up in the next few weeks, they may lose the NFC West to this young team.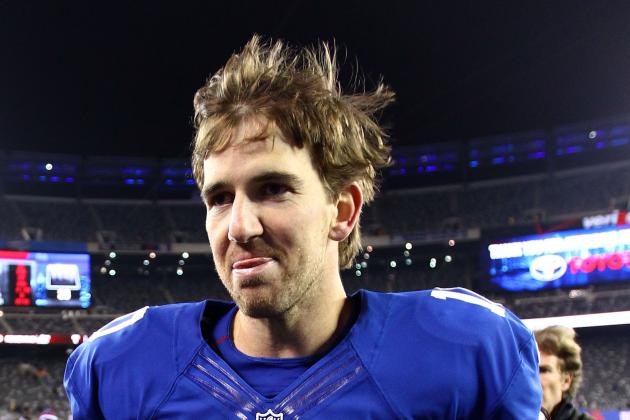 Al Bello/Getty Images

Prediction: Giants win 35-30
The New Orleans Saints are essentially out of the NFC playoff picture at this time, while the New York Giants are beginning their traditional late-season surge.
This game has the potential to be the most exciting game of the week, as Drew Brees and Eli Manning could get into a shootout at MetLife Stadium.
I expect the Giants to find a way to win this one, though, no matter what type of game it ends up becoming.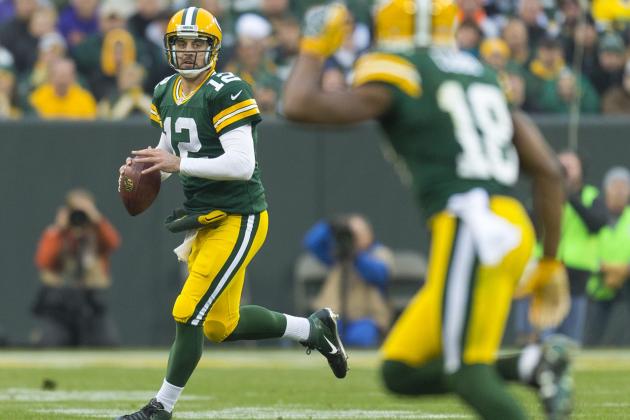 Jeff Hanisch-USA TODAY Sports

Prediction: Packers win 27-20
Aaron Rodgers and the Green Bay Packers have found ways to win this season, despite a laundry list of challenges that could have sunk a lesser team.
Speaking of lesser teams...
The Detroit Lions have found ways to lose games this season, and they'll do so again in Week 14.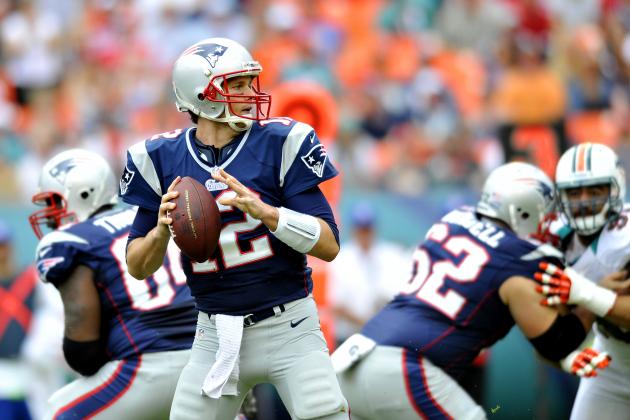 Steve Mitchell-USA TODAY Sports

Prediction: Patriots win 23-20
Both teams enter Week 14 having won six straight games.
The Houston Texans have been getting by with close wins the past five weeks, while the New England Patriots have been blowing teams out more often than not.
Being that this game is in New England in December, and given the fact that Jonathan Joseph has been banged up and Brice McCain is out for six weeks after surgery (h/t the Houston Chronicle's Tania Gangui), I'm giving the Pats the edge.
Follow me on Twitter @JesseReed78 and check out my weekly NFL picks at Pickfactor.com