Wesley Sneijder: Reasons for and Against Inter Milan Letting Him Go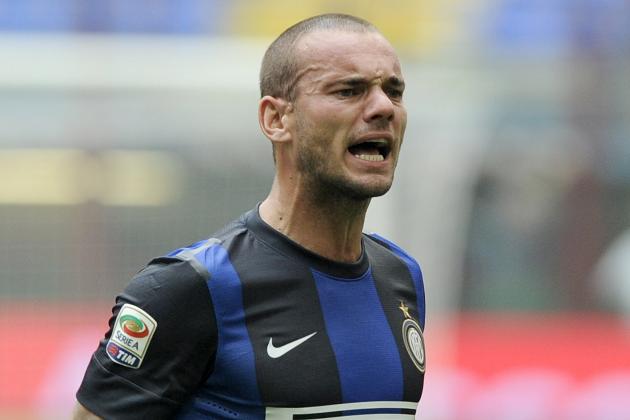 Claudio Villa/Getty Images

Things are coming to a head in the blue half of San Siro.
Playmaking central midfielder Wesley Sneijder has rejected Inter's latest offer of a renewed contract, and it's looking more and more likely that the long saga that has worn on for more than a year will finally lead to the Dutch master's departure from Milan.
Should Inter give in and keep Sneijder, who was so integral to the nerazzuri's 2010 treble? Or should they cut ties with the disgruntled midfielder? There are points for both sides.
Begin Slideshow

»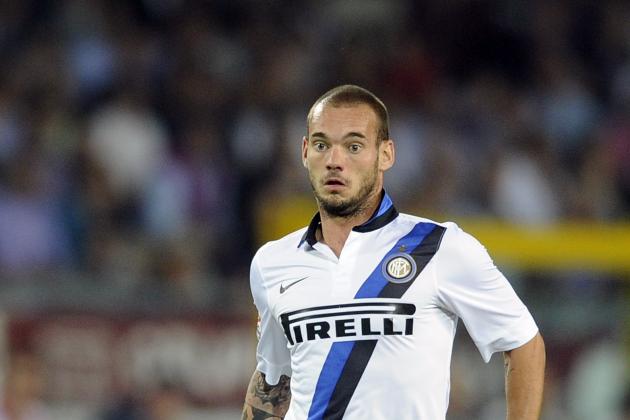 Claudio Villa/Getty Images

It's absolutely impossible to deny the extreme talent of Sneijder. The 28-year-old is still in his prime, and when he's on his game, he's in the same rarefied air as other central mids like Andrea Pirlo, Xavi, and Andres Iniesta.
His playmaking ability is nigh on unmatched, and he's no slouch taking on the goalkeeper either—he only lost out on the Golden Boot award for the 2010 World Cup on a tiebreaker with Germany's Thomas Muller after scoring five times. It should also be mentioned that he garnered the Silver Ball in that tournament.
Sneijder's type of player doesn't come around often. To let him go would be to jettison one of the most talented midfielders alive today, and it would be nigh on impossible to replace him with a player of a similar talent level.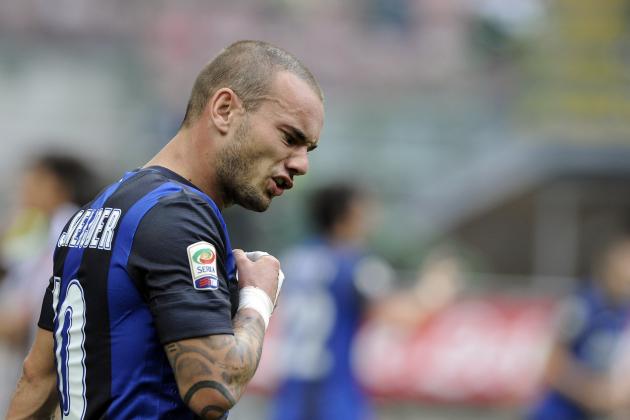 Claudio Villa/Getty Images

The big sticking point in the latest saga between Sneijder and Inter is his contract—specifically his salary. Sneijder is paid nearly $15 million—and that represents a hamper to Inter in several ways.
In the first place, the way he's played since the World Cup just simply hasn't justified that kind of salary. His on-field contribution since 2010-11 hasn't remotely equalled the value of his deal.
Last year he played in just 28 games in all competitions and contributed only six goals and nine assists, not near his standards from the 2009-10 treble season, when he scored eight times and notched 16 assists.
On a second point, Inter is, as are most other Italian clubs, restrained by the Italian financial crisis. The same problems that have forced teams like AC Milan to sell key players like Zlatan Ibrahimovic and Thiago Silva and prevented teams like Juventus from filling major holes with top-quality players. Even a spendthrift like Massimo Moratti has been constrained lately—Inter certainly hasn't made any extravagant signings since Sneijder and even sold off one of it's best players, Samuel Eto'o.
Between the economic crisis in Italy and UEFA Financial Fair Play regulations starting to come into effect, a sale makes a huge amount of sense from a books-balancing point of view.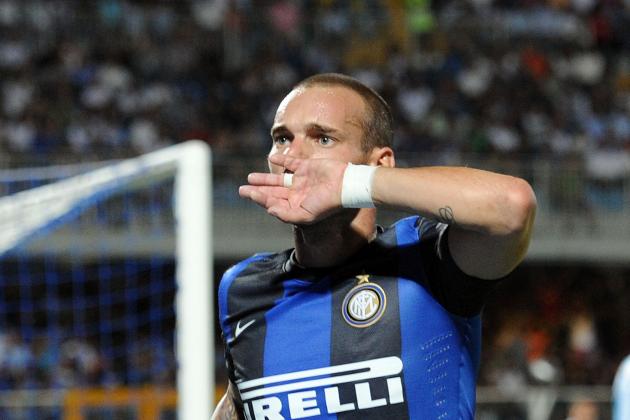 Giuseppe Bellini/Getty Images

Partly due to the economic crisis and partially because of the upheaval of Serie A following the Calciopoli scandal in 2006, Serie A has lost its status as one of the top three leagues in Europe.
Italy's best players have been departing the league, from legends like Fabio Cannavaro in the immediate aftermath of Calciopoli to the more troubling departure of younger talents like Marco Verrati and Mario Balotelli.
For Serie A to regain its former glory, it needs to start retaining its stars again. Inter holding on to Sneijder would be a gesture to the rest of the world that the Italians are going to start playing for keeps again.
You might say that this is not necessarily a factor that is in Inter's best interests, but I think you'd be wrong. If Italy is to regain it's place in the top three in the UEFA coefficient rankings—and with it the fourth Champions League place awarded to those three nations—it will need to once again be the home to the world's best players rather than becoming a feeder to England, Spain, and PSG (not the rest of France, just PSG, they're the only ones doing it).
Inter could keep Sneijder as a symbol to the rest of Europe that the Italian clubs are once again ready to hold on to their players and compete at the top level on the continent.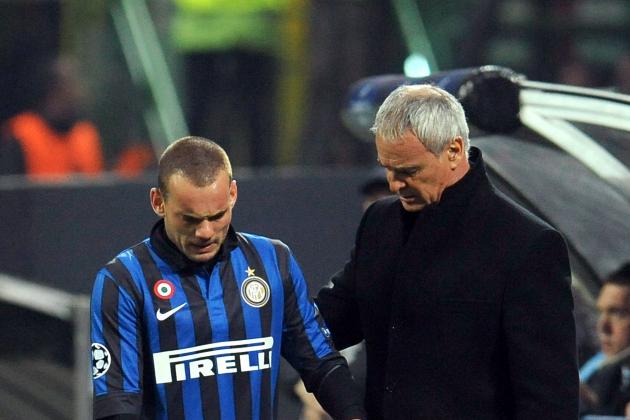 Valerio Pennicino/Getty Images

All the technical wizardry in the world means little if the man who possesses it doesn't see the field.
Sneijder has frequently struggled with injury in recent years since his triumphant 2010. From the leg injury suffered against Marseille in the Champions League last year to nagging knocks that sapped his effectiveness when he played through them, Sneijder's struggles have often been directly connected to his lack of fitness.
It isn't in Inter's best interests to keep a highly-paid player like Sneijder around if he isn't even going to be able to play any games. It remains to be seen whether Sneijder can shake these injuries or if he is an early soccer invalid at 28 years of age.
If Inter can get a team to pay them to take a player that seems to spend more days in the training room than on the field, it's most certainly a move they should make.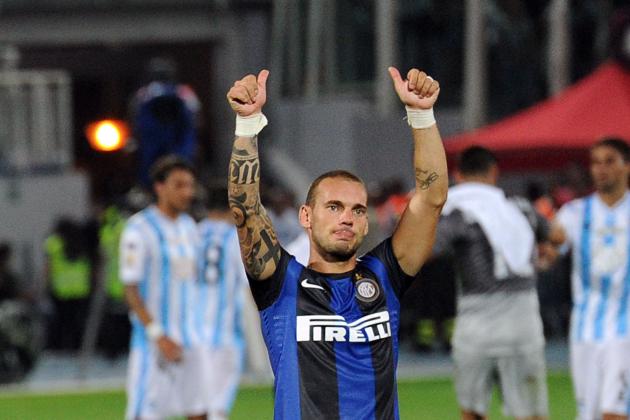 Giuseppe Bellini/Getty Images

Inter paid €15 million to Real Madrid before the 2009 season to acquire Sneijder. If they are to sell the player, they will want to make some profit on the deal.
After Inter's treble triumph, Sneijder signed a contract that tied him to Inter until 2015. Inter has all the leverage in any transfer negotiations. They aren't under the gun of any expiring contracts to get rid of the player—as Spain's Athetic Bilbao are in the case of striker Fernando Llorente—so they can afford to wait for the right price.
The question is whether they will be able to get it. Teams that may be wary of Sneijder's bad health and ineffectiveness over the past few seasons may not want to pay through the nose for him, regardless of his talent.
Inter can't risk selling him at a loss—that could be worse economically than keeping him at his exorbitant salary. If they do sell the Dutchman, they must do it on their terms, not another team's. The move would only make sense if they can make it financially favorable.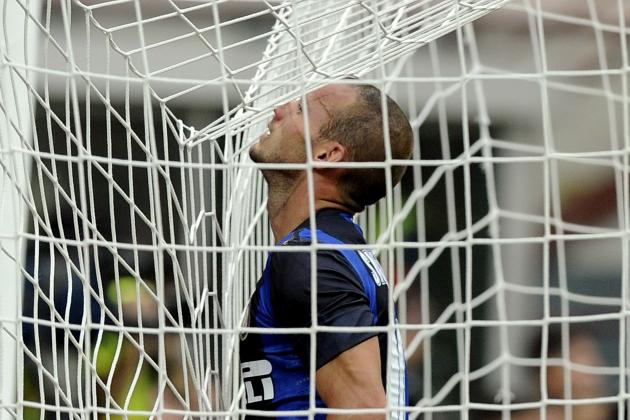 Claudio Villa/Getty Images

Wesley Sneijder hasn't played for weeks, and in those weeks manager Andrea Stramaccioni turned the team into one of the hottest teams in Europe. They won 10 straight games in all competitions and banished last year's hellish season to the pages of history. They even ended defending champion Juventus' 49-match unbeaten run in Serie A.
Part of this resurgence has been due to tactical adjustments by Stramaccioni and part because of a huge improvement in the team's defense.
But Sneijder, due to injury and being withheld from the first team during his contract dispute, has been small party to it.
New arrival Antonio Cassano has taken on much of the creative duties for the nerazzurri, and the team possesses promising young midfielders like Philippe Coutinho, Joel Obi, and Fredy Guarin—to say nothing of the talent in their excellent youth system, which won the NextGen Series last year and is topping their group so far in this year's edition of the new competition.
The Italian giants are currently third in Serie A, four points off leaders Juve. They are within striking distance of regaining the scudetto, and Sneijder has been no issue to it.
If they can do this well with him sitting on the bench, why would they be any worse if he were on another team?