Mets Need To Be Concerned About John Maine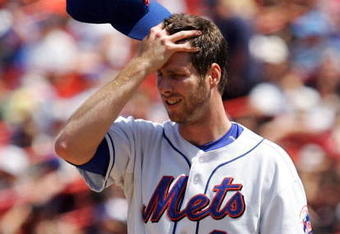 (Photo by Jim McIsaac/Getty Images)
Back in 2001 the Mets had a pitcher named Steve Trachsel. Through his star-crossed career Trachsel had become what one would call an inconsistent pitcher; one who at times could look really, really good, and times where he could look really, really awful.
On one late April night against the San Diego Padres at Shea Stadium, Trachsel got bombed by the Padres and had to be pulled out of the game by then manager Bobby Valentine. It appeared that the Mets had had enough of Trachsel, who was getting blistered every time he touched the mound.
The Mets decided to send Trachsel down to Triple A Norfolk to work out his mental and mechanical problems. When he came back Trachsel was brilliant, winning 11 games by years end and lowering his ERA to 4.46. The next year Trachsel went 11-11 and had a terrific 3.37 ERA and began what turned out to be a nice six year stay in Queens.
Today the Mets may be facing a similar problem with John Maine. Maine, who before suffering lingering arm problems in 2008, was turning into the brightest young star on the Mets pitching staff when he went 15-8 with a 3.91 ERA in 2007. He even had a no-hit bid against the Marlins on the next to last day of the season that year.
In 2009 Maine is lost.
No man is an island? Well Maine is an island right now.
This spring, Maine has complained about lacking confidence in his pitches and in himself since coming off the arm surgery in the off-season. So far in pre-season action, there is reason for concern.
In four spring starts, Maine is 0-1 with a 10.38 ERA. He has surrendered 15 runs in 13 innings, has allowed four home runs and has walked seven batters. This is not reminiscent of a guy who struck out 302 guys over the course of the last two seasons. This is reminiscent of a guy like Trachsel, who lacked confidence in his abilities and showed it every time he went to the mound.
Some fans, who have never thrown a baseball in their life will say, "Who cares, it's only pre-season. Let the kid get the kinks out." True, this is a good time for Maine to get the kinks out, and he better hurry up with only two weeks to go until opening day, April 6.
This means Maine has two maybe three starts left in spring training, little room for error when you are expected to be the number two guy behind ace Johan Santana.
If Maine continues to struggle the Mets have to consider giving him an extended spring training assignment, which means leaving him in Port St. Lucie for most of April, or send him up to Triple-A Buffalo to do the same.
The Mets can ill afford to have a guy on the staff who's mental makeup is in question, and who's pitches seem to lack the necessary curves, cuts, splits and speed to get through an inning, let alone six innings.
What is most troubling about Maine is the fact that in 2008 he was slowly becoming a five inning pitcher, thanks mostly to the lingering arm trouble. If the Mets want to make sure that Maine is fully healed, he must remain in extended spring training to work out his arm and his mental state.
When he is throwing well again and is beginning to feel better about himself, only then can the Mets bring him back and slot him into the rotation.
If they bring Maine north with them in two weeks, and he continues to struggle, they are sure to lose him totally; that is the last thing a team without a legitimate number two starter needs.
Maine is too valuable to this ball club to have him pitch every fifth day, and behind Johan Santana, thinking to himself that he has nothing in his arm and may not be able to get through five innings. If he is going to the mound with that idea in his head, the game is already lost.
The Mets have to give Maine some extra time to get things straight. If they do, they will reap the benefits of it later in the season for sure. Maybe then, they can get the old John Maine back as well.
This article is
What is the duplicate article?
Why is this article offensive?
Where is this article plagiarized from?
Why is this article poorly edited?

New York Mets: Like this team?