NBA Teams Already Looking Forward to Next Season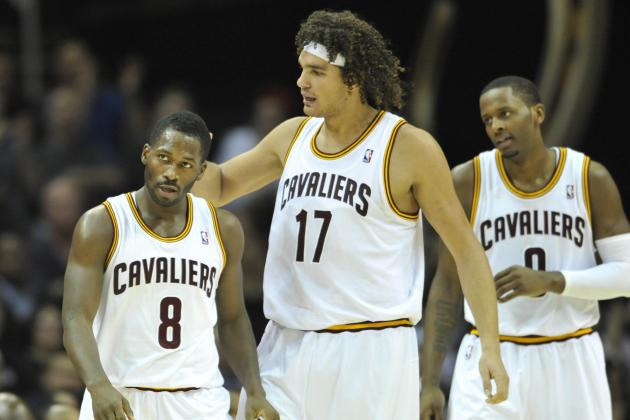 David Richard-USA TODAY Sports

The NBA season is just over a month old and some teams have sadly already given up. Be it because of an injury to a key player, lack of talent or experience, or just not having what it takes to compete in their division or conference, certain teams have already started to look forward to next year, writing off the 2012-13 season.
Whereas this season may have once been looked upon with promise, some executives have probably already gone into draft mode.
One team that stands out is the Cleveland Cavaliers, who are once again in last place in their division. The team has played so badly that star big man and the NBA's leading rebounder, Anderson Varejao may be on a new team soon with trade talks expected to take place in the near future.
Other teams like the Detroit Pistons and Phoenix Suns also cannot help but struggle, even after offseason improvements.
One thing is certain: Once the 2012-13 season is over, a small handful of teams will breath a sigh of relief, say "good riddance," and then prepare for next season.
Begin Slideshow

»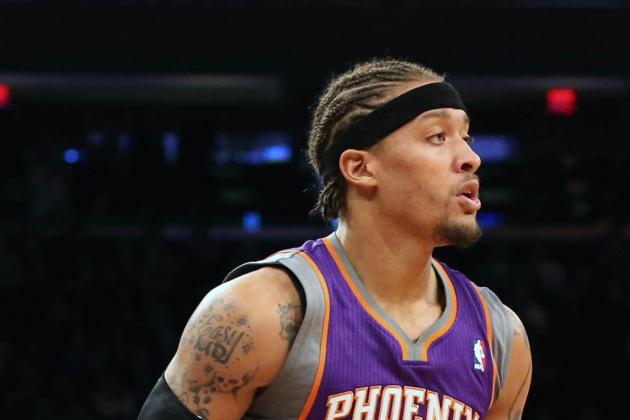 Anthony Gruppuso-USA TODAY Sports

Record: 7-11
The Suns have been dogged by multiple problems this season.
Not only have Goran Dragic and Michael Beasley (pictured) failed to be the consistently explosive offensive players fans expected them to be in Phoenix's fast-paced offense, but defense has eluded the team.
The Suns are currently ranked last in the NBA in points allowed, with an average of 102.7 per game.
Granted, there is plenty of time left for the team to turn things around and make a run for the playoffs, but it just doesn't look like it's going to happen. Beasely is still trying to find his shooting stroke, Markieff Morris has yet to live up to his potential and there is no consistency off the bench except for Luis Scola.
Head coach Alvin Gentry knows how to get the best out of his players and can easily make some adjustments to improve the team's fortunes, but it's not going to be of any use.
Even if Phoenix does turn things around, the Western Conference is just too deep and competitive. It is thus going to be a long season in the desert and Suns fans should probably start making their draft wish lists now.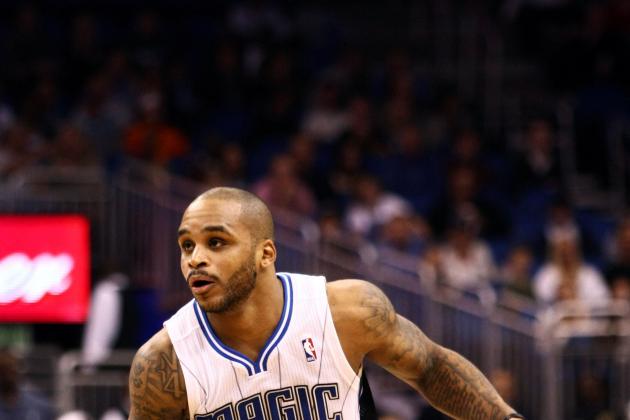 Douglas Jones-USA TODAY Sports

Record: 6-10
To Orlando's credit, it has played some decent basketball in its first season without star center Dwight Howard, now of the Los Angeles Lakers. New coach Jacque Vaughn has his players responding well to him and the Magic rank ninth in rebounding.
Despite that, Orlando has no true star who can produce consistently enough to be paired with guard Arron Afflalo. Nikola Vucevic has proven to be a solid defender at center, but still has a lot to learn before he can be called elite. Both Al Harrington and Hedo Turkoglu are injured, but neither man is more than an expensive, glorified shooter.
Not even Glen "Big Baby" Davis can be paired with Afflalo. He is having a fine season, averaging 15.3 points and 8.4 rebounds per game. His work outside the paint, however, is borderline nonexistent. Point guard Jameer Nelson, as usual, has been disappointing.
It's still early, but the Eastern Conference is already shaping up to boast a tough group of teams this season. So many will be fighting for that final playoff spot and when the dust settles, Orlando just won't have enough to take that big step forward.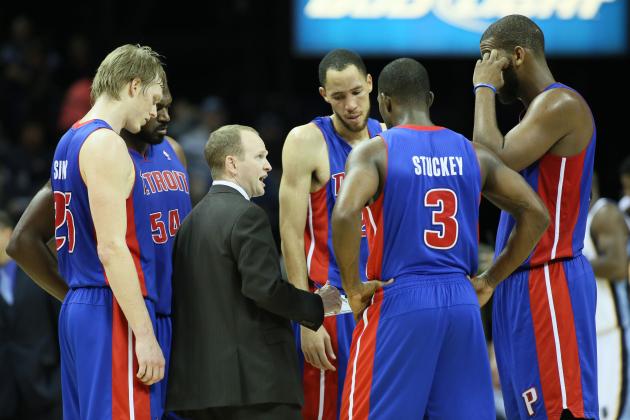 Nelson Chenault-USA TODAY Sports

Record: 5-13
The Detroit Pistons have a talented group of players, but are just too young to make an impact in the NBA at this point. Only two players on the roster, Tayshaun Prince and Corey Maggette, are over 30. The rest of the team is either overeager or incapable of being top contributors in the league.
A lot of the blame also falls on the shoulders of head coach Lawrence Frank. His GM, Joe Dumars, drafted one of the best defensive players in the draft in Andre Drummond, yet Frank refuses to give his rookie more than 16.8 minutes per game. Instead, he has chosen to start the undersized Jason Maxiell at power forward.
The ensuing results have not been pretty for the Pistons. Detroit is either at or below the middle of the pack in most categorical rankings and is a pathetic 1-10 on the road. Even if Frank's players do go on a streak, that slow start away from home will forever dog them.
There is simply no hope for this team this season and the front office is probably already budgeting out plans and projections for 2013-14.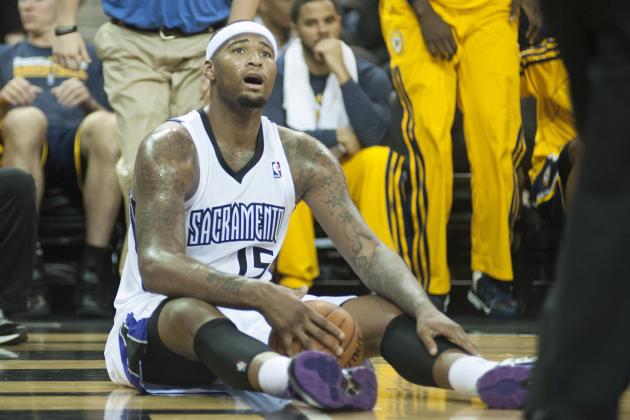 Ed Szczepanski-USA TODAY Sports

Record: 4-12
Poor Sacramento. The team just can't seem to catch a break. Not only can their owners not secure a deal for a new arena, but their best player in center DeMarcus Cousins (pictured) is immature and will become a liability unless he adjusts his attitude.
In fact, Cousins is the sole bright spot for the Kings. Even though his field goal percentage is down from last season, he is averaging 16 points and 9.5 rebounds per game. He and Jason Thompson form a viable frontcourt, but that's all the good that can be said about Sacramento.
The team's backcourt is laughable. Aaron Brooks and Isaiah Thomas are scoring point guards first and Marcus Thornton is proving to be little more than a shooter. Even Tyreke Evans is proving to be ineffective, as his scoring has dropped in every season since his Rookie of the Year campaign in 2010.
Sacramento is the worst passing team in the league, so it's definitely a safe bet that GM Geoff Petrie is back at his drawing board making a plan for next season. That is, if he still has a job by then.
Derick E. Hingle-USA TODAY Sports

Record: 4-11
The Hornets were already shorthanded entering the season, as guard Eric Gordon's knee flared up again. Things took a turn for the worse early in November, when rookie forward and reigning No. 1 pick Anthony Davis' ankle started hurting and he was diagnosed with a stress reaction. He has not played since November 17 and is expected to miss another week.
New Orleans was simply not prepared for both players to be injured at the same time and their play has suffered as a result. Their best player in the pair's absence is Ryan Anderson, who is more of a shooter and only takes rebounds as they come to him. Greivis Vasquez and Al-Farouq Aminu have been solid, but not enough to carry a team without its stars.
Even if Davis does return fully healthy, it's probably safe to say that team management will be conservative with his minutes. He is the future of the franchise and it is not worth it to take risks with his health.
Throw in the fact that Gordon has no timetable for a return and the Hornets' brass are already writing this season off while sitting in last place in the NBA Southwest.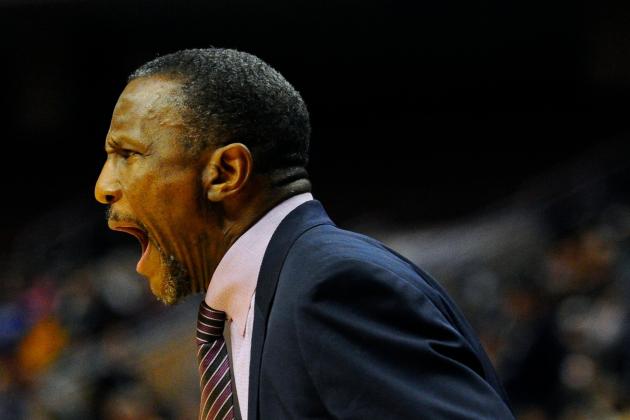 Dale Zanine-USA TODAY Sports

Record: 4-13
Raptors coach Dwane Casey has a lot to yell about these days. Not only is his team young and inexperienced, but he has no bench nor any solid veteran leadership on his roster. His most experienced player is Jose Calderon and he has been the subject of trade rumors since the team acquired Kyle Lowry over the summer (via ESPN).
Toronto's lack of depth hurts the most in the frontcourt. Jonas Valanciunas is still young and learning how to play center on the NBA level, but he has no suitable backup. Aaron Gray has size at 7'0", 270 pounds, but no skills to show for it.
Andrea Bargnani is a decent scoring power forward, but his shooting has been inconsistent this season and he simply refuses to play defense despite being 7'0", 256 pounds. Backups Amir Johnson and Ed Davis are anything but reliable with each passing night.
Yes, it is understandable that Toronto would go through something of an adjustment period following Chris Bosh's defection to Miami, but it's going to have been three years at the end of this season. 2012-13 won't yield any results, so team management can only tank the season and hope for the best in 2013-14.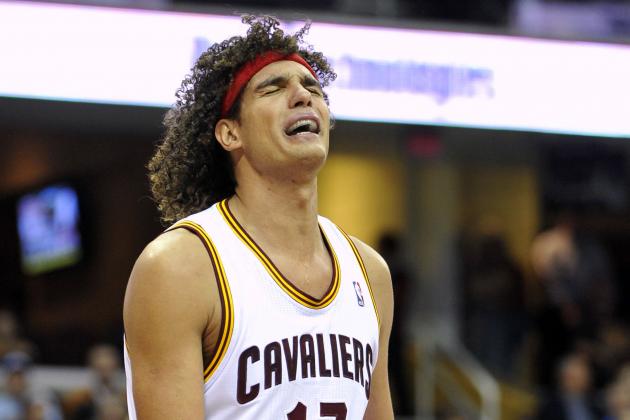 David Richard-USA TODAY Sports

Record: 4-13
Terry Pluto of the Cleveland Plain Dealer is predicting trade talk to "heat up" surrounding big man Anderson Varejao.
On top of that, the Cavs haven't had it easy to start this season. Second-year point guard and offensive catalyst Kyrie Irving has missed the past two weeks with a broken finger and is still a few weeks away from returning.
Even with him in the lineup, however, Cleveland endured a six-game losing streak, showing just how much more help they need.
That leaves team owner Dan Gilbert and GM Chris Grant just one option if they are that desperate to get back to the winning ways of the LeBron James era: Trade Varejao for draft picks and top talent. Teams looking for rebounding and defense will be more than willing to give those up, so it's just a matter of finding a buyer.
It is clear that Cleveland is ready to move on to next season, with or without its star rebounder.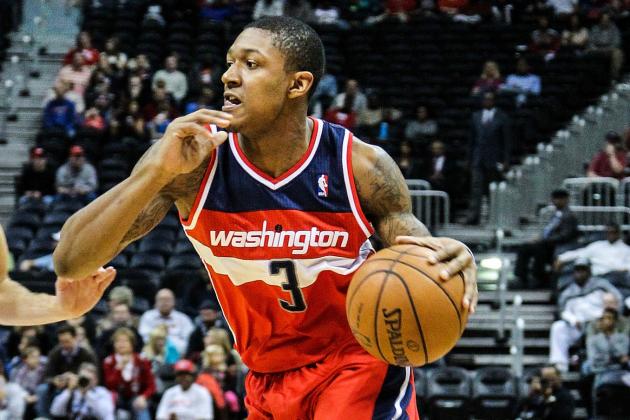 Daniel Shirey-USA TODAY Sports

Record: 1-13
You never really know just how much a team misses its star until you take a look at this year's Washington Wizards. Point guard and team leader John Wall has yet to play after suffering a stress reaction in his knee during training camp and there is no timetable for his return.
As a result, the Wizards have looked lost all season long. Newly-acquired center Emeka Okafor has been disappointing, as has first-round pick Bradley Beal (pictured). The team has the veteran experience it was missing in years past, but there is no hope without Wall. He is too important to the team.
Even if he does come back in the near future, it's not going to make a difference. Washington is in too deep a hole right now and its collective inexperience is obvious, no matter how hard they may play.
All that's left for GM Ernie Grunfeld to do is sit back and wait for this season to end, all while mapping out his plan for 2013-14 and hoping that things will eventually come together.