WWE Raw Live Results, Coverage and Analysis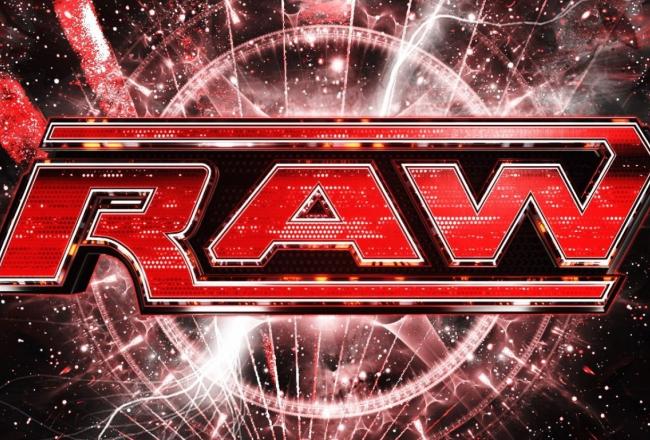 wwe-wallpapers.com

Welcome to the Bleacher Report live coverage for Monday Night Raw for Dec. 3, 2012.
There are a lot of separate programs going on in WWE right now as well as a few that have overlapped, so tonight's show could answer some lingering questions heading into TLC.
The John Cena/AJ storyline involving Vickie and Dolph ZIggler is probably the biggest non-title feud happening right now and is likely to have some more time devoted to it tonight.
We also have the WWE title feud with CM Punk and Ryback as well as the World title feud with Sheamus and Big Show likely to get coverage.
The IC and U.S. titles both have feuds that feature some of WWE's best mid-card stars so hopefully that leads to some quality wrestling matches.
The Shield are the big question marks over this show. If and who they will attack could reveal their true intentions or they could come right out and tell us.
The Divas, Del Rio and Rosa as well as Damien Sandow's quest for an apprentice are all areas WWE could also choose to cover.
There is a lot going on in WWE right now so make sure to bookmark this page and come back at the start of the show for live coverage of all the action as it happens.
I enjoyed tonight's show. There were plenty of good matches and we actually got to see some decent storyline progression on all fronts.
The Sin Cara vs. Alberto Del Rio match was the darkhorse tonight. They did themselves proud with their performance.
The fatal 4 way was fun even though no titles changed hands and AJ and Tamina had a good Divas match as well.
We found out Cena and Ziggler will be in a ladder match for Ziggler's case and we had a few separate attacks from The Shield.
I would say that TLC is shaping up to end the year on a high note.
After the break wee Miz in the ring with his lie detector setup. Punk comes out next and Heyman is right with him as always. He must trust Punk.
Miz has the tech put the lie detector on CM Punk. CM Punk rips into Miz and they go back and forth until Miz makes a Mom joke.
Punk's reaction to Miz seems very authentic. Miz asks some easy questions to start with to get a baseline reading.
Miz asks if Rey Mysterio shaved Punk's head and Punk says its true. Miz asks if Punk lost to Orton the year Miz beat Cena at WrestleMania.
He asks if Punk could beat Ryback by himself and the tech says it was a lie. Miz asks if Punk has worked withTHe Sheild or Brad Maddox.
Before Punk can answer The Shield attack Miz and clear the ring. Punk and Heyman leave as the three men attack Miz.
Kane and Bryan make their way to the ring an attack the three men. The Shield get the upper hand and beat down the tag champs.
Ryback's music hits and the crowd pops as he makes his way to the ring.
He takes down all three men with clotheslines. He sends Ambrose over the top rope and then he throws him into the crowd.
Ryback beats Ambrose through the crowd as Team Hell No attack the other two.
Bryan Danielson and Tyler Black fight through the crowd as Reigns and Kane go in another direction.
Punk stands over Miz and yells at him before kicking his beaten body from the ring and standing tall with Paul Heyman.
Ryback comes out of nowhere and hits Punk with the Shell Shocked. Ryback goes under the ring and grabs a ladder.
Ryback nails Punk with the ladder and then grabs a chair to hit him again. He goes back to the outside to grab a table and hit the trifecta.
Ryback sets up the table and grabs Punk for a powerbomb through the table.
The show ends with Ryback standing victorious over Punk.
US title fatal-4-way Part 2
We return to see Kofi and Cesaro trading kicks until Cesaro locks him in a half Crab submission.
Barrett low-bridges Truth and he and Cesaro lock up in a slug fest. Kofi comes off the top rope onto Cesaro and Barrett breaks up the pin.
Kofi almost gets pinned after a side slam but Truth makes the save. Truth gets a near fall on Barrett.
Kofi takes Cesaro off the top rope with an armdrag. Barrett Truth and Kofi do the three man suplex/powerbomb and Cesaro barely makes the save.
I can barely keep up with everything that is happening.
Cesaro ends up grabbing Kofi for the Neutralizer for the pin and the win. It looked like Kofi had the win and Cesaro grabbed him late, but oh well.
Winner: Antonio Cesaro
That was a fun match and Teddy Long reversed his pattern and undid a tag match.
R-Truth vs. Kofi vs. Cesaro vs. Barrett for the US title. Part 1
Cesaro wins, or loses the poll, depending on how you look at it. 83 percent of the vote.
The bell rings and Kofi and Cesaro throw their rivals out of the ring. Cesaro and Kofi lock up and Cesaro takes him down for a few elbows.
He follows up with a running uppercut in the corner. Barrett comes in and dumps Cesaro out of the ring and he and Kofi start going at it.
He drops Kofi for a two count. All four men end up in the ring and all hell breaks lose. Kofi leaps out onto Barrett but Cesaro catches Truth when he tries the same and runs him into the barricade.
Cesaro nearly decapitates Kofi with an uppercut when Kofi comes off the steps and we go to break with Cesaro in control.
Kofi Kingston and R-Truth vs. Antonio Cesaro and Wade Barrett
Teddy Long comes out before the match starts and he changes the match into a fatal 4 way championship match for either title.
THe RawActive vote is happening right now. #WWEUS or #WWEIC to see who puts their title on the line.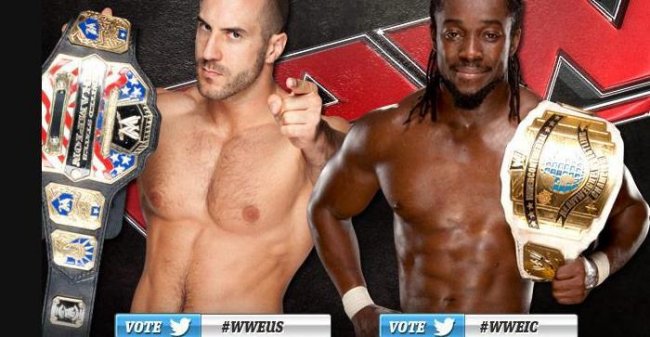 This could make things interesting.
After the break we see Vickie tearing Charles Robinson a new one and Ziggler walks in asking why he has to defend his case now.
Paul Heyman walks in next and he stares at Vickie for a solid minute before anyone says anything and she says he better hope Punk is telling the truth.
Cena walks in after Heyman leaves with a smile on his face. He brings up how he failed to cash in once and he won't make the same mistake twice if he wins the case.
Vickie tells Cena she found some John Cena hair bows in the locker room. Or are those bow ties?
Kofi Kingston is out next for a match.
Brad Maddox vs. Randy Orton
Orton circles Maddox and he pounces when Maddox tries to escape. Orton catches an elbow and he follows Maddox to the outside and hits a big clothesline.
Orton brings him back in and hits the Rope-Hung DDT before coiling up for the RKO.
Orton hits it for the quick pin and win.
Winner: Randy Orton
After the match The Sheild attack Orton and beat him down.
Brad Maddox is out after the break and his mystery opponent is Randy Orton.
After the break we get Cole plugging MizTV before Justin Roberts brings out Vickie Guerrero for her in-ring meeting with Vince.
Vince makes his way out to the ring with a big smile on his face.Vickie tries to pitch Cena vs. Ziggler for TLC and Vince says she needs to add some kind of stiulation.
She says it should be a no DQ match. Vince says it should be something to do with TLC and she says a ladder match won't work since nobody is a champion.
Vince suggests a Ziggler's Money in the Bank case. Vickie tries to make it sound like a bad idea but the crowd wants it to happen.
Vince suggests something happen with the lie detector test if Punk is caught lying. Vickie says if Punk is lying then we must destroy Paul Heyman.
Vince keeps her going and she stammers her way to next week having Paul Heyman vs. Ryback if Punk is lying.
Vince congratulates her on a good decision and the crowd boos. She nervously smiles at him as the segment ends.
Sin Cara vs. Alberto Del Rio Part 2
After the break we see Sin Cara grounding Del Rio with an armbar. ADR fights back for a moment but Sin Cara takes him down with a hurricanrana out of nowhere for a two count.
ADR goes to the outside to recoop and Sin Cara follows him with a kick to the back before rolling him in the ring.
Del Rio catches Sin Cara in a springboard and just shoves him right down to the outside and into the announce table.
That was cool looking.
Sin Cara gets launched into the barricade before being thrown in the ring for a two count. Del Rio focuses on the back and face of Sin Cara.
He almost pulls the mask off of Sin Cara but he stops and Cara breaks out only to be hit with a German suplex for a two count.
Del Rio backs up and gets a running start. Sin Cara moves and Del Rio hits the corner. Cara hits a tornad DDT to ADR.
They both get up and start trading shots with Del Rio getting the better of Cara for a moment until Cara hits a dropkick.
Cara goes to the apron and kicks Del Rio away before going up top for a cross body and another near fall. This is a fun match.
Cara tries to get the crowd behind him and he hits a back flip/reverse DDT -type move.
Del Rio catches Sin Cara coming off the top and he is able to wrap him up in the Cross Arm Breaker for the pin and the win.
Winner: Alberto Del Rio
That might just be the best match Sin Cara has had since coming to WWE. Both men looked great and this was a very fun match to watch.
The crowd wasn't as into it as I would have expected.
Vince McMahon is shown walking backstage and he tells someone to tel Vickie he wants to see her in the ring after right now.
Sin Cara vs. Alberto Del Rio Part 1
They locks up and ADR backs Cara into the corner and makes a clean break. They go to lock up again and ADR plants Cara with a kick and a slam for a two count.
Cara comes back with some armdrags and a submission on the arm. Del Rio backs Cara into the corner again and hits some shoulder blocks to the mid-section.
Del Rio hits a nasty kick to the face for another two count. Cara comes back and hits a few kicks of his own followed by a top rope armdrag.
Cole and Lawler are talking about Rosa a lot. No complaints.
Cara nails Del Rio with a hard kick for a near fall but Del Rio comes back with a drop toe hold and a snap suplex for a two count.
ADR telegraphs a back drop and Cara takes advantage with a dropkick. Del Rio gets hung up in the ropes and Cara kicks him to the floor.
Cara comes off the apron with a hurricanrana that sends Del Rio into the barricade really hard.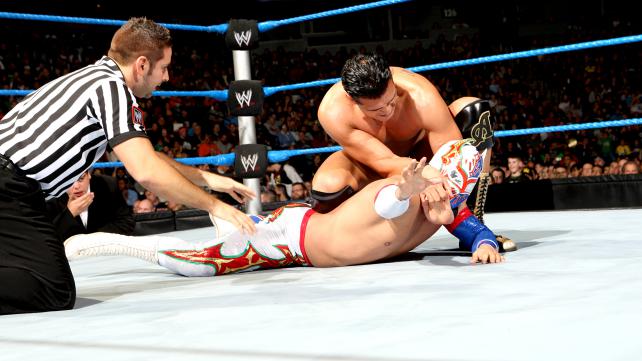 This is a much better match than their last encounter. WWE is doing right by them for once.
After the break we see Vickie arguing with Maddox about why he doesn't deserve a contract.
He sucks up to her and she says she will give him another match to earn his contract. He asks who he is facing and she says it will be a surprise.
Probably Ryback again.
Sin Cara is making his way to the ring for the next match.
Ziggler is shown backstage complaining to Vickie about having to team with Big Show. He asks for a rematch against John Cena at TLC. Vickie agrees.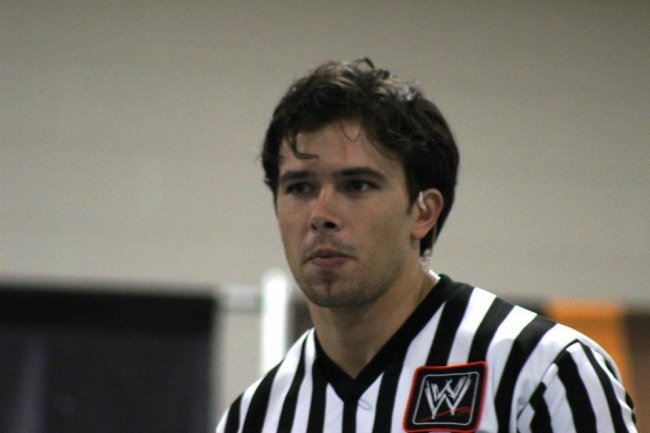 Vickie goes into her office and Brad Maddox is there waiting for her.
Damien Sandow vs. Santino
After the break we see Santino getting in some offense before Sandow zeroes in on him.
Sandow hits the side-Russian legsweep and the Elbow of Disdain for a two count.
I think Cole just called Santino "Santina." Santino gets a near fall with a roll up and then he starts coming back with hard rights and a hip toss.
Santino gets the Cobra sleeve out but Sandow pounces and rips it off his arm. Santino still manages to pull him down over the top rope.
Santino misses a top rope headbutt and Sandow hits his neckbreaker finisher for the pin and the win.
Winner: Damien Sandow
I hope Sandow gets a good singles feud soon. I am happy to watch him deliver promos week after week but he needs something more to do than beat jobbers.
Check out this match from earlier tonight.
The Shield makes another appearance.
Thank You! Damien Sandow is out next and he has a mic. Always a good thing.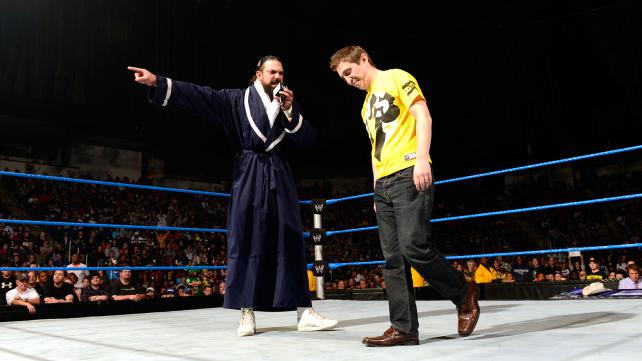 He talks about his quest to enlighten us being a futile effort so he has chosen to pick an apprentice once again.
This was good on Friday so hopefully it is good again this week. Sandow picks some guy and then bursts his bubble by picking the guy next to him.
Sandow says the guy is losing points for how long he is taking. He corrects this guy's posture and then asks him some questions.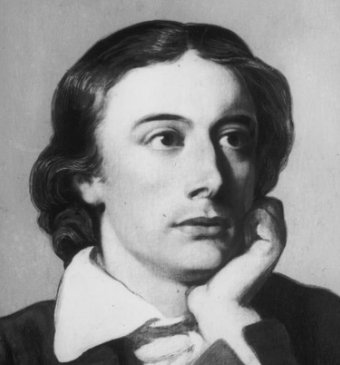 He asks what H2O is and the guy says water. Sandow asks who the first President was and the guy says George Washington.
The third question is what English poet wrote a line of poetry he reads. The guy doesn't know and Sandow says it was John Keats.
Sandow rips into the guy for getting it wrong and then says you're welcome before Santino makes his way to the ring to face him.
Cole and Lawler discuss some talking points for the show as Cena celebrates with the crowd and even makes his way behind the announcers table for a second and says hi.
We got to a clip of 40 minutes ago where CM Punk and MIz had their confrontation.
I am aware of the comments section problems tonight and I apologize to anyone experiencing difficulty.
Big Show and Dolph Ziggler vs Sheamus and John Cena Part 3
We return to see Sheamus fighting up and Big Show putting him right back down with one shot.
Sheamus tries again and this time he gets to his feet but Show plants him with a kick to the jaw and down he goes again.
Ziggler gets the tag and lines up Sheamus for a much better dropkick than the last one we saw.
He grounds Sheamus with a submission but Sheamus is too powerful to keep down and he throws Ziggler off before catching him with the Irish Curse backbreaker.
Cena gets the tag and he takes it to Ziggler with all his signature moves. He tries for the AA but Show kicks Cena in the leg and he drops Dolph.
Sheamus grabs Show and hits White Noise as Cena hits the AA on Ziggler to get the pin and the win.
Winners: John Cena and Big Show
That was a fun match. A few too many hot tags, but it lasted the right amount of time. Too bad the heels had to take the loss in this one.
Big Show and Dolph Ziggler vs Sheamus and John Cena Part 2
Both men tag their partners and Sheamus comes in with a head of steam and takes Big Show down.
He goes up top but Big Show spears him in mid-air as he comes down to the mat. We head to commercial with both men down on the mat.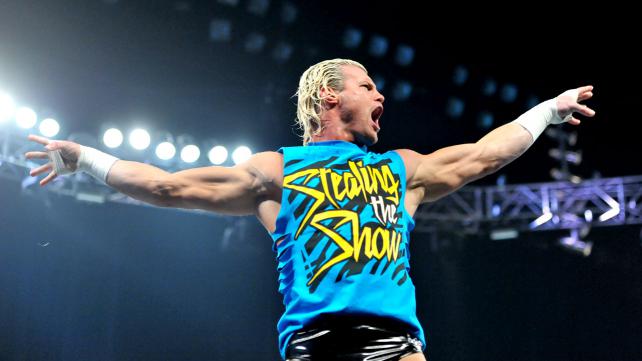 Big Show and Dolph ZIggler vs Sheamus and John Cena Part 1
How funny would it be if Ziggler let Big Show get his butt whooped and then cashed in on him tonight?
Sheamus and Ziggler start off and Ziggler tries a quick go-behind only to get an elbow to the face and then taken down with a headlock takeover.
Ziggler hits a dropkick but it ended up in the gut of Sheamus instead of the head. I guess he is bound to miss one out of every 200.
Cena gets the tag and they double team Ziggler for a near fall. Cena locks in a headlock and Ziggler reverses it.
Cena ends up hitting a hip toss. Ziggler ends up hitting a big right and Cena goes down. Big Show gets the tag and Cena squares off with the giant.
Cena tries a shoulder block and gets flattened by Big Show. Show hits a big slap to Cena's chest in the corner and he drops to the mat.
Show does it again in the other corner. Cena avoids the third but he tries for a badyslam to Show and ends up falling backwards.
Ziggler gets the tag and he comes in with a series of elbows to show off for a two count. He needs to name that sequence.
Ziggler misses wildly in the corner and both men are down and crawling for tags.
After the break we get John Cena coming out to the ring and Cena tells the cameraman to shave off his 'stache since Movember is over.
Sheamus is out next and it looks like their match with Big Show and Ziggler is next.
Punk tries to reinforce the fact that he has nothing to do with Brad Maddox or The Shield. Punk daring people to change the channel is not a smart move. People might do it and then Vince will get pissed.
There it is. Miz's music hits and he come out on the ramp in a nice suit. Miz plays the babyface and tells the crowd to enjoy themselves.
He says Punk is lying his butt off and Punk asks him who he thinks he is to cast judgement on him.
Miz says he is the guy who cheated and scammed, but he has the guts to admit it. He says Brad Maddox and The Shield are in his corner.
Miz is inviting CM Punk to come on MizTV and take a lir detector test. Heyman calls Miz Mr. Mizanin and Miz calls him a walrus. The crowd starts chanting walrus immediately.
Punk gets upset and tells the crowd to apologize. Miz says he wants Punk with a live mic on MizTV and I think he screws up saying the word pipe-bomb.
Punk finally agrees to take the lie detector test before we go to commercial.
After the break we get Paul Heyman talking with the WWE encyclopedia. He says there is not enough in the book about CM Punk so he doesn't endorse it.
In two days CM Punk will pass John Cena's longest reign to become the longest reigning current WWE champion and the longest reigning in 25 years.
Punk says he is still being unfairly persecuted. I don't now why but when CM Punk says he beat Ryback and Paul Heyman yells "I saw it!" I laughed pretty hard.
Punk gives a great heel promo about being better than everyone in the crowd. I wonder how long it will be before someone comes out to interrupt him.
CM Punk and Paul Heyman makes their way to the ring right after the Divas match is over.
Punk is out, but we get a commercial. So he is just going to stand in the ring for two minutes while the arena waits?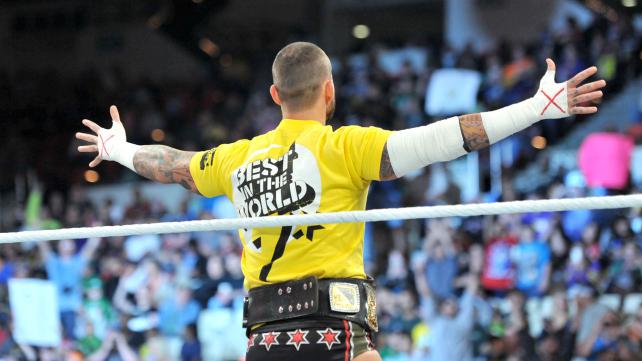 OK.
Tamina vs. AJ
The bell rings and AJ uses her quickness to get on Tamina's back only to get thrown off. She jumps back on Tamina twice but the final time Tamina slams her into the corner.
An AJ chant breaks out as she leaps up to the top rope. She gets dragged down hard by Tamina and the bigger Diva goes to work with kicks to the gut.
You don't often hear a chant during a Divas match except for a boring chant. Nice to see a Diva get some crowd support.
Tamina props AJ on the top rope as the AJ chant gets going again. Tamina pulls AJ over her shoulder in a modified rack submission.
She drops AJ on the ground and AJ ends up fighting back with kicks to Tamina.
Tamina takes her right back down with a back elbow. She stays on AJ and sets her up for the Superfly splash, but as she goes to climb up the ropes AJ rolls her up for the surprise win.
Winner: AJ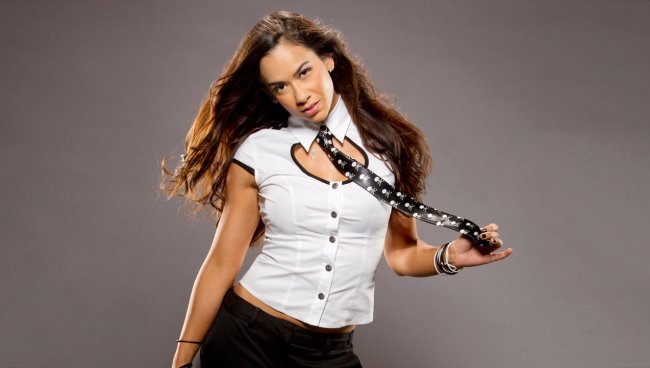 There was some decent wrestling in that match. This could be good feud for the Divas division.
This article is
What is the duplicate article?
Why is this article offensive?
Where is this article plagiarized from?
Why is this article poorly edited?