Earlier today, the Tampa Bay Rays came to terms with James Loney to a one year, $2 million contract.
This low-risk move will hopefully provide some more stability for the Rays at first base, as Carlos Pena (.197/.330/.354) underwhelmed for much of last season.
Loney did not exactly have a spectacular year last year either, but his track record does suggest that he is capable of hitting. Last year with the Los Angeles Dodgers and the Boston Red Sox, his numbers of .249/.293/.336 with just six home runs were disappointing to say the least.
However, a career .282/.339/.419 hitter, Tampa Bay is hoping that last season proves to be the exception rather than the rule.
Despite his lackluster performance at the plate last season, Loney is still an above average glove at first base, and if he can improve to his career averages, this move will look like a steal for the Rays, similar to how they utilized Casey Kotchman two seasons ago.
The odds of Loney returning to form would significantly increase if the Rays opt to use him in a platoon role.
Looking at his splits from last season, Loney hit just .217 against left-handers, but upped his production to .257 against righties. Expanding this to look at the last three seasons, Loney has hit .218 against lefties, but has hit .287 against right handers, showing that if platooned, he could prove to be an ideal fit.
Pending free agent Jeff Keppinger could step in admirably to fill the void left by Loney against left-handed pitching.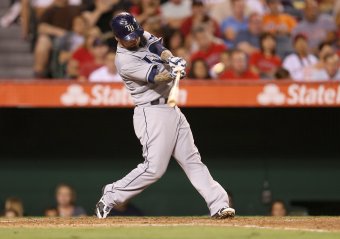 Stephen Dunn/Getty Images
Keppinger is garnering a lot of interest on the market after hitting .325/.367/.439 last season with the Rays, and is capable of playing multiple infield positions, also making him an attractive utility player for several teams.
Examining Keppinger's splits further, the numbers show that he was exceptional against lefties. Hitting .302/.352/.403 against righties was impressive, but a whopping .376/.402/.521 against left-handers would make him a great fit.
The Rays could play him at first against lefties, and opt to play Loney against right-handers. If they want to fit both into the lineup against a right hander, Keppinger could serve as the designated hitter, or play third base as Evan Longoria recovers from his hamstring injury.
Plenty of teams will be interested in acquiring Keppinger so there is by no means a guarantee that this is a possibility. However, Keppinger suffered a broken fibula when he tripped down the stairs in his home last week, a tough break for a player who had such a great season, exceeding the expectations of many.
Although it is disappointing that Keppinger suffered an injury, it could serve as beneficial to the Rays. With so many suitors, Keppinger may have priced his way out of Tampa Bay, but with incoming news of this injury, the price to retain him might be slowly dropping, and it is possible that the Rays could find a way to keep him around.
Honestly, I don't think the Rays will be able to keep Keppinger around, because regardless of his injury he will reportedly be back for spring training and there are plenty of other teams that could overpay for his services, such as the New York Yankees now that Alex Rodriguez will miss the beginning of the season. But a Loney-Keppinger combination would be a nice way to improve the underwhelming Tampa Bay offense, and the Rays should certainly look into resigning Keppinger regardless of the competition.