Why All Heisman Voters Must Look Past Johnny Manziel Being a Freshman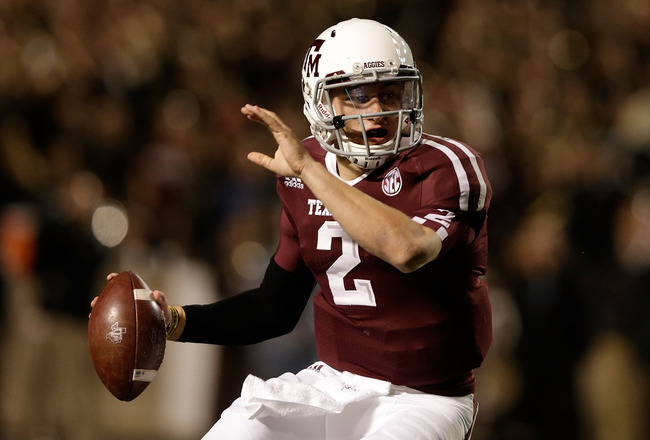 Scott Halleran/Getty Images
A new chapter in Heisman Trophy history is being prepared with Johnny Manziel leading the charge as the next award recipient. If Manziel is able to pull off the win, he would be the first freshman to ever win the Heisman.
Some voters may take issue with making history this season with a Manziel selection—especially considering that Manti Te'o is also a hot name in the race. He is a senior and would only be the second defensive winner in Heisman history, but the voters need to look past Manziel being a freshman and vote based on this year's performance.
Manziel is far and away the most impressive player in college football this year. These are the five reasons why he should take the podium on Dec. 8.
Record Setter on a Weekly Basis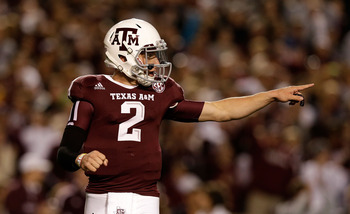 Scott Halleran/Getty Images
Johnny Manziel's stock began to skyrocket when he guided Texas A&M to a huge win over Arkansas 58-10. Manziel set the SEC offensive record for a single game finishing the contest with 557 total yards.
He also broke the Aggies school passing yardage record with his 453 passing yards that day.
By seasons end, Manziel had become the fifth quarterback in college football history to pass for 3,000 yards and run for 1,000 in a season. He was the first freshman to ever accomplish the feat.
The last two Heisman winners have been quarterbacks with Cam Newton and Robert Griffin III taking home the award in the 2010 and 2011 seasons. It is time to make it three in a row.
Maneuvered Through SEC with Ease
Mike Zarrilli/Getty Images
This year Johnny Manziel was able to help transition the Aggies into the SEC with a number of big wins. Texas A&M did finish the year with two losses in conference, but the Aggies were competitive in every game.
Texas A&M was able to win six of eight conference games, including a major upset win over then-No. 1 Alabama in Tuscaloosa. Without Manziel, the Aggies couldn't win that game.
In the two losses, Manziel was still a good performer. The Aggies opened the season with Florida and a 20-17 defeat, and faced LSU in November when they lost their second game, 24-19.
In those games, Manziel combined for 449 passing yards and 87 yards rushing. He did have a rough day against LSU throwing three interceptions, but his overall body of work covers the one bad Saturday.
No Comparable Contender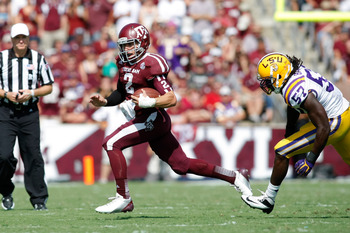 Brett Davis-USA TODAY Sports
Looking at the other top contenders for the Heisman, there is no comparable player to Johnny Manziel.
Manti Te'o is the second hottest name in the competition, but he is not the sole reason that Notre Dame has seen the success that it has this year. Te'o is a major role player in the defense, but without him the Irish could still thrive.
Braxton Miller at Ohio State has also been a strong name in the race to finish the season, guiding his Buckeyes to an undefeated season this fall. Miller was great this season under Urban Meyer, but his performance was nowhere near as strong as Manziel's.
This season has been full of surprises, but the biggest surprise would come if Manziel was not awarded the Heisman. There is no player in the country that has been as impressive as Johnny Football.
College Football is a Changing Game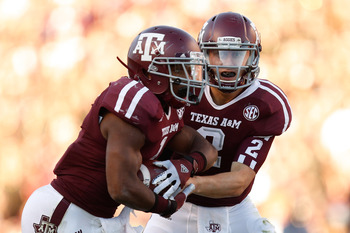 Thomas Campbell-USA TODAY Sports
Every year there seems to be new waves of change that come to the college football game. As of late, offense has become the evolving arm.
The spread offense was once thought to be a gimmick-type system, but as of late it has become the leading system in the college game. The spread system has allowed players like Johnny Manziel to rise to the top of college football as their athleticism makes for a two-headed monster in the spread.
Just as offense has evolved defenses have as well. The 3-4 scheme has become more prevalent in recent years, as putting more speed on the field defensively has become a necessity.
Just as the style of offense and defense has evolved, the way we think about awards should change as well. Putting a freshman in the discussion for the Heisman was unthinkable a few years ago, but now it is debatable.
College football has become a game that is fueled by excellent underclassmen play—to stop the progression that us upon us and not award a freshman the Heisman because of his class is absurd.
Sandlot Style Shows He Is a Superior Performer
Thomas Campbell-USA TODAY Sports
When a new coach takes over a program there will always be growing pains. The tiniest of details are changed, but the most obvious changes are on the offense and defense.
Most quarterbacks struggle in their first year with a new system, but Johnny Manziel has excelled. Manziel was able to step into a new scheme and find instant success, leading the Aggies to a 10-win year and Top 10 ranking.
One of the reasons that Manziel has done so well is his sandlot-style of play. Instead of giving Manziel more than he can handle, the Aggies coaching staff was able to give him just enough and allow for his athleticism and field vision to take over.
The way that Manziel has adapted to the new scheme and coaching staff has been nothing short of amazing. He was expected to take a backup role to start the year—instead he is the leading candidate for the Heisman.
If the voters have an issue with his age, they need to take a look at his film—specifically the Alabama game. All concerns would be removed from the vote, and Manziel would walk away with the award.
Keep Reading

Texas A&M Football: Like this team?