Hot Seat Rankings: Andy Reid, Norv Turner and More Coaches in Trouble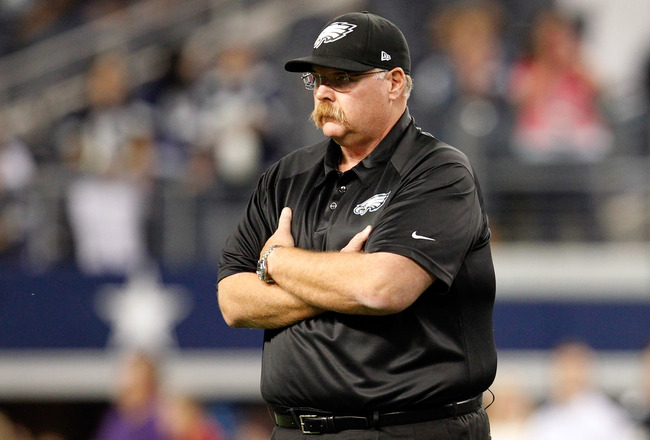 Tom Pennington/Getty Images
The next few head coaches are sitting on some rather hot seats at the moment.
From Norv Turner to Lawrence Frank to Andy Reid, the last thing you would consider their jobs is comfortable.
Their tenures have reached the rockiest of circumstances and it very well may be the last signs of failure.
Here we have the latest in our weekly breakdown of the inept leaders who are steering a runaway semi-truck with no brakes. The axe may be just one loss away for the few men whose teams are reeling out of control.
Of course, we are bound to miss some deplorable efforts out there. Nominate your hot seats in the comments section below, or just chime in on those we have here.
Let's take a look at those hot seats.
Coaches Fired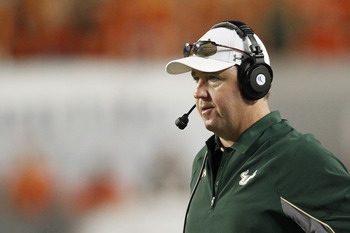 Joel Auerbach/Getty Images
First up are the coaches who were canned over the past week. As you can see, things were not as combustible as they have been over the past few weeks.
Skip Holtz (Previously unranked): Multiple reports issue Skip Holtz has been fired as South Florida's head coach. He followed a bad season with an awful 3-9 one.
Jim Washburn (Previously unranked): The Eagles horrible season just cost their defensive line coach his job. Will there be more firings from the Eagles? It's a safe bet we examine this shortly.
7. Lawrence Frank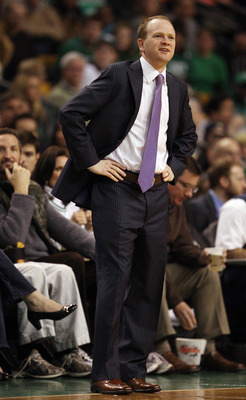 Elsa/Getty Images
Last week's rankings: No. 6
It's not time to pull Frank off the hot seat entirely, although the Pistons are playing a much more feisty brand of basketball than the comatose version we saw at the start of the season.
The Pistons who started the season 0-8 are actually playing like they somewhat care about the games. The team who was 17th in defense a week ago is now 12th in points allowed.
Don't look now, but Detroit is mediocre. Hooray.
6. Romeo Crennel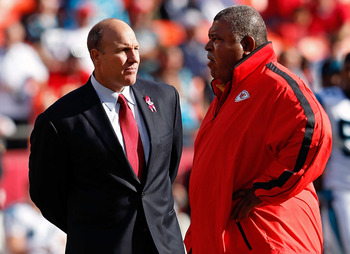 Jamie Squire/Getty Images
Last week's ranking: No. 3
Romeo Crennel was on the hot seat long before the tragic turn of events involving Jovan Belcher last week. Now is clearly not the time to let the team's leader go, no matter what the standings may say.
There will be plenty of time to assess whether Crennel deserves another go with the clipboard, but that isn't now.
The team just fought for their second win of the season, suffered a horrible tragedy and are already out of the playoff picture.
It's time to just get through the rest of this season as a cohesive unit and leave the difficult decisions for the offseason.
5. Lane Kiffin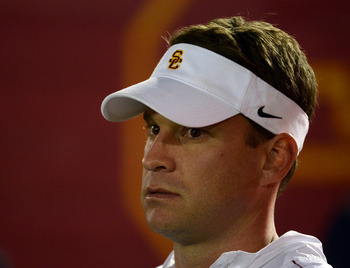 Harry How/Getty Images
Last week's ranking: No. 4
We have slightly cooled on Kiffin in that the worst of the season may be behind him. At least, that's what Trojans fans hope.
The former No. 1 team in the nation had their sights on the National Championship. After a season that was filled with far more fodder than they would have liked, they are relegated to playing Georgia Tech in the Sun Bowl.
A loss there should really make for a tumultuous offseason for USC and their current head coach.
4. Rex Ryan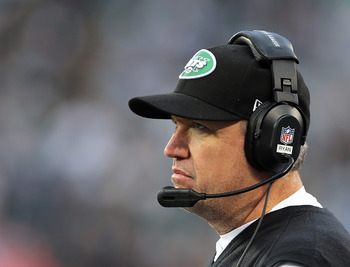 Elsa/Getty Images
Last week's ranking: No. 1
Oh, great. The Jets won a game.
Please send any and all cookies you may have directly to Rex Ryan.
The Jets didn't just beat the hapless Cardinals 7-6, they beat them after seeing Mark Sanchez substituted for third-string QB, Greg McElroy.
A turbulent quarterback controversy just added a new character, so we don't see this ending well for anyone involved.
3. Andy Reid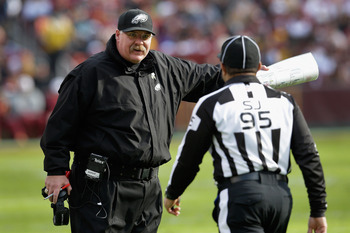 Rob Carr/Getty Images
Last week's rankings: No. 5
Andy Reid put an end to the quarterback debate that would have no doubt surfaced once Mike Vick came back from injury.
That doesn't mean there is any question this man's job is in serious jeopardy.
Philly.com reports Nick Foles will play out the rest of the season as starting quarterback, which is the only certainty in Philadelphia at the moment.
The team has lost eight straight and played themselves into the role of NFL doormat for the remainder of the season. The Walrus needs to go.
2. Norv Turner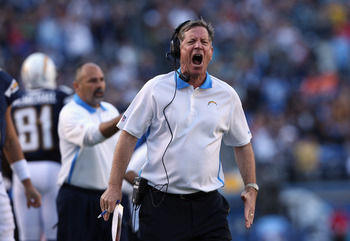 Jeff Gross/Getty Images
Last week's ranking: No. 7
Norv Turner has taken the regular-season inconsistency the Chargers are known for to a whole new level.
This head coach who we thought would never be fired simply can't keep his job after this season. Can he?
The Chargers are now 4-8 and on the outside looking in regarding the current playoff picture. Their latest folly was a 20-13 loss to the Cincinnati Bengals, a team that is looking better each week, something the Chargers would know nothing about.
1. Randy Wittman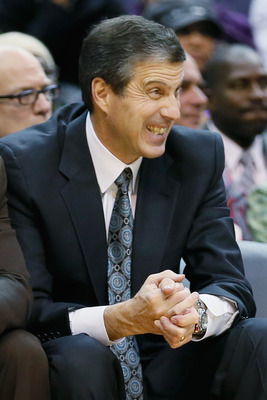 Rob Carr/Getty Images
Last week's ranking: No. 2
The Washington Wizards finally got their first win of the season last week, a squeaker against the Portland Trail Blazers.
They then promptly lost to the New York Knicks, 108-87. So much for signs of positive production.
If Wittman gets a pass, it would have to be that the team is still without John Wall whose return is still steeped in mystery.
Still, the team is ranked 30th in points scored, something even a healthy John Wall would struggle to change dramatically.
Hit me up on Twitter for things other than seats that are hot.
Keep Reading