The Tennessee Titans are taking on water and the ship is sinking.
Meanwhile, the Houston Texans dressed in their finest iceberg garb, gashed a 24-10 hole in the side of the Titans' record.
A second look at the tape makes it clear just how Houston ran its record to 11-1 on the year.
The Real Story
Every game has a story, and that story isn't always about both teams.
As much as the Texans are the sexier, more interesting squad, it felt like it was the Titans dysfunction that drove the action.
Houston played a safe, conservative game and let the Titans make all the mistakes. Some have expressed concern over the offensive output, but frankly, it's nothing to worry about. Gary Kubiak was smart enough to know that as long the Texans didn't turn the ball over they had this one in the bag.
Meanwhile, the Titans couldn't stay out of their own way. They may be the most frustrating mix of talent and confusion in football.
Every time the Titans play, there's this sense like they should be a much better, more functional football team than they are. That was the case again against the Texans.
The bottom line is that Houston is a smart, disciplined team and Tennessee is not. I'm not completely convinced the talent gap is as lopsided as the scoreboard indicated in the two games between the teams this season, but I am convinced that Houston is a better-run franchise at this point.
Heroes
In honor of J.J. Watt being, well, J.J. Watt, he once again gets no mention whatsoever in this space. As always, I ask, "What's the point?" He's a viable MVP candidate and the single best player I've seen in football this year, so I'm not going to talk about him any more.
Stop asking.
Justin Forsett had a nice day. His 14 carries for 64 yards were important because they meant Arian Foster only had to tote the rock 14 times.
Rookie LB Whitney Mercilus picked up two sacks and played the best game of his career.
Goats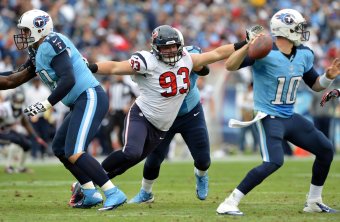 Don McPeak-USA TODAY Sports
Jake Locker was a mess. As much as anything, he looked out of sync with his receivers. Of course, that may be the product of Titans receivers running different routes, what with a new offensive coordinator and all.
Chris Johnson reverted back to his form from early in 2012. He was almost entirely ineffective, and his fumble was an absolute killer.
Secret Play
This could qualify as a coaching "note", but Kubiak's 4th-and-1 call at the Tennessee 11 was golden.
Normally, this should be a slam dunk, go-for-it-every-time type of call. First Kubiak called timeout, which is typically an excuse for coaches to panic and settle for three.
Even with Duane Brown out of the game, the Texans still ran to the left which surprised the Titans.
Foster cruised for six setting up the second touchdown, which would have been more than enough to win the game by itself.
Coaching Notes
Mike Munchak settled for a punt on 4th-and-6 from the Houston 36. First, he had the Titans take a delay of game, then he sent out the punter trailing 21-3.
Though the ball was downed at the 1-yard line, he still gave away a great chance to score.
To his credit, he did rightly allow Locker to go for it on 4th-and-3 from the Houston 7-yard line. The result was an embarrassing fumble, but the thought process was correct.
Keep an Eye On...
For Houston, the only question now is health. They have a big game against the New England Patriots next Monday night, and if they win, they can afford to coast the final few weeks.
That will mean more 14-carry days for Foster instead of 24-carry days. That's a very good thing.
For Tennessee, the only question that remains is whether the players want Munchak back.
If they do, they'll rally and string together some nice games down the stretch. If they don't, I'm pretty sure they can just keep doing what they are doing, and things will take care of themselves.