2013 NFL Mock Draft: Pick by Pick Projections for Entire First Round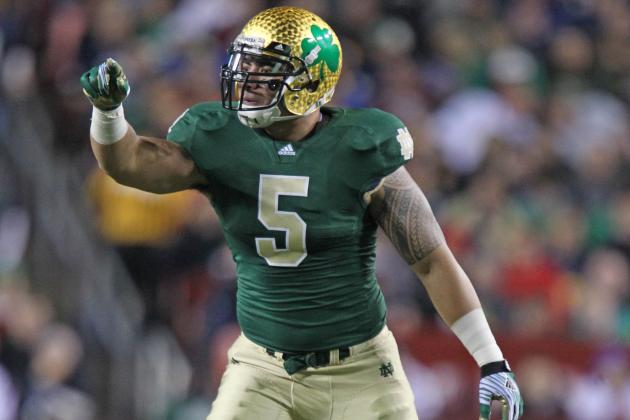 Mitch Stringer-USA TODAY Sports

A new month means a new 2013 NFL mock draft completed through the first round.
Now, in December, pro football's playoff races are heating up along with the anticipation of which teams will get a top selection.
We also have to take into account bowl season.
Because it is the last time we'll get to see potential prospects suit up for their respective schools. Bowl season is, in short, a final collegiate interview, if you will, before the East-West Shrine Game, Senior Bowl and NFL combine.
Notre Dame's Manti Te'o is among the top players around, and he is also a 2012 Heisman Trophy candidate. Surely he'll be watched in the BCS national championship game in January.
With all that, let's check out how Te'o and the rest of Round 1 shape up in another installment of the 2013 NFL draft.
Begin Slideshow

»
Charles LeClaire-USA TODAY Sports

Geno Smith is the best quarterback in the draft, but he's not the best prospect.
By that token, the Kansas City Chiefs can take him at first overall or trade down. Obviously, by trading down, the Chiefs potentially run the risk of Smith going elsewhere.
Nonetheless, trading back and stocking up while landing Smith in the process is the most ideal of situations. Regardless, K.C.'s quarterback future would be set with West Virginia's signal-caller at the helm.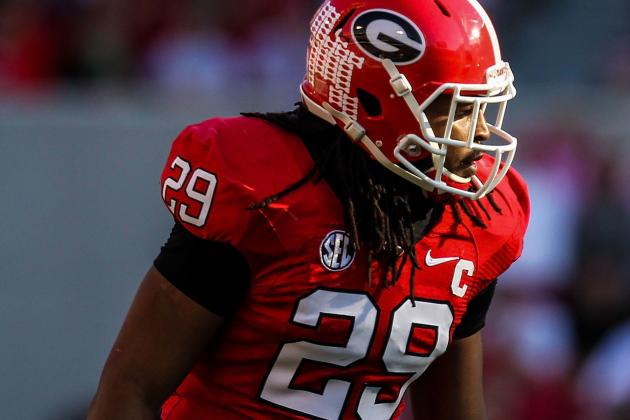 Daniel Shirey-USA TODAY Sports

The Jacksonville Jaguars need a young stud pass-rusher to get the defense rolling.
The Jaguars have recorded just 13 sacks thus far in 2012; Jarvis Jones nearly equals that right now with 12.5.
He's also a sound run and pass defender who can make a stronger impact for Jacksonville. After all, the Jags lack across the board defensively.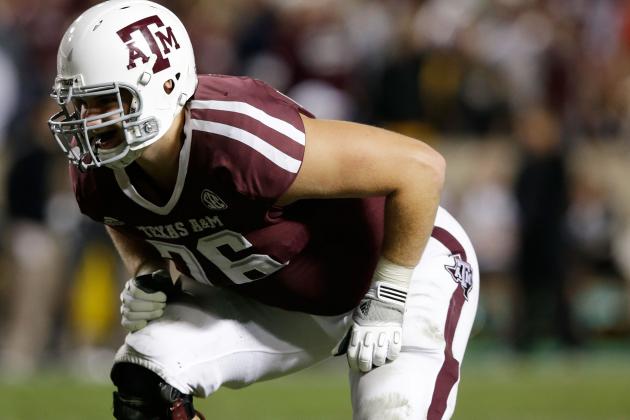 Scott Halleran/Getty Images

The Philadelphia Eagles put on a valiant effort versus the Dallas Cowboys on Sunday night.
Still, the pass protection remains a dire concern with 35 sacks allowed through 12 games.
Well, Luke Joeckel has protected redshirt freshman Johnny Manziel in the SEC this season, which has played a key role in Manziel being a Heisman candidate.
Possessing excellent size, balance and power, Joeckel will wall off the blind side in a division that fields multiple strong pass-rushers.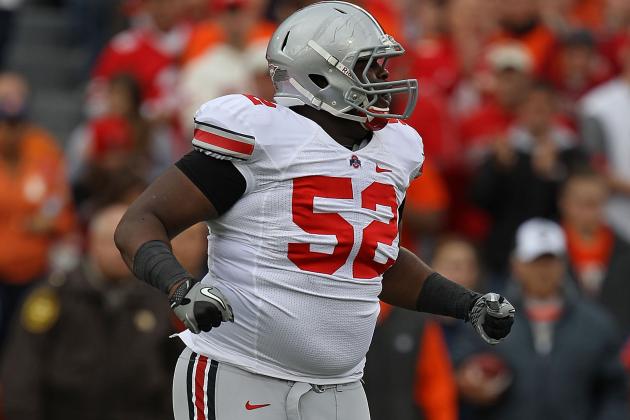 Jonathan Daniel/Getty Images

Shutting down the running game is one of many defensive needs for the Carolina Panthers.
Allowing an average of 4.4 yards per carry through Week 13, the Cats gave up 178 to Eagles' backup Bryce Brown.
Taking Johnathan Hankins simply ensures dependability on the interior line, because he can stuff lanes and get into the backfield. Not to mention, Carolina does present solid edge defenders in Charles Johnson and Greg Hardy.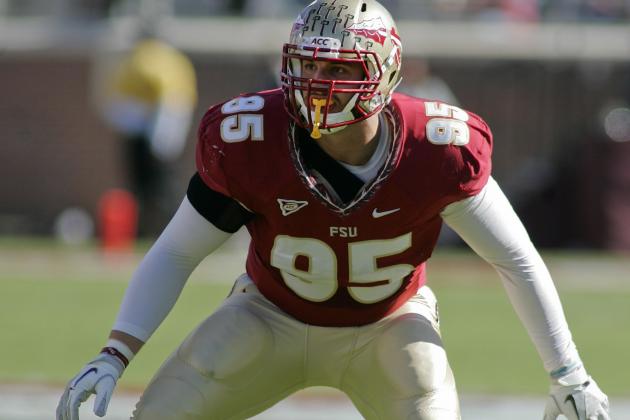 Phil Sears-USA TODAY Sports

This case is analogous to Jarvis Jones' situation with the Jaguars.
We're now in December and the Oakland Raiders have just 14 sacks in 2012. Florida State's Bjoern Werner has 13.
Along with a lack of pressure, though, Oakland gives up 4.7 yards per rush and has allowed 24 touchdown passes. Werner at least provides a stronger outside defense, as he is constantly in the backfield and possesses the innate awareness needed to bat down passes from a quarterback's quick release.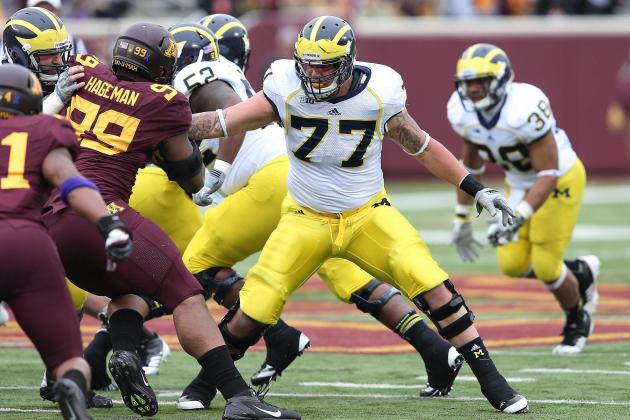 Jesse Johnson-USA TODAY Sports

Although it wouldn't be surprising to see the Arizona Cardinals take a quarterback here, the pass protection needs just as much help.
Currently, Arizona has allowed 48 sacks, which equates to four per game.
Factor in about a million more quarterback hits and Michigan's Taylor Lewan is a great selection. He moves well laterally and is extremely athletic for his size. That alone will reduce the pressure, and his run-blocking skills gives the Cardinals some balance.
In a division where defense reigns supreme, Arizona won't become contenders without a solid line.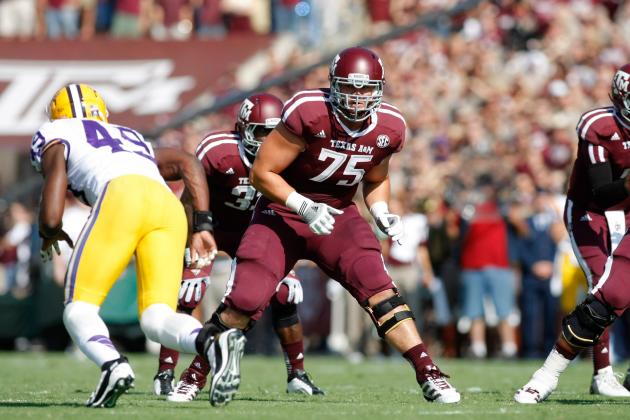 Brett Davis-USA TODAY Sports

The San Diego Chargers have plenty of issues to fix.
However, as the losses pile up, the only bright spot is a higher draft pick. Therefore, getting the other half of Johnny Manziel's pass protection in Jake Matthews works quite well.
Philip Rivers has been sacked 36 times and additional pressure has resulted in a plethora of turnovers. As for Matthews, his total skill set can impact at either tackle. His size and athleticism is right on par with Joeckel's, so the Bolts are getting a complete lineman.
He may be better at run blocking, but Matthews is also a consistently reliable pass-protector. If San Diego is to compete with the Denver Broncos, improving up front is imperative.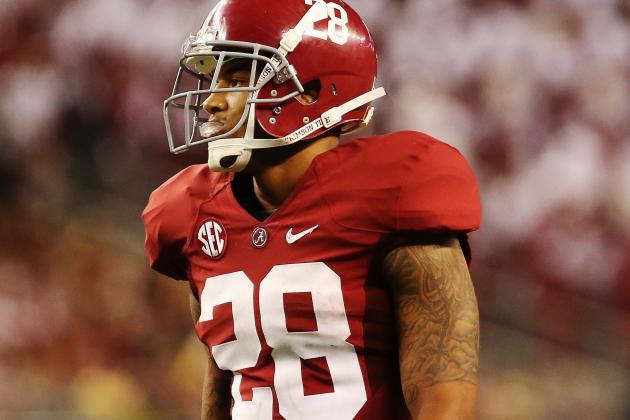 Kevin Jairaj-USA TODAY Sports

On Sunday, the Detroit Lions may have intercepted Andrew Luck three times.
Unfortunately, Detroit also gave up four touchdown passes and 391 passing yards to the rookie.
By this point, the Lions have also allowed a 63.1 completion percentage and have only 10 total picks. Enter Alabama's Dee Milliner who has 20 defended passes and 51 tackles this season.
Yes, he's been challenged often by opposing quarterbacks. Nonetheless, that's exactly what happened to Detroit in 2012 with Aaron Rodgers, Luck, Matt Schaub, Jake Locker and Christian Ponder.
The Lions have a decent pass rush. Getting Milliner simply assists the front seven by having better coverage, thus giving them a bit more time to apply pressure.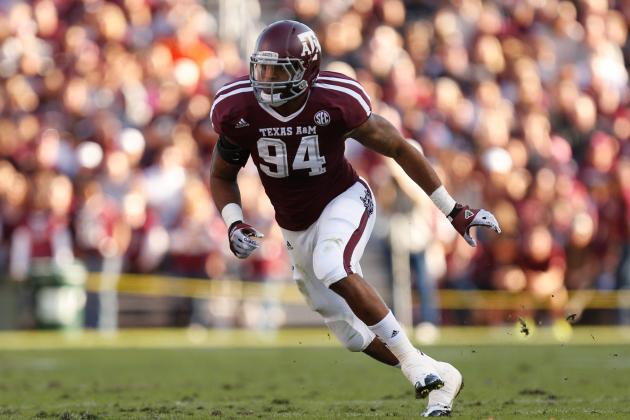 Thomas Campbell-USA TODAY Sports

Once again, the Tennessee Titans are struggling defensively.
Through 12 games in 2012, the Titans rank No. 26 against the pass and No. 27 against the run.
Combined, Tennessee allows 387 total yards and 30 points per game. Yikes.
Drafting Damontre Moore, however, enhances the pass rush and run defense. He's not just a sack-master either, because Moore can squeeze the edge and win one-on-one situations. To compete in the AFC South, Tennessee needs that ability to control the line of scrimmage. Otherwise, a 2012 repeat will occur.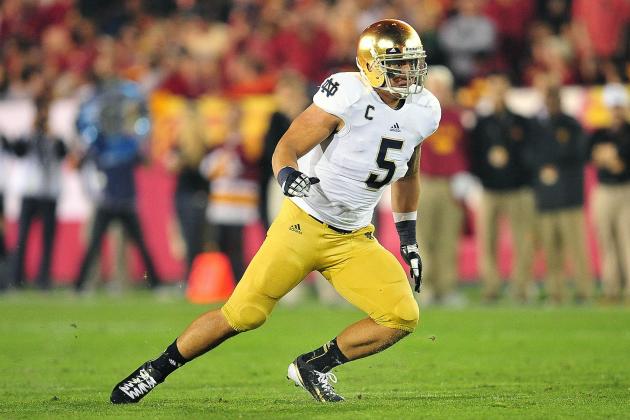 Gary A. Vasquez-USA TODAY Sports

Manti Te'o to the Cleveland Browns may not seem like a fit at first glance because D'Qwell Jackson already sits at middle linebacker.
The great thing about Te'o, though, is he can fly around at outside linebacker and give Cleveland variety.
In strict passing situations the Browns would then possess the option of switching to a 3-4 front. This puts Te'o in the middle and allows him to read and react as normal.
No matter the down-and-distance, however, Te'o will stuff the run and shield in coverage to help the pass rush. Cleveland needs a physical playmaker in the front seven and Notre Dame's Heisman candidate is a perfect option.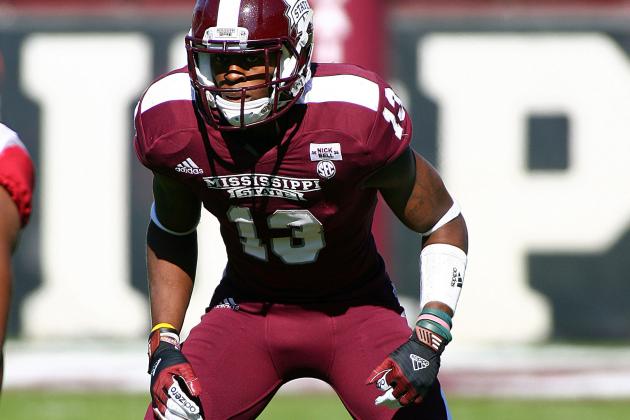 Spruce Derden-USA TODAY Sports

Pass defense is costing the Miami Dolphins in 2012.
Ranking No. 27 and allowing 257.7 passing yards per game, the Dolphins have only recorded nine picks through 12 games.
What's interesting is that Miami allowed this much despite a really strong pass rush. As a result, Johnthan Banks becomes a viable prospect. Banks can lock down in man and make tackles. He is also a consistent playmaker.
Yes, he may be a reach at No. 11. Miami, though, needs to generate more turnovers if it's to compete with the New England Patriots.
Brett Davis-USA TODAY Sports

Mario Williams of the Buffalo Bills is finally started coming around and now has 9.5 sacks in 2012.
The next two best pass-rusher and defensive linemen for Buffalo are Marcell Dareus and Kyle Williams.
Mark Anderson has significantly underachieved after a strong 2011 campaign. Therefore, landing LSU's Sam Montgomery to complement Williams for an edge pass-rushing presence suits the team nicely.
Montgomery's explosiveness takes Buffalo's outside rush to another level, and the rest of the front seven benefits accordingly. This means fewer double-teams and more tackles for loss.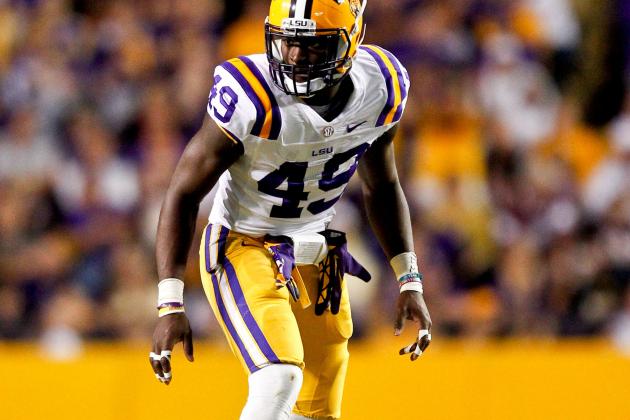 Derick E. Hingle-USA TODAY Sports

Sooner or later, the New York Jets must get some talented youth at linebacker.
Three of Rex Ryan's 'backers are over the age of 30: Bart Scott (32), Calvin Pace (32) and Bryan Thomas (33).
So, taking Barkevious Mingo would fit the team to a T. Mingo can blitz off the edge, can quickly react against the run and possesses the speed and agility to blanket in coverage. Gang Green just needs to improve on defense, as the Jets have allowed 4.3 yards per rush (137.7 per game) and have only 19 sacks in 2012.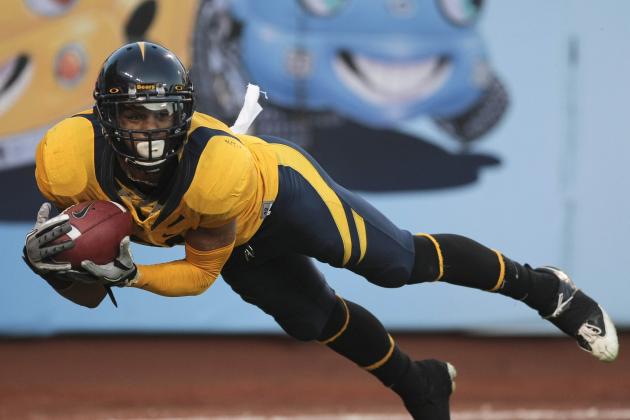 Kelley L Cox-USA TODAY Sports

The downside of Keenan Allen is his injury.
Per Dan Greenspan of CalSportsDigest.com from early November:
Keenan Allen has PCL injury, is looking at two-three week recovery, #Cal head coach Jeff Tedford says.

— Dan Greenspan (@DanGreenspan) November 1, 2012
So, he missed the final three regular season contests.
Still, the Minnesota Vikings need a standout No. 1 receiver who presents excellent size on the outside. Allen is just that and would be a great addition for Christian Ponder with other reliable targets in Percy Harvin and Kyle Rudolph.
Passing offense is needed because Adrian Peterson can't do it alone.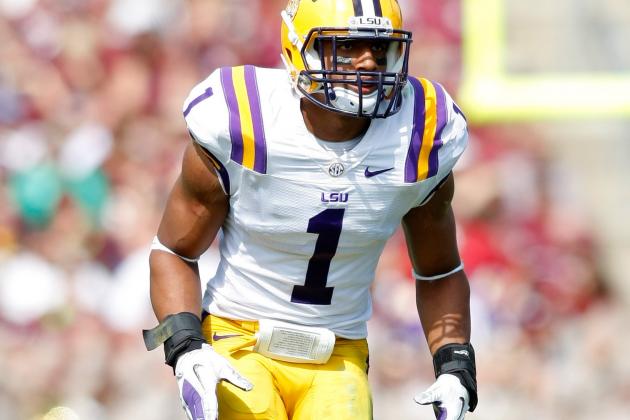 Brett Davis-USA TODAY Sports

Yes, the Tampa Bay Buccaneers already have a young safety in Mark Barron.
Ronde Barber, though, is 37 years old and can't play forever.
Now Tampa could also go cornerback or defensive line here because the Bucs have just 18 sacks on the year. Unfortunately, the Bucs also rank dead last in pass defense and allow a 66.7 completion percentage.
Eric Reid and Barron would make one great safety tandem. Reid can roll down, blitz, sit back deep and lock down one-on-one. In turn, Tampa can blitz its linebackers more to get added pressure.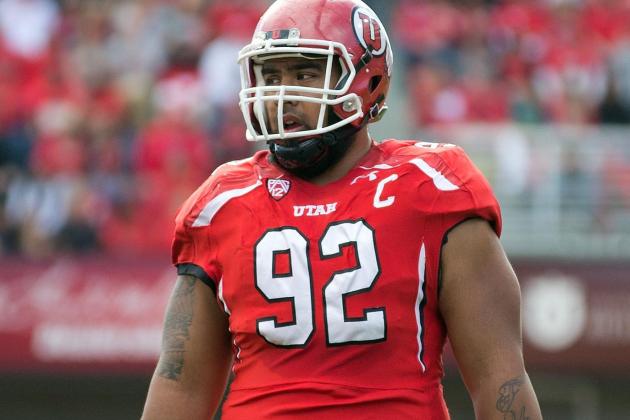 Russ Isabella-USA TODAY Sports

It's easy to look at the New Orleans Saints defense and find numerous vulnerabilities.
Then again, allowing an average of 440 total yards and 27 points per game warrants legitimate concern.
The weakness, however, resides in the trenches as the Saints allow 5.1 yard per carry and have just 25 sacks. The linebackers and defensive ends are solid, but only 2.5 sacks have come from the defensive tackles.
So selecting Star Lotulelei makes New Orleans stronger against the point of attack. He can split double-teams and consistently wreck in the backfield to assist the rest of the Saints' front seven.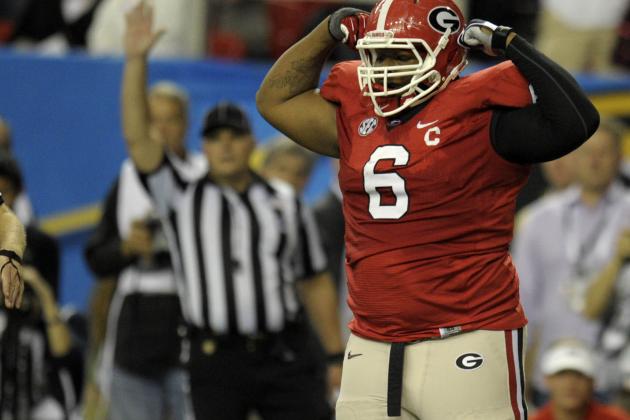 USA TODAY Sports

As we saw on Sunday night, defending the run is an obvious concern for the Dallas Cowboys.
Philadelphia ran for 183 yards, and Bryce Brown averaged seven yards per carry. That inability to control the line of scrimmage is why Big D continues to disappoint.
John Jenkins may be able to reverse that disappointment.
Possessing unreal size and better quickness than he's given credit for, Jenkins is perfect for Dallas. He'll either draw a constant double-team or beat single blocks, which takes an immense amount of pressure off the rest of Dallas' front seven to make plays.
Matthew Emmons-USA TODAY Sports

The need for a running game is evident in the NFC West, and Chance Warmack amplifies this need for the St. Louis Rams.
And although St. Louis gained 85 rushing yards vs. the San Francisco 49ers, 31 came from quarterback Sam Bradford.
Warmack's addition gives the Rams a more punishing attack, and he is also impressive at pass blocking. It never hurts to improve the pocket protection, especially when competing in a tough defensive division.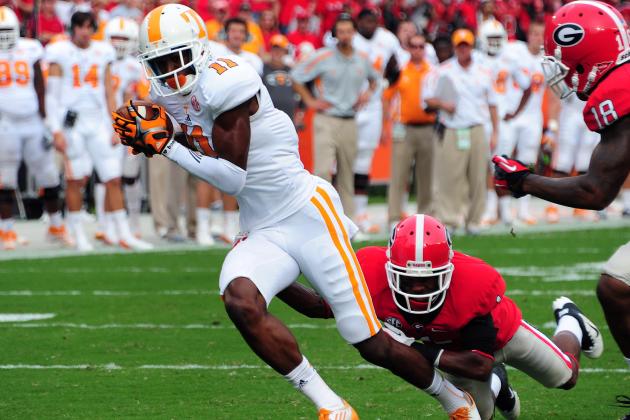 Scott Cunningham/Getty Images

Next up for the Rams is receiver Justin Hunter.
With Chance Warmack helping to improve the ground game, pass protection and overall balance up front, Hunter completes Sam Bradford's receiving corps.
Brian Quick and Austin Pettis are also of great size, but neither have made much of an impact so far in 2012. Part of that can most definitely be attributed to Bradford getting pressured; however, Hunter possesses better acceleration and top speed to make more plays downfield.
St. Louis needs a receiver that can consistently make big catches and that can also be a nice red-zone threat.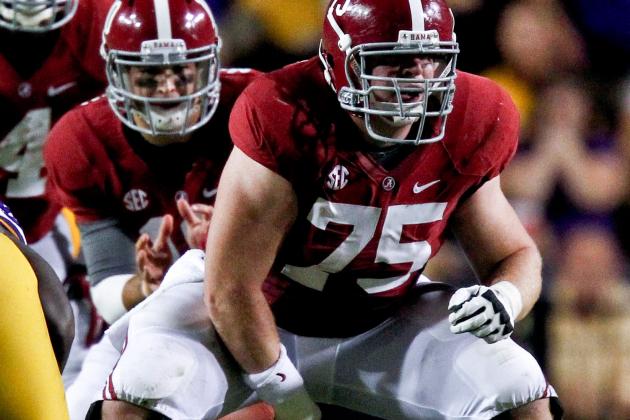 Derick E. Hingle-USA TODAY Sports

It never hurts to draft a versatile offensive lineman, especially into the AFC North.
The Cincinnati Bengals are a nice fit for Barrett Jones, as the Crimson Tide senior has contributed everywhere across the line.
Jones, however, is best suited for center because of his size, experience and ability to multitask at the position.
In other words, Jones can snap while reacting quickly and extending his free arm. His feet are among the best around with regard to lateral movement and balance, which can only help the Bengals continue to improve their ground game.
Scott Olmos-USA TODAY Sports

As the 2012 season has progressed, the Pittsburgh Steelers have continued to improve defensively.
Nevertheless, the Steel Curtain must get younger in the front seven to sustain their consistent level of dominance.
The best approach to that sustainability is taking Oregon's Dion Jordan in Round 1. Jordan is extremely quick and explosive, and his size allows him to avoid being blocked and to set the edge against the run.
Plus, Jordan is a backfield menace capable of creating turnovers and accumulating sacks.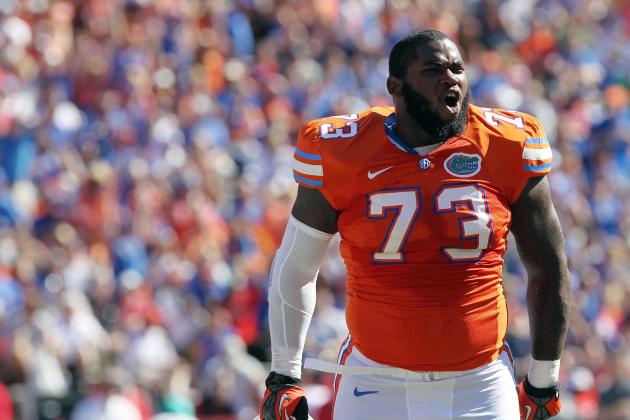 Kim Klement-USA TODAY Sports

Provided the Indianapolis Colts improve at controlling the line of scrimmage, Andrew Luck and Co. will hit another level.
Defensively, controlling the trenches has been a constant issue in 2012.
Here, Indy gives up 4.8 yards per carry and 122.6 per game. In the AFC South where backs such as Arian Foster, Chris Johnson and Maurice Jones-Drew reside, defending the run is imperative next season.
Florida's Sharrif Floyd then becomes the answer, since he possesses a great jump at the snap and knows how to get in the backfield. The Colts need a bit more interior defensive line prowess, and Floyd brings that along with impressive awareness.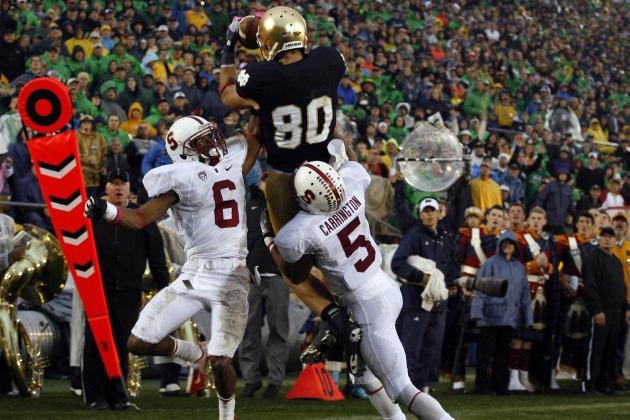 Brian Spurlock-USA TODAY Sports

The Chicago Bears need a tight end to complete their receiving corps.
Notre Dame's Tyler Eifert fits the mold to a T.
With Brandon Marshall on the outside and Jay Cutler's strong arm, Eifert would consistently get favorable mismatches downfield. Then again, he is a tight end capable of defeating double coverage, and his presence will occasionally distract attention from Marshall.
Also, the NFC North must still improve its pass defense. So, Eifert's talent just balances the Bears out, and the Windy City's offense moves the rock more efficiently.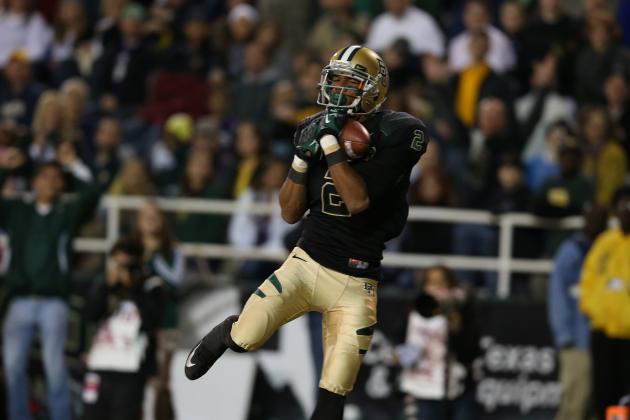 Matthew Emmons-USA TODAY Sports

Russell Wilson keeps living up to the hype, and he's doing it without an overly dominant receiving corps.
Baylor's Terrance Williams, however, enhances that for Seattle's offense.
While playing second fiddle to Kendall Wright in 2011, Williams still produced well and upped the ante for 2012. This season, he easily lived up to expectations with over 1,700 receiving yards and 12 scores.
The Seahawks need another deep threat with solid route-running skills because the ground game can only dominate so much. Wilson already has an abundance of targets; the addition of Williams will just take Seattle to a more explosive level.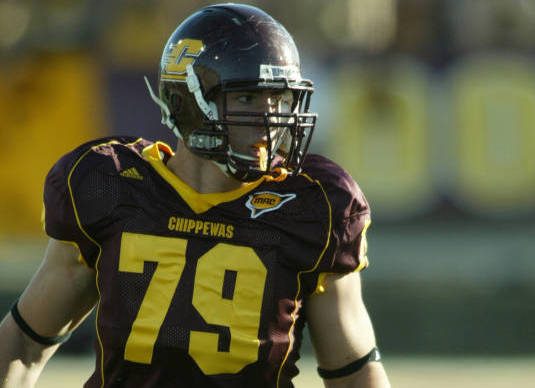 Photo Credit: Tim Fitzgerald, Central Michigan University Athletics
Eli Manning has only been sacked 13 times in 2012 and has not been hit an extensive amount thereafter.
The New York Giants also average 4.5 yards per carry and have an A-game that's as good as any team's.
Still, Tom Coughlin needs an offensive lineman in the form of Eric Fisher. Big Blue is beginning to age in the trenches, and planning now for the future is required: David Diehl is 32, Sean Locklear and David Baas are 31, and Chris Snee is 30.
By no means does that make them ridiculously old, but Fisher's potential can impact in 2013 with his light feet and fluid athleticism.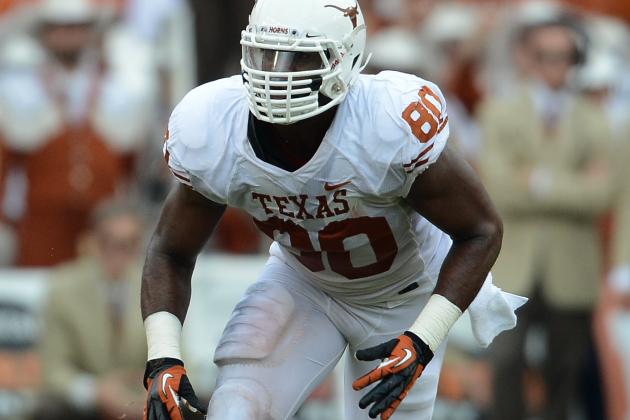 Matthew Emmons-USA TODAY Sports

As crazy as it sounds, the Baltimore Ravens still must improve defensively.
Baltimore continues to allow an average of four yards per carry, and it's a big reason why the Steelers pulled the upset.
Alex Okafor of Texas can easily help fix this aspect, though. His size is great for being a 3-4 defensive end or outside linebacker, and his 24 tackles for loss the past two seasons will benefit the Ravens up front.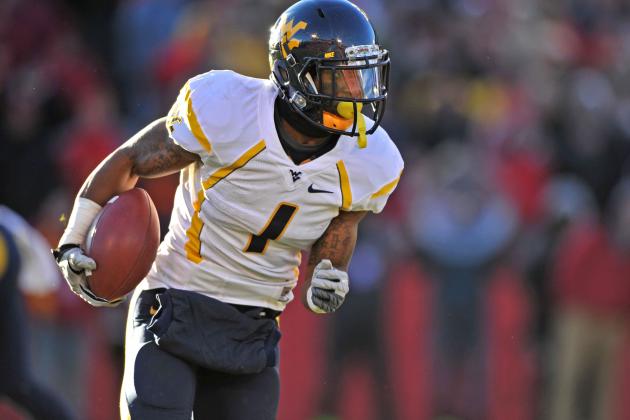 Peter G. Aiken-USA TODAY Sports

The future of the Denver Broncos at receiver is basically solidified between Demaryius Thomas and Eric Decker.
Brandon Stokley, at the slot position, is 36 years old.
In short, West Virginia's Tavon Austin would do exciting wonders for Peyton Manning's offense. For as reliable as Stokley can be, the Broncos have to get faster and younger at the spot.
Austin's explosiveness and ability to rack up insane yards after the catch will complete Denver's offense, as will Austin's versatility on jet sweeps and quick tosses while going in motion.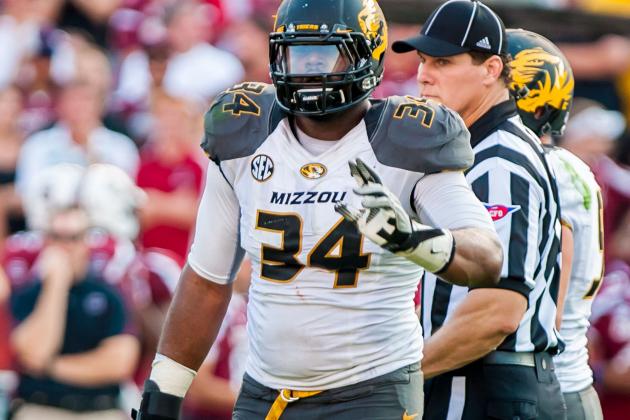 Jeff Blake-USA TODAY Sports

The Atlanta Falcons may be 11-1, but the Dirty Birds continue to struggle with consistency in the trenches.
Yes, in Week 12 they had a dominating performance over Drew Brees and the Saints. That said, Atlanta still allows 4.8 yards per rush and 121 per game on the ground.
Missouri's Sheldon Richardson is the solution next spring because of his knack for creating turnovers and constant crashing in the backfield. The Falcons need to improve up front or a deep postseason run won't happen.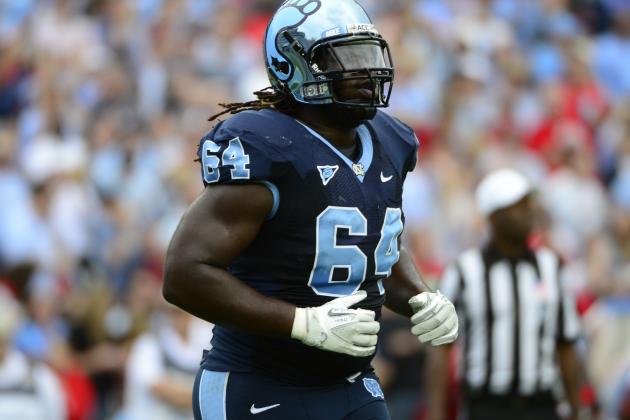 USA TODAY Sports

The offensive line has been the Achilles' heel for the Green Bay Packers this season.
Aaron Rodgers has been sacked 39 times and the ground game averages a mere 3.9 yards per rush.
For as little as the Packers run the rock, better effectiveness is required to maintain reliable balance. North Carolina's Jonathan Cooper solidifies better pass protection in Titletown, as he possesses nice control and lateral agility.
His foot speed is also quite explosive, which gets Cooper to extend running lanes by reaching linebackers across the second level.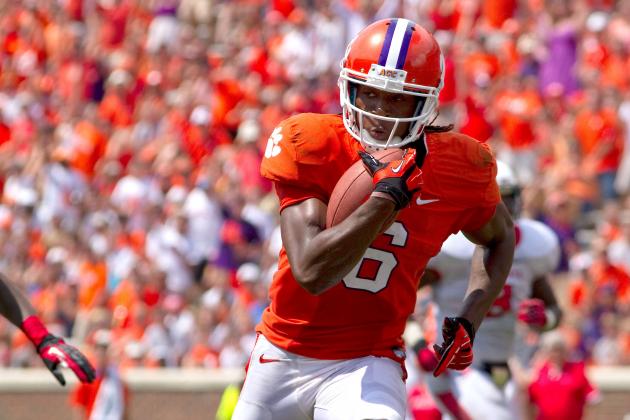 Joshua S. Kelly-USA TODAY Sports

Earlier this season the New England Patriots released veteran receiver Deion Branch.
Per Tom Curran of CSN New England in mid November:
The Patriots have released Deion Branch and Malcolm Williams. Greg Salas and Aqib Talib are added to the 53. #PatriotsTalk

— Tom E. Curran (@tomecurran) November 17, 2012
To that end, the Patriots do need another young receiver to takeover the spotlight. Brandon Lloyd and Wes Welker are both 31, so a younger outside threat is needed for Tom Brady.
Clemson's DeAndre Hopkins possesses that capability, because he is a downfield playmaker. Averaging 17.6 yards per catch in 2012, Hopkins has also scored 16 times in a pass-oriented offense.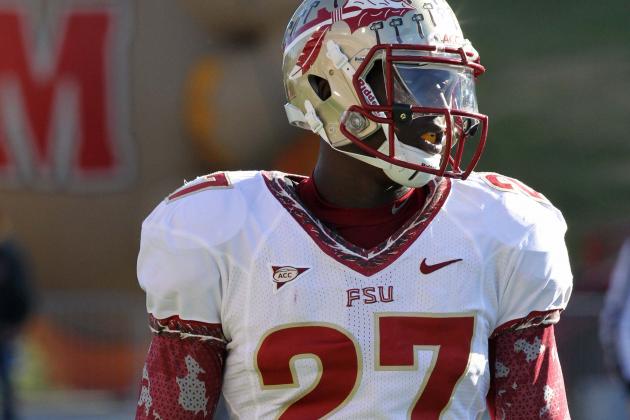 Mitch Stringer-USA TODAY Sports

The Houston Texans undoubtedly field one of pro football's best defenses, period.
We must also take into account the vulnerability in pass defense.
Houston ranks No. 19 against the pass and has allowed 20 passing touchdowns through 12 games. Considering that the Texans allowed Chad Henne to torch for 354 yards and then Matthew Stafford for 441, opponents aren't going to run much against them.
So, regardless of how 2012 pans out, taking Xavier Rhodes will help in 2013. Rhodes presents great size for a corner, and he's a reliable tackler to boot. Whether it's on the outside or at the nickelback or dimeback, Rhodes patches up a rough spot in Houston's coverage.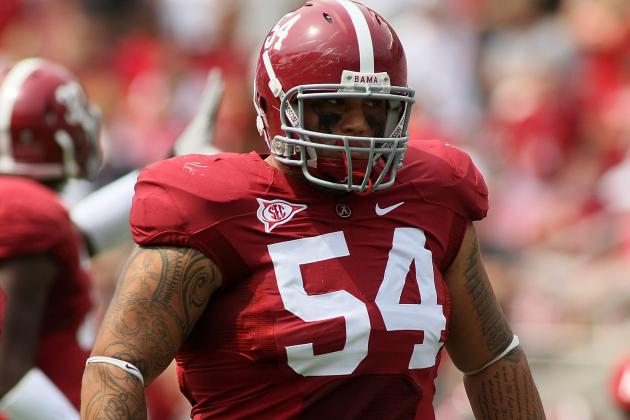 Greg McWilliams/Getty Images

Because he plays on Alabama, it's easy to overlook Jesse Williams.
His job isn't to constantly make plays in the backfield or create quarterback pressure because he spends time taking on blocking and clogging running lanes.
Well, that just what the San Francisco 49ers need in the future. Along San Francisco's defensive front line are some aging players: Justin Smith, 33 and Isaac Sopoaga, 31.
Here, it's strictly about planning ahead of time and developing Williams in the system to dominate whenever he's given opportunities. Even still, the guy does a solid job of tackling and splitting double-teams for Nick Saban.
Follow John Rozum on Twitter.