WWE Stars and Their NFL Counterparts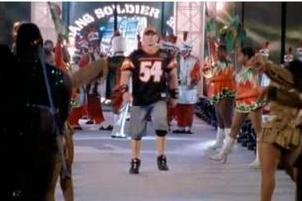 courtesy of wwe.com
Though most people wouldn't think so at first, World Wrestling Entertainment and the National Football League have a lot in common.
Both companies promote a form of entertainment that is both entertaining and violent. In the case of the NFL, violence probably takes the front seat, while entertainment is the focus of WWE.
Both are hoping to dominate the same target audience. The NFL and WWE covet the male 18-35 demographic, and both do a good job of capturing that audience, though WWE's ratings have been in a bit of a decline lately. The NFL also captures a wider market share than Vince McMahon's wrestling company. Professional football appeals more to women and to older adults than wrestling does.
Both WWE and the NFL are huge proponents of the social media. WWE is one of the most "liked" entities on Facebook, and has garnered a huge following on Twitter. During the NFL season, fantasy football sites inspire more Internet traffic than any other single sports entity.
Both "sports" inspire fanaticism. Fans of the Green Bay Packers would rather be executed than root for the Chicago Bears. The same type of loyalty is present in the WWE Universe. Those who love John Cena will probably love him forever, and will automatically hate whatever opponent he happens to be facing.
How did these seemingly disparate companies end up with so many parallels? The answer is simple. Both employ athletes who are the best in the world (apologies to CM Punk) at what they do. Some players (Wahoo McDaniel, Steve McMichael, Ron Simmons and Dwayne Johnson) come to the world of pro wrestling after their football glory days are behind them.
Top performers in WWE and in the NFL need a lot of the same characteristics. Here's a list of several WWE superstars, and their NFL "twins."
Begin Slideshow

»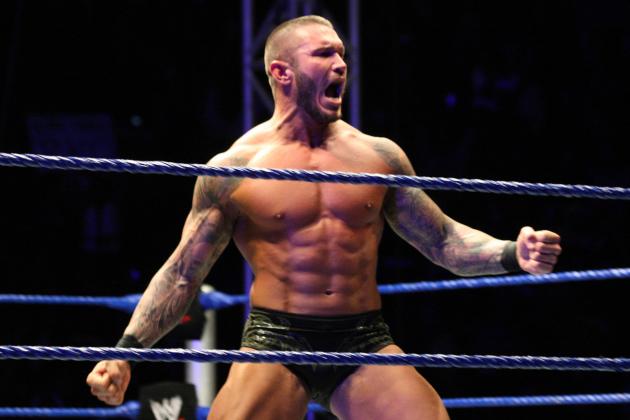 Gallo Images/Getty Images
Randy Orton and Matt Ryan - Peaked too Soon?
WWE Superstar Randy Orton and Atlanta Falcons quarterback Matt Ryan share some interesting parallels.
WWE's Apex Predator and "Matty Ice" were thought to be the absolute best of a new breed when they came to their respective professions. Both got off to hot starts. Ryan took the Falcons to the playoffs in his first season, and Orton quickly became the youngest World Heavyweight Champion in WWE history at the age of 24.
This early success has created some difficulty for each of the stars. Ryan, until this season, has never really been as effective as he was in his rookie campaign, and has endured the mantle of "the guy who cannot win the big one."
Orton, while still wildly popular as either a babyface or heel, has been criticized for his backstage attitude and apparent disinterest at various times in his career. Both Orton and Ryan set the bar so high when they first arrived on the scene that they've struggled to reach the expectations placed on them by fans.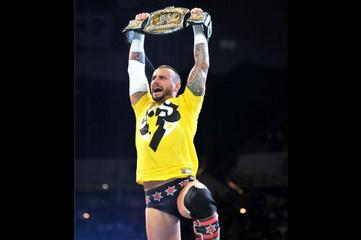 courtesy wwe.com
WWE Champion CM Punk's NFL twin is Chicago Bears quarterback Jay Cutler.
The most obvious similarity between these two is that fans hate them. Punk cuts some of the best promos in the wrestling industry, and can turn virtually any crowd against him in a matter of seconds. He recently demonstrated this talent on a WWE trip through his hometown (ironically) of Chicago.
The Windy City has been pro-Punk since his early days in Ring of Honor, but the WWE Champion had the audience booing him within seconds of picking up the microphone.
Being hated seems to be more natural for Cutler. He needn't work at it; he can simply be himself. The Chicago signal caller has feuded with opponents, team officials and his own teammates so often that his sideline tirades are starting to become boring to watch.
Punk, like his NFL doppleganger, has had his issues with his backstage compatriots. Largely due to his attitude behind the scenes, the WWE Champ is rumored to have a somewhat testy relationship with many of his peers.
Another parallel between Cutler and Punk is that even their detractors can't deny their talent. Last season, the Bears were serious contenders for the NFC North title until Cutler got injured. The team went into the tank immediately, and finished out of the playoffs altogether. Cutler missed one game this season, and Chicago was blasted by San Francisco.
Punk, long thought of as too brash and too "Indy" to be a serious contender for the WWE spotlight, has been the WWE Champion for over a year now. This is a scenario that even his biggest fans couldn't have dreamed of.
Love 'em or hate 'em, you have to respect both Punk and Cutler.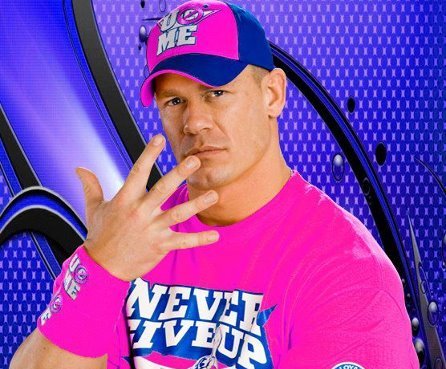 courtesy of wwe.com
There is no one in the NFL more like WWE superstar John Cena than the Minnesota Vikings' defensive end Jared Allen.
Like Cena, Allen is flamboyant, playing to the crowd after every quarterback sack and big play. Cena grandstands for the audience as well, flashing his "You Can't See Me" hand gesture at fans and opponents alike. Both Allen and Cena are extremely popular with the younger members of the crowd.
Both are known for their tireless work ethic. Allen, while primarily a pass rusher, still plays the run quite well for the Vikings. He's virtually never single-blocked, and chases opposing ball carriers with maniacal enthusiasm. Cena's credo is "Hustle, Loyalty and Respect." He appears more often on WWE television than any other superstar, and travels the house-show circuit more than most stars at his level.
Both Allen and Cena are hated by "pure" fans of their "sport." Allen is considered by some to be too flashy, and to be too focused on individual achievements instead of team accomplishments. Cena's detractors call him "cartoonish" and claim that he has poor mat skills.
Possibly the most relevant parallel between Cena and Allen is an appetite for charity work. Cena recently granted his 300th wish for the Make-A-Wish Foundation, and Allen devotes a great deal of time and money to his own charity, Homes for Wounded Warriors. (Allen's charity builds accessible homes for soldiers disfigured in battle.)
Both men spend a vast amount of time and effort performing deeds for those less fortunate.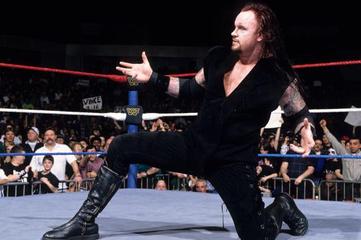 courtesy of wwe.com
WWE's legendary Undertaker is reminiscent of legendary Baltimore Ravens linebacker Ray Lewis.
Neither Lewis nor The Dead Man is quite what he used to be. Over the past several years, Taker has evolved into a special attraction. Each year, he makes his first appearance in late February or so, and begins the buildup to his latest WrestleMania match. The build continues until the big event in April, and Undertaker disappears again until the next February.
Lewis has spent considerable time out of action over the past few seasons. He's been out of the last five games for the Ravens, and, according to ESPN's Jamison Hensley, isn't expected to return until at least Dec. 16. Neither the WWE nor the Ravens (4-1 without Lewis) seem to be worse off due to the absence of their stars.
Both Lewis and Undertaker are considered leaders in the locker room. Lewis' teammates refer to him as "The General," and Undertaker has long been considered the dean backstage at WWE events. Co-workers respect both men, and both have a huge influence on the company they work for.
The biggest similarity between Lewis and Taker is that both are the very best at what they do. Undertaker is undefeated at WrestleMania, having run of a streak of 20 victories.
Lewis is regarded by many as the best middle linebacker in NFL history. He led the Ravens to a Super Bowl victory after the 2000 season and has racked up more than 2,000 tackles in his career.
Undertaker and Ray Lewis are paired in one other important way. Opponents fear them, and their fans love them.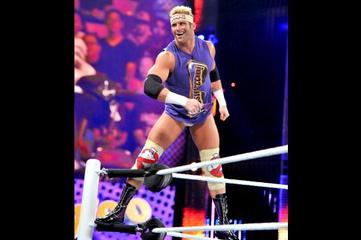 courtesy of wwe.com
WWE's self-proclaimed Internet Champion has something in common with the backup quarterback for about half of the teams in the NFL.
Like the backup quarterback on a losing team, Rider is wildly popular with fans. Fans of "Long Island Iced Z" clamor for him to make television appearances and to get his just due from WWE's creative team.
The same is the case with those aforementioned quarterbacks. Fans of the teams that are struggling think that everything will be just fine, if only their clipboard-carrying hero were allowed to come in and save the day.
The problem with both Ryder and those backup quarterbacks is that eventually, you have to let them perform. Once you see them in action, it quickly becomes clear why they were relegated to the sidelines to begin with.
Ryder is a skilled athlete, but his current persona has run its course. His sunglasses-wearing, "woo-woo-wooing" bright orange hair-wearing character is better suited for Saturday Morning Slam than a Sunday PPV main event.
The same holds true with those backup quarterbacks. Mostly, the only people that want to seem them play for an extended period of time are the fans who haven't seem them practice and possibly their mothers.
Zack Ryder and most NFL backup quarterbacks: most effective in small doses.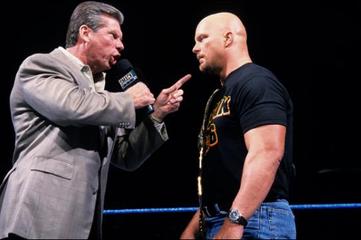 courtesy of wwe.com
WWE Chairman Vince McMahon's closest NFL counterpart is Dallas Cowboys owner Jerry Jones.
Both men have spent the majority of their careers hated by most fans. McMahon utilized that real-life hatred to his advantage, creating the Mr. McMahon character. This version of McMahon was one of the primary reasons that WWE's Attitude Era became one of the most profitable time periods in the history of professional wrestling.
Jones used the enmity of the NFL and other fans to create a bond between his organization and its fans. No team has more fans all over the country than the Dallas Cowboys, and, love them or hate them, most fans pay more attention to Dallas than to any team in the league that isn't their own.
To WWE fans, McMahon's company is the only wrestling organization that really matters. To Cowboys fans, the same holds true.
Despite their status as villains in their respective industries, McMahon and Jones deserve credit for being visionaries. No promoter ever dreamed of raiding competing territories of their star performers, and locking up television time as if it were life blood. McMahon was the first, and remains the best.
Jones thumbed his nose at the NFL publicity and marketing machine, instead preferring to put his team in the public eye in his own way. You can't argue with his success. Though other teams occasionally take over the top spot in NFL merchandise sales, only Jones' Cowboys are perennially in the top three.
McMahon and Jones both changed the way business is done in their industry, and both are still sitting atop the heap.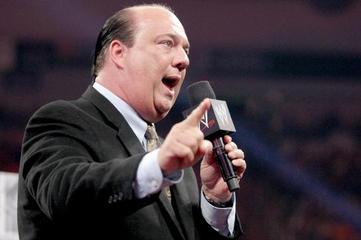 courtesy of wwe.com
There is no one in the NFL more like WWE star Paul Heyman than New York Jets coach Rex Ryan.
Both men are popular with hardcore fans. Both are known to speak their minds, even when it's not in their best interests, and both will often say the thing that no one else would dare (or care) to say.
Both Heyman and Ryan also come off as slightly slick, as if they knew something that you didn't, and had just decided not to tell you what it is. You often get the impression that both Ryan and Heyman will lie to your face, and not really care whether you believe them or not.
Unfortunately for both, they seem to have their greatest success when not left in charge. Heyman, by most accounts a brilliant wrestling mind, managed to run ECW into bankruptcy in the 1990s. He's been a very successful booker, working for the CWF, WCW and WWE as a writer.
Ryan, though he led the Jets to the AFC Championship Game in both 2009 and 2010, was most successful as a defensive assistant with the Baltimore Ravens from 1999-2008. He is considered by most to be the architect of the fearsome Baltimore defense that led the Ravens to the Super Bowl title in 2000.
Rex Ryan and Paul Heyman are two of a kind. Both men can talk a great game, but don't quite have the results to back up their words.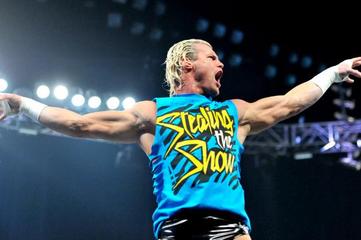 courtesy of wwe.com
Like Ziggler, Luck has been very hot in 2012. The Colts' rookie has led his formerly woeful team into the thick of the AFC playoff race, and has, if possible, performed even better than most thought he was when he was drafted first overall by the Colts.
Luck has shown poise and leadership and appears to have figured out the NFL game earlier than most would have expected.
Dolph Ziggler has had a very strong 2012, as well. He was the winner of the Money in the Bank briefcase, assuring him of a World Heavyweight championship match at some point in the near future.
He was the sole survivor for his team in the recent Survivor Series pay-per-view, and has had some memorable moments in feuds with John Cena, The Miz and other top WWE superstars over the past few months.
Both Ziggler and Luck have brought some life to previously-moribund franchises. Luck has the Colts poised for a playoff run, and Ziggler has brought interest to SmackDown, most often thought of as WWE's "B" show.
When Luck is on the field, fans of the Colts can't take their eyes off the screen. Ziggler has had much the same effect on WWE audiences all year. When he's in the ring, good things happen.
Despite their successes over the past year, both Luck and Ziggler have been somewhat overshadowed. Ziggler is current trapped in a storyline with John Cena, AJ Lee, Vickie Guerrero and Tamina Snuka that doesn't appear to be going much of anywhere. While he's had some great matches, he is often overshadowed by his in-ring counterpart.
Luck, similarly, has spent much of his first year in the shadow of Robert Griffin III, the second pick in last April's draft. While Luck has his Colts off to an 8-4 start, Griffin has stolen the spotlight with his statistical brilliance.
The Redskins' rookie has led his team to a 5-6 start, pending the outcome of Monday night's game, but is regarded by many to be a level above Luck. Ziggler suffers from the same stigma when compared to WWE stars like John Cena, CM Punk and other top performers.